DIY mold-making kits have become increasingly more mainstream, and they're putting custom (food safe) silicon and resin molds into the hands of more and more cake decorators for use in making fondant embellishments. Whether you make your own or buy manufactured molds, you don't have to resign yourself to "cookie cutter" designs.
Check out these seven molded cakes that are proof positive that you can step out of the box when using molds in your cake designs!
Wedding cake designs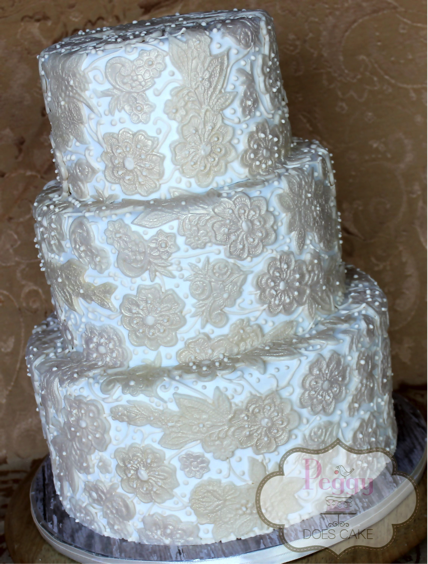 Photo via Peggy Does Cake
This wedding cake was inspired by the bride's dress. More than 150 pieces of fondant lace were created using three molds. The edible lace was then trimmed, smoothed and strategically placed onto the fondant finish on all three tiers of this cake. Piped royal icing filigree connects the pieces and adds dimension to the lace.
Tackle filigree, scrollwork and even drop strings with Roland Winbeckler's Piping Buttercream Borders.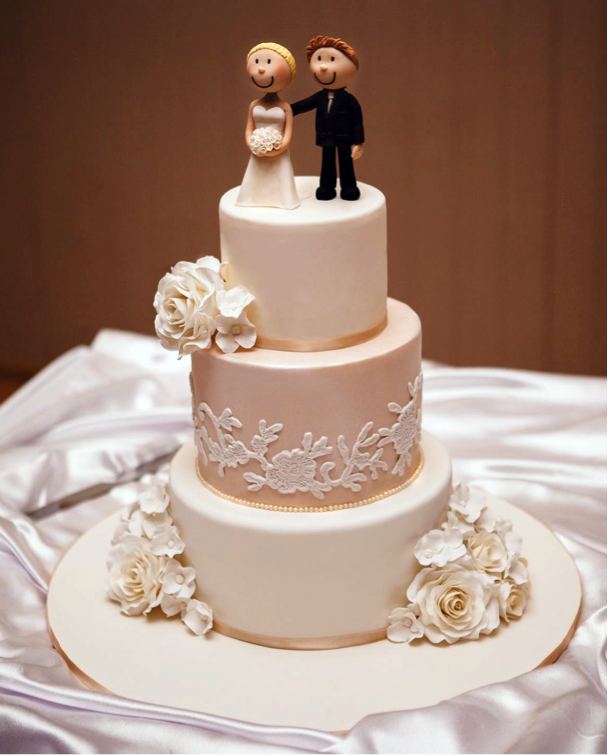 Photo via Kidacity
From the colors, lace and hand-placed miniature nonpareils border, to the delicate gum paste flowers, this cake is a statement in elegance. The lace from the bride's dress was used to create a custom mold, which was then filled with flower paste (softer and more pliable than gum paste or fondant).
The lace is beautiful against the "satin look" middle tier, which was finished with a pearl luster spray. The gum paste roses and hydrangeas were made to match the bridal bouquet, and though they were dusted for added interest, the muted color palette was carefully guarded. The Sharon Wee-style hand-modeled fondant toppers give this cake a perfect touch of whimsy!
Enhance your modeling skills with one of these Craftsy courses, all perfect for helping you create perfect cake toppers: Cake Topper Techniques: Figure Modeling with Anne Heap, Custom Cake Toppers: Step by Step with Brenda Walton and Cake Topper Techniques: Fondant Animals with Sharon Wee.
All-occasion cake designs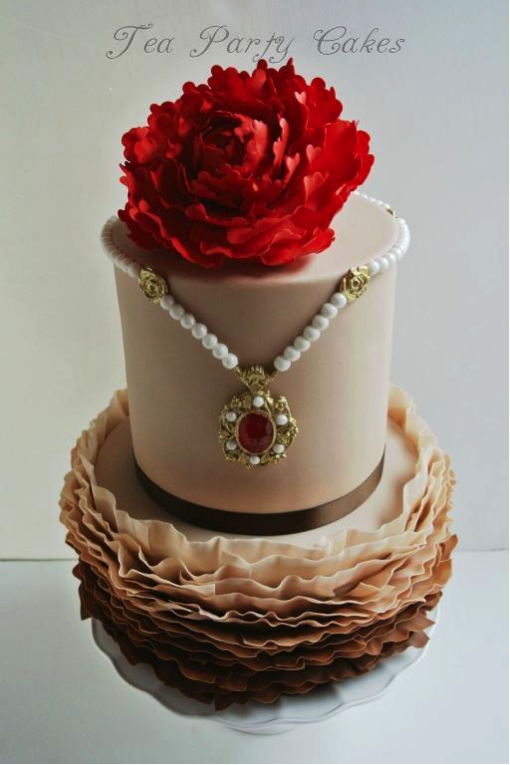 Photo via Craftsy member Teaparty
This Ruby Cioccolato Amore cake uses a brooch created from a Karen Davies mold as one of its three focal points. The center gem is poured colored isomalt framed in gold-painted fondant. The edible pearl strand and tiny rosettes (made from a custom mold) add a regal feel. The ruffles anchor the cake in frilly perfection and the deep red gum paste peony steals the show as an eye-catching topper.
To create this look, take your fondant ruffles to the next level with Maggie Austin's Fondant Frills class and perfect your peony with Nicholas Lodge's Classic Sugar Flowers.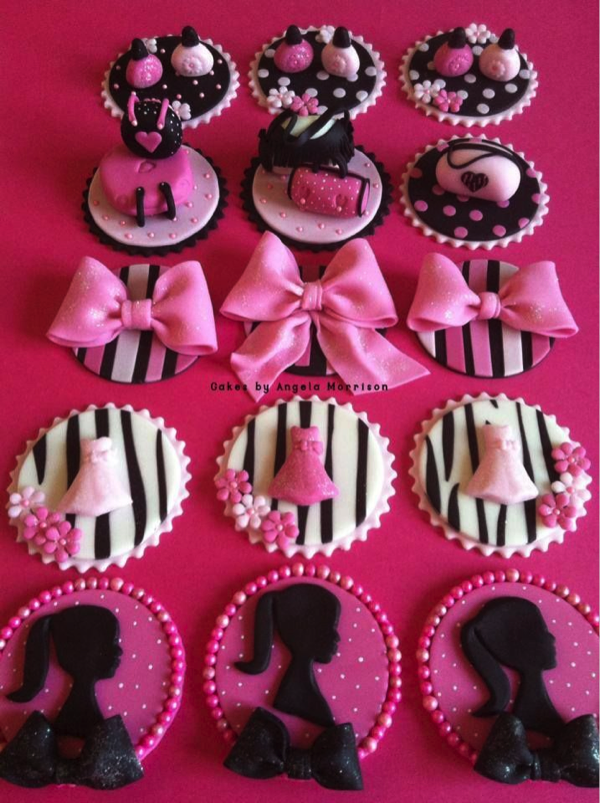 Photo via Cakes by Angela Morrison
This vibrant pink and zebra theme is super girly with its bows, pearls and flowers; just right for a Barbie celebration. Though most of these darling cupcake toppers were made by hand, several of the embellishments were made with the aid of molds. Angela used scrapbooking stamps to create custom molds for the Barbie silhouette, the dresses and the nail polish. Mixing molds into your topper designs can help with speed and accuracy when it comes to making multiple pieces.
Creating miniature toppers is so much fun! Learn to scale things down in Sheryl Bito's Tiny Cupcake Toppers Craftsy course!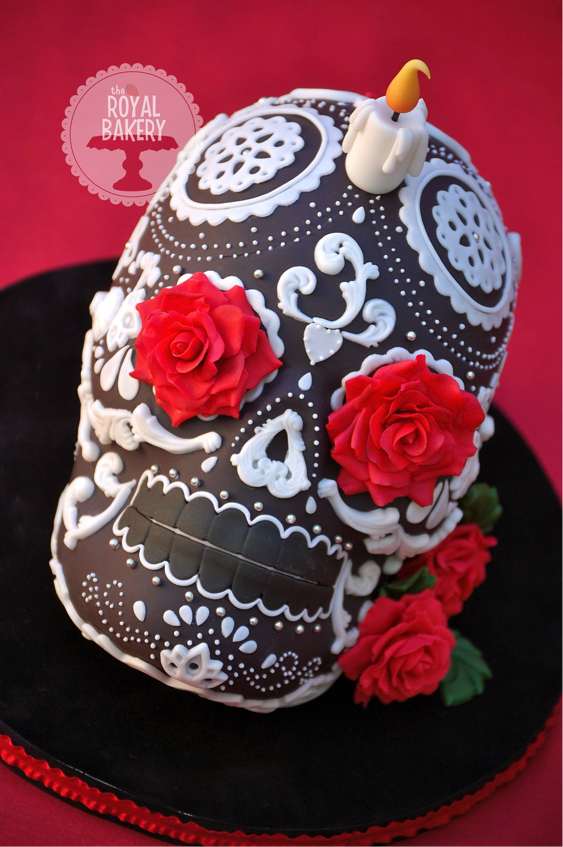 Photo via Royal Bakery
Craftsy blogger Lesley Wright of Royal Bakery made this Dia de los Muertos skull cake using Wilton's skull pan, but then whittled away at it by hand for a more dramatic effect. It's covered in black fondant and heavily adorned in the tradition of the Mexican holiday. The fondant décor is a mixture of Wilton molds (blue, orange and green molds) and custom hand-cut pieces. Red fondant roses splash color onto the cake, two of them fashioning a vibrant 3-D neck tattoo. The cake is topped with a fondant remembrance candle and flame. Check out the near lethal amount of hand-piped royal icing accents that finish his cake off with deadly perfection.
Learn to pipe like a pro with Joshua John Russell's Modern Piping class!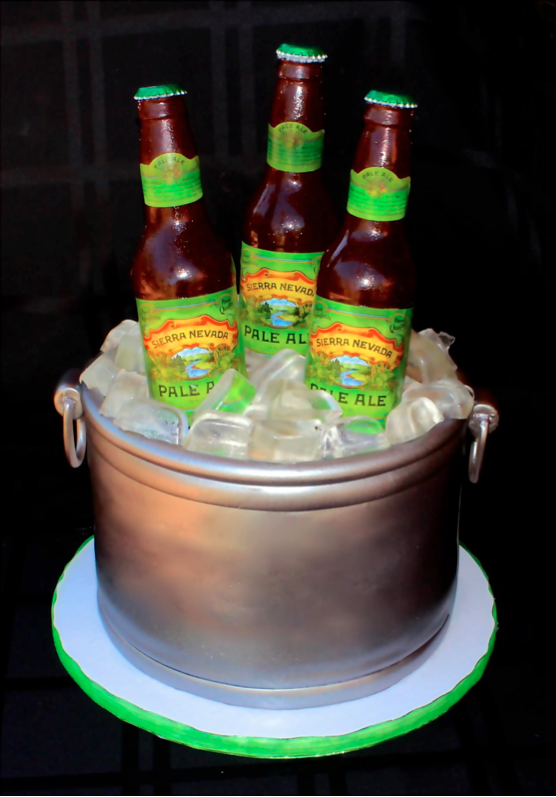 Photo via Cuteology
Brides often take advantage of making the groom's cake all about HIM. This fun iced-down beer cake is entirely edible, from the bottles to the bucket. The beer and ice cubes are molded isomalt and the bucket is cake. The two handles and the silver and dark grey airbrushing add to the realism of this thirst quenching cake. A bright pop of lime green ribbon to match the bottle labels nicely ties the design together.
The idea of working with isomalt can be intimidating. Put your fears to rest and learn to pull, pour and blow sugar with Charity Pykles-George's Intro to Isomalt class!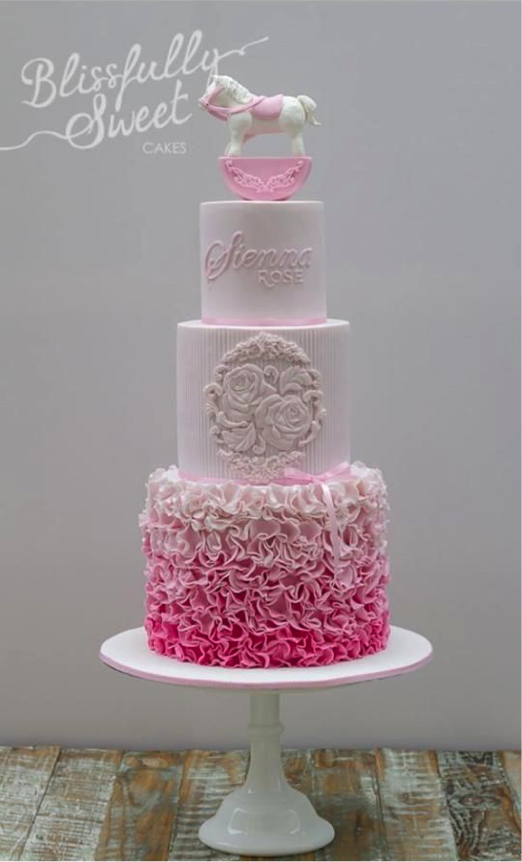 Photo via Blissfully Sweet
What better occasion for a perfectly pink cake than a baby girl's christening? This lovely rocking horse cake is covered with ombre pink ruffled blooms, embossed pin stripes, a rose and floral appliqué, subdued hand-piped lettering and topped with a custom fondant topper – all in shades of pink on pink. The appliqué was done using Wilton rose and scroll molds, but looks utterly and completely custom. Brilliant!
Molds are a great way to add interest, speed and consistency to your work, so dig yours out and get creative. The possibilities are endless!
Do you have molds you have no clue how to use or some you haven't used yet?