We're in an age of modern love, so why not celebrate it with a modern wedding cake? The cake decorating on this collection of cakes may not be traditional, with their unexpected colors, shapes, and motifs. But as modern as these cakes may be, the sentiment remains classic: each one of these sugar, butter and cream masterpieces serve as a magnificent centerpiece and a beautiful ode to love.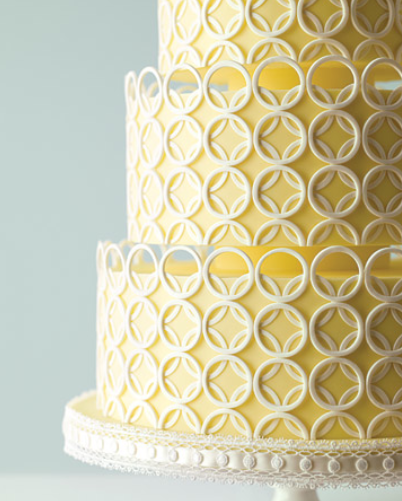 Photo via Mark Joseph Cakes
Ring Themed Cake:
This sunny cake has an "eternal" ring theme, and it's executed in a stunning way. Layers of cake seem to float atop one another, and delicate sugar rings overlap to form an almost flower-like design. Simply breathtaking.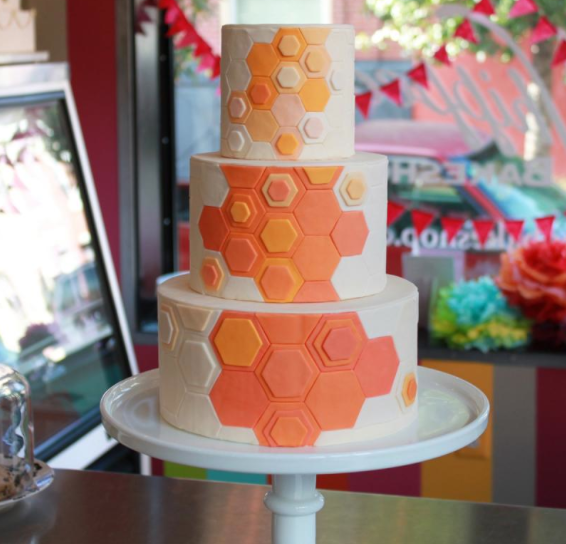 Photo via Whipped Bakeshop
Hive Cake:
Mod meets modern! This spirited design features clusters of fondant hexagons, but it avoids getting too geometric by adding irregular yet artfully color-composed layers in key points in the design, which gives the cake an organic, almost flower bouquet-esque feel.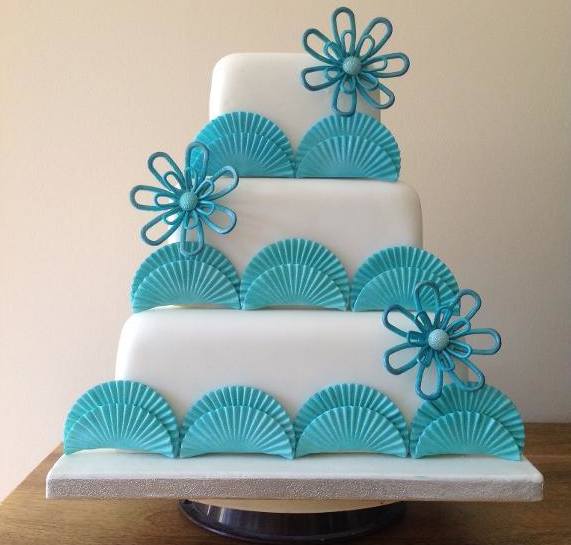 Photo via Cratsy member Kims Cakes
Blue Blossom Cake:
At a certain point in the decorating process, this cake probably looked rather traditional: a three-tiered square cake topped with white fondant. But what a difference some bold turquoise detailing can make! Garnished on the bottom of each layer with two rows of turquoise hemispheres that resemble genteel fans and accented by color-coordinated whimsical, delicate flower outlines, this cake is brimming with personality without being too wild.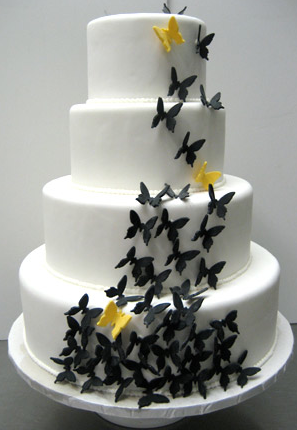 Photo via Vanilla Bakeshop
Butterfly Cake:
Similarly to the cake above, this three tier cake topped with white fondant probably looked quite traditional at a certain point in the decorating process. But a cascade of butterflies adhered to the cake, artfully arranged so that they look as if they are taking flight, makes it unique and eye catching. A bold color choice of black for the butterflies, with a sprinkling of yellow, makes the cake sophisticated and black-tie appropriate.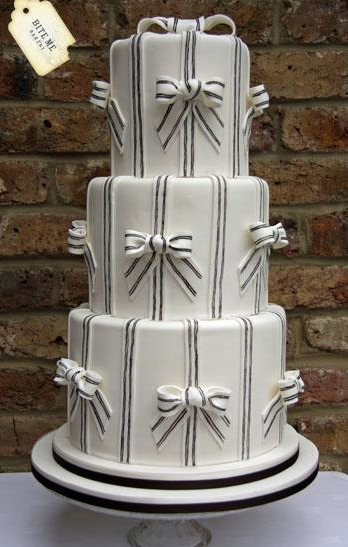 Photo via Craftsy member Bite Me Bakery
Ribbon Cake:
Adapted from another cake inspired by 1950's couture, this cake is romantic with its whimsical hand-painted black and white ribbons, but with a contemporary twist. The towering double-high cake layers which form each tier make it a skyscraping stunner with a retro-mod edge.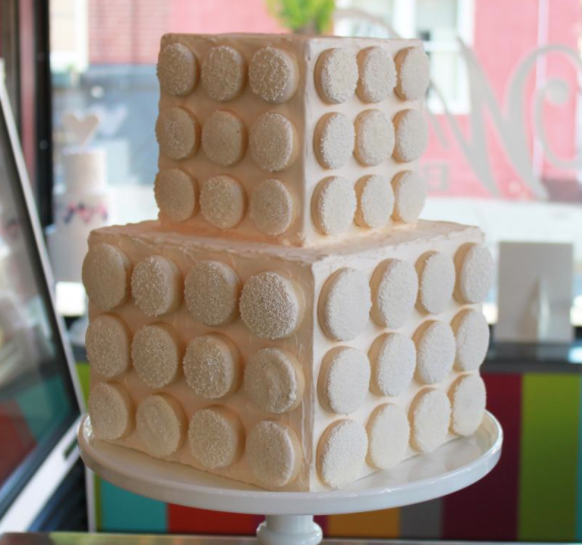 Photo via Whipped Bakeshop
Modern Shortbread Cake:
Cubes of cake coated with decadent buttercream get a fun visual and taste adjustment with the addition of frosted cookies adhered along the sides! The effect is fun and a little irreverent: a little like extremely classy Legos, a little like a sweet stack of snowballs. But regardless of what you see, one thing is for sure: this nubbly snow-white cake is a conversation piece and a showstopper!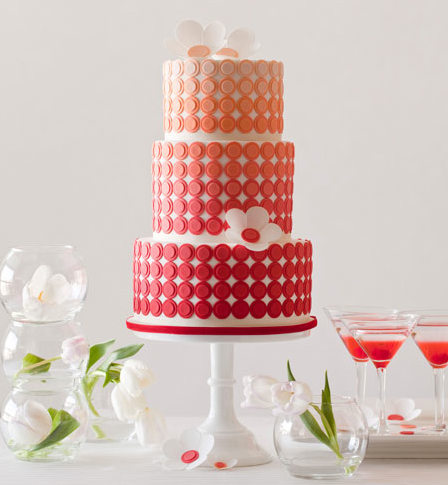 Photo via AK Cake Design
Ombré Cake:
Gorgeous gradient alert! This vibrant cake is adorned with rows of circles within circles, and the colors on both levels are graduated in color, from a vibrant orange-red on the bottom to a gentle peach on top. The shift is subtle from row to row, but quite dramatic and very striking when viewed from a few steps away. Wow! (Learn how to make your own ombré cake here.)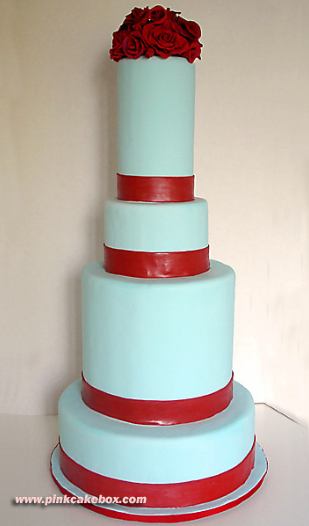 Photo via Pink Cake Box
Dramatic Layer Cake:
Although light blue and bright red might not be a classic wedding color choice, it's not the only modern aspect of this cake. It's the size that really draws the eye! Or perhaps that should be sizes, plural. This cake features alternating short and very tall layers of fondant topped cake to form an unusual but striking result. Bet every guest was hoping for a slice from the tall layer!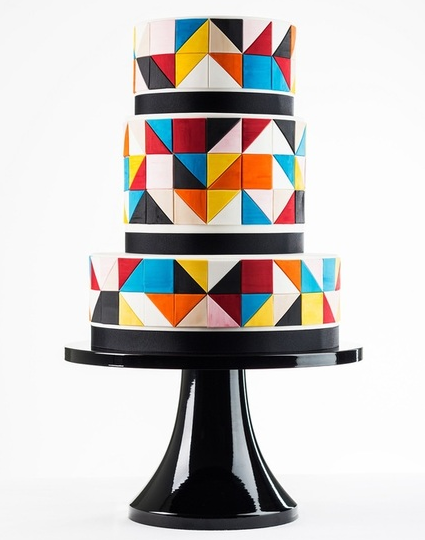 Photo via AK Cake Design
Geometric Color Cake:
It's evocative, calling to mind modern art and color theory classes. It's bold, featuring a palette of primary and secondary colors along with black and whites. It's geometric, featuring rows of triangles arranged to create a pretty patchwork of fondant. Though it might not be traditional, this modern cake is certainly memorable!
Modern times call for modern measures, so break out the cups, spoons, and spatulas and bake up a sweet and delicious modern wedding cake! Learn how to design the perfect wedding cake with the online Craftsy class Cake Design Made Simple: The Wedding Dress with Rachael Teufel. You might also enjoy dreamy dessert tables, and wedding cupcake ideas.