Elegant, vintage inspired wedding cakes will never go out of style. It's still a go-to wedding cake choice for many modern brides. This beautiful collection of elegant, vintage inspired wedding cakes is updated with creative modern touches, from pinwheels to ruffles to graphic patterns, which provide a fun element of sophisticated surprise.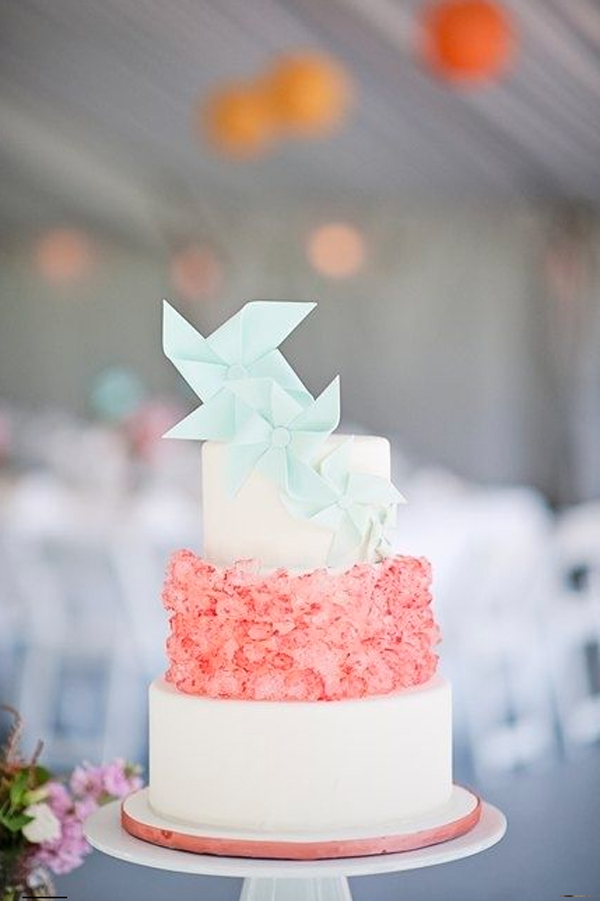 Photo via Anna Elizabeth Cakes 
Pretty pinwheel wedding cake:
Elegant simplicity in pastel colors, this tiered wedding cake by Anna Elizabeth Cakes has a summery, Ferris wheel feel with the pale blue pinwheels and fluffy, cotton-candy-like tier. This cake would be so fun for a retro, county fair themed wedding, paired with little white cones of cotton candy and made-to-order snow cones. This cake would also work for an extravagant 1st birthday party, with pinwheels, ice cream cones and pastel balloons galore!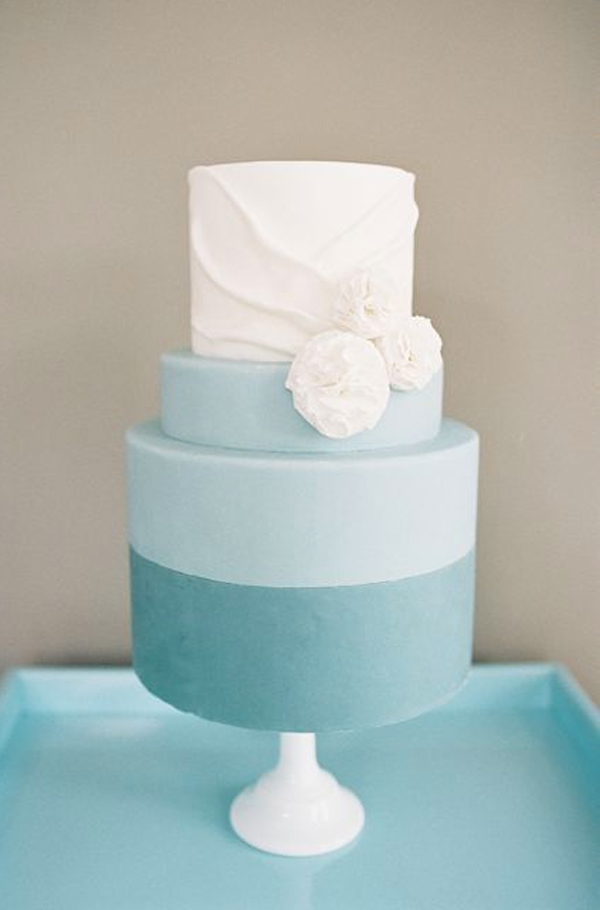 Photo via Sweet and Saucy Shop
Blue color-block cake:
This simple but stunning cake shines with its marine blue in two defined shades. It's modern, monochromatic and chic. The cake is topped with a simple white draped fondant detail with ruffly fondant carnation flowers, giving it a touch of femininity contrasted against the starkness of the blue.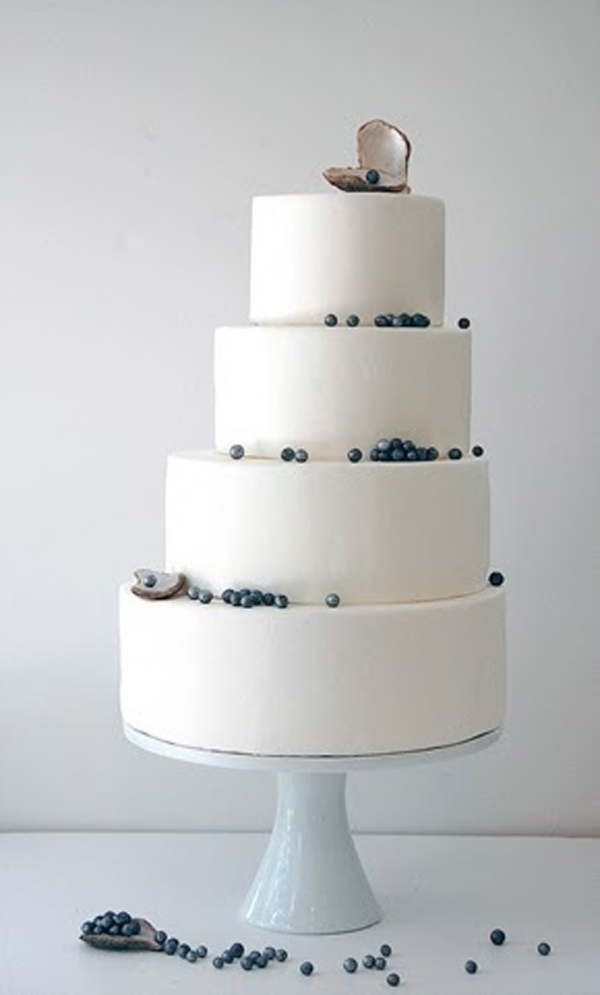 Photo via Maggie Austin Cake
Offset blue pearls cake:
Offset white fondant tiers are the perfect contrast to dark, shiny blue sugar pearls on this cake created by Craftsy instructor Maggie Austin. There is a minimalist opulence to this cake that's so artful and understated. It's a perfect cake for a modern bride and groom's sparkly yet austere wedding.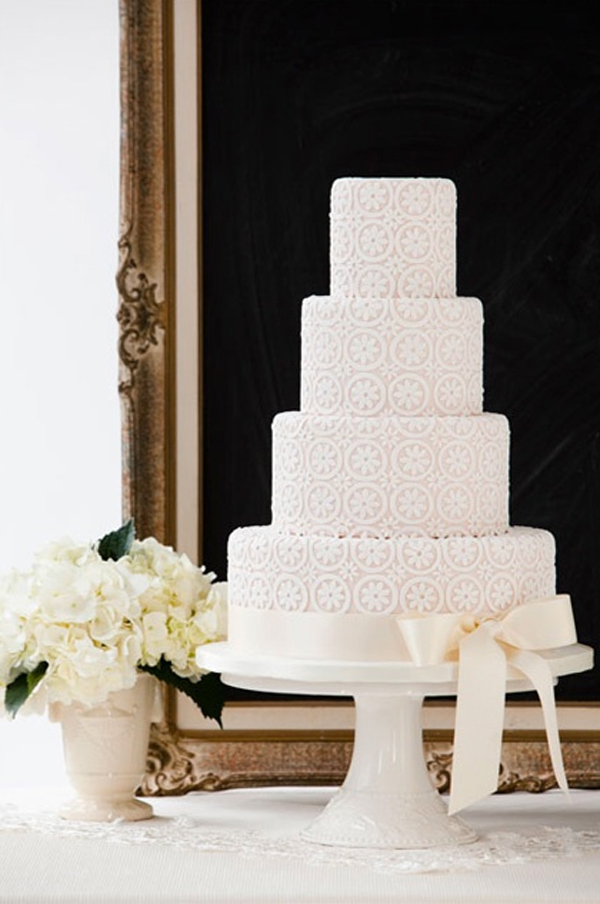 Photo via Bobbette & Belle
1960s vintage eyelet lace cake:
Vintage meets modern in this delicate and sweetly patterned 1960s-inspired lace eyelet cake from Bobbette & Belle, finished with a simple oversized satin ribbon. I can imagine Doris Day skipping down the aisle with this girl-next-door cake waiting for her at the reception — except in Doris Day's era, the cake would have been finished with rock hard royal icing!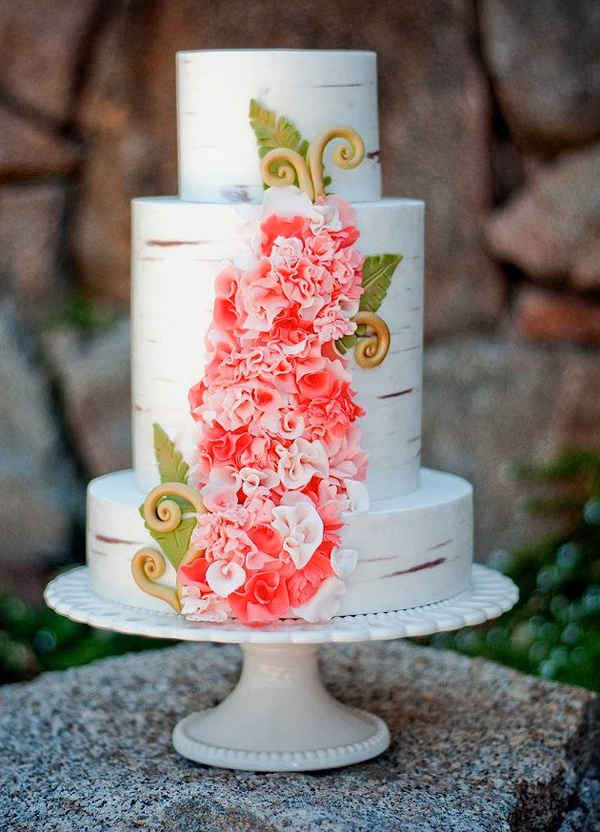 Photo via Hey There, Cupcake
White birch with fondant floral ruffle spray cake:
This three tiered white birch effect cake is beautifully designed to feel at once fun, modern and vintage. I love the pinched fondant ruffle flower spray in coral and pink, the gold swirls and green contrast leaves. A vibrant and fun cake for a modern bride and groom.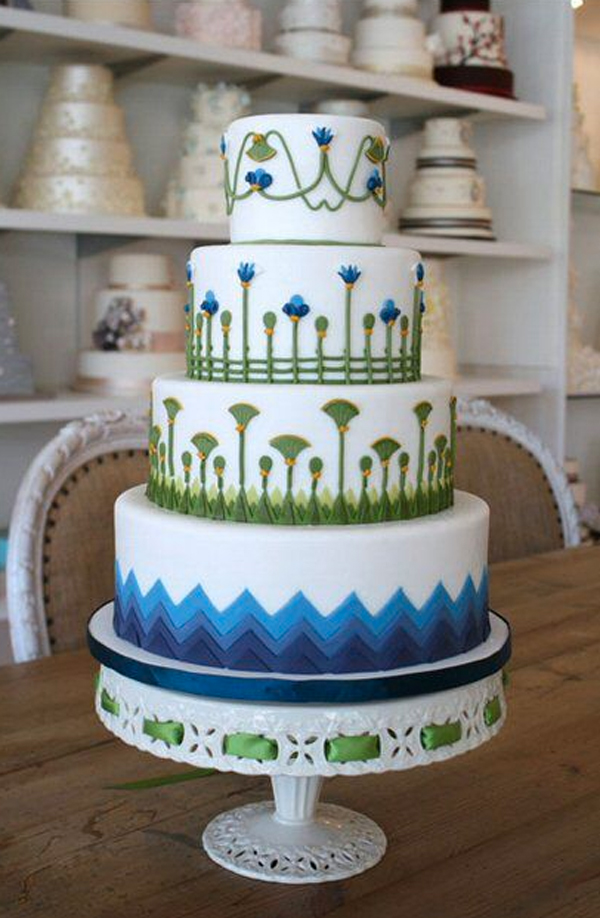 Photo via Bobbette & Belle
Arts and crafty floral cake:
This cake makes me think of hand embroidery, macramé and lovingly hand0crafted retro knits. The blue and green color theme and the teensy relief-style sugar flowers are so lovely. I imagine this cake as part of a artful, sweet and bright wedding with DIY craft touches.
Create your own modern vintage wedding cake and learn new ideas for creating retro-looking techniques with Colette Peters' online Craftsy class Vintage Cakes, Modern Methods.
Are you a wholly modern cake designer or do you love to create something timeless and classic looking? Perhaps you love to combine the two, like these cakes featured here?