Are you a modern quilter who loves to travel and attend quilting events? Do you love to admire and be inspired by the amazing work of award-winning quilters? Have you been reluctant to enter your quilts in a show because you're afraid the judges won't "get" your style? Thanks to the popularity of modern quilting, more and more shows are beginning to add modern categories to their mix, and quilters everywhere have been responding in droves.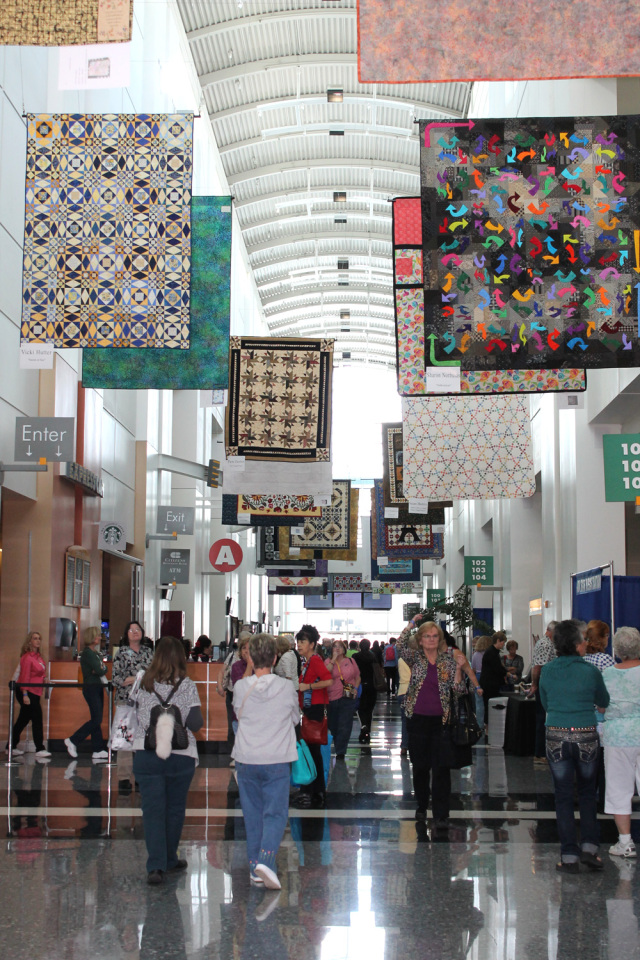 A Recap of Road to California 2014
This past weekend I had the privilege of attending the Road to California quilter's conference and showcase. The annual event features hundreds of amazing quilts, rooms full of specialty vendors, and dozens of educational workshops. I couldn't help but notice the abundance of modern quilts, fabrics and classes featured prominently at the show.

Best Modern Quilt – Lost in Space by Clare Victor, Palm Springs, CA
Road to California added two new categories to their prestigious judged and juried show: Negative Space in Modern Quilts and Modern Piecing.

Best Modern Piecing – Valley Snapshots by Timna Tarr, South Hadley, MA
Jacquie Gering, instructor of the Bluprint class Improvisational Piecing, Modern Design, judged the modern quilts alongside long-time veteran Stevii Graves. About judging, Graves stated, "Modern quilters have many different opinions about what constitutes a modern quilt." I'm sure most quilters could agree with that, whether they call themselves modern or not!

Modern Quilts by Alissa Haight Carlton, Nancy McBride, Gerrie Thompson, Chris Taylor, Christa Watson, Andrea Prejda
A majority of the modern quilts displayed throughout the show were both pieced and quilted by the entrant, giving evidence to the fact that most modern quilters are not afraid to machine quilt their own quilts. As more tools, books and patterns become available, even beginning quilters are finding it easy to fall in love with all aspects of making a quilt.

A few modern quilts from "The Best of QuiltCon" exhibit
A special exhibit titled "The Best of QuiltCon" was also on display for all to see and admire. If you missed it last year, you can still view the QuiltCon Lecture Series 2013 right here on Bluprint for FREE!

Exhibit from Quilts! Quilts!! Quilts!!! by Diana McClun and Laura Nownes
Featured artists Diana McClun and Laura Nownes shared a display of quilts from their newly revised and updated best-seller, "Quilts! Quilts!! Quilts!!!" Their beautiful quilt patterns have been updated with fresh fabrics and bold color palettes that will appeal to both modern and traditional quilt-makers.
Popular modern designer Julie Herman was in attendance with her booth full of Jaybird Quilts (beautifully machine quilted by Bluprint instructor Angela Walters). Many of the vendors on the show floor featured modern fabrics and patterns prominently in their mix.

Homage by Jacquie Gering
In addition to judging the show, Jacquie Gering taught a full schedule of improv piecing classes, and her striking modern quilt, Homage, was featured as part of the special faculty exhibit.
Although this event happens just once a year, I am already thinking ahead to next year's show!
If you had a chance to attend any quilt show of your choice, which would it be?