There has been much discussion around modern quilt blocks, modern quilting, and the modern quilting movement. In order to define what a modern quilt block is, it first helps to review what defines modern quilts. Elizabeth Hartman, in the introduction to her book Modern Patchwork defines herself as a modern quilter who "embraces a clean, modern aesthetic."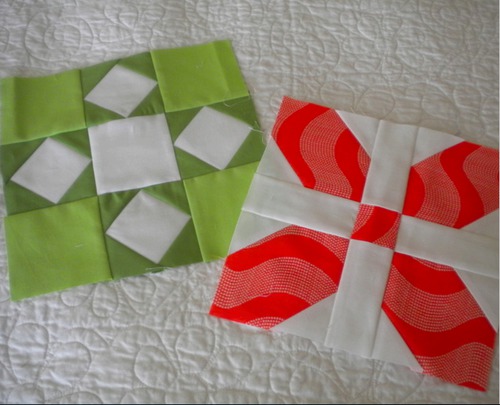 According to the Modern Quilt Guild, "Modern quilts are primarily functional and inspired by modern design. Modern quilters work in different styles and define modern quilting in many ways, but several characteristics often appear which help identify a modern quilt. These include: the use of bold colors and prints, high contrast and graphic areas of solid color, improvisational piecing, minimalism, expansive negative space, and alternate grid work. 'Modern traditionalism' or the updating of classic quilt designs is also often seen in modern quilting."
This definition provides for many different types of blocks to be classified as modern. A good place to start when looking for inspiration to make a quilt using modern quilt blocks is any recently published compilation of modern blocks. For example: Modern Blocks: 99 Quilt Blocks from Your Favorite Designers, Tula Pink's City Sampler: 100 Modern Quilt Blocks, and Block Party: The Modern Quilting Bee. By browsing these mini encyclopedias of blocks today's quilter can get a good idea of the recent trends in modern quilting.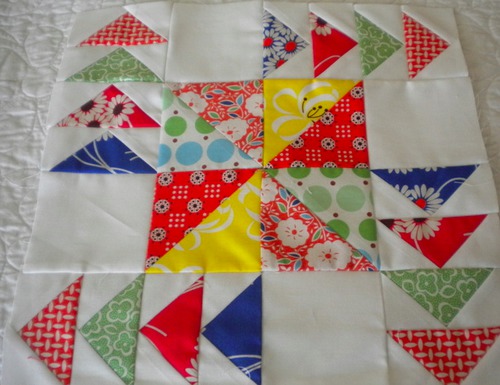 For more modern quilts and quilt blocks, check out the informational and inspiring gallery on the Modern Quilt Guild's website. To dig even deeper, check out the QuiltCon lectures on modern quilting produced by Craftsy.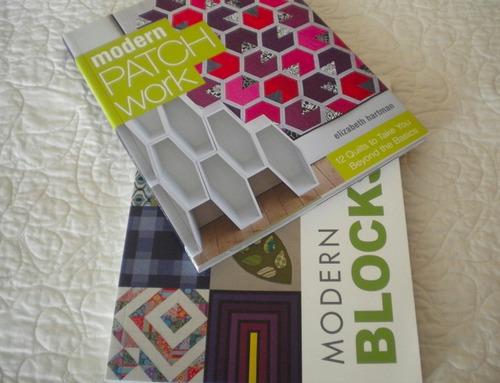 Common quilt designs found in modern quilting blocks include star blocks, string blocks, log cabin variations, circles, triangles, rectangles, hexagons, paper pieced blocks, and improvisational blocks.
Modern stars can be made from traditional star patterns using vivid fabrics or constructed using off-set points.
String blocks are blocks made of strips of varying sizes. String blocks are generally trimmed to either square or rectangular shapes and then set together. Strings blocks may also be cut into triangles, circles, and hexagons for added variety.
The traditional log cabin is a popular choice for modern quilters. Modern log cabin blocks are often constructed of non-uniform sized pieces.
Circles, pieced or appliquéd are another choice for modern quilt designs. Circles are the perfect showcase block for large print fabrics.
Triangle shapes also lend themselves to modern quilting with the many interesting possibilities that come from setting them together. /li>
Rectangles may also be used in modern quilt block construction. Their shape provides a way to showcase different fabrics and designs.
Hexagons appear frequently in modern block designs. Although a very traditional block, these shapes also lend themselves well to showcasing prints, patterns and colors.
Paper piecing modern quilt blocks allows quilters the ability to create designs difficult to reproduce with regular piecing methods.
Improvisational blocks allow the quilter to create without an end in mind and to let the fabrics determine the outcome of the block.
Modern quilt blocks often have expansive areas of solid backgrounds, which can be any color from traditional white to a more contemporary gray. A comprehensive online library of modern quilt blocks along with links to tutorials for each block can be found at the Gen X Quilters blog.