Table runners are a great way to try a design or quilting technique that's new to you, since they go together relatively quickly and don't require as much fabric as a larger quilt. Plus a table runner makes a great gift!
Why not try making a modern quilted table runner?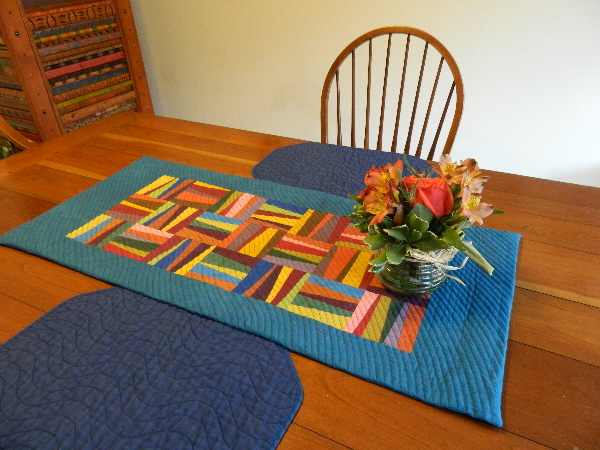 Photo via Cindy Grisdela Art Quilts
Adapt a traditional pattern
Modern means innovative, not necessarily something you wouldn't recognize if you like traditional patterns. In my Autumn Stripe table runner above, I used a variation on the traditional Rail Fence pattern to create a warm accessory for my dining room. Instead of the strips being all the same size and width, I cut strips on random angles before sewing them together into blocks for the runner.
Let the fabric do the work
Another way to make it modern is to use angled stripes with random inset squares. Simply choose a color family — in this case I used cool blues, greens and purples and then added a few strips of warmer cinnamon brown and hot lime green for contrast. Let the fabrics and the colors do all the work! A table runner is a great way to audition a new color scheme before you try it in a larger quilt.
Remember that table runners don't have to be just for the dining room table. You can use them on your kitchen counter, your dresser or the coffee table so you don't need coasters. You can also hang a table runner over the back of a chair to brighten up the room.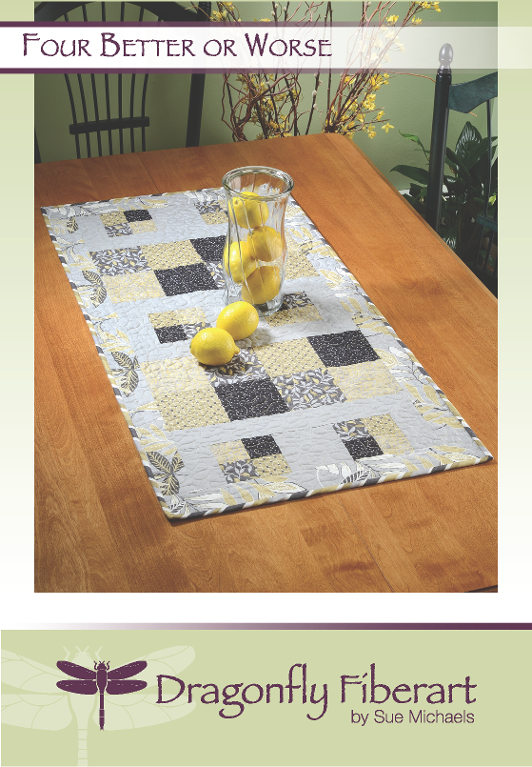 Try simple squares with patterned fabric
If you'd rather use patterned fabrics instead of solids, check out this pattern from Sue Michaels of Dragonfly Fiberart on Bluprint. Four Better or Worse definitely has a  modern feel to it, but it's made with squares and rectangles in your favorite coordinating fabrics, so it should come together in no time!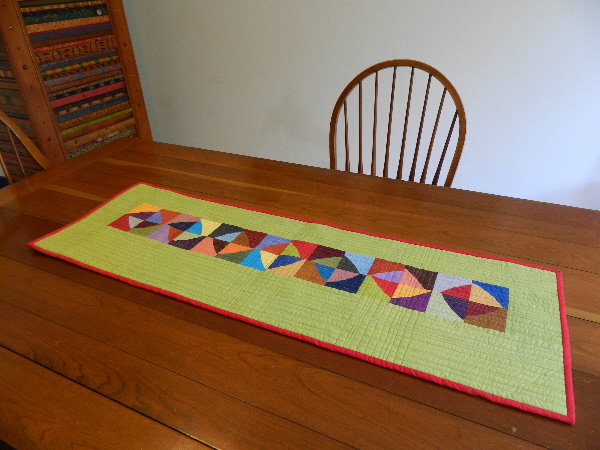 Photo via Cindy Grisdela Art Quilts
Curves can be fun
For a slightly more complex design, try my modern variation on the traditional Drunkard's Path pattern. There's no need to be intimidated by these curved seams because they are deliberately "wonky" and don't match at the edges. Plus the squares can be cut larger than needed and trimmed to size after the curved seam is stitched. Wide asymmetrical borders and straight-line quilting complement the curves in the panel.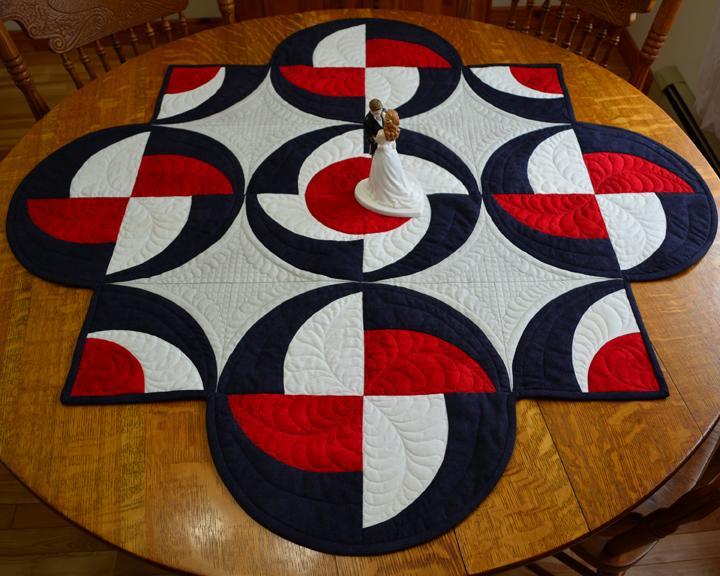 Photo via Bluprint member Sewkarenly
Up for a challenge?
If you're ready to try something challenging, Sewkarenly has several interesting table runner patterns on Bluprint, including the Rhythmic patter shown above. One of them might be just the thing to get your creativity flowing. Rhythmic uses curved piecing, irregular edges and includes some interesting quilting designs.
Table runners are another good way to practice your machine quilting skills, especially the narrow ones, because there's less bulk to maneuver under the sewing machine. Less bulk allows you to concentrate on stitching the design with fewer worries about what to do with the rest of the quilt while you work.
If you need more inspiration, check out all the table runner patterns on Bluprint — there's sure to be one that catches your eye!
Which table runner will you make next?
Top your table with a quilt kit!
Creating a festive table is easy with a table runner project kit. You get the designer pattern and perfectly paired fabric in one handy package.Browse kits now »