Have you ever wanted to design modern quilts but were unsure how to get started? Modern quilt design is based on several factors, including modern art, modern design, nature and architecture. Modern quilters usually embrace bright, bold colors, the heavy use of solids, expansive negative spaces, asymmetry and improvisational piecing.
But how does one go about incorporating these elements into a unified, aesthetically pleasing composition in their quilting? Check out these tips below and jump start your modern creativity!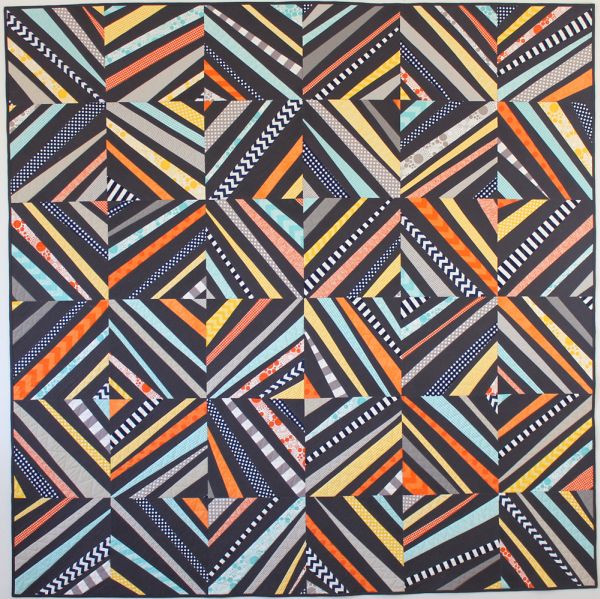 "Spiraling Out of Control"; photo via ChristaQuilts.com
Tips for designing modern quilts
1. Don't feel like you have to put every modern style into one quilt.
As Modern Quilt Guild board member Heather Grant says, "modern quilting is like a buffet: pick what you want and leave the rest."
2. Focus on what you like.
If you like clean, clear colors, try creating a quilt completely from solid fabrics. Sometimes a simple change in fabric selection will yield dramatically different results, even if your project is based on a traditional quilt design.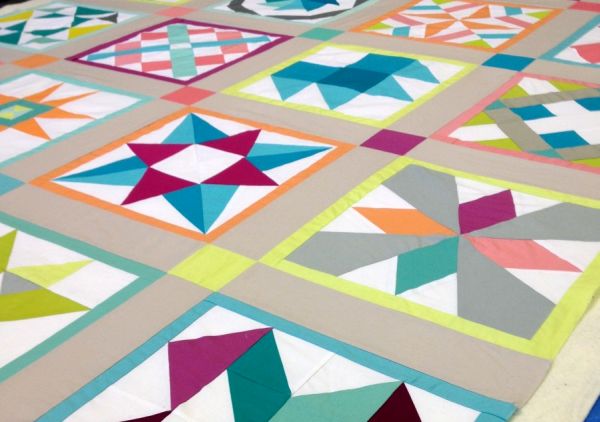 Sampler Quilt from Vintage Quilt Revival; photo via Swim, Bike, Quilt!
3. Play around with simple shapes and repeat the element throughout the quilt.
Add an unexpected surprise or pop of color to give the quilt a focal point. When designing modern quilts, the shapes do not have to be consistent in size, nor do they need to be perfectly pieced.
"Didn't Get the Memo"; quilt and photo via Handmade by Alissa
4. Less is usually more when it comes to modern quilting.
Embrace large amounts of background areas (called negative space) and use them as a canvas to add interesting textures to your quilt with free-motion quilting and colorful threads.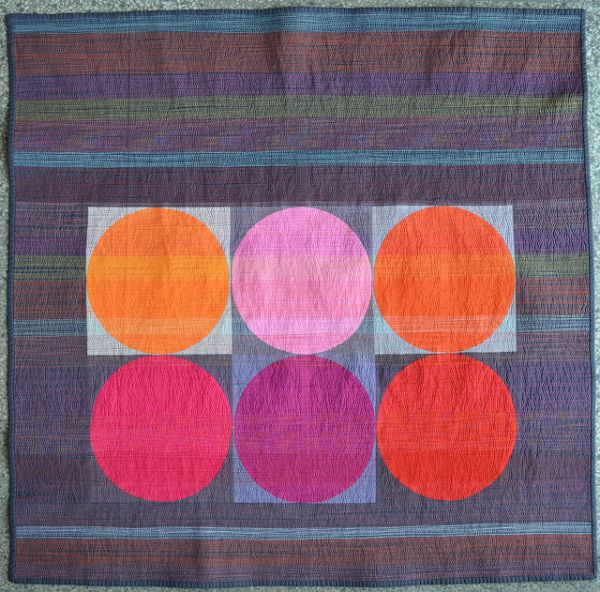 Sunset; photo via She Can Quilt
5. Look for everyday inspiration in the world around you.
The scroll work on a building could be the basis for an interesting modern design, as could a beautiful sunset or a cluster of trees.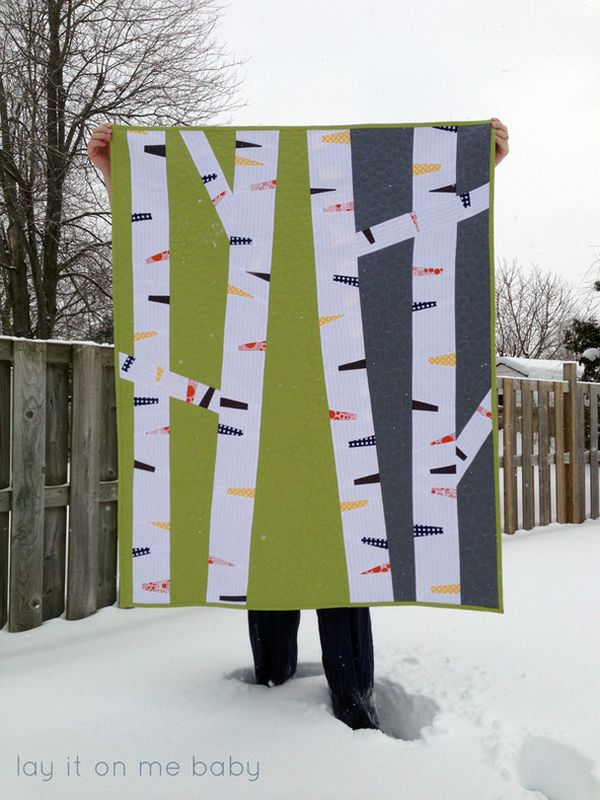 "Birch Trees"; photo via Lay It On Me Baby
6. Try your hand at "structured" improvisation.
Structured improvisation is a style that incorporates crazy or random piecing that is controlled within a block format.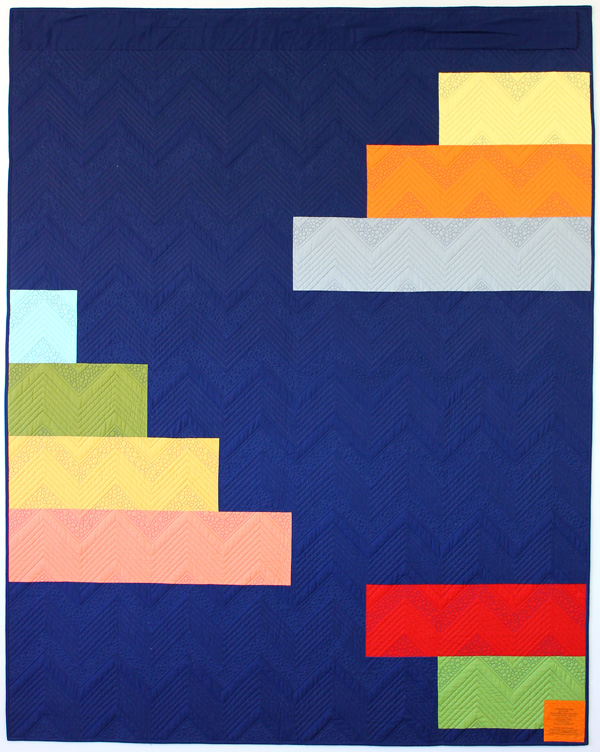 Pieced backing; photo via ChristaQuilts
7. Don't forget the backing!
Pieced backings add interest to a quilt and can sometimes be more fun to make than the front! Pieced backings, also known as "back art," are especially popular in modern quilts.
What to do next
Once you've got the ideas flowing, how do you organize them into a design format? You can choose from methods as simple as graph paper and colored pencils to more high end tools like specialty design software. EQ7 is a popular design tool for creative quilters as it allows for unlimited possibilities. Software can help you calculate measurements and fabric requirements, but you can also do a little bit of quilt math with a paper, pencil and calculator.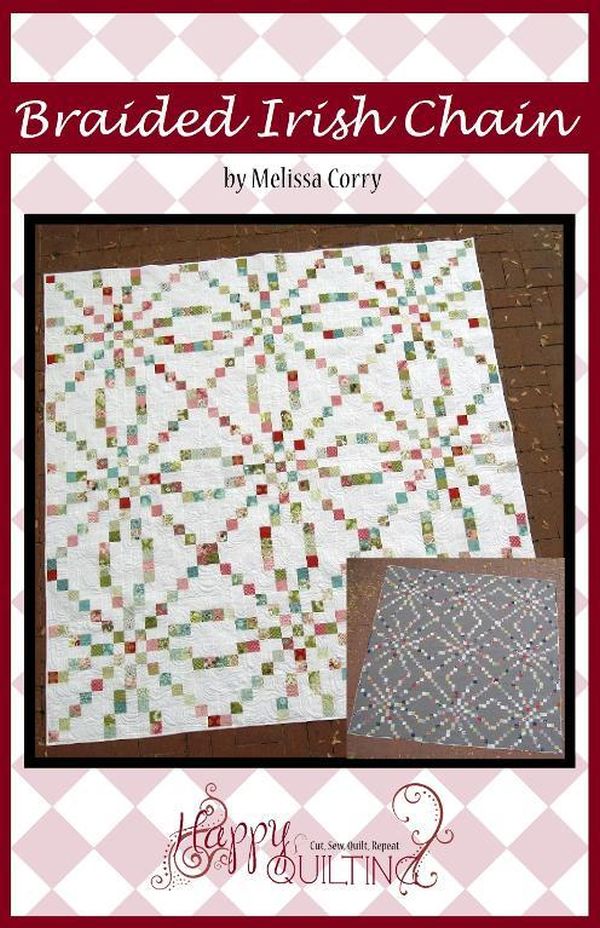 Photo via Craftsy Member Melissa Corry
Try using a quilt pattern for your own personal use and tweaking it to come up with something a little bit different. By adding and subtracting borders, enlarging or reducing block sizes, or changing a few lines, you can really make it your own. (Just be sure to always give credit to the original source of your inspiration and be aware of copyright laws and restrictions!)
When you are ready to branch out and design your own modern quilts, you can always take it to the next level and sell your patterns on a platform such as Craftsy. Many designers take their computerized images and combine them with instructions in a simple word processing program to create a pattern that's easy enough for others to follow. More experienced graphic designers may choose specialized software to create a look that's individual to them. Whether you want to design modern quilt patterns for yourself or as a side business, it all starts with a spark of inspiration!
Have you ever designed your own modern quilt? If so, how did it turn out?