Cake toppers are exploding into the cake universe with their easy, modern and simple versatility. A cake topper can really make a cake, adding a chic and modern feel. From ruffly romantic hearts to custom wooden silhouettes, cake toppers are "tops!"
Jazz up even the simplest cake immediately with some of these fantastic cake topper ideas.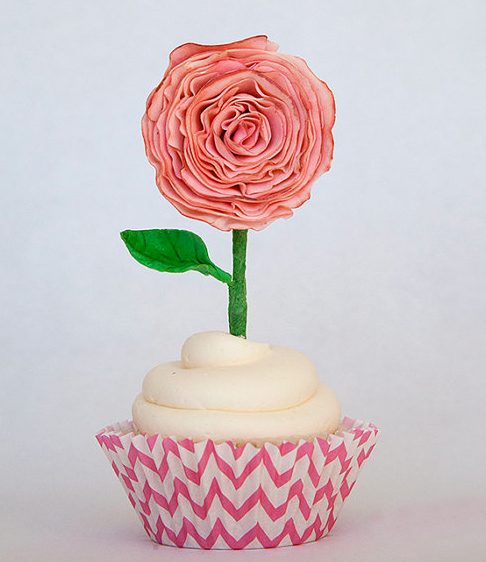 Photo via Style Sweet CA
Romantic ruffly rose heart cupcake toppers:
The ultra talented Tessa of Style Sweet CA has branched out into a super cool new venture — custom cake toppers! Her beautiful pink romantic ruffly rose cupcake toppers are sold in sets of six. Wouldn't these be darling for a bridal shower or baby shower? Handmade using fondant and glitter/gold accents, these take sugar flowers to new (raised) heights!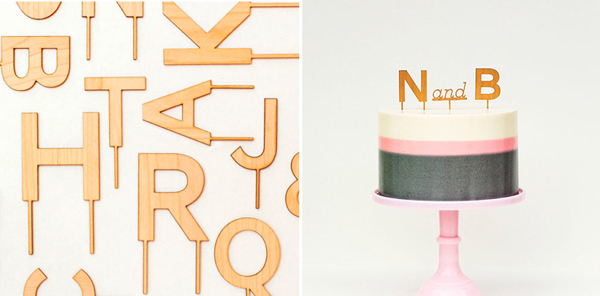 Photo via Sweet and Saucy Supply
Modern wooden monogram cake toppers:
As a lover of typography, my heart clamors for these awesome, modern sans serif wooden cake toppers, a collaboration between the wonderful Sweet and Saucy Shop and Little Cat Design Studios. A sweet and simple way to add personalized charm to your wedding cake, a birthday cake or a set of cupcakes. They come in the chic wood style but are also available in sparkly acrylic letters in a myriad of colors. Check out the whole letter cake topper collection!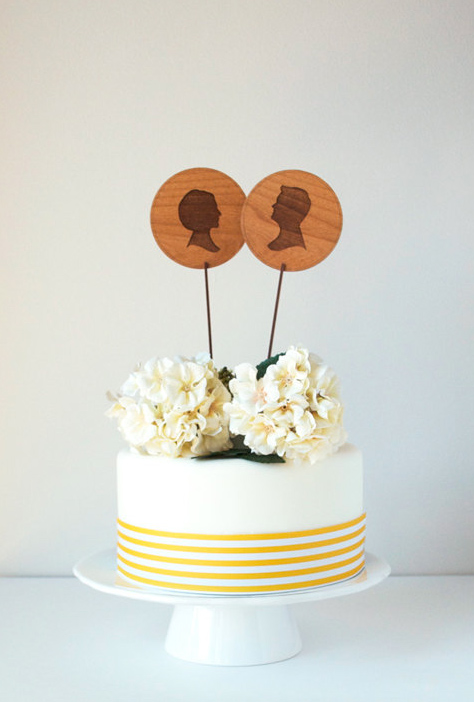 Photo via Wedded Silhouette
Vintage-inspired custom silhouette wooden cake toppers:
Sweet, antique and dreamy — imagine your silhouette emblazoned on sustainably harvested American alder wood, placed into a lovingly styled cake such as this one — yellow and white French striped ribbon and pretty floral arrangements. These cake toppers have an Old West, romantic and antique feel to them. Perfect for a craft or vintage wedding.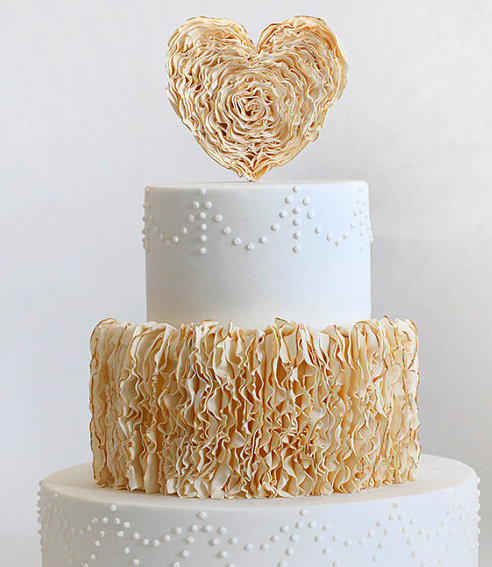 Photo via Style Sweet CA
Ruffle romance ivory rose heart cake topper:
Here's another beauty by Tessa of Style Sweet CA — a perfectly ruffled rose heart cake topper perched magically on an equally mystical cake. I love the mix of modern and vintage the cake heart has. This would certainly top the cake at any romantic wedding reception, don't you agree?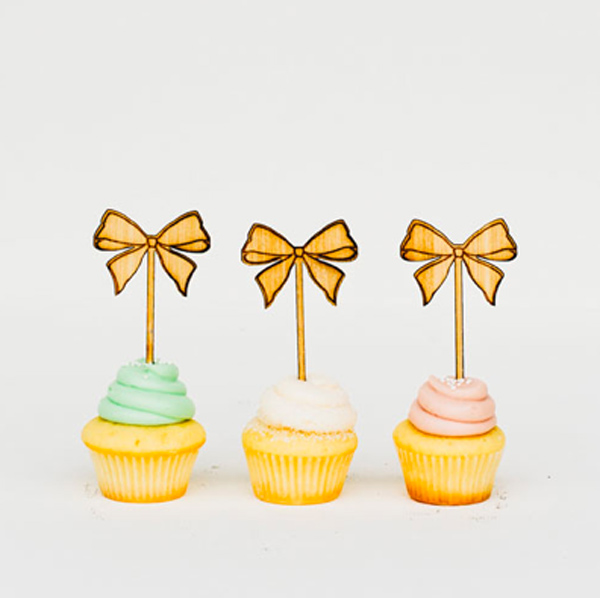 Photo via Sweet and Saucy Supply
Wooden bow cupcake toppers:
Immediately add cuteness and vintage girly style to your simply iced cupcakes with these wooden box cupcake toppers from Sweet and Saucy Supply. You could even make something similar yourself using wooden BBQ sticks, thick craft paper and your best drawing skills.
Have you fallen in love with cake toppers and are looking for more cake topper inspiration? You might also enjoy my post on handcrafted cake toppers.

If you love the clean, simple and modern aesthetic of the cakes seen here, you'll love Jessica Harris's new Craftsy class Simply Modern Cake Design.
Come back to the Craftsy blog tomorrow for a roundup of some awesome hand-stamped cakes.
Which cake toppers are your favorite? Have you made one that simply tops the cake?