Are you interested in the role of modern art in quilting? Well, let me first clarify that modern quilts are quite different from art quilts. Although there are definitely artistic influences that can be found in today's modern quilts, modern quilts have their own distinct style. Modern quilting borrows from many of the same disciplines and aesthetics that can be found in the art world, but there is one glaring difference, and that is perception of the end use of the product.
Let's explore the influences modern art has had on quilting!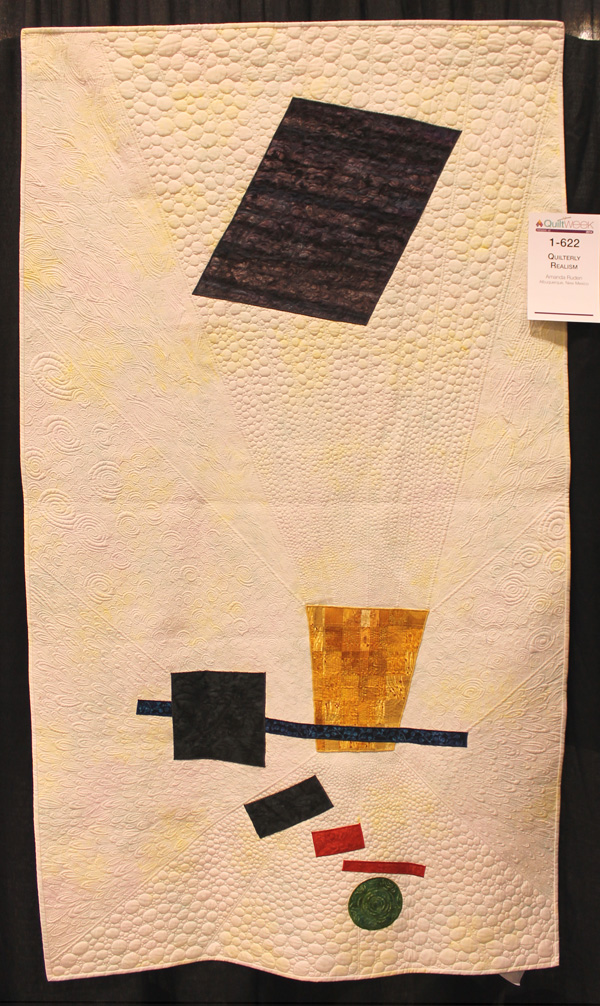 "Quilterly Realism" by Amanda Ruden, inspired by work of Ukranian artist Malevich in 1915. Photo via ChristaQuilts.
Defining modern in quilting
Modern quilting generally has two different meanings, which may cause confusion for some. One definition of modern refers to the here and now: The latest in quilting technologies, designs and aesthetics. But, many of the early pioneers of the modern quilting movement were drawn to the specifically named "modern" era of art, going as far back as the nineteenth century. You can find out more about the definition of modern quilting in my post on modern vs. traditional quilts.
Modern quilts in their truest sense are heavily influenced by artists of the past who mainly worked in the modern style of painting. Some of the names that have been tossed around in the quilting world recently include: Josef Albers, with his "Homage to the Square"; Kazimir Malevich, with his simple yet striking black square on white ground; and Wassily Kandinsky, who reveled in making complex art from simple geometrics like the triangle, the square and the circle.
Many of these modernist painters were students or instructors of the Bauhaus, a German school which above all else, emphasized form and function, lack of ornamentation and the idea that art and craft were one and the same.
Modern and you didn't even know it!
Some modern quilters are drawn to many of these same philosophies in their own quilts, whether intentionally or not. Quilters who work in solid fabrics, those who desire to free-motion quilt and those who prefer to put their quilts on beds and couches rather than in museums and quilt shows are actually espousing similar artistic sentiments without even knowing it!
The term "utility quilt" may bring to mind shabby design, worn bed coverings or poor workmanship. Yet so many of today's supposed "utility quilts" are simply those that are meant to be used and would rival many a museum piece!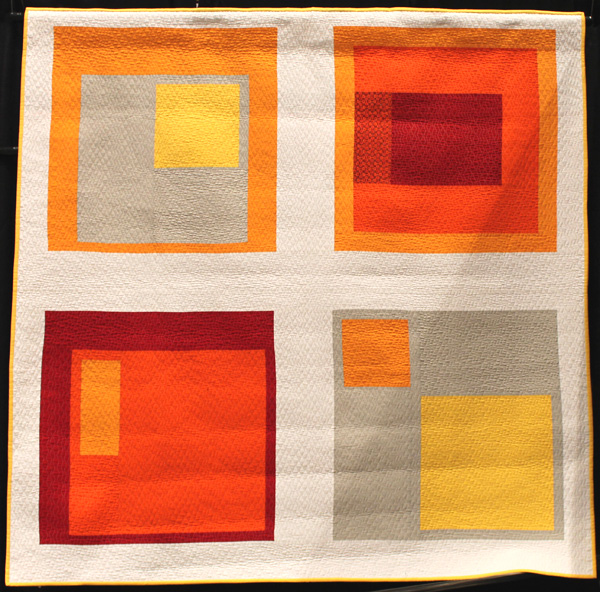 The "Homage" quilt, by Bluprint instructor Jacquie Gering, was inspired by Joself Albers. Photo via ChristaQuilts.
The principles of modern art in quilting
Quilt historian Barbara Brackman has succinctly listed 8 principles of "modern art" whose influences can be seen in modern quilts, and many traditional quilts, too. They are: primitivism, art deco, unmodulated color, minimalism, scale, lack of sentimentalism, surrealism and abstraction.
Contemporary quilters, like Bluprint instructor Karen Gibbs also embrace modern art in their creations. Bluprint instructor Gloria Loughman's  class Linear Landscape Quilts evokes the natural beauty of the outdoors, a common theme among modern artists.
Whether you attempt to define yourself as an modern artist, a  traditional quilter, a contemporary crafter or anything in between, it's nice to know that beautiful works of art can be the starting point for your next creative masterpiece!
Where do you find your quilting inspiration?