During my sewing journey, I've collected a nice stash of fabric and fabric scraps. Can anyone relate?
While most of us would agree you technically can't have too much fabric, you may decide it's time to start using all those fabric leftovers. 
Follow along for top tips for mixing fabrics!
1. Learn the basics of color theory.
A nice place to start when you're just a newbie in matching fabrics is to look at the color wheel and learn color theory's foundations.
You're a lucky one, because Craftsy's got you covered with a superb free class you can't miss!
I'm not a quilter by any means, but I enjoyed Amy Walsh talking about basic (and not-so-basic) color rules, which perfectly apply to apparel and accessory sewing.
Use her tips to narrow your choices when selecting different fabrics that can work together on your next clothing project and, best of all, the class is FREE!
2. Find shortcuts.
Sometimes a shortcut is all you need. 
Fabric lines
Fabric designers can make your life easy when it's time to match two different fabrics. They create their fabric lines so you can pick two or more complementary prints and be sure they will fit together.
Kits
If you want to skip the time spent  mixing and matching, try one of Craftsy's kits With these,  you get the pattern and the fabrics and you are ready to start sewing without all the guessing!
3. Remember you are the designer!
There are several ways to mix and match different fabrics and no one is right or wrong. You're allowed to change your mind: Today's ugly mix can be your tomorrow's favorite! Take your time and decide if you really enjoy looking at those two (or more) fabrics next to each other. 
4. Find the light (and use it). 
Check your fabrics with different light sources —  outside at sunlight and inside with lights turned on. Often two fabrics that seem to perfectly match can look odd in different lighting. Use this information to decide wisely, based on where you plan to wear your garment. For example, a summer dress must have colors that work together in sunlight).
5. Stick to a color palette.
Something you may try is matching fabrics of the same color palette, but printed in different patterns. Decide what kind of look you want your project to have by choosing the main color. 
They used to say that stripes and dots can't be worn together but, hey, why not? They can add depth to a garment but be sure they're cohesive in their color schemes. Choose wisely, however, because two busy prints together can easily make your garment too crowded and look poorly made instead of classy! 
Below is a travel craft set I've sewn using fabrics of the same palette.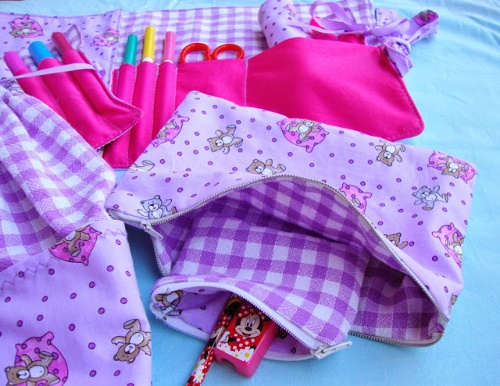 6. Stick to the same pattern.
This is much more hazardous, but when it works, it rocks! Try mixing similar prints in different colors, but make sure that it's a simple print design, like stripes or dots instead of paisley, floral or plaid, and that you're varying proportions and colors (think big red dots with tiny blue polka dots).
7. Stick to a certain weight.
Let's talk about weight. If you're sewing a color blocked garment, you may prefer mixing different fabrics with similar weights to avoid them hanging strangely after a few washing cycles.
Other times you may need to mix different weights to achieve the look you're aiming for. I added an interfaced interlock strip for an under-breast subtle shaping on my Woman Raglan Dress, made of striped jersey, and a lightweight woven cotton for the split fluttering sleeves.
8. Mix complementary fabrics.
It's fun to experiment mixing different kinds of fabric. Woven fabric and knits mix especially well. Use each one's properties in the best way — Knits are forgiving and hug, while woven fabrics are more formal and hang well.
A perfect use for knits is as bindings in woven projects, just like I did on my version of the Brasilia Dress.
Here I recycled an old T-shirt to finish the neckline and armholes with a pop of color, tying things together with contrasting topstitching for a not-so-boring little black dress.
9. Match details.
When you're done deciding which fabrics you're going to match and you're almost ready to start sewing, remember that a great project is made of tiny details.
Don't forget to plan the thread color you will use, matching it with the prominent color or, maybe, use it as a contrasting pop of color, to add some spice and decoration.
10. Ask yourself questions.
Answering the  following questions will help you choose the right fabrics to mix:
What kind of project is it? Who's it for? What kind of pattern will it be used with? 
11. Keep it simple!
You can't go wrong with an easy mix made of one or two solids or textures + a print containing the same colors as the first ones. It's a no-brainer.  
Tip: double check they're both in the exact same nuance and that there's enough contrast between the two solid shades!
Another straightforward mix is to add details, like pockets or bindings, cut from a printed fabric to a garment sewn using a solid fabric. You will get rid of a few scraps while keeping your project simple and classy!
What not to do:
Try not to mix similar (but different) character fabrics: a Frozen fabric will look too busy if matched with a Princesses or a My Little Pony one. It's better stay in the same theme by combining Frozen fabic with snowflakes or My Little Pony fabric with rainbows.
Don't add too many different colors. Choose a color theme/palette and stick with it!
Don't mix animal prints unless you are working with someone's personal preferences. 
Don't sew together two fabrics before you have double-checked that they won't bleed color. You may run into serious problems the first time you wash the finished garment!
Have fun and remember that some rules are made to be broken. Find your method to the madness!