So, it might be hot outside, but you know what? Flowers are in bloom, and it's a beautiful thing. It's the inspiration we'll use for today's tutorial about making mixed media artwork. Paper collectors, this one's for you — we're experimenting with paper collage and acrylic paint!
Using scissors + paper + paint, we'll create a multi-faceted image that captures the natural beauty of Gerbera daisies!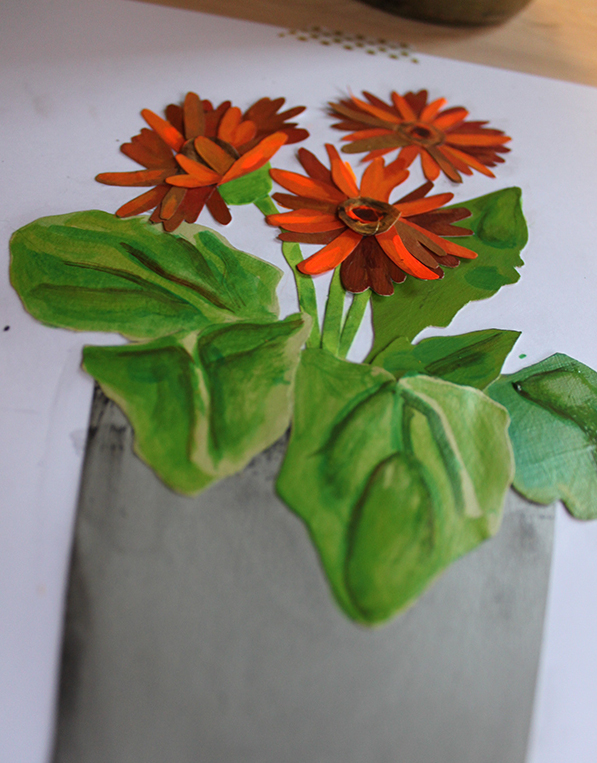 Of course, you don't have to use Gerbera daisies, but that's what I've chosen. You can use any flower, roses, lilies, whatever bouquet sparks your imagination and creativity!
Here are the materials I'm using:
Paper scraps: I've collected my collage scraps for years. If you're not a paper hoarder like I am, then feel free to use any interesting scrapbooking paper or old magazines that you don't mind cutting up.
Glue stick: Any brand will do. I prefer Uhu-Stic.
Scissors
Mod-Podge/matte medium: You might already have Mod Podge® in your arsenal for decoupage projects. If you have acrylic matte medium, it will work, too.
Acrylic paint: Choose colors to accent your flowers and their leaves.
Paint brushes
Water
Step 1: Sketch it out & Make a game plan.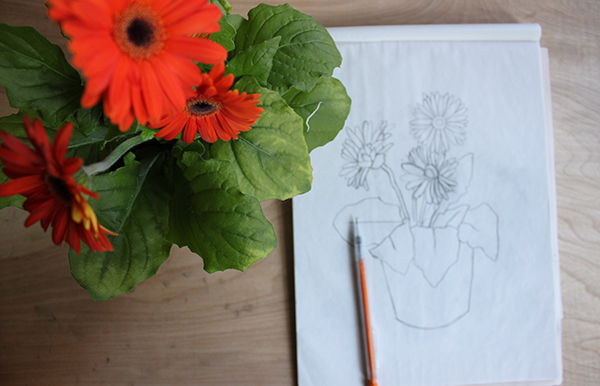 The key to a success collage, I've found, is to make a detailed sketch. It will act as your blueprint when you're working and give you an idea of what shapes to cut out and brush strokes to make. Don't bother adding shading or anything like that — a pencil outline will do.
Step 2: Begin with paper.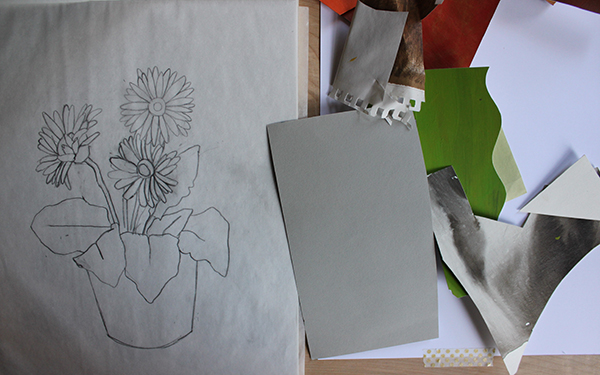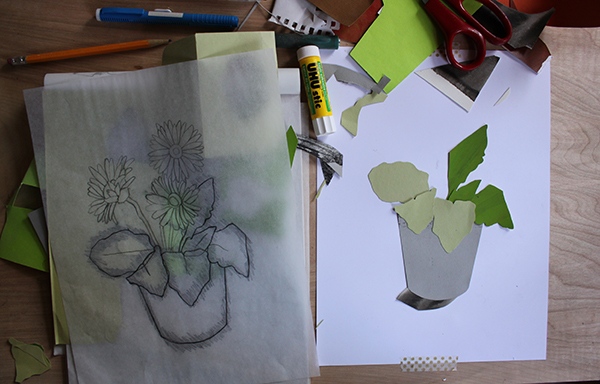 Once you're comfortable with your sketch, it's time to move on to the good stuff — the paper! Because you have an idea of the shapes you'll cut out, begin working in layers. Assess what the "bottom layer" of the piece is. Here, we can see that it's the stems. It's what holds the blooms together. Cut out the green shapes you drew in your sketch. Don't worry about any of the smaller details, like depicting the folds in the leaves. We'll paint that in later.
If you're having trouble making your shapes look the same as how you rendered them, here's my trick: Take your sketch and color the back of it in graphite. Flip it over and lay it on top of your collage paper. Trace over your lines. When you lift up the sketch, you'll see it's transferred to the new paper! You can then cut around it and piece it together like a puzzle.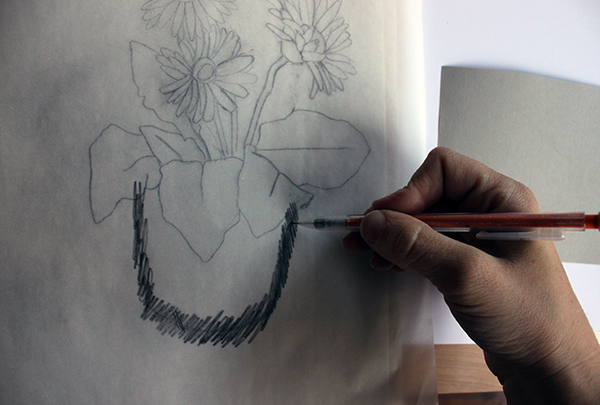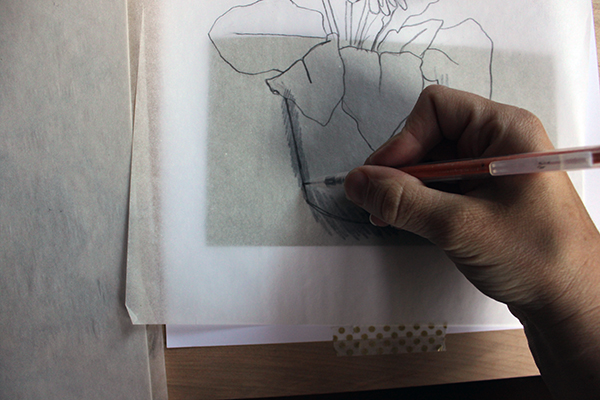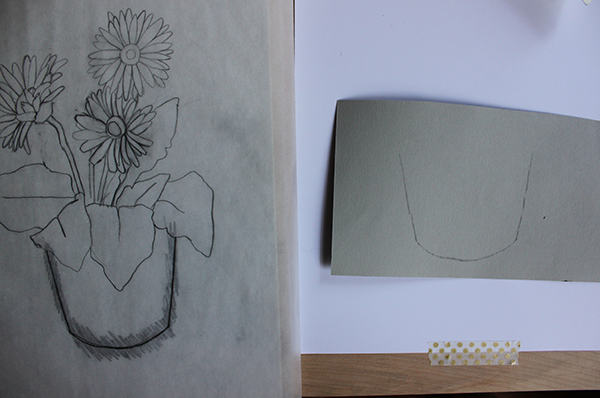 Trace, cut, paste and repeat. Do this until you've crafted a lovely, colorful flower.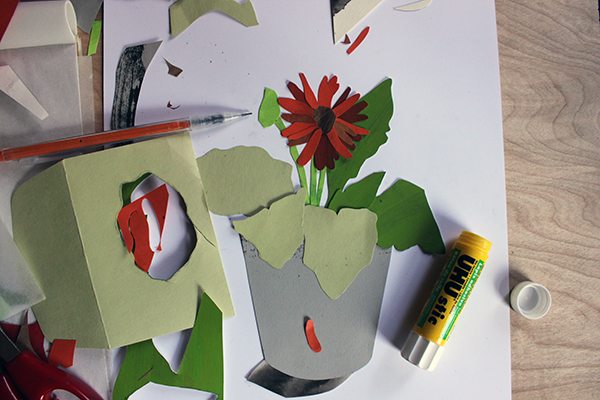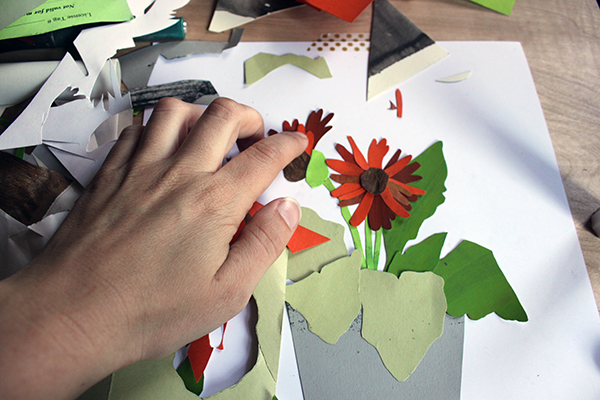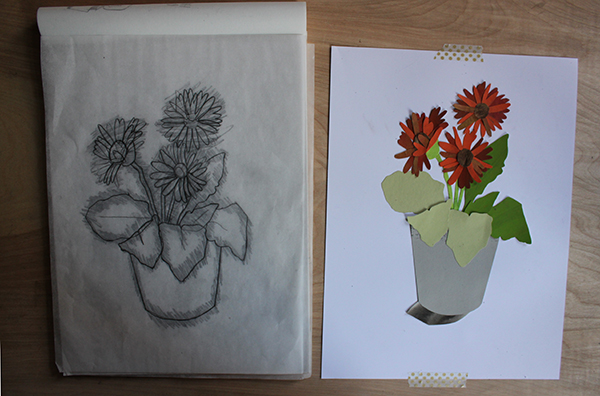 Step 3: It's time for Mod Podge®!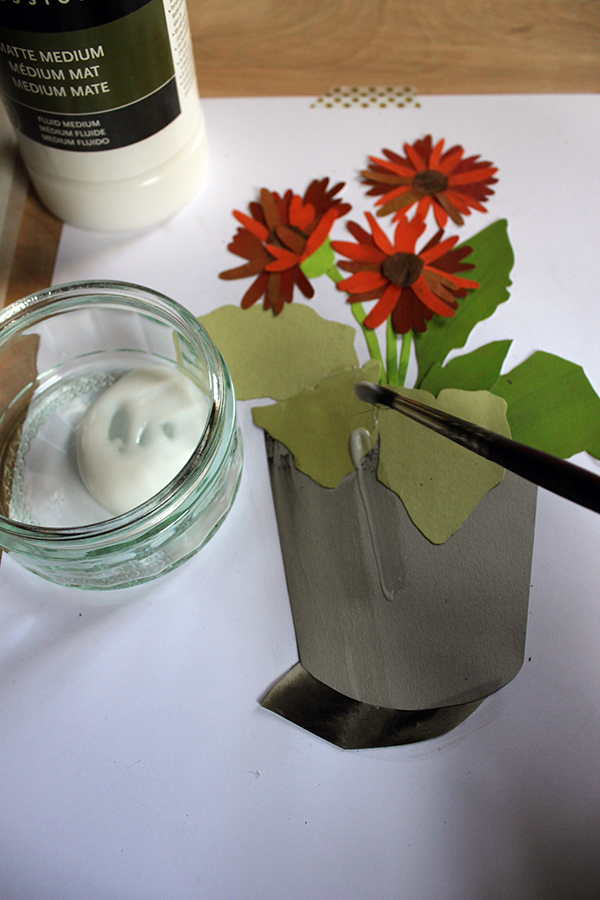 Before we move to the next part of this tutorial, we'll first seal the collage. This is important so we're able to paint freely on top of it without ruining the paper underneath. Using a brush or sponge, gently apply a thin layer of Mod Podge® to your collage. Smooth out any excess of the medium, and make sure it's even. Let it dry.
Step 4: Paint in the details.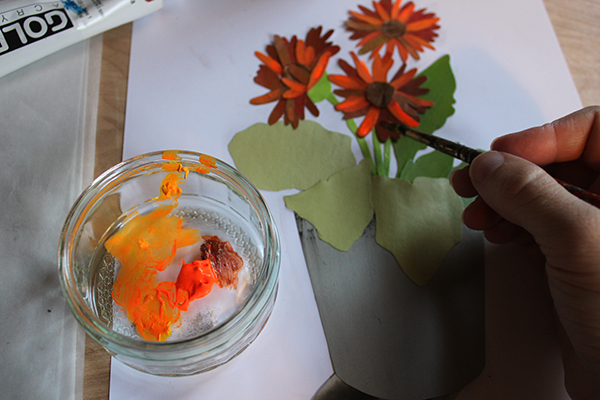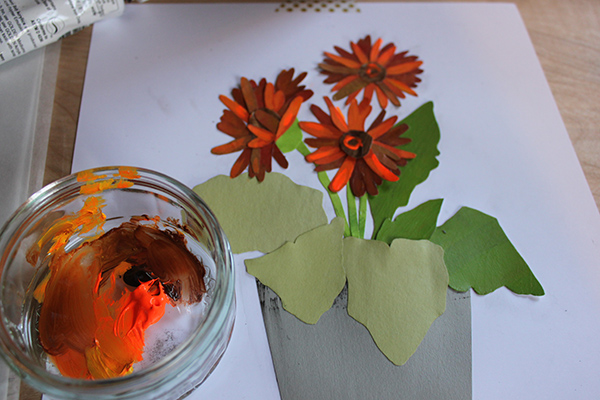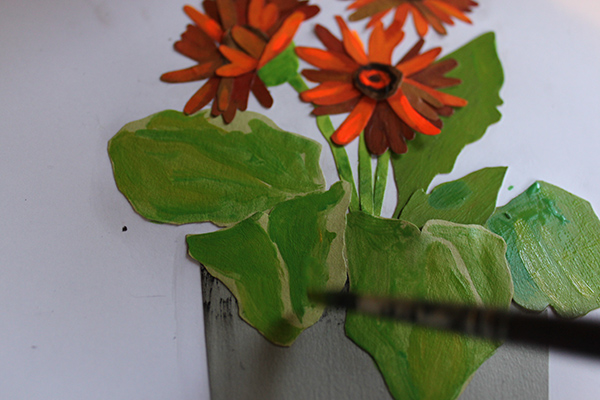 After your collage is dry to the touch, we'll start to add the details. Grab some of your favorite acrylic paint, water and a brush; mix the colors you see in your flowers. You'll use the paint as a way to shade and apply accent color to the paper underneath.
Here, I've added green for the leaves and stems and orange and red for the petals. I've even included a little brown for the pollen. Since the paper has been "sealed" with the matte medium, we can paint on it no problem. So, use a little color to add definition and create a more visually complex image. It's up to you how detailed or stylized you want to make your flowers.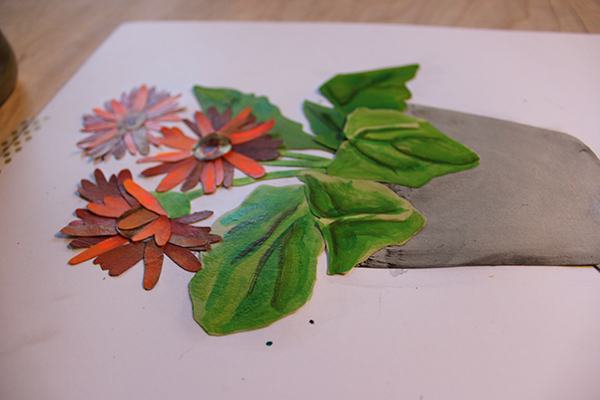 So, that's it! The great thing about collage is that it's fun to experiment. If you want to try making an image that's less realistic and more decorative, go right ahead. This technique is perfect for it. But, if you want to stick to realism, you can do that too. You'll probably want to spend more time painting details into your work.
What type of flowers are you going to include in your mixed media collage?