Mirror, mirror on the wall — who makes the shiniest cakes of them all? You will with Fondx Mirror Glaze Piping Gel!
Mirror glaze cakes have been around for quite a while, but thanks to dozens of social media videos showcasing these jaw-dropping techniques, mirror glaze cakes are kind of having a moment.
If it's your first time whipping up one of these shiny creations, skip the mess and try this versatile, quick and easy product that's perfect for making a sleek mirror glaze cake at home.
Before you get started, keep these tips for making a mirror glaze cake in mind.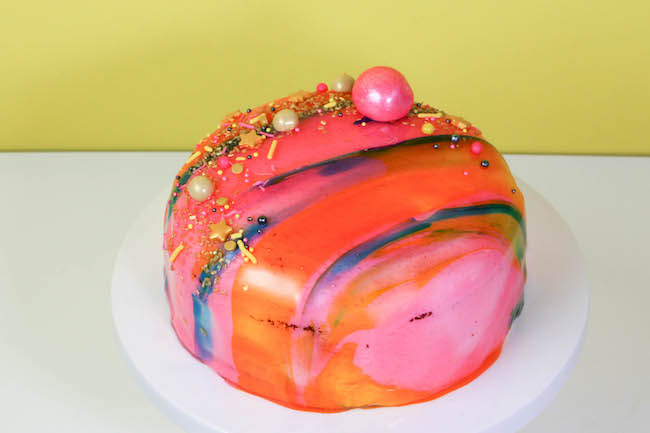 All images below via Erin Bakes.com
Keep it cold
Whether your cake is covered in ganache, buttercream or mousse, it needs to be ice cold if you want it to have a smooth, bump-free appearance. Place your cake in the freezer the night before you want to glaze it.
Have patience!
Many of the steps in making a mirror glaze cake require a little waiting. It can be temping to rush through steps or not wait for the temperature to be exactly right, but please do!
Glazing a cake before it's frozen, using the glaze while it's too hot, or moving the cake before the glaze has set can all ruin your end product. Sit on your hands and your patience will be rewarded!
Plan your colors
Fondx Mirror Glaze Piping Gel comes crystal clear and ready to use. Adding food coloring to the glaze will result in translucent colors that will change based on the color of the buttercream or mousse that's being coated.
For a solid, saturated color you have two options: tint the buttercream or mousse the same color while you're making the cake, or add a small amount of melted white chocolate to the warmed glaze before adding food coloring. If you choose to add white chocolate be sure to use an oil-based food coloring, luster dust, or colored cocoa butter to tint the glaze.
How to make a mirror glaze cake
Prepare you cake
I'm demonstrating how to glaze a cake that's been covered in Swiss meringue buttercream, but you can turn any kind of cake into a mirror cake. It just has to be covered in something completely smooth, like mousse, buttercream or ganache, and frozen solid.
Use a dab of buttercream to adhere the cake to a cake board the same diameter as the cake. Using the board will make moving the cake later much easier.
Place the cake in the freezer until frozen solid, at least a few hours.
Step 1:
Place your cake on top of something sturdy, but smaller in diameter than the cake. I'm using an upside-down bowl. Place the whole setup on top of a sheet pan. Lining the pan with a baking rack is optional.
Step 2:
Pour small amounts of glaze into separate bowls. Tint the glaze in your preferred colors using gel food coloring or luster dust. To cover a 6″ round cake I tinted ½ cup of glaze pink, ¼ cup yellow, and ¼ cup teal.
Extra glaze can be saved in an airtight container and kept in the fridge for up to a month to be used again.
If the glaze feels hot, let it cool a little before you use it. Using the glaze while it's hot can damage the finish of the cake or cause the glaze to run off too quickly.
Step 3:
Pour the first color of glaze over the cake. Use the back of a spoon or an offset spatula to help the glaze move over the entire surface of the cake.
The glaze sets up quickly, so move fast if you plan on adding other colors.
Leave the cake on the rack until all of the excess glaze has dripped off and the glaze on the cake has begun to set up, about 10 minutes.
Step 4:
From this point on be very careful about touching your cake. The glaze will always remain somewhat tacky. Any touch or bump will leave a dent or lift some glaze from the cake.
Step 5:
Use an offset spatula to carefully lift the cake and move it to a plate or cake stand. Warming the blade of the spatula first will help prevent damage to the cake when sliding it back out from underneath the cake once it's on the stand.