The incredibly popular video game, Minecraft, allows users to construct three-dimensional worlds and adventures with the use of blocks and has quickly become a prominent theme for video game-theme cakes and celebrations.
Block out plenty of time to browse through these inspiring Minecraft cake designs and party ideas to build your next adventurous project!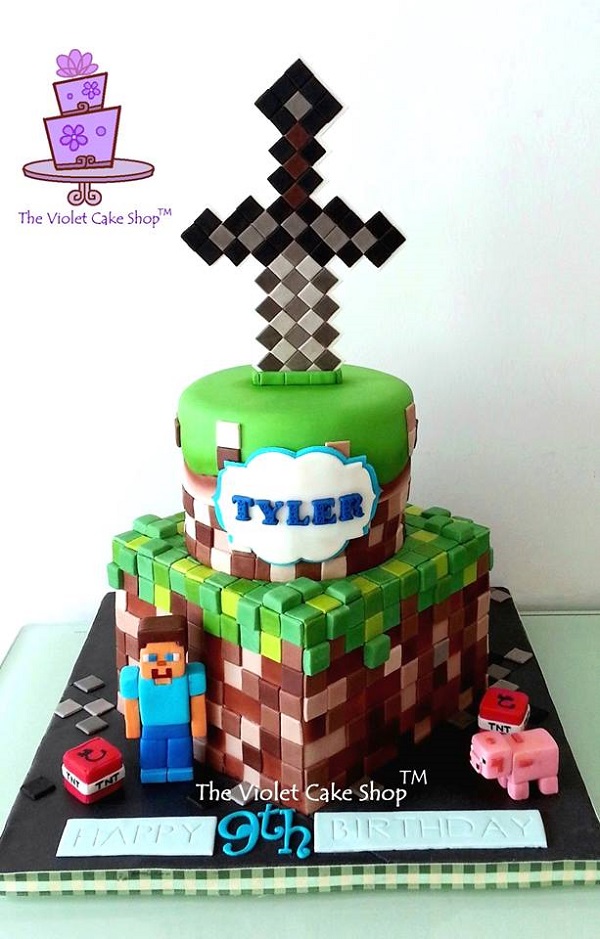 Photo via The Violet Cake Shop
Tiered Minecraft cake
This absolutely amazing two-tiered cake by The Violet Cake Shop was created to match the elements of the Minecraft game. The bottom square layer was built to look like its entirety was built from small square blocks. Each fondant square was painstakingly cut out from a variety of green and brown shades and manually attached to the surfaces. The sword inserted through the top also retains the block design and provides an impressive centerpiece topper. The cake board is encompassed into the entire presentation, donning figures and characters from the game, and finished off with a personalized birthday wish.
Work on your color and design techniques for your Minecraft cake in the Bluprint course Modern Mosaic Cakes with Allison Kelleher, who demonstrates simple ways to create and piece patterns with a variety of painting methods.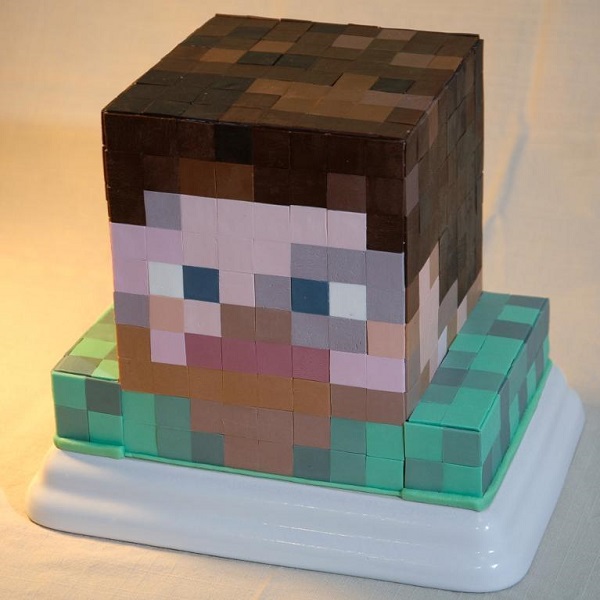 Photo via Bluprint member Leyda Vakarelov
Minecraft fantasy cake
Bluprint member and cake artist Leyda Vakarelov created this awesome Minecraft fantasy cake, reflecting "The Player" in the video game, often referred to as "Steve". As part of the course Clean & Simple Cake Design with Jessica Harris, the individual squares were cut out of modeling chocolate and transferred to the cake utilizing Jessica's wax paper transfer method, achieving the amazing final composition and design.
Add even more excitement by including a patterned design baked directly into your cake to surprise your guests! Find out how in the Bluprint course Decorating From the Inside Out with Amanda Rettke.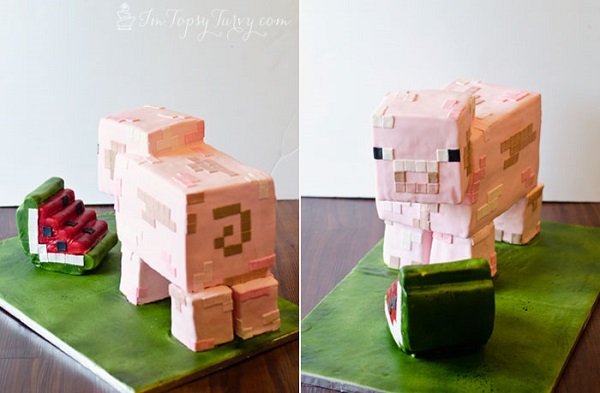 Photo via Ashlee Marie
Minecraft pig cake
These adorable carved cakes by Ashlee Marie reflects two prominent characters/items from the video game: the pig and watermelon! The three-dimensional confections were sculpted to resemble the figures' graphics and square fondant pieces were strategically placed to reflect the essence of the blocks, without having to cover the entirety of the cakes, saving time and still achieving the desired look. Check out the Minecraft pig cake tutorial for additional details and images.
To learn more about cake sculpting, check out the Bluprint course Cake-osaurus Rex with Catherine Ruehle for the basics of building and carving three-dimensional cakes, along with the essentials of structures.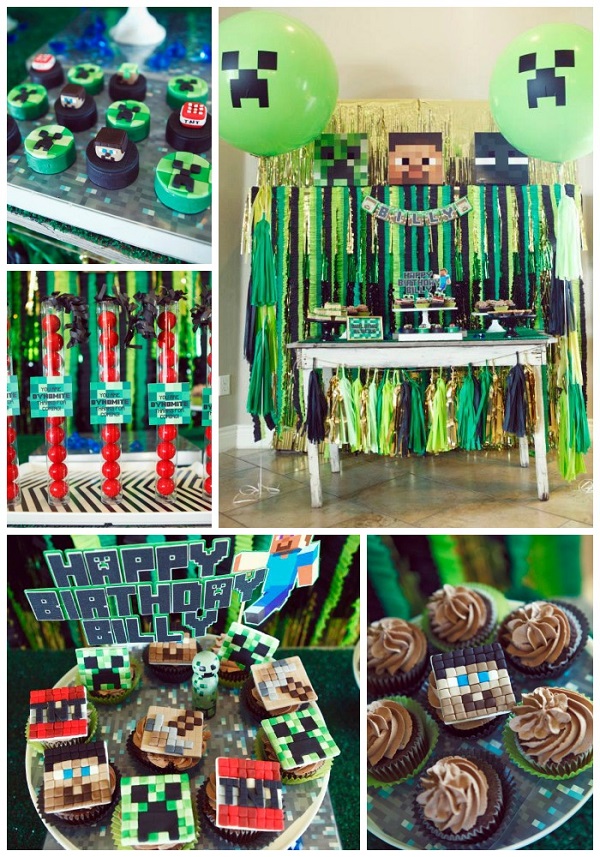 Photo via Oh Goodie Designs 
Jeepers Creepers Minecraft party
This incredible Jeepers Creepers Minecraft party by Oh Goodie Designs demonstrates the ability to creatively throw a video game party with stylish and trendy elements! The backdrop and decor were created with the use of color-coordinated streamers, paired with tassels and oversized balloons made to resemble the "Creeper" character with the use of vinyl from Ten23 Designs. Cupcakes and chocolate-covered cookies were dressed up with marvelously detailed fondant toppers from Love & Sugar Kisses and additional paper decorations were included with graphics from Harper Gray and Vanessa Grant Events.
New to fondant? Get acquainted with the medium and practice to get creative with your future projects, starting out with The Wilton Method®: Decorating with Fondant with Beth Somers to add to your next party!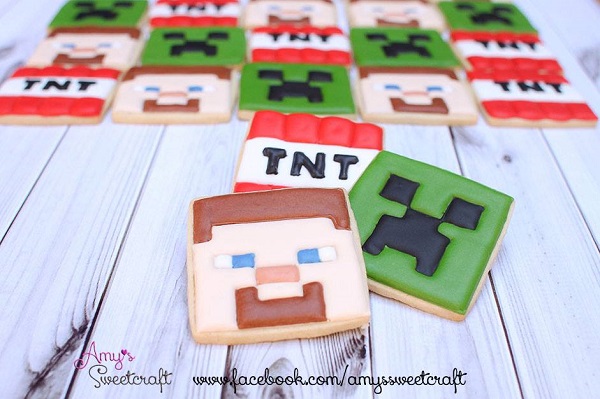 Photo via Amy's Sweet Craft
Minecraft cookies
Amy's Sweet Craft created these adorable Minecraft cookies for a family video game night get-together that would be the perfect addition to a themed dessert table or could easily be utilized as party favors! With the use of royal icing, the main characters and items are perfectly reflected on a square cookie with block features to match the game's aesthetics.
Supplement your cakes with amazing cookies to dress up your dessert table. In the Bluprint course Decorating Essentials: Designer Cookies with Autumn Carpenter, get the tips and a variety of techniques to embellishing cookies customized to your theme.
What is your favorite video game of all time?