Who's the leader of the club that's made for you and me?! M-I-C, K-E-Y, M-O-U-S-E, of course! The most beloved and iconic mascot of the Walt Disney empire came to life in 1928 and continues to be one of the most recognizable symbols worldwide.
Between the amusement parks to the classic films to more recent Mickey Mouse Clubhouse show, the quintessential mouse maintains his reign as one of the most popular themes for cakes, cupcakes and celebrations.
Strap on your ears and check out these magically innovative Mickey Mouse cake design ideas for Mouseketeers of all ages!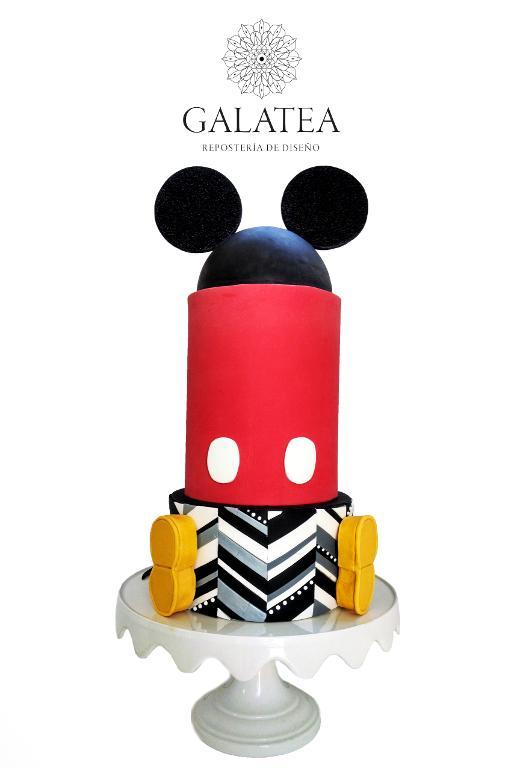 Photo via Bluprint member Galatea
Modern Mickey Mouse cake
When we think of Mickey Mouse, specific attributes come to mind, including his quintessential ears, red shorts and yellow shoes. Bluprint member and cake artist Galatea took these highly recognizable accessories and interpreted them into this fresh and gorgeous modern Mickey Mouse cake! Created in Simply Modern Cake Design with Jessica Harris, techniques from the course were applied to the creation of the three-tiered cake, including Jessica's waxed paper transfer method to facilitate the application of fondant patterns. Check out the detailed images of the cake, including matching cupcakes and the original sketch of the design, on Galatea's project page.
Jessica Harris' introduction to her waxed paper transfer method can be found in her first course Clean & Simple Cake Design where she teaches the techniques to developing fondant patterns and applying them to your cakes.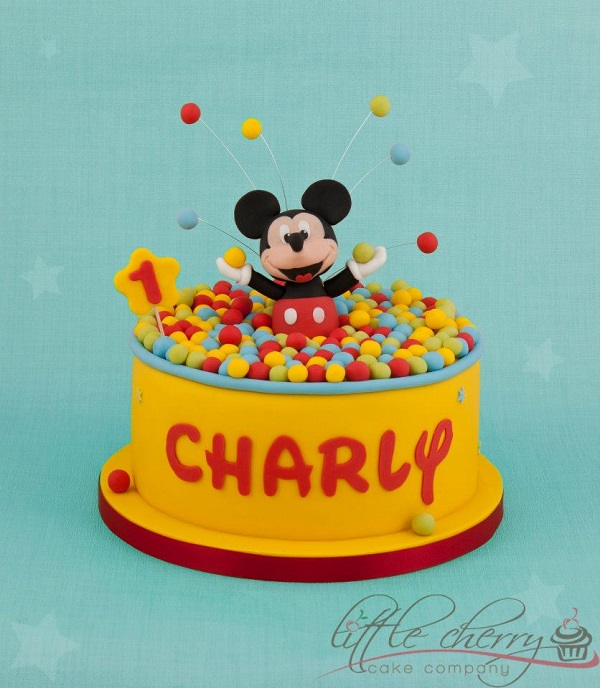 Photo via Little Cherry Cake Company
Mickey Mouse ball pit cake
This charming and charismatic mouse begins to capture our hearts at a very young age, making him one of the most popular themes for celebrating a first birthday. There is no doubt that one year old Charly was absolutely delighted at the sight of this precious Mickey Mouse cake created by the Little Cherry Cake Company! The fondant Mickey figure is perfectly molded and inserted into a cake shaped like a ball pit, surrounded by hand-rolled colored balls. The use of balls attached to wires adds movement, life and all kinds of fun to this adorable piece!
For instruction, tips and techniques on creating amazing fondant figures such as this, make sure to check out the Bluprint courses Custom Cake Toppers: Step by Step with Brenda Walton and Cake Topper Techniques: Fondant Animals with Sharon Wee.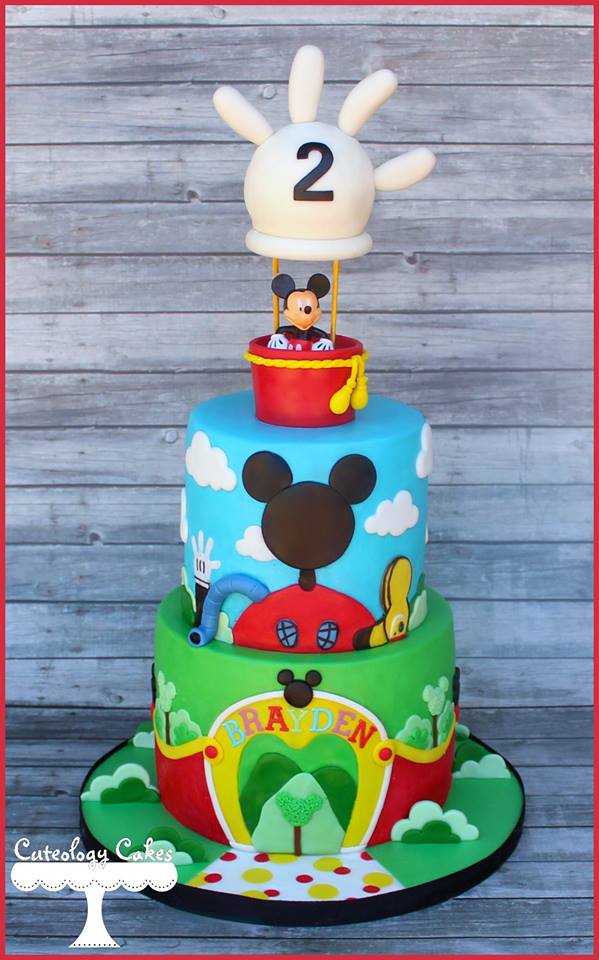 Photo via Cuteology Cakes
Mickey Mouse Clubhouse balloon cake
One of the more recent additions to the Mickey & Friends franchise is the animated television series Mickey Mouse Clubhouse, intended for the youngest of audiences. For a huge fan of the show, Cuteology Cakes created this incredibly impressive and captivating two-tiered cake based on elements of the cartoon.
The landscape, including the clubhouse, are represented in two-dimensional fondant form around the perimeter of the two layers, while Mickey himself sits in a fabulous hot air balloon atop the cake, setting the entire scene for this work of art! And make sure to pay attention to the cake board incorporated into the design, which can make a huge difference in your overall presentation.
If you are interested in creating a hot air balloon for your own cakes, along with designs with similar attributes as this adorable cake, check out the Bluprint course Clean & Simple Birthday Cakes with Jessica Harris!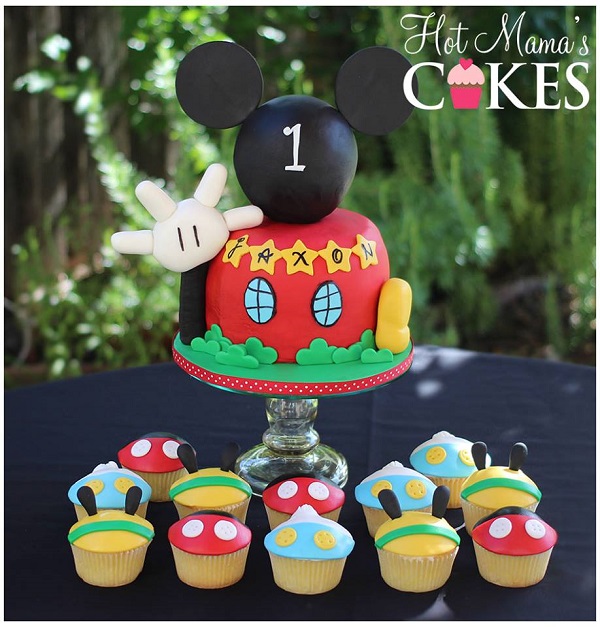 Photo via Hot Mama's Cakes
Mickey Mouse Clubhouse cake & cupcakes
If you're looking for inspiration to make a three-dimensional representation of Mickey's Clubhouse, look no further than Hot Mama's Cakes delightful sculpted cake! The cake itself was carved, covered in fondant and embellished to replicate the clubhouse on the show, while the matching cupcakes are covered entirely out of fondant and decorated to relate to corresponding Disney characters.  And lastly, the birthday boy's name and age are reflected onto the cake to give it a special, personalized touch.
Learn the basic techniques to sculpting and carving cakes in the Bluprint course Cake-osaurus Rex with Catherine Ruehle, while also applying personalized enhancements in the course Custom Lettering & Monograms with Nicholas Lodge.
Photo via Lynlee's
Mickey's Road Rally fondant toppers
Mickey Mouse cakes and parties can also be more specific to a precise episode, game or theme, perfectly exemplified in these Mickey's Road Rally fondant toppers for Laura's Little Party. Laura's Mickey's Road Rally party centered around all things Mickey AND car racing, expanding the creative boundaries! To correlate with the theme, the fondant toppers not only depict the evident elements, such as a Mickey silhouette and his car, but also takes components of his character, such as his clothes and the iconic ears, and transforms them into race-related items, including a stoplight, gas can, stoplight, etc.
Learn the basics of fondant in the Bluprint course The Wilton Method®: Decorating with Fondant with Beth Somers and practice working with fondant on a smaller scale in Tiny Cupcake Toppers with Sheryl Bito.
Photo via Once Upon a Pedestal
Hidden Mickey Mouse cake
Cakes donning a surprise design inside of them are all the rage right now and deservedly so. Who wouldn't want to cut into delectable and adorable Mickey Mouse cake by Once Upon a Pedestal and be surprised and amazed by an adorable character silhouette  inside?! The outside of the cake is iced and embellished with candy delicious decorations, hiding what the baker refers to as a twice-baked cake in its center.
Cake designer Amanda Rettke demonstrates the techniques to creating confections with hidden designs and messages similar to this in her Bluprint course Decorating from the Inside Out!
Special Savings on Popular Cake Decorating Classes
Learn from the best instructors. Get up to 33% off classes you can watch anytime, anywhere, forever.Enroll Now to Save »