Mermaid treats are so whimsical and fun! They're great for kids' parties and fun-loving grown-ups too. Make your dessert table a splash with these adorable cupcakes.
How to make mermaid cupcakes
Materials and tools needed:
Freshly baked and cooled cupcakes
Turquoise buttercream (use blue food coloring with a little yellow)
Sugar pearl sprinkles
Crushed cookies (like Golden Oreos or Custard Creams)
Mermaid tail mold
Colored candy melts
Melted white chocolate
Edible metallic paint
Food-safe paintbrushes
Disposable piping bag
Closed star piping tip (we used the 855 by Ateco)
Step 1: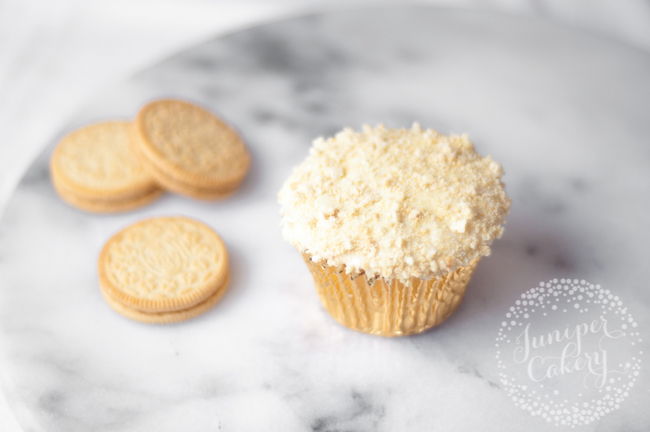 Dip the top of the cupcake into the melted white chocolate. Make sure to covered the entire surface of the cupcake.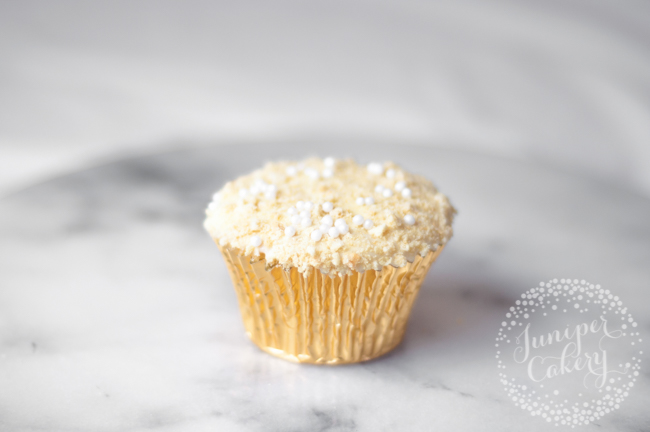 While the white chocolate is still melted, dip the top again into the crushed cookies to create a sandy beach look. Add a few edible sugar pearl sprinkles on top for a little extra detail.
Step 2: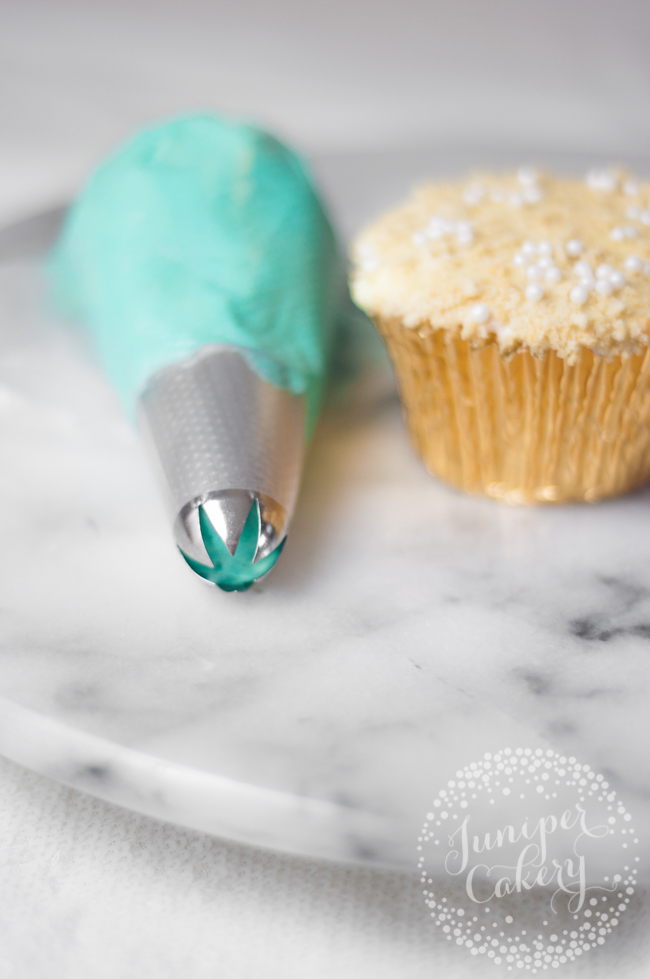 Fill up a disposable piping bag fitted with a close star piping tip (we used Ateco's 855) with your turquoise tinted buttercream.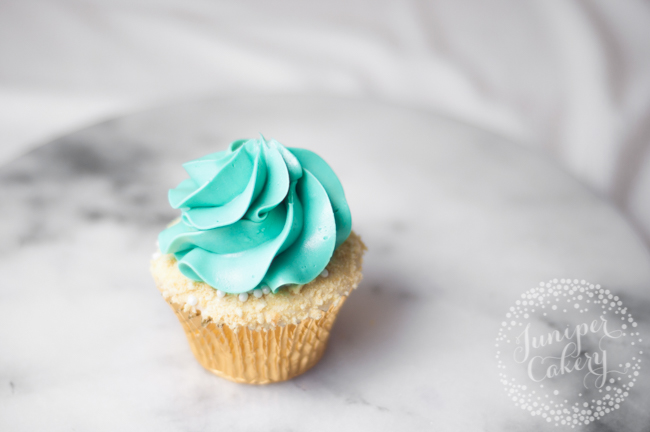 Pipe ruffled swirls on top of your cupcake. Make sure you don't pipe right out to the edges of the cupcake — you don't want to cover up sandy base you made in the last step.
Step 3: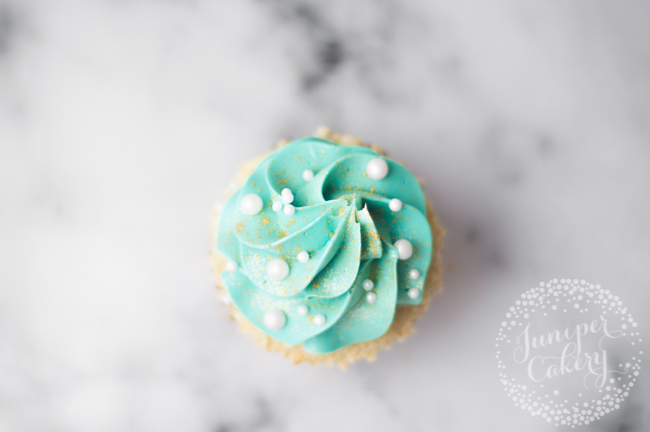 Add a few more edible pearls or a dusting of edible metallic luster for a little extra glitz.
Step 4: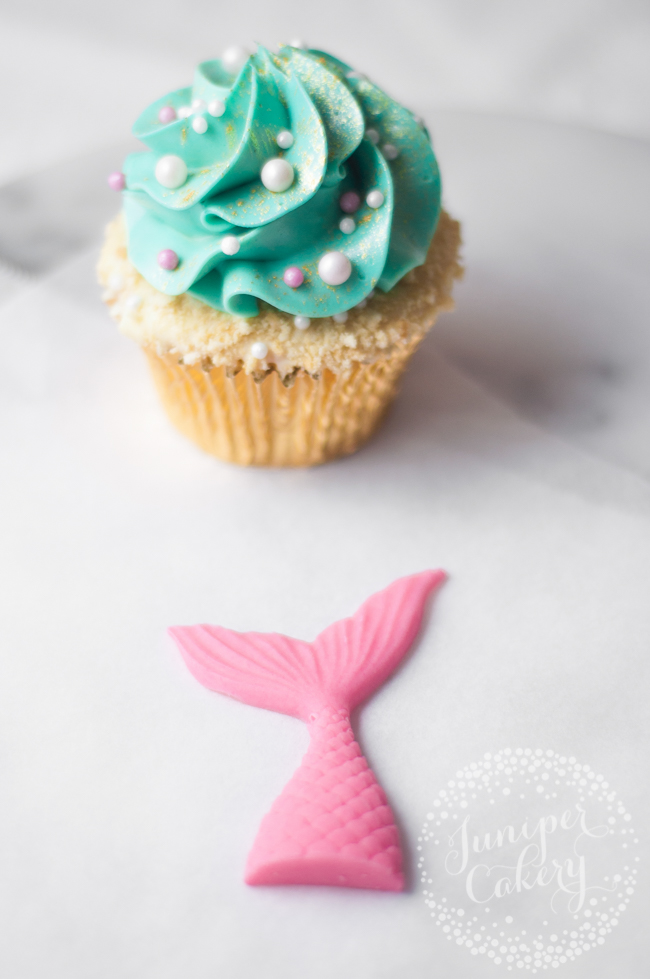 Melt down your candy melts, following the instructions on the packet. (We used a bubblegum pink for our mermaid's tail.)
Pour the melted candy into your silicone mold, then lightly tap your mold on a level surface. This helps get rid of any air bubbles.
Place the mold in the fridge for 20-30 minutes. To check if the molds have set, gently touch the molds with a toothpick: If the candy still feels too soft, keep it in the fridge for another 10 minutes. Once ready, remove and then carefully pop them out of the molds.
Step 5: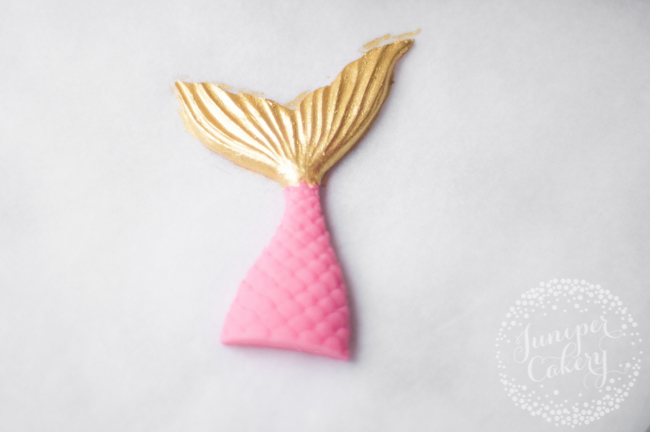 Now you can dust or paint your candy melt pieces. We added a glam, gold shimmer to the fins of our mermaid's tail.
Step 6:
Nestle your mermaid tail into your buttercream. Make sure that the tail sits right in the middle.
You can easily customize these cupcakes with different colors and sprinkles or even create a mermaid themed cake! We love the idea of a drip cake with swirls of frosting on top, each with its own mermaid tail!