Medallion quilts have become increasingly popular with quilters. A medallion quilt, by definition, is a quilt that has a central motif and is surrounded by multiple borders. The central part of a medallion quilt can be a patchwork quilt block, an appliquéd piece, or a whole cloth piece of printed fabric. Regardless of what the center is comprised of, the medallion quilt is "built" by adding multiple borders around the center portion of the design.

Marcelle Medallion by Sherri McConnell, pattern by Alexia Abegg.
The borders in medallion quilts generally use a variety of different blocks and patterns, and some of the borders can even be comprised of appliqué and embroidery. Stunning medallion quilts often utilize many different quilting techniques. Some borders are simply solid pieces of fabric that allow a "resting" place for the eyes in a quilt with so many different design elements.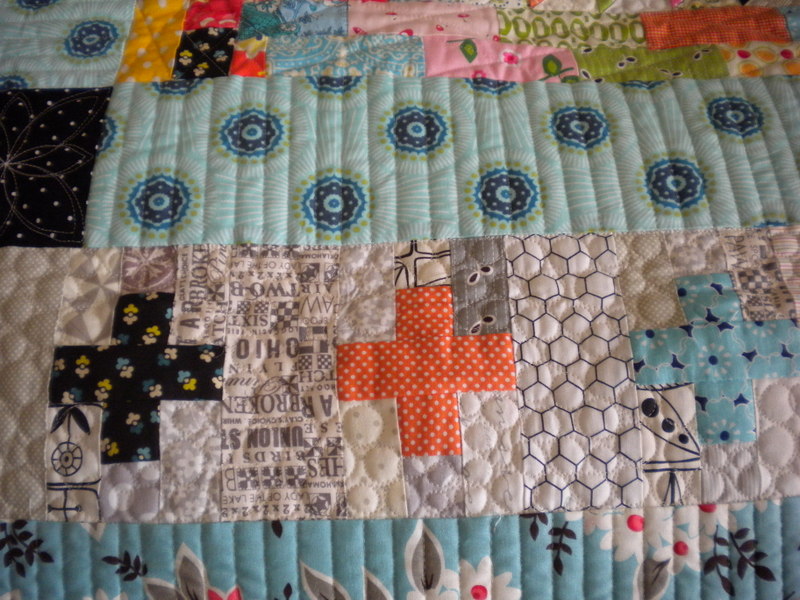 "Plus" block border from Marcelle Medallion by Sherri McConnell, pattern Pattern by Alexia Abegg.
Quilt historian Barbara Brackman explains a little bit about the history of medallion quilts in this excerpt from a post on her blog, Material Culture:
"Early quilts often have a central design focus, a setting style Americans tend to call medallion quilt and the British call framed quilt or frame quilt. The terms seem to date only as early as the twentieth-century, possibly established in 1929 by quilt historian Ruth Finley who described a quilt with a tree-of-life center as a 'framed medallion' in her book Old Patchwork Quilts: And the Women Who Made Them."
Recently, a popular medallion quilt, the Marcelle Medallion pattern from Alexia Abegg's book Liberty Love, became a huge hit with quilters. Many quilters made this quilt and used social media to document their progress on this quilt. The center of this popular medallion quilt is a stunning star block. The outer borders include traditional flying geese, equilateral triangles, rectangles and solid borders. Even the solid borders become part of the beauty of the design, as modern quilters tend to use bold prints for the solid pieced-border sections.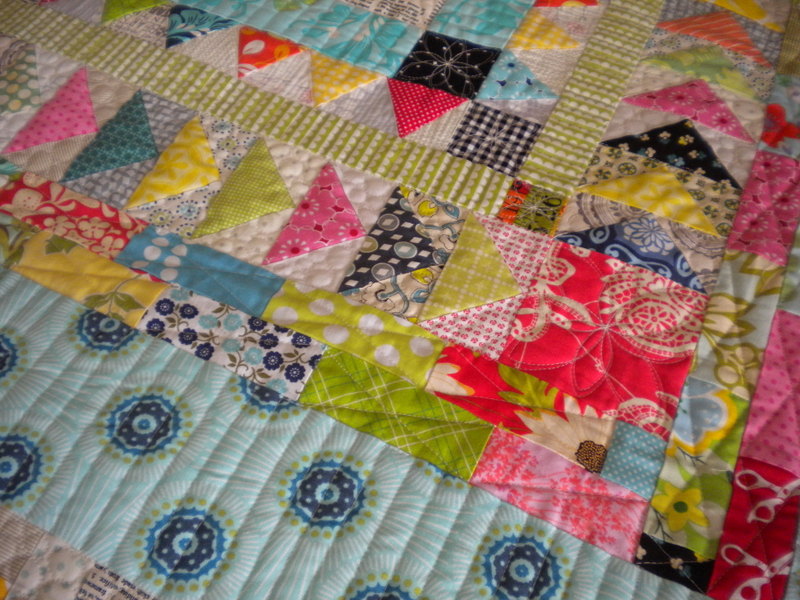 Marcelle Medallion by Sherri McConnell, pattern by Alexia Abegg.
Aunt Lucy's Medallion Quilt by the From My Heart to Your Hands pattern company is another medallion quilt pattern that showcases patchwork blocks and solid borders. The center medallion portion is comprised of a large patchwork star in a star section, and a variety of pieced small blocks make up the border sections of the quilt.
Another popular pattern is the recently published Made to Measure medallion quilt by Australian quilt designer and Bluprint instructor Sarah Fielke. This medallion quilt pattern can be found in the book Hand Quilted With Love. The center medallion section of this quilt features a simple but bold star block with half-square triangle blocks, solid borders and square-in-a-square blocks framing the center portion. The center star design is also repeated in a smaller scale in two of the other borders.
With so many beautiful examples of modern medallion quilts, have you thought about creating a medallion quilt?