I've been sewing lingerie for years, and cup size still causes me some confusion. It's one of those things in sewing that has a lot of variables and inconsistencies between brands and regions.
In this post, I'll give you the basic knowledge you need to understand what cup size is, how to measure for your cup size and how you can make bust adjustments on a pattern.
What is cup size?
Cup size is essentially the difference between your bust measurement and band measurement. Each inch of difference between those two measurements corresponds to your lettered cup size.
Less than a 1″ difference would be an AA cup, 1″ would be an A, 2″ a B, and so on. This sounds pretty simple, right? Well, it gets a little trickier from here on out.
How to measure your cup size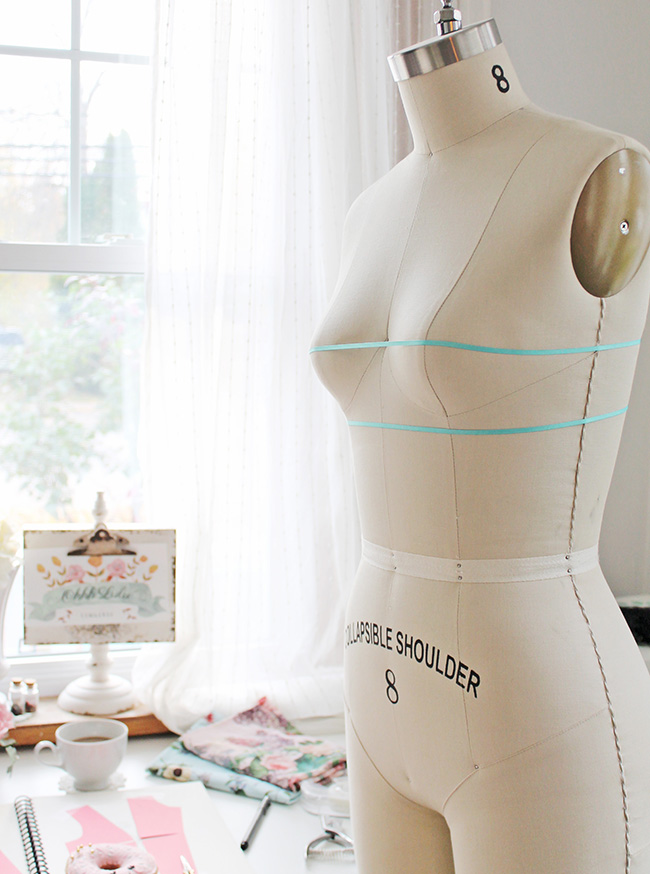 Step 1: Measure your band size
Begin by measuring around your ribcage, right below your breasts. This is where your bra band should naturally fit.
If you measure an odd number, round up to the nearest even number. As an example, if you measure 30¾" inches around the ribcage, round up to 32″.
Some bra manufacturers recommend adding 4″ to your band measurement for ease. I find that this method is becoming outdated and, in general, it's better to go by your actual body measurement.
Step 2: Take your bust measurement
Bust size is the measurement around the fullest part of your bust. Round up to the nearest full number. For example, if your actual bust measurement is 35½", round up to 36″. This keeps things simpler for the next step.
This measurement can be tricky to take for those with a larger bust. My suggestion is to put on an unpadded or lightly padded bra or bralette. Choose something that doesn't compress your bust too much, as you will want an accurate measurement.
Step 3: Determine your cup size
To determine your cup size, subtract your band measurement from your bust measurement. Keeping with the same example above, our 32″ band, 36″ bust body would wear approximately a D cup. Her full bra size would be approximately a 32D.
A few key things to remember when measuring for cup size are:
Make sure the measuring tape runs parallel to floor.
Do not measure over thick clothing, as this can result in inaccurate measurements.
For fuller busts, it's easier to measure while wearing a light bra.
Cup sizing is not as simple as ABC
I use the words "generally" and "approximately" a lot because, unfortunately, this is not a fool-proof way of determining your bust size. But, it is a very good starting point.
A number of variables can affect which cup size you actually find most comfortable.
For example, a body type with broad shoulders may measure wider around the bust, but actually fit into a smaller cup size due to the width of their back. A body type with a less dense breast may also fit more comfortably into a smaller cup than their measurements indicate. Also, some women may feel more comfortable in a looser or tighter band. Much of bra fitting will come down to a personal preference.
Another important variable is where you live.
The U.S., U.K. and Europe all have slightly different cup size lettering methods. If you're buying a ready made bra or a bra sewing pattern, be sure to look over the size guides carefully to make sure you're beginning at the right starting point!
Because of this, it's extremely important to sew a test garment when using a new bra sewing pattern. Each pattern designer will start with their own block, and their cup sizing may vary based on their region. So before cutting into your precious fabric, make sure you've tested out the fit first.
Making cup size adjustments on a bra pattern
Grading (the process of drafting a bra into multiple sizes) can be a tricky task — especially when dealing with underwire bras. Luckily, if you understand the basics of how cup sizes are determined, you can make fit adjustments to your handmade bras.
When I draft a bra, I start with a dress block. This gives me the basic shapes I need to draft a close fitting garment. On the block below, I've traced off approximately where the bust and band will be.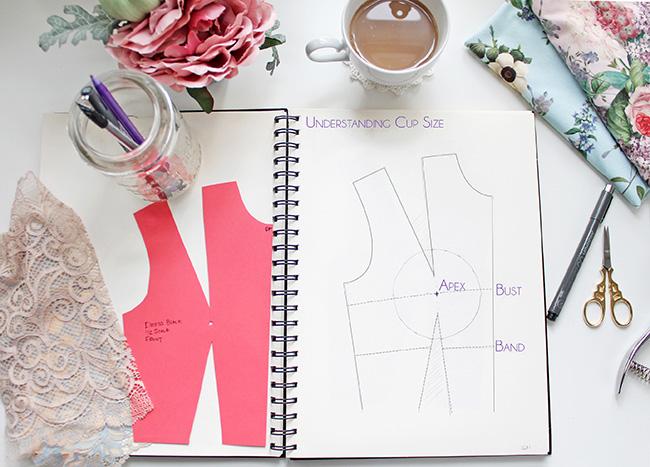 The darts provide the shaping, and you can make slight adjustments to the fit of the band at this seam.
For each cup size, you need to add width and height to the bust area of the pattern.
See how I've slashed and spread my block in the image below?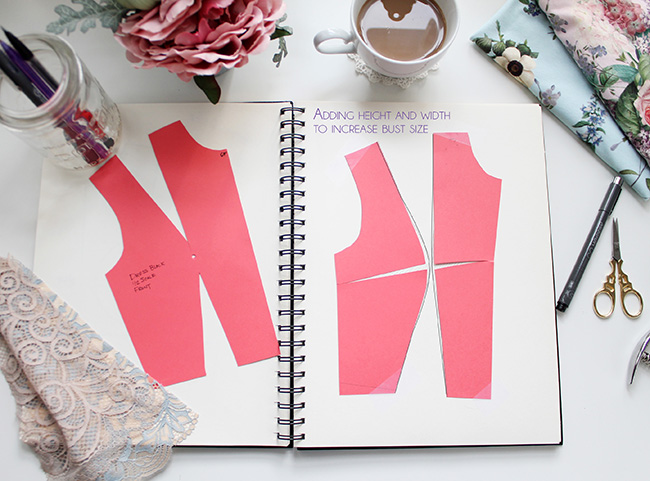 I've added additional height and width to the bust area without affecting the overall fit of the band area.
Remember that each cup size represents approximately a 1″ to 2″ difference, and you need to spread that difference around each of your seams. As the bust gets fuller, you need to add both height and width to your cup, and correspondingly, you'll need to adjust the height of your band. 
Bras are a complicated garment and they can take some practice to get just right, but understanding how cup sizing works can help you get off to your next project on the right foot!