This guest post is brought to you by Joi Mahon, instructor of the Craftsy class Fast-Track Fitting, which covers how to measure yourself and alter patterns so they fit your body perfectly.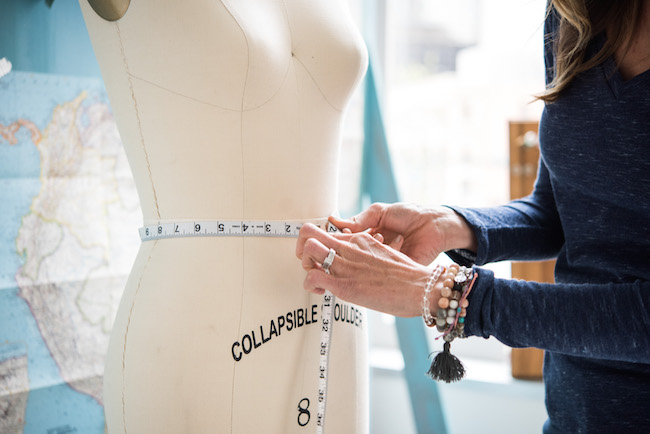 Why is it that sewers buy every fit book, take every fit class, and are still not finding solutions to their fitting needs? It is because they are not taught to address body measurements and how they relate to the pattern prior to sewing a single stitch. Your sewing pattern is a starting point, and pattern pieces are not reflective of the modern body shapes and variations.
As a pattern designer and custom sewer, I have encountered body measurement and how they affect the fit of the garment on a daily basis.
By learning a few basic concepts, you can make any pattern, any style, and any size fit any body.
All you need to do is measure your body in a specific area and then measure your pattern in that same area. If the pattern measures too big, then you make only that area smaller to match you. If the pattern is too small, then you make it bigger to mirror the shape of your body.
The key is to make your changes to specific parts of the pattern not using the generic pattern adjustment lines that most sewers and teachers use.
Let's take a look at one specific and easy body measurement that I teach in my Craftsy class Fast-Track Fitting and is also part of my upcoming Fit Book. This is my favorite measurement: the apex-to-apex.
The apex is a key point of measure for patternmaking and fit. Patterns normally do not have the apex marked, but it is simple to locate.
Draw a line up the center of the waist dart and over from the center of the bust dart. The intersection is the apex.
For patterns that do not have these darts, a good rule of thumb is that the apex is approximately in the center of the pattern. You can also pin your pattern to a dress form and mark the approximate location. We know it is not up by the shoulder, down at the waist or at the center front or side seam. Knowing that, we can logically make a visual decision where it is on the pattern.  Don't over think its placement or micro-measure. It is a starting point for customizing your pattern and the entire pattern will change around it.
Tip: Once you master your measurements and see how they relate to your pattern, you have the freedom to intentionally create artificial points on the body by modifying the measurements. For example, if your bust area is narrow and you want it to look wider, make your apex-to-apex measurement wider. The body does not change, but you can make it visually look like it changes. Do the opposite if you want to make the center front look narrow.
Note: The apex-to-apex distance is not an area that needs a lot if any of ease. This part of the pattern should mirror your body directly.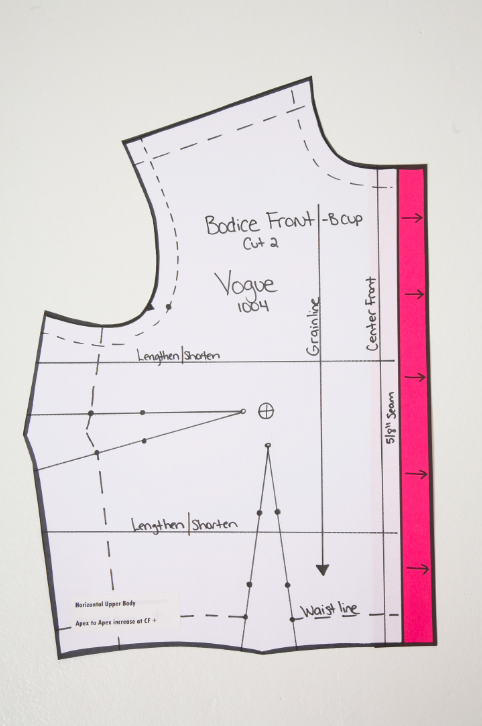 Here's a simple pattern adjustment to increase your apex-to-apex:
Center Front (CF) Increase:
Measure from the apex of the pattern over to the center front of the pattern (assuming you have half of a pattern). Do not include the seam allowance. Compare to ½ of your body apex-to-apex measurement. To increase, simply extend the CF of the pattern out the entire length of the pattern front the amount needed to match your body. (The CF neckline will temporarily become longer. You might need this space; you can raise the CF neckline by the same amount you increased, or you can address this in the fit sample phase of sewing). Whatever you choose that is polishing, but your scale and proportion of the pattern now matches your body. Apply the opposite to decrease.
This is just the tip of the iceberg. For many more tips and tricks on this body measurement and others, check out Designer Joi's practical and approachable method in Fast-Track Fitting. Joi's followup book with be available fall 2014 and you can also check her out at www.dressformdesign.com.
About Joi Mahon
Joi Mahon is an experienced and award-winning designer, published author, educator, stylist, and expert in fit with a degree in fashion design from Iowa State University. She provides a variety of services to the fashion and home sewing industry and works one-on-one with custom clients in her private studio, creating eye-catching, couture designs for clients all over the US. Her fashion industry services include pattern making, design, prototype development, pattern writing, article writing, illustrations, creative marketing concepts, and other freelance services. She currently writes a creative column for SQE Professional Trade Publication, owns a U.S. patent on an apparel item being licensed for mass market, and is the national spokes- designer for the Love of Fashion Program sponsored by Baby Lock USA. Joi is a member of the Independent Pattern Company Alliance, National Sewing Council, Sewing Educator Alliance, Association of Sewing and Design Professionals, and Textile Industry Advisory Board.