Mason jars make lovely home decor accents, and they represent and iconic piece of American history. Whenever I go to the antique store, I can't help but look for blue-colored mason jars. Also called canning jars or Ball jars, these glass containers are marked by a screw-on metal lid specially designed for canning and preserving foods.
These common jars now serve as inspiration for all kinds of projects. In fact, creators have taken to embroidering mason jar images on quilts, hand towels and other handcrafted items — even embroidering images on a piece of cloth framed inside a mason jar lid.
If you love the vintage-chic look of canning jars, these mason jar embroidery designs offer some great ideas for crafts you can make and enjoy year-round. Let's take a look!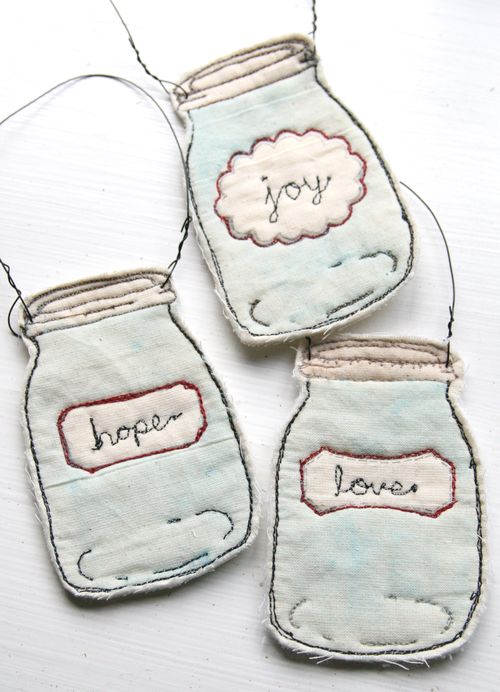 Photo via Crescendoh
Mason jar ornaments
For the mixed media crafter, these mason jar ornaments offer a beautiful way to create with fabric and thread. The mason jar design is first stamped onto muslin fabric, then outlined with free-motion quilting. The fabric is even painted with watercolors before it's time to attach a craft wire hanger to each fabric ornament.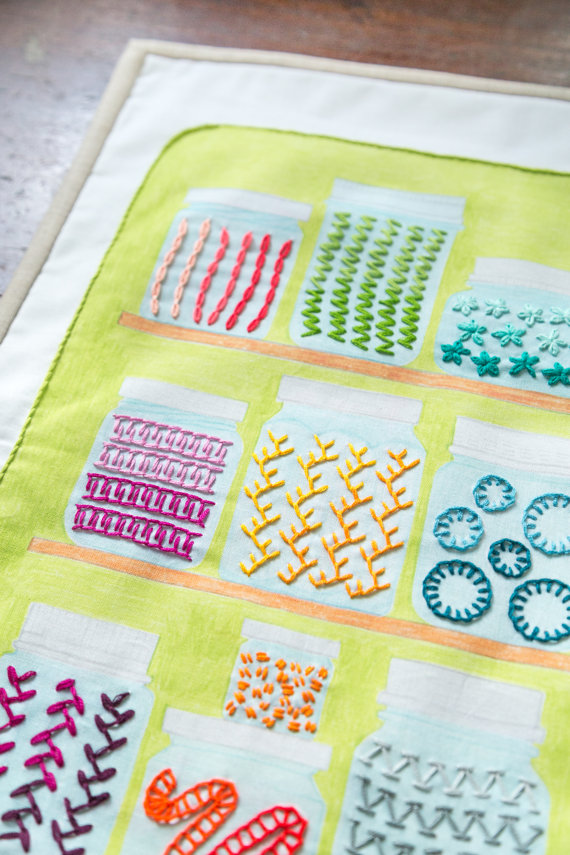 Photo via auntjune
Mason Jar Stitch Sampler
If you love the relaxing art of hand embroidery, this mason jar embroidery design is perfect for you. The Mason Jar Embroidery Sampler features an 11.5″ x 18″ unembroidered, printed fabric panel with rows of mason jars ready to be personalized with your hand embroidery. With its whimsical vibe and vintage flair, the fabric panel would make a nice wall hanging in a kitchen or crafting space.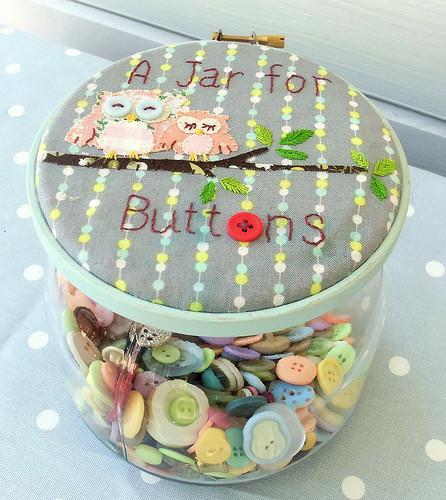 Photo via Bluprint member Bustle & Sew
Owl Button Jar
A mason jar or any inexpensive glass container can be turned into a work of art when you hand embroider the lid. If you don't have a screw-on metal lid with the perfect opening for a design, you can make your own lid from a 5″ mini embroidery hoop that rests on top of the jar. Little jars like these are great for storing buttons, safety pins, Wonder Clips or other notions you'd like to keep nearby your sewing machine.
Get the Owl Button Jar embroidery pattern here.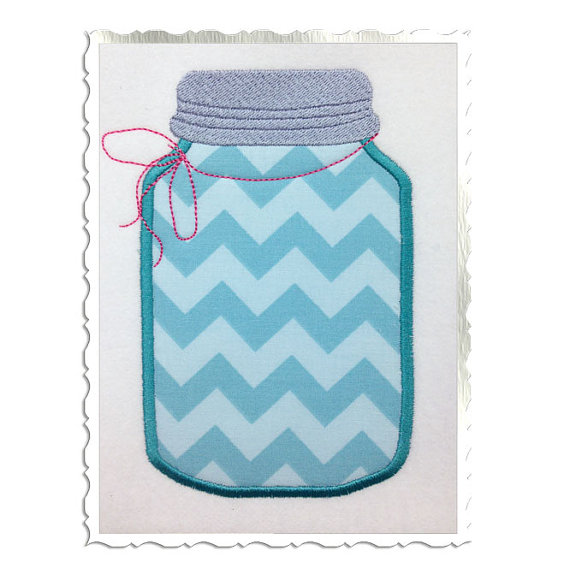 Photo via Rivermill Embroidery
Digital Mason Jar Embroidery Pattern
Rivermill Embroidery shares an adorable digital pattern for a mason jar embroidery design. The simply stitched design can be added to clothing, home decor or even quilts for a personalized touch.
Mason jar embroidery designs by machine can benefit from a quality stabilizer like Pellon 806 Stitch and Tear. Stabilizers can make machine embroidery projects more appealing by adding stability to the design area, as their name suggests. This, in turn, prevents distortion and puckering. Simply tear away the stabilizer when finished, and the rest washes away from the finished project!
Shop embroidery stabilizers here.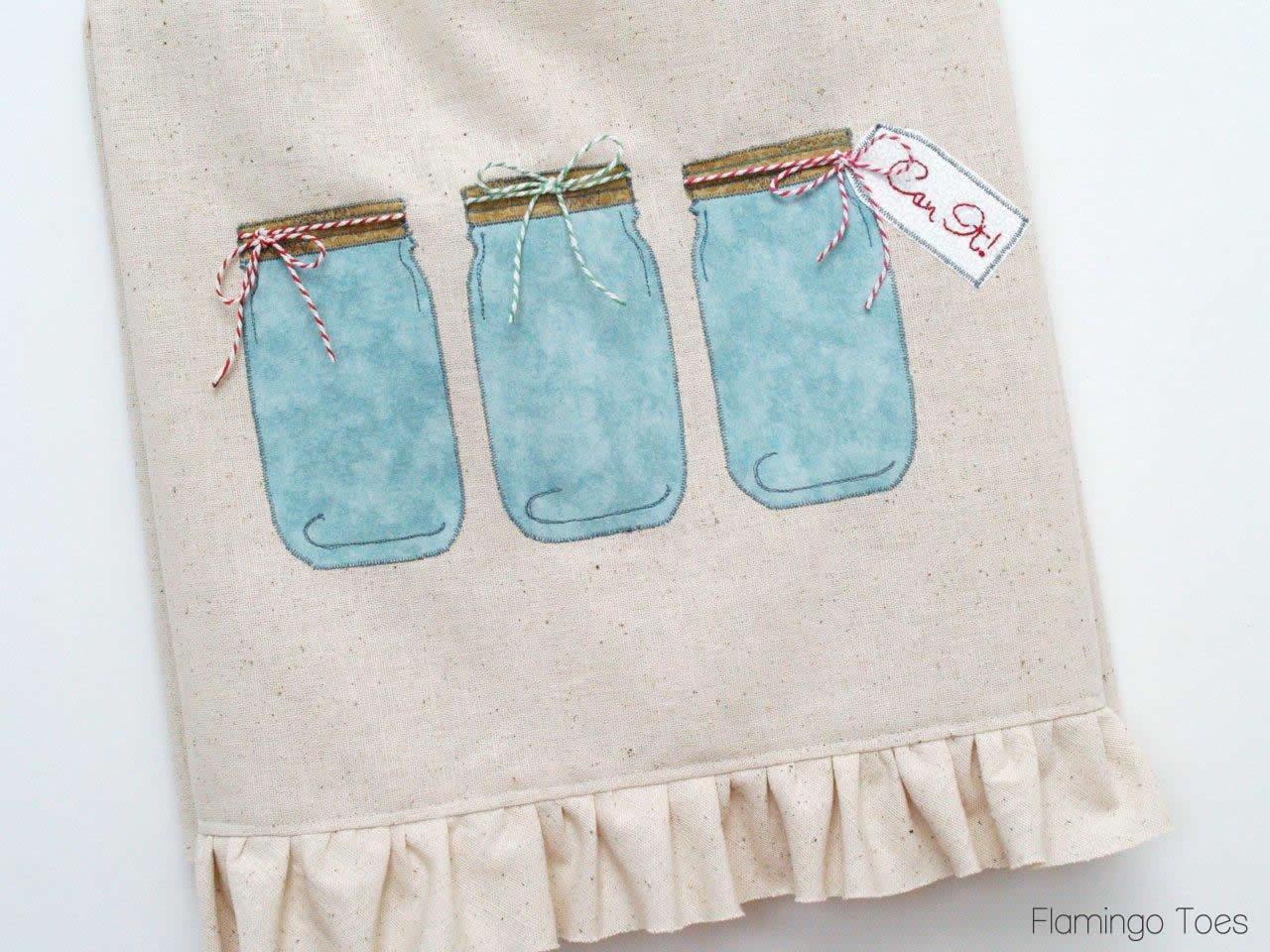 Photo via Flamingo Toes
Mason Jar Embroidered Dish Towel
The Can It! Mason Jar Dish Towel is a machine appliquéd mason jar design with hand embroidered details, plus fun extras like baker's twine ribbon that goes under the fabric and is also tied in a bow over top of the appliqué. Bev's tutorial includes the downloadable free pattern for the jars and directions for adding the cute bottom ruffle.