Making your own pantry staples can seem intimidating. But what task isn't intimidating for the first time?
After you start making a few of your own pantry staples, like this mouth-watering maple-boubon BBQ sauce, you'll be hooked. Not only is it a pretty simple process to make things like sauces, dressings and nut butters, but they almost always taste better than store-bought.
Sure, once in a while I buy dressing or sauce from the store when I'm in a pinch, but it never fails that I'm left disappointed.
Today I'll be sharing this homemade BBQ sauce that I think you're going to love. It's a little smokey, a little sweet, and has a nice zing from the bourbon. Tomato paste helps thicken everything up and the hot sauce adds just the right amount of flavor and spice.
You can use this sauce to top so many different things! I love grilling or baking tempeh that's been heavily coated in barbecue sauce. It's also a fabulous topping on veggie sandwiches. I've even poured it over grilled polenta, which was phenomenal!
And the options for infusing your homemade BBQ sauce are endless. I've added numerous types of fresh fruit to my sauces, like pineapple, rhubarb, blueberries and peaches.
There's no need to feel intimidated by whipping up a batch of this sauce. If you know how to chop an onion and stir a pot of sauce you'll be good to go!
Homemade maple-bourbon BBQ sauce: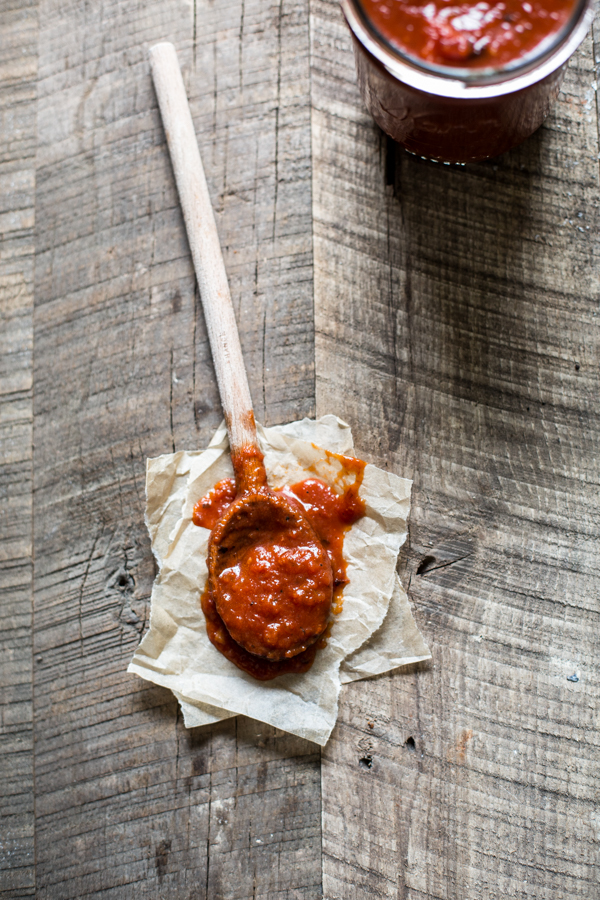 Photo via Edible Perspective
Yield: 16-18oz
Ingredients:
1 tablespoon avocado oil (or olive oil)
2/3 cup diced sweet onion
2 teaspoons minced garlic
1 3/4 cups fire-roasted diced tomatoes (or regular diced)
1/4 cup bourbon
1/4 cup pure maple syrup
1/4 cup apple cider vinegar
3 tablespoons tomato paste
2 tablespoons lemon juice
2 teaspoons worcestershire sauce (use vegan/GF if needed)
1 teaspoon gluten-free tamari (or liquid aminos)
Few glugs of hot sauce
Salt to taste
Step 1:
Preheat a medium pot/saucepan over medium heat with the oil. Once hot, add the onion and stir frequently until the onion is soft, about 5-7 minutes. Add the garlic and stir for 1 minute.
Step 2:
Add the tomatoes and stir. Then add the bourbon, maple syrup, vinegar, tomato paste, lemon juice, worcestershire sauce and tamari. Stir well to combine and reduce heat to med-low. Bring to a simmer and cover with the lid ajar if it starts to spatter. Keep at a low simmer, turning heat to low if needed.
Step 3:
Cook, stirring every few minutes, for about 15 minutes. Add salt to taste (start with 1/4 teaspoon) and a few glugs of hot sauce.
Step 4:
Blend with an immersion/stick blender if desired, or leave as is for a chunkier sauce. For a smooth sauce, blend in your blender.
Step 5:
Return to a low simmer for about 5 minutes. Taste and adjust flavor as needed.
Create Finger-licking Smoked BBQ in Your Backyard!
Transform your next gathering with competition-ready pork butts, beef briskets & more with personalized guidance from Dr. BBQ Ray Lampe in his online class Low & Slow BBQ at Home.