Earlier in 2016, I received an email from Linda with Bluprint. I remember thinking to myself, Hmm what is this about? Linda invited me to design a quilt for the 2017 Block of the Month! There were other designers in the contest, so I was not alone. I decided, What the heck — go for it.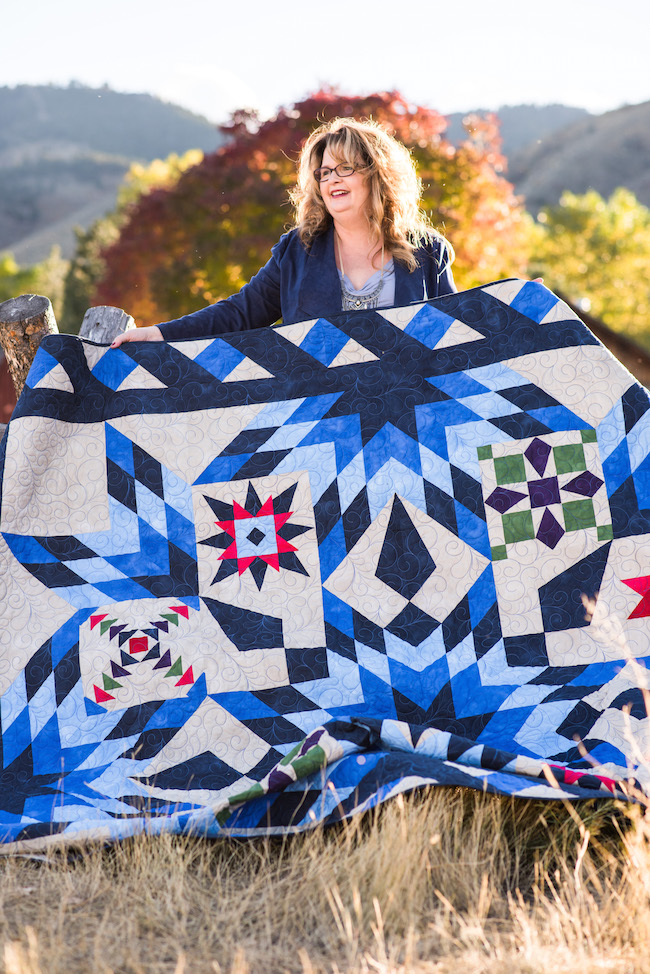 Except… I don't like Block of the Month quilts. The ones I have seen in the past just did not go together. I decided I would design two different layouts: The first one was your basic block of the month layout — you know where there's a hodge-podge of different blocks that just don't go together. The second design… well, that was my favorite. It was just a little different.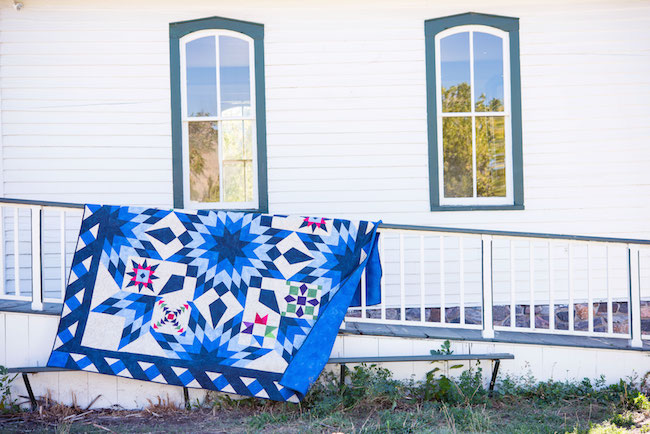 I sat down at my computer and opened up the software program to begin designing, filled out the paperwork, sent in my two submissions… and waited. Within a couple of weeks, I heard from Linda. The Bluprint team wanted to vote between my second submission and another designer's quilt. You know what? My schedule was getting so busy I was afraid I would not have time to work on the project if my quilt was chosen.
I almost backed out! I emailed Linda saying I couldn't make the next deadline to rework the colors in my quilt. I'm still trying to figure that exercise out, but needless to say I did it.
In Linda's response to my email, she "encouraged" me (her words!) to continue and she extended my deadline by a couple of days. Needless to say, when I got back home from my getaway, I continued and recolored the quilt.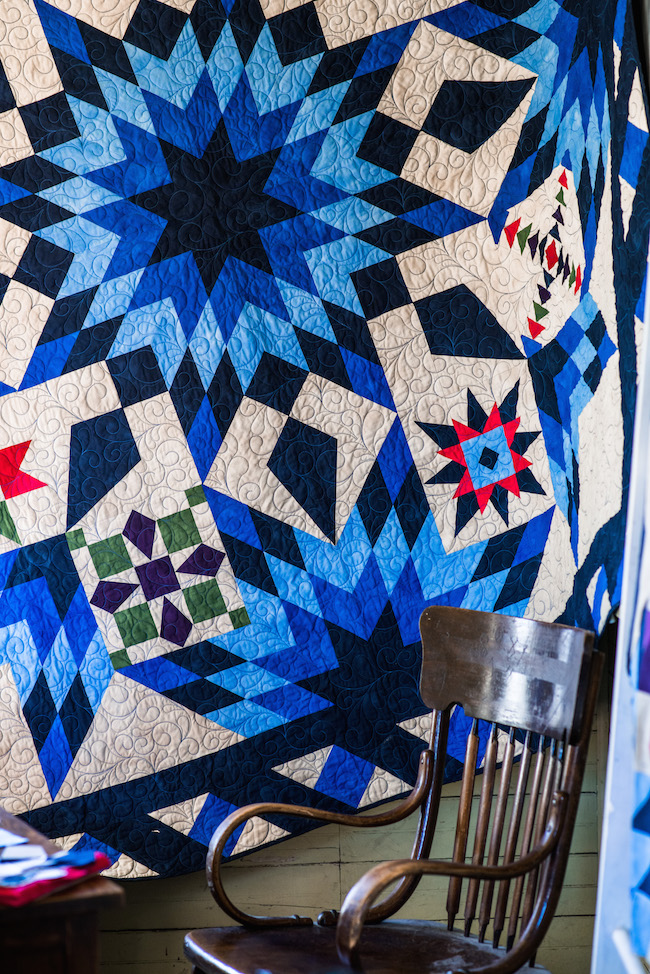 As for reworking the colors, Bluprint wanted to try a printed fabric in the digitized design. When I design in the quilting software EQ7, I typically stick with solids — prints with small motifs sometimes look fuzzy in a digitized design. You don't want a fuzzy-looking quilt! That messes with my brain! So, I had to call a friend for help with the printed fabric layout, and it all worked out.
Then, you all voted for my quilt — woohoo!
After that, we had to decide whether we'd stick with the prints used in the digital design or go with a different fabric line and colors.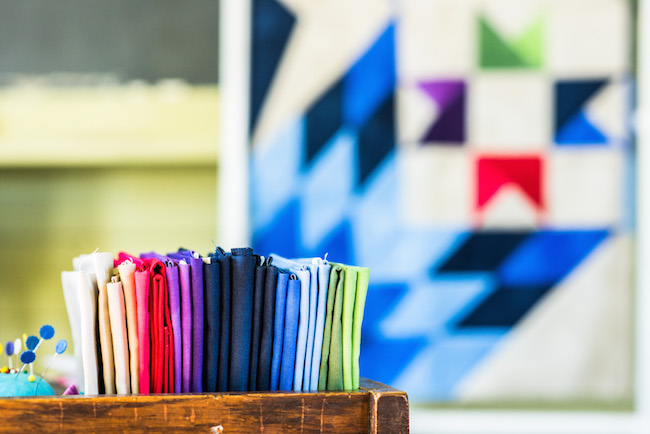 We decided on the Boundless Blender Auras fabric line, and I completely fell in love with it. When it arrived, oh my… So pretty, so rich in color! I had to pet the fabric and just feel the creativity flow from the fabric and into my veins. Yes, I got that excited! Can you relate? I know you can. We are kindred spirits in the world of quilting!
Now, I normally work with batik fabrics. But the Blender Auras are a more traditional quilting cottons… and this project renewed my love for traditional quilting cottons! Plus, it made me take a new look at my own traditional cotton fabrics — they're are sitting directly across from me as I work now.
Once we'd chosen the fabric, it was time to make the quilt! I took lots of notes as I made my tester blocks: Changed measurements, scribbled all over my yellow pad paper, reworked each of the blocks' units to provide quilters with the easiest piecing techniques… and decided I was not going to paper piece the blocks.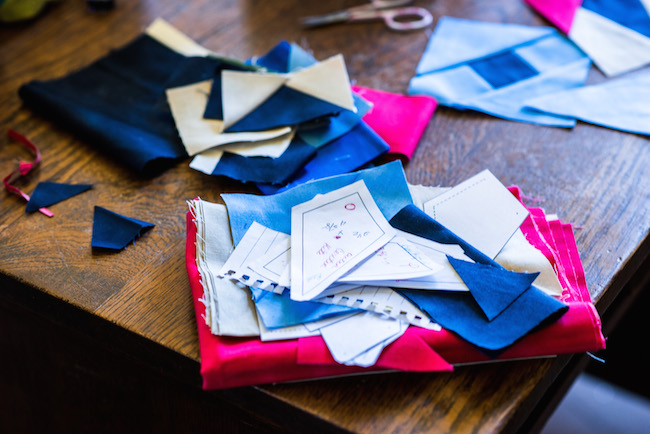 That was my next step: Rework how to piece some of these blocks that look like you have to paper piece them. Instead, let's use the actual shape from paper. Just cut out the templates! I thought, What?! Can I really do this? This is so non-traditional! Will the quilters accept this?
I want to show quilters that you don't always have to follow the traditional method to piece the units that need perfect difficult points.
So, from the moment my quilt design was chosen, my mind was working on how to teach this quilt to inspire quilters to step out of the traditional methods and do something different. Let's make something totally out of the "normal" box. Let's learn new techniques. Let's play with color. Let's tackle the one quilt design that just might be on your bucket list: The Lone Star. And, while we're at it, let's add some blocks that you may have never seen before.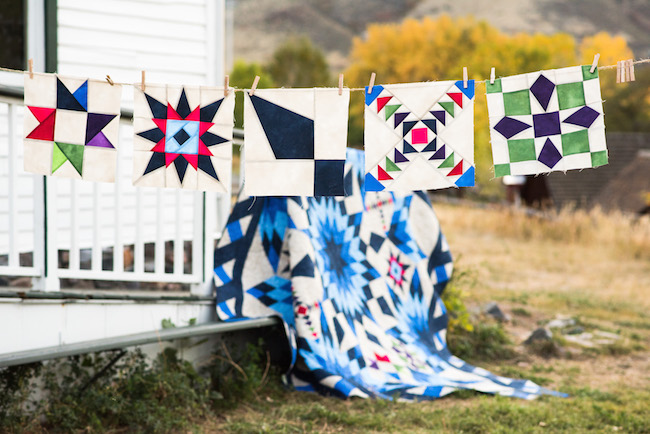 Come join me in making the Blazing Star Block of the Month. Gather your tools, your fabrics. Gather your sewing buddies. Prepare your sewing room (or your kitchen table!). We can do this together — one step at a time, one piece and one stitch at a time.
On your mark…
Get ready! Are you ready?
SEW!!!