With cold winter days behind us, there's nothing like a fresh Vietnamese spring roll to help cool off on a hot summer day. The best part about making these spring rolls is that it's an experience you can share with others.
Explore Vietnamese cuisine with this fresh, simple & delicious spring roll recipe.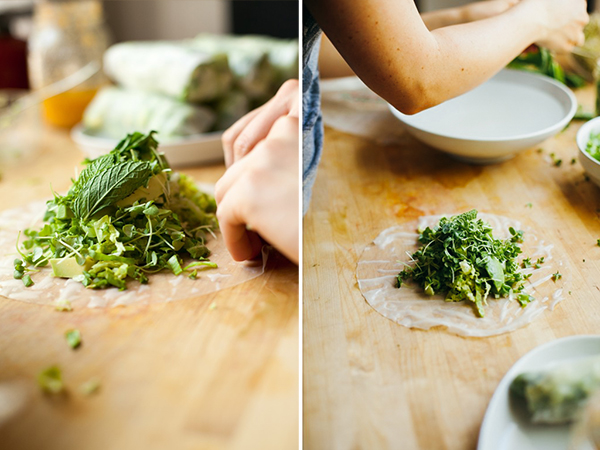 My first experience making Vietnamese spring rolls…
On my first trip to Vietnam in 2010, I spent a week alone on a farm in Hoi An, a small town on the Central Coast. My (now) sister-in-law had told me to visit, and after a few wild days in Saigon, the quiet of the rice paddies was a welcome reprieve. I took a cooking class during my stay from a small group of kind and dedicated farmers, learning the basics of banh xeo (a Vietnamese savory crepe with shrimp, pork, and/or fresh herbs) and fresh spring rolls. We crouched in a small home drinking coffee and discussing politics, dipping rice paper into piping hot water and wrapping up handfuls of mint, vermicelli, sprouts, lettuce, and shrimp. Rain fell gently outside, and in the moment I knew there was nowhere else I'd rather be.
When I returned to the States, I decided this mise en place-style of eating and communing was one worth making habit with friends and family. My best dinner parties and deepest belly laughs are a result of teaching and watching one another how to stuff, roll, and dip spring rolls. Assembling a spring roll for the first time can be a bit intimidating, but once you get a feel for the rhythm, the process becomes relatively easy.
Andrea Nguyen teaches a fantastic course on Vietnamese classics like spring rolls, pho, and so much more in the Bluprint class Vietnamese Classics: Pho, Noodles & Beyond. Both educational and inspirational, Andrea will help build your confidence to take on Vietnamese cooking and make it your own.
Afterward, take this simple spring roll recipe for a spin.
Happy rolling!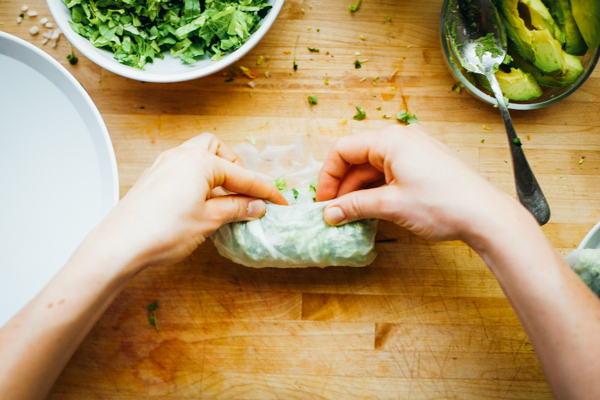 A recipe for easy Vietnamese spring rolls —
Ingredients
1 dozen medium rice paper sheets
1 head napa cabbage, shredded
1 cucumber, halved and julienned
2 cups micro basil
2 cups whole mint leaves
3 avocados, segmented
1 mango, segmented
Step 1:
Prepare all of your ingredients
Step 2:
Submerge a single spring roll wrapper in a bowl of hot water until completely pliable, about 15 seconds.
Step 3:
Remove the spring roll and gently set it on a flat surface. Layer with a bit of cabbage, mango, cucumber, avocado, and herbs.
Step 4:
Now it's time to roll. Construct each roll like a burrito: Start with the bottom and cover the horizontal line of veggies. Fold in both sides and press to seal. Roll up tightly to the top and seal the edge.
Set aside. Repeat.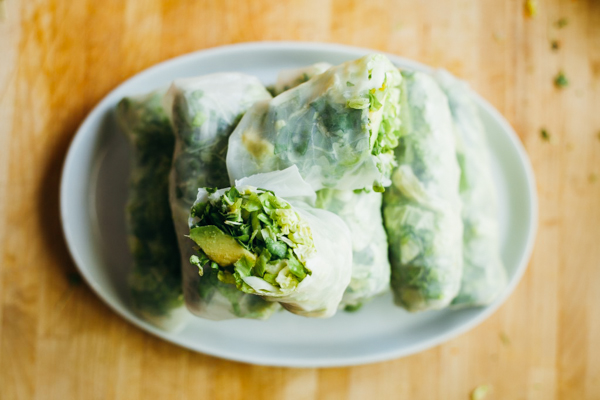 What's your favorite mise en place style dish to make make with friends?