The days are getting shorter, the evenings cooler and longer. It's officially soup season, and we've got a recipe for instant coziness: a tutorial on how to make French onion soup at home.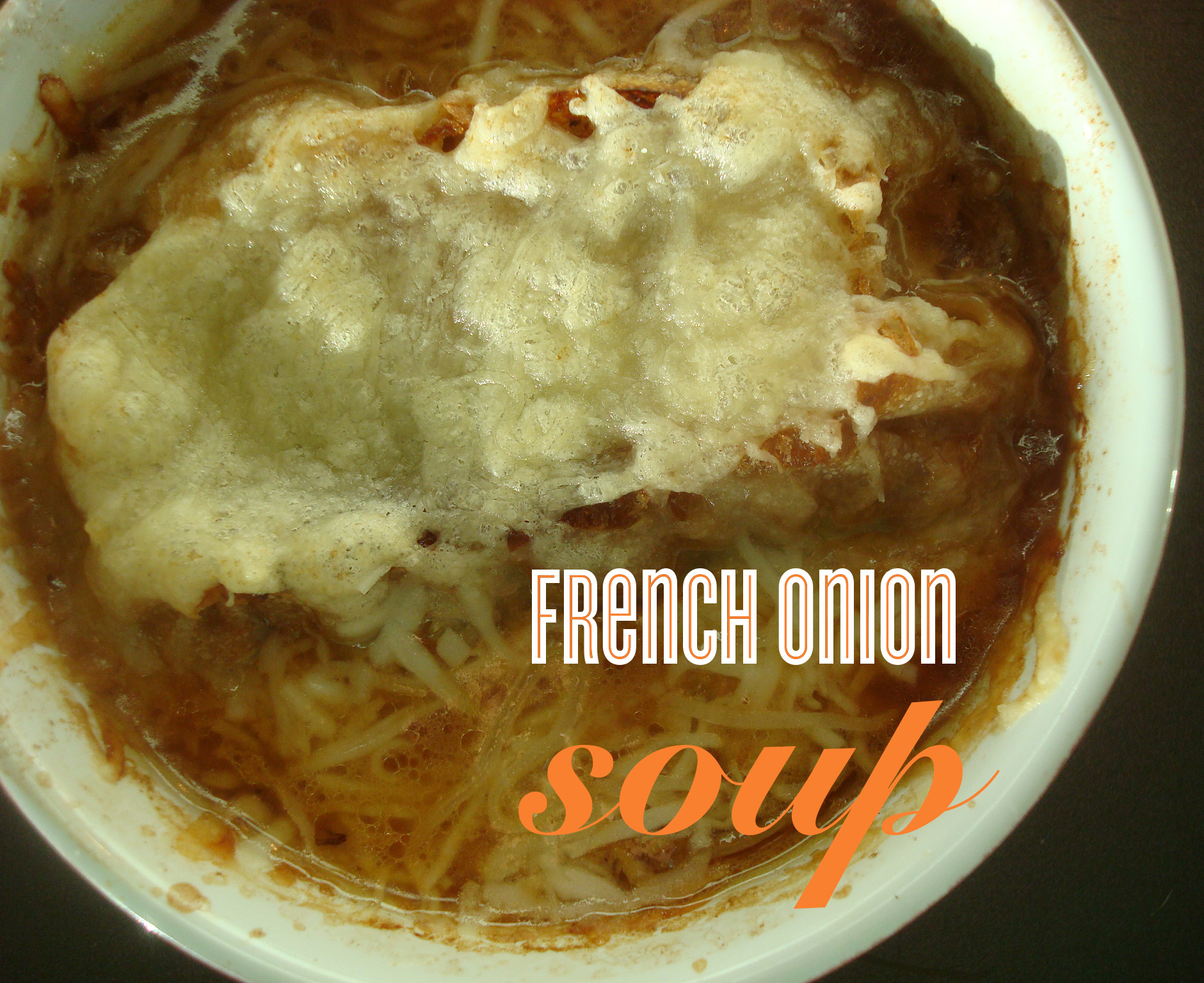 Photos via CakeSpy
Adapted from Julia Child, this classic recipe for French onion soup is a comfort food full of rich flavor: fragrant caramelized onions slow-cooked in rich beef stock, a toasty "crouton" of French bread, melty cheese, and of course, plenty of wine and butter.
This recipe will scent your kitchen in a most alluring way while it cooks, and tastes even more delicious than its aroma. It wouldn't be surprising if homemade French onion soup enters your regular recipe rotation all fall and winter long.
Want more tasty soup ideas? Check out Craftsy course Building Flavorful Soups. From DIY broth to proper soup storage, this course will make you an absolute souper-star.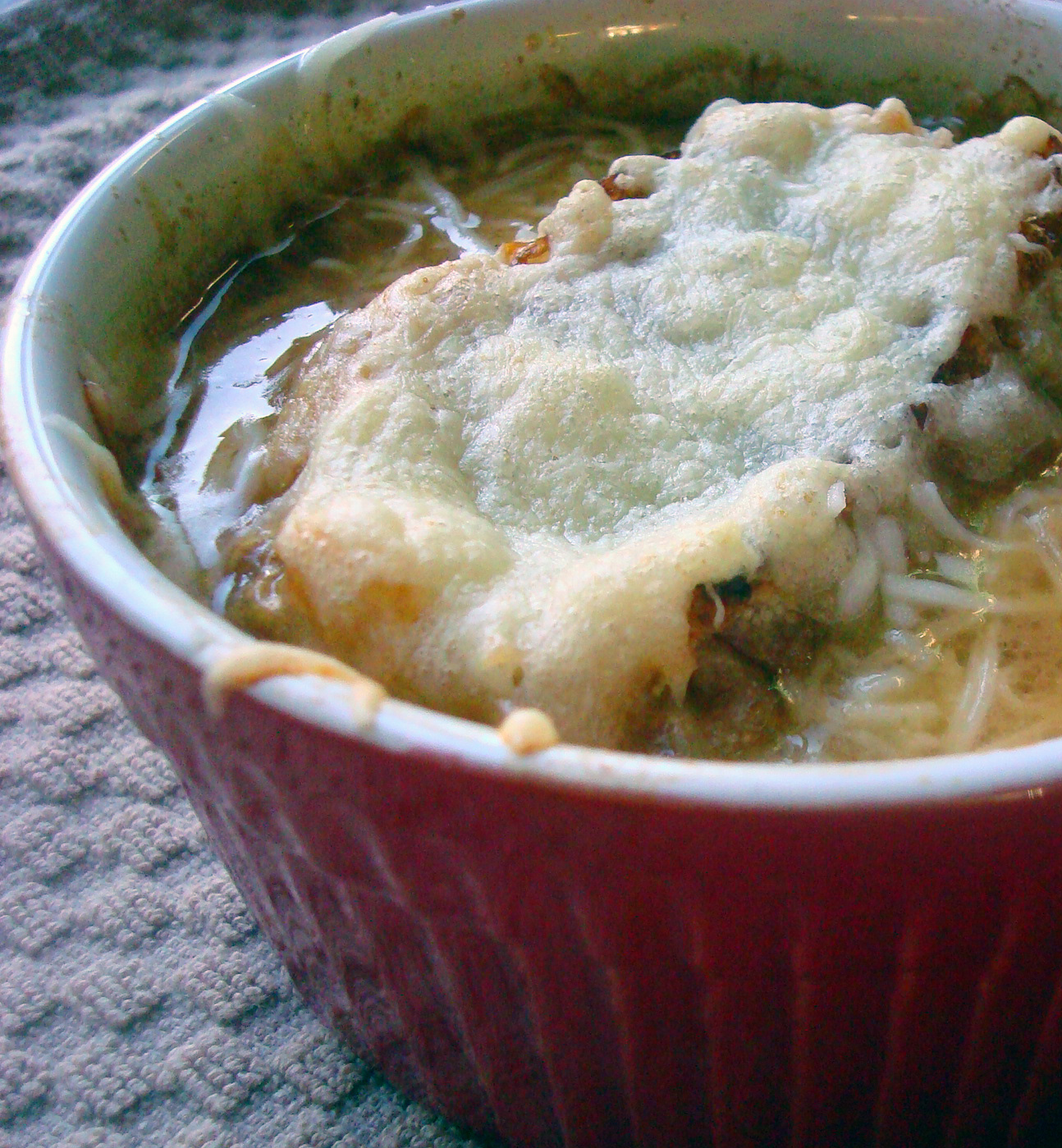 French onion soup
Adapted from Julia Child
4 entree-sized servings, or 8-10 appetizer sized servings
Ingredients
1/2 stick butter
5 cups thinly sliced large white or yellow onions (about 1 1/2 pounds)
1/2 teaspoon salt
1 tablespoon flour
4 cups homemade beef stock, or good quality store bought stock
3/4 cup dry white wine
4 thick slices of toasted French bread (or more, if you are serving appetizer-sized servings)
2/3 pound coarsely grated Gruyère cheese (Swiss will also work well)
International readers may enjoy our handy metric conversion guide.
Step 1:
In a heavy saucepan over medium heat, melt the butter. Once melted, stir in the onions. Cover and cook for about 10 minutes, or until the onions are soft and transparent-looking. Add the salt, and increase the heat to medium-high. Cook the onions (uncovered) until they progress from white to lightly browned on the edges to completely browned through. This can take up to 30 minutes.
Step 2:
Evenly distribute the flour and continue cooking for about 5 more minutes; the flour will sort of "disappear" into the mixture. Now, remove from heat and let cool for a minute or two, so that you can add the stock without spatter.
Add half of the stock, and stir. Put the pan over medium-low heat, and bring it to a simmer. Add the rest of the stock and wine. Cover and simmer very slowly, for about 90 minutes. While you don't need to be active during this time, keep an eye on it and add more water if it starts to be too thick. Toward the end, preheat your oven to 450 degrees F.
Note: Check your ramekins or oven-safe bowls. If they are indeed oven-save, they should specify their appropriate temperature. Stick to it.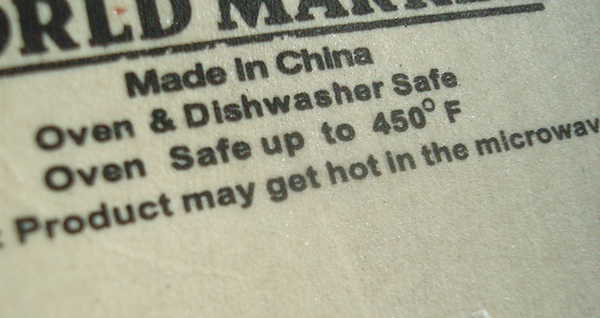 While you wait for it to preheat, give the soup a little taste: you might find that you want a little more seasoning. Add to taste.
Step 3:
Divide the soup among as many heat and oven-safe bowls as you intend on serving. Place the toast on top of each bowl, and cover generously and evenly with cheese. Place the bowls on a baking sheet, and place in the preheated oven until your cheese has "crusted" to your liking. Depending on your preference, this could take between 3 and 8 minutes. Serve immediately.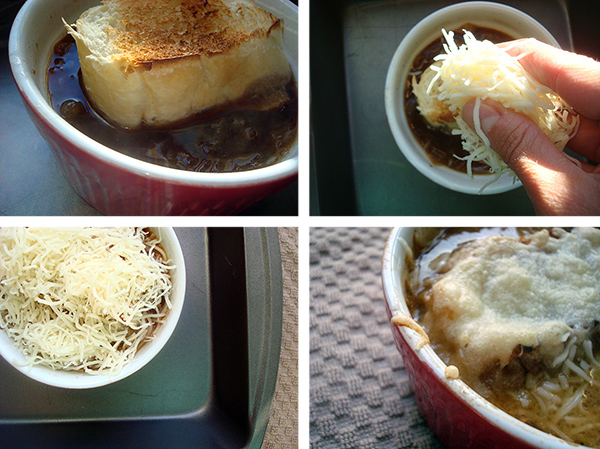 Making your own beef broth
Making beef broth or beef stock isn't difficult, and it is the secret ingredient that takes this soup from very good to very great. While this recipe does take some time, most of it is inactive; plan it for a morning or afternoon when you'll be around the house and can check it and stir every once and again.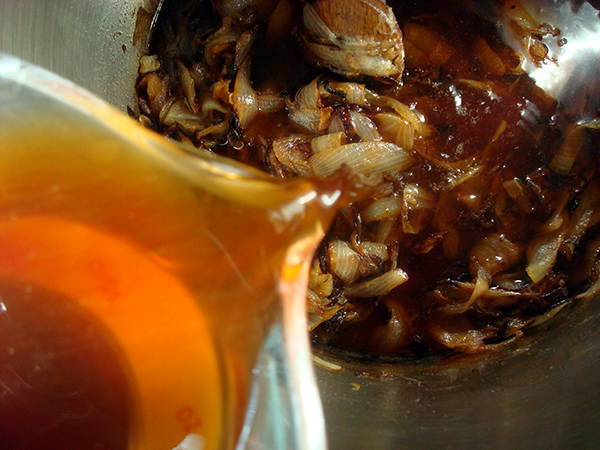 Makes 4 cups
Ingredients
1/4 cup vegetable oil
4 pounds meaty beef bones (such as shank or neck bones)
1 large onion, sliced
1/2 cup sliced carrots
1/2 cup sliced celery
salt and pepper, to taste
1 tablespoon peppercorns
4 quarts water
Step 1:
Heat the oil in a large pot over medium-low heat. Add bones, onion, carrots, celery, and salt and pepper to taste. Stir occasionally over low heat until everything has begun to brown, 20 minutes or so.
Step 2:
Add the water and peppercorns. Increase the heat to high, and bring the mixture to a boil.
Step 3:
Once the mixture comes to a boil, immediately reduce to a simmer, and continue cooking, uncovered, until it has reduced to 4 to 4 1/2 cups. This can take 3-4 hours, but it is inactive (just check it every now and again). Strain, and discard the veggies, peppercorns, and any excess fat, before using in your French onion soup recipe.
Recipe notes:
Toward the end of your cooking time, taste the soup to check its flavor. If you feel like it needs something, you can of course add salt and pepper, but don't feel limited. You can also consider adding a touch of cayenne pepper, or even a sprinkle of allspice.
Need help chopping an onion? Craftsy's free tutorial on how to chop an onion will be of huge assistance.
Want to make it gluten-free? The flour is not, strictly speaking, necessary in this recipe; it's mostly for texture. Leave it out if you prefer. Your soup will be slightly thinner, but no less flavorful.
Do you prefer your soup more broth-y? You can add up to 2 more cups of beef stock to the recipe, if desired.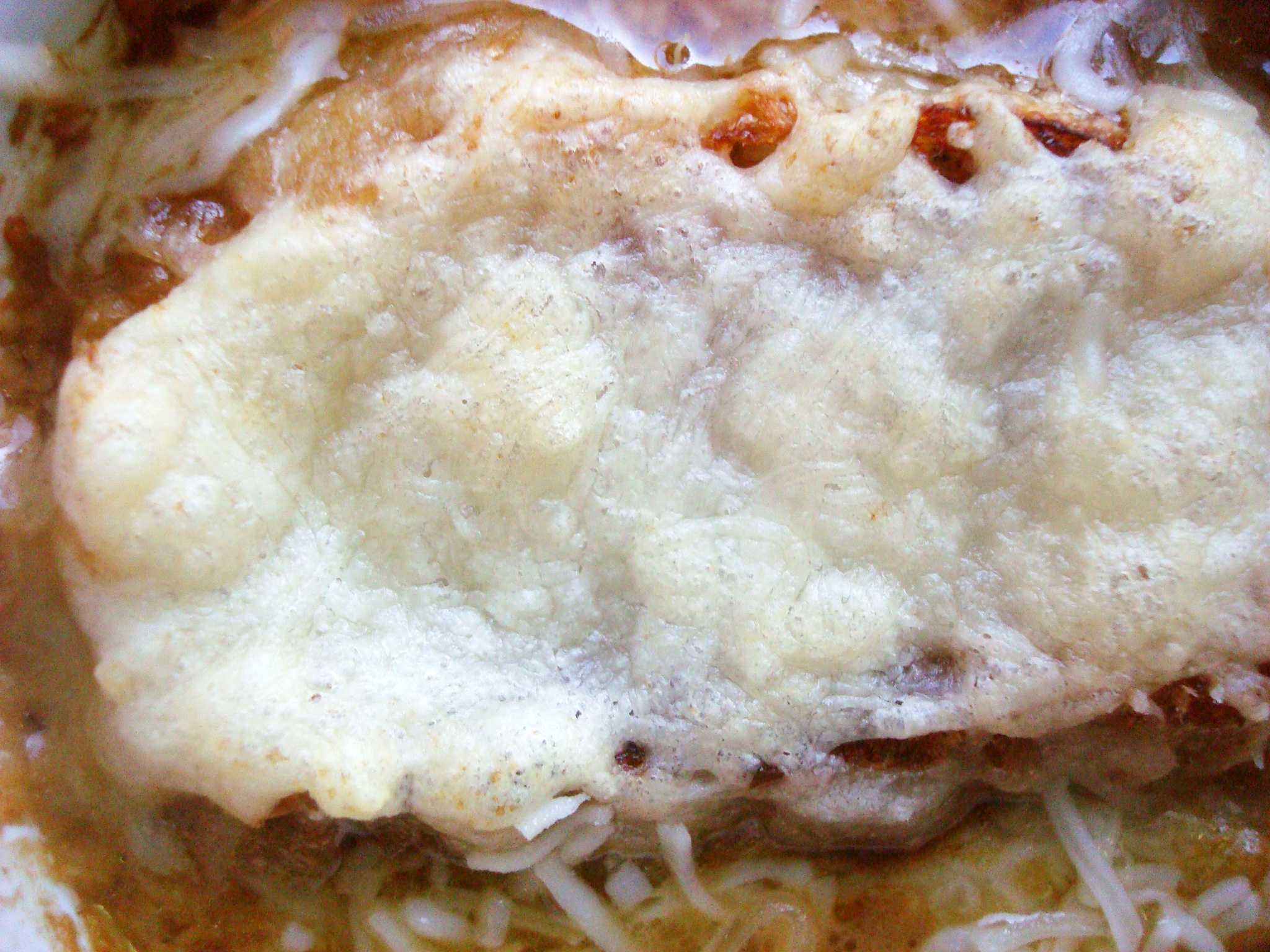 Learn the secrets for over 20 incredible soups and broths with the online cooking class Building Flavorful Soups! Get instant to guidance James Beard Award winner Peter Berley, without ever leaving your kitchen.
Watch at your pace with 6 HD video lessons that are yours forever, plus enjoy the included 25 downloadable recipes. Ask Peter questions for all the answers you need, and bookmark your favorite concepts to return as often as you'd like with just a click.
Sign me up! >>
What's your favorite cold-weather soup?