Hexagon quilts are definitely trending today. With their versatility, both modern and traditional quilters alike are finding ways of making hexagon quilts in a wide variety of styles. Here are some easy tips for creating heirloom quilts with this classic shape.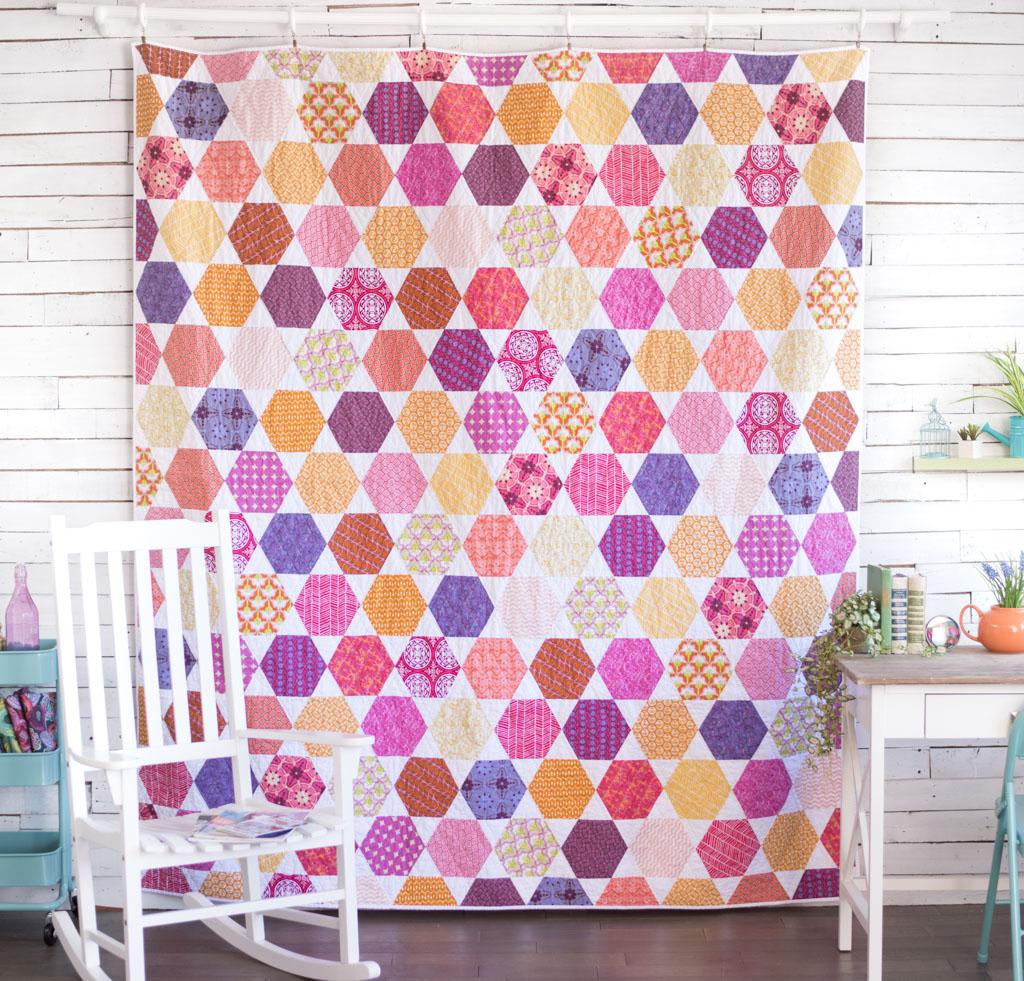 Learn how to make a hexagon quilt!
Sew a fresh, modern quilt that will light up your home as you discover smart techniques for hexagon templates, piecing and quilting on your home machine. Watch your class anytime, anywhere, forever with Craftsy! Enroll Now »
Let's explore quilting with this versatile six-sided shape!
While hexagon quilts and projects appear difficult to piece, there are actually many simplified techniques that can help make the process of creating with hexagons a whole lot easier. Specialty pre-cuts, templates and rulers can make the process of working with hexagons a simpler task. In addition to the special helps of rulers and templates, there are some standard tips that will help quilters of all levels create projects with hexagons.
Specialty pre-cuts
Specialty fabric pre-cuts such as the "Honeycomb" pre-cut hexagon fabrics by Moda come in packages of 40 pre-cut pieces in a coordinating fabric collection. Because these hexagons are pre-cut, there is less opportunity for distortion of the pieces while cutting, and the pre-cut option also saves time for busy quilters.
Not only are these pre-cut hexagon collections a huge time-saver when working on a project, but they also come with a ready-made plastic template that can be used for cutting additional hexagon shapes. The mid-weight plastic template also has pre-drilled holes which make it easy to mark 1/4″ seam lines when using the Y-seam method for piecing hexagons.
Hexagon templates and rulers
Since it's important to accurately cut hexagon shapes, many quilters prefer to use acrylic hexagon templates to cut their hexagon shapes. A wide variety of these rulers and templates are available, and many also feature the pre-drilled holes for marking the 1/4″ seam allowance at each corner.
Hexagon templates and rulers such as the Marti Michell My Favorite Hexagon Ruler, Marti Michell Large Hexagon Templates, Marti Michell Small Hexagon Templates and the Hex N' More Ruler by Julie Herman of Jaybird Quilts make easy work of cutting accurate hexagon shapes in a variety of different sizes.
Check out Marti Michell's collection of hexagon template sets here!
Some general tips for working with hexagons
Handle edges carefully
Hexagons have bias edges, so there is the possibility that the sides can be easily stretched or distorted. Take good care when handling these pieces to help ensure accuracy in your piecing.
Use pins
Additionally, using pins is essential when working with hexagons. Pinning your pieces when working with these shapes also helps ensure there isn't any unnecessary stretching or distortion, and pinning can also help keep points lined up and in place while joining individual shapes and larger segments.
Here are some hexagon quilts (plus tips!) to inspire your next project
Photo via Patchwork Posse
Hexagon Baby Quilt
One simplified method of creating with hexagons is to use a simple machine appliqué technique. This Hexagon Baby Quilt is created from 5″ charm squares. The pattern includes the hexagon template pattern and instructions for simple machine appliqué.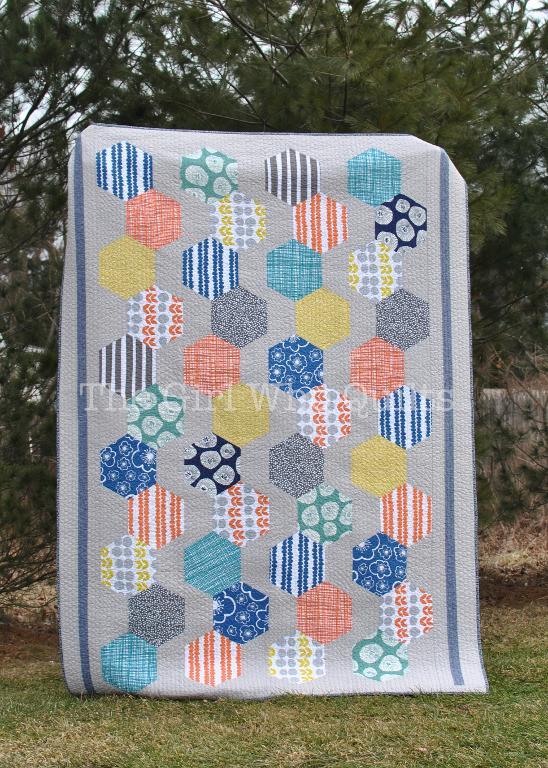 Photo via TheGirlWhoQuilts
The Hexie Chains Quilt
The Hexie Chains Quilt also utilizes a "no Y-seam" method of piecing. This pattern, perfect for the intermediate quilter, also offers instructions using the previously mentioned Hex N' More Ruler. Use quarter yard pieces of your large scale prints and fabrics to show them off in this dramatic hexagon quilt.
Photo via Camille Roskelley
The Juggle Quilt
The Juggle Quilt is one of the featured class segments in Camille Roskelley's class Playful Piecing Techniques. The class pattern features two different size options for this hexagon quilt requiring no "Y-seams." Camille uses a setting triangle method of construction for this hexagon quilt, which means that only straight seam sewing is required for this project. The class walks you through every step of making this delightful hexagon quilt.
Join the Craftsy class Playful Piecing Techniques here.
There are many options for piecing hexagon quilts with ease. Which technique will you try first?
Learn how to make a hexagon quilt!
Sew a fresh, modern quilt that will light up your home as you discover smart techniques for hexagon templates, piecing and quilting on your home machine. Watch your class anytime, anywhere, forever with Craftsy! Enroll Now »