So, you've had a request to create a custom embroidery piece — be it from a family member, a friend or a customer. How do you begin creating a stitched masterpiece that is exactly what your client is looking for? Where do you start when making custom embroidery patterns?
Let us guide you with a few simple steps you can take to create the perfect custom embroidery designs!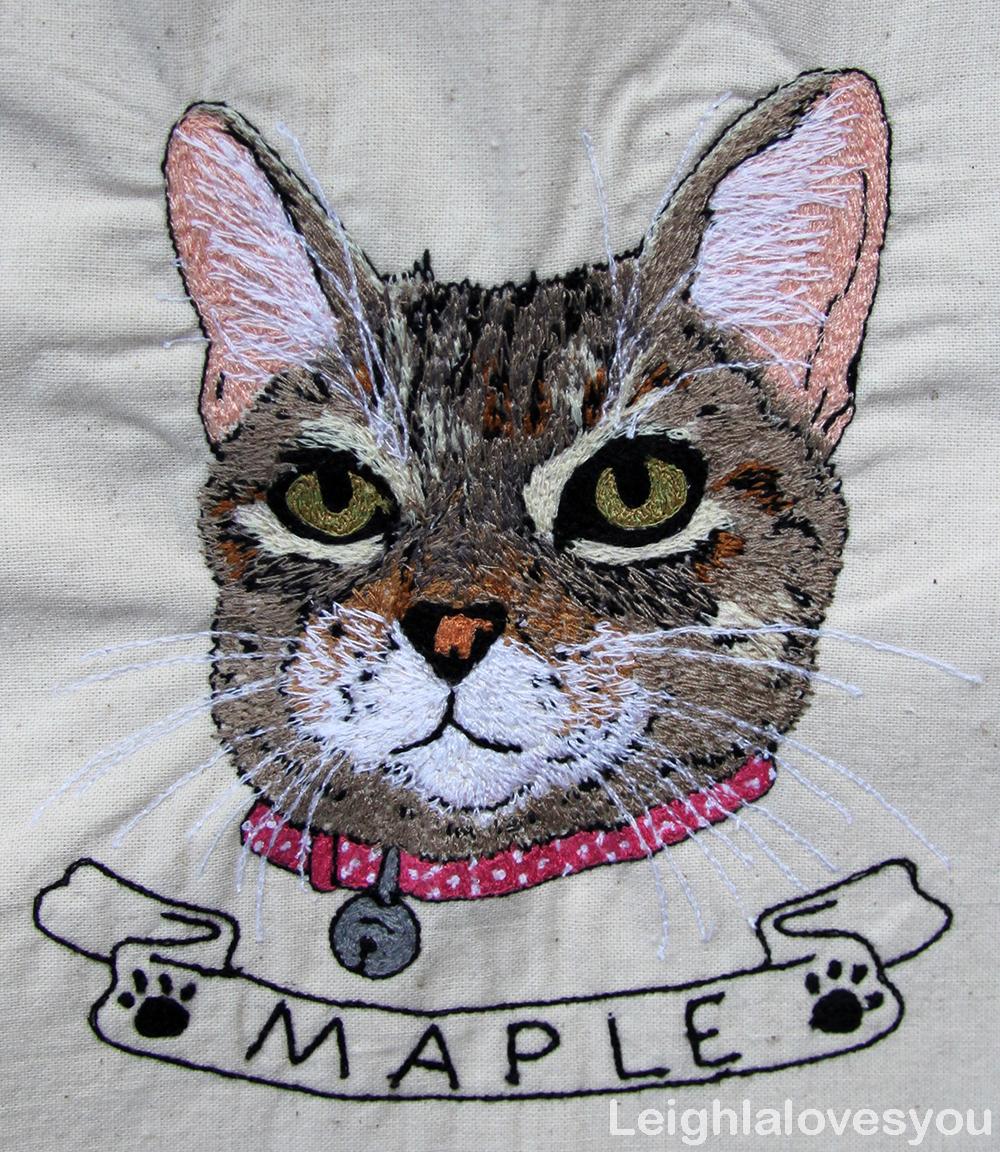 Photos via Leighlalovesyou
We are going to use the free-hand machine embroidered pet portrait above as an image guide for how you can approach the task of creating custom embroidery work from scratch.
Step one: gather all the necessary information
You have the client and the request, but where do you go from here? Information is key when creating a custom embroidery, whether you are creating it by hand, free machining or digitally. It is important to find out as much as you can from the buyer as to what it is they are looking for.
Image references can be a vital resource, especially when creating something as specific as a personal portrait — be it human, animal or architecture! Request multiple photographs to work from, so that you get perspective from different angles. Key words can also be helpful when trying to materialize someone else's vision.
Be prepared to guide your customer and offer up options yourself. Give them a list of fabric choices you work well with, and find out what purpose the piece will serve. If it is decorative and will be preserved in a frame, you can be more frivolous with your fabric choices. However, if it is serving a practical purpose, such as a cushion cover or will be worn (jewelry for example), you will have to suggest more robust hard wearing materials.
Sizing is another element you have to keep in mind. Once you understand the purpose of your embroidered work, you can make a more informed decision on what dimensions it should be. Size will also dramatically effect pricing the work.
Finally, find out why the item is being made: Is it a present, an interpretation of a memory or a keepsake? Think about how you can make it personal to the recipient. Adding something as small as a name, date or specific color/material can really make the piece.
Of course, remember to be realistic with your promises, so your client knows exactly what to expect.
My image reference 
Step two: start creating your design
Once you have gathered all the information you need and have an image to reference, your next step is to start building your design!
Keeping contact and communication

lines open is important.

Send a preliminary sketch or copy of the digital design to ensure it is what your client is after. This is the stage when you can make any alterations to design and format, or make suggestions to how it can be changed. Doing this now will save a lot of time and cost in the future!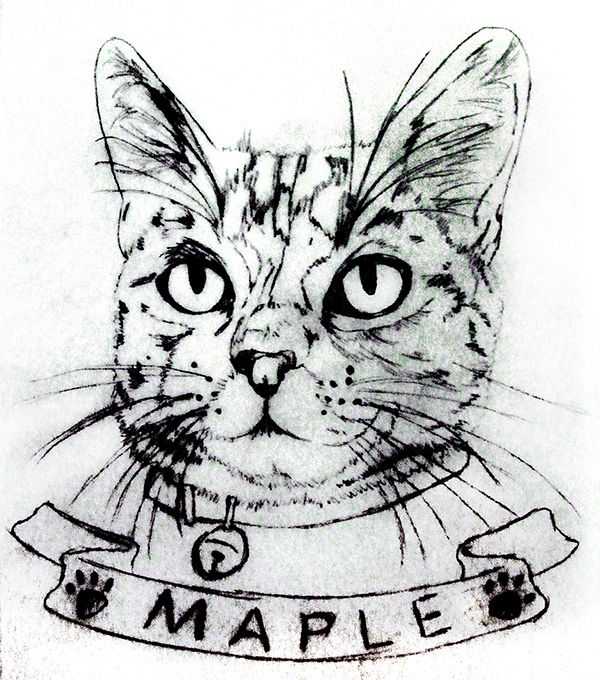 Preliminary Sketch
Step three: now, your ready to stitch!
Your design is finalized, and your fabric is chosen. Now, all you have to do is get stitching!
Keep everyone updated on the progress and send a photograph of the final piece before mailing it to ensure it's exactly what the person wants. It's also a great way to keep a record of your work for yourself.
Packaging is the final step in achieving a very happy customer! Remember to press the finished work and package it with care. A little tissue paper and a thank you note can go a long way!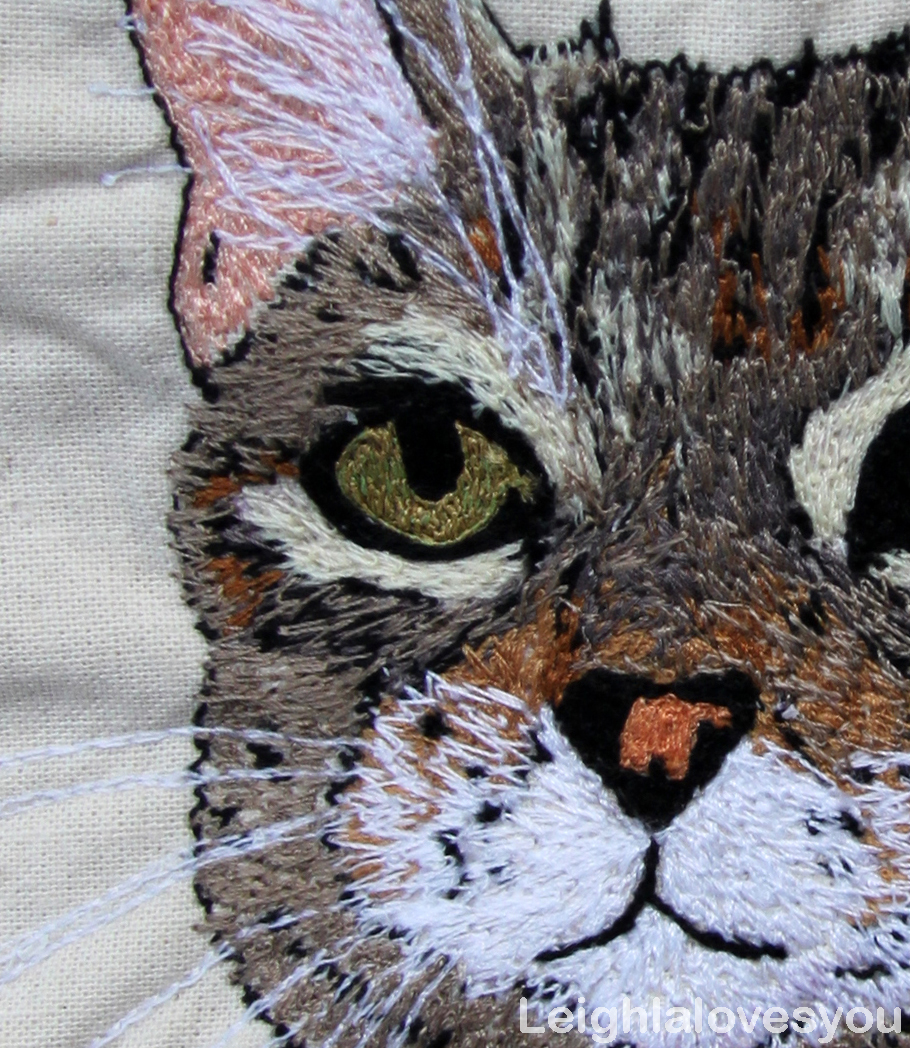 Detail of the Final Piece
Got all the ideas but not sure where to start with the stitching? Why not try one of our online classes! Learn to master your machine with  Free-Motion Machine Embroidery or do it by hand with Design It, Stitch It: Hand Embroidery.
What will your next custom embroidery entail?