The perfect individually-sized sweets, cupcakes offer a no slice or mess alternative to larger cakes, ideal for parties and gift-giving! Dressing up your miniature confections my making cupcake toppers allows you to personalize and customize them to your particular theme and event. There are a variety of ways to creatively top cupcakes, so to narrow down the options, ask yourself the following questions:
What are the cupcakes for?
What medium will you choose to make them?
What method would best suit your skill level?
Follow these tips for making cupcake toppers tailored to your event and skill-level that will surely dazzle your guests and recipients!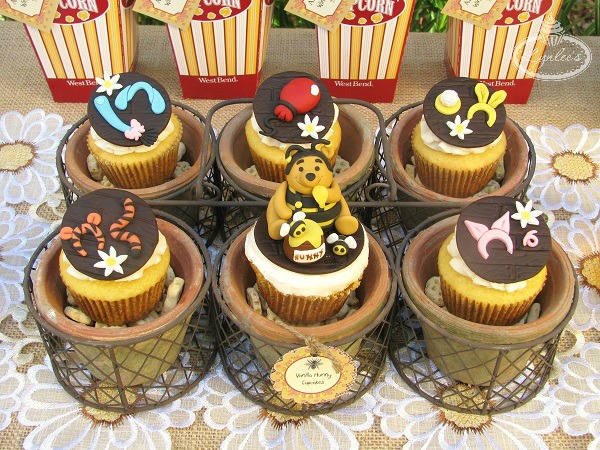 Photo via Lynlee's Petite Cakes
What are the cupcakes for?
Once you have decided on making cupcakes, the first step in determining how you will decorate them is figuring out what they are for and how you want them to look.
First of all, what type of event is it, how many people do you need to feed, and what is your theme? The number of cupcake toppers you need to make can make a big difference on the design you choose and the difficulty level. If you are making one topper, you have the ability to focus on small, intricate details, but a larger quantity requires a lot more work. Once you've established your theme, ensure you are balancing your workload appropriately while picking your designs.
These Winnie the Pooh-themed cupcake toppers by Lynlee's Petite Cakes demonstrate a design based on storybook characters, matching back to the party's overall theme. Instead of representing each character in a three-dimensional figure, the centerpiece is molded into a figure, while the remainder are depicted with recognizable, yet simpler designs that tell the story.
[box type="shadow"]
If you're in love with this silly old bear, be sure to also check out our fondant Winnie the Pooh tutorial!
[/box]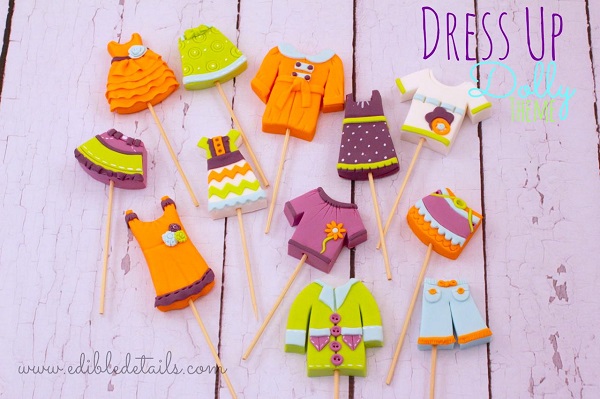 Photo via Edible Details
The theme doesn't always represent specific characters from books, movies, etc., such as this absolutely precious set of Dress Up Dolly cupcake toppers by Edible Details that matches back to the party's overall theme. Also, these toppers are given additional height when placed on the cupcakes with the use of wooden lollipop sticks, constructing a creative display.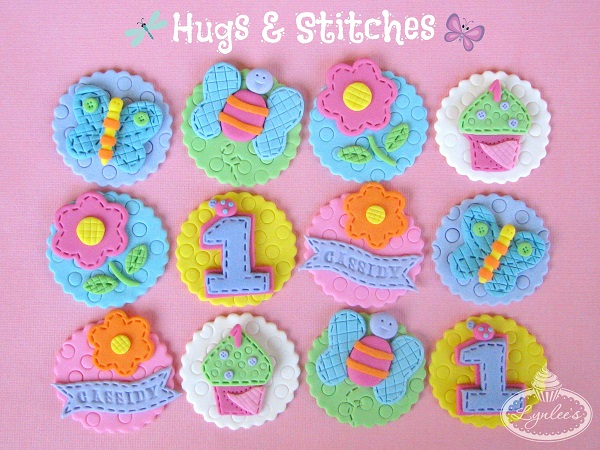 Photo via Lynlee's Petite Cakes
Coordinating your cupcake toppers with party decor, inclusive of invitations, plates and napkins, such as this collection by Lynlee's Petite Cakes matching back to the Hugs & Stitches set from Birthday Express. Elements from the design are incorporated, while the addition of the name and age personalize it to the birthday girl.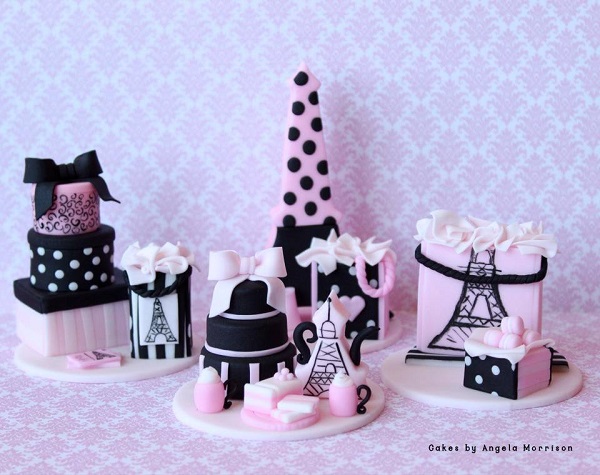 Photo via Cakes by Angela Morrison
What medium will you choose to make them?
Edible cupcake toppers can be made out an array of mediums. These breathtaking Parisian-themed toppers by Cakes by Angela Morrison are created from fondant, a pliable, sugary dough that allows you to mold shapes and figures in both two- and three-dimensional designs.
[box type="shadow"]Practice molding miniature cupcake toppers in Sheryl Bito's Tiny Cupcake Toppers Bluprint course to create more small-scale designs like the adorable ones seen here![/box]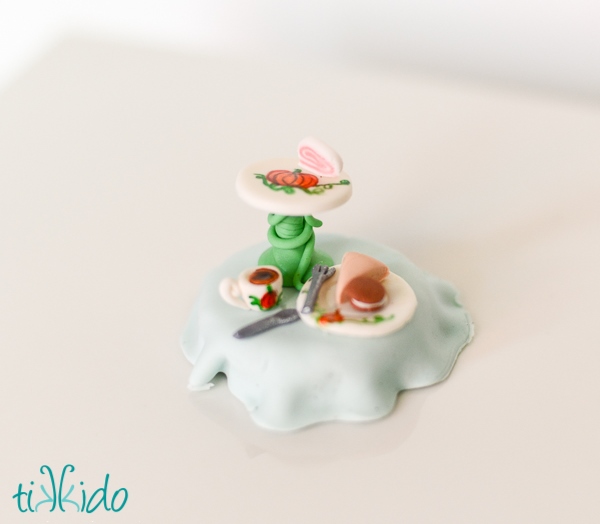 Photo via Tikkido
Gum paste is very similar to fondant, but it dries much harder, which makes it the perfect choice for modeling figures and three-dimensional shapes that require more structure. This gorgeous and delicate gum paste cake toppers by Tikkido were created out of carefully molded gum paste. Check out Tikkido's series of tutorials to re-create these gum paste tea party cupcake toppers.
[box type="shadow"]Make your own gum paste with Nicholas Lodge's fabulous gum paste recipe.[/box]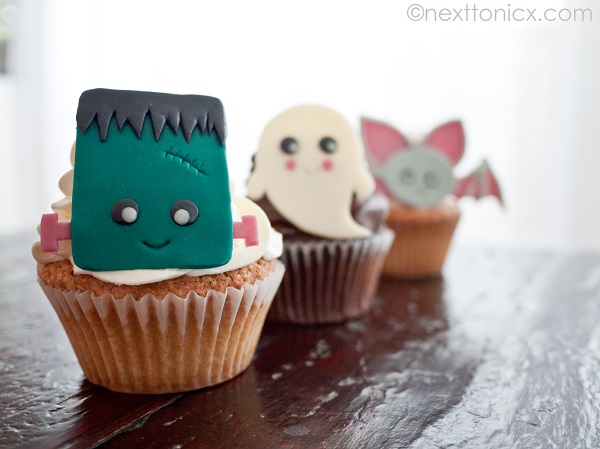 Photo via Next on Nicx
Modeling chocolate is another option for creating cupcake toppers in an even more malleable medium than fondant or gum paste. These super adorable Halloween designs by Next on Nicx were made out of white modeling chocolate, tinted with gel pastes. The full tutorial provides a recipe and tips for making these endearing designs.
[box type="shadow"]Practice working with this sweet medium in the Bluprint course Intro to Modeling Chocolate: Cityscape Cakes and the new class Modeling Chocolate Magic with Lauren Kitchens.[/box]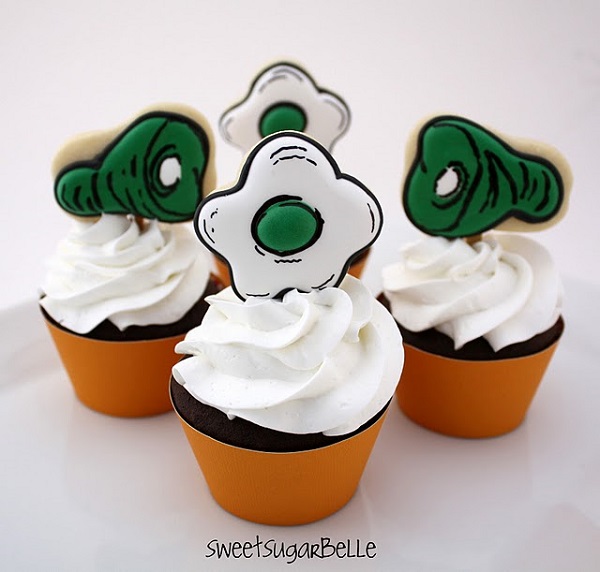 Photo via Sweet Sugarbelle
How fun and captivating are these cupcake toppers by Sweet Sugarbelle made out of sugar cookies?! The designs are so beautifully decorated with royal icing and made to stand up in the cupcakes with the use of bamboo forks. Check out the tutorial for this design, including the creative use of everyday cookie cutters.
Additional mediums, such as chocolate, candy and cake pops can easily and creatively be used as edible cupcake toppers to decorate your creations.
[box type="shadow"]Learn more about cookie decorating with a variety of techniques in Autumn Carpenter's Decorating Essentials: Designer Cookies to utilize as cupcake toppers![/box]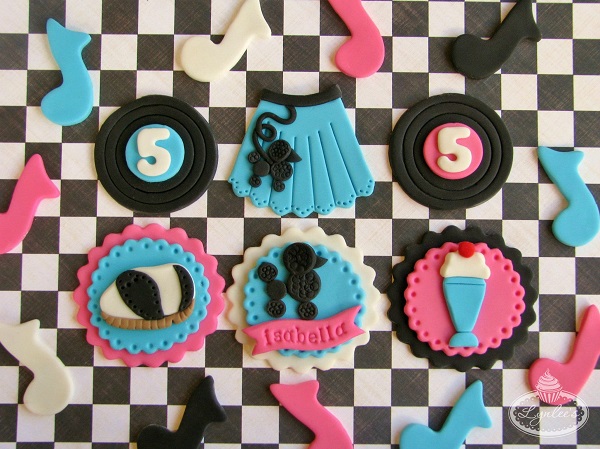 Photo via Lynlee's Petite Cakes
What method would best suit your skill level?
If you are just starting out or are working on a large quantity of cupcake toppers, using shaped cutters for several of the mediums above, inclusive of fondant, are ideal! These '50s diner-inspired fondant cupcake toppers by Lynlee's Petite Cakes demonstrate the variety of shapes and designs that can be achieved with the use of simple cutters to make two-dimensional compositions.
[box type="shadow"]See also our articles on how to use fondant cutters.[/box]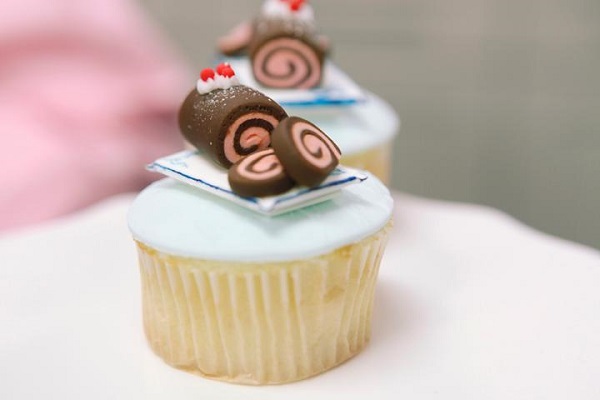 Jelly Roll cupcake topper via Bluprint instructor Sheryl Bito
Much like play dough we used as children, fondant, gum paste and modeling chocolate can be hand-molded into countless shapes and designs. Once you have graduated from simpler concepts and are no longer limited to shaped cutters, molding with your fingers will add a new dimension to your cupcake topper creations, such as this miniature dessert created by Bluprint instructor Sheryl Bito as part of her course Tiny Cupcake Toppers.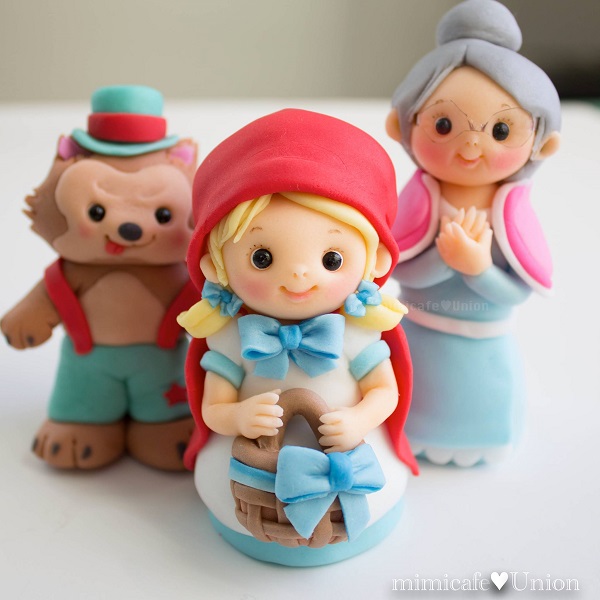 Photo via Mimicafe Union
Adding human figures and animals to your cupcakes will take your toppers to the next level…literally! These advanced techniques will bring your designs to life and make them the center of attention, such as these incredibly detailed and perfectly molded Little Red Riding Hood fondant figures by Mimicafe Union.
[box type="shadow"]Molding human figures can be extremely difficult, therefore, practice your skills in Anne Heap's Cake Topper Techniques: Figure Modeling course.[/box]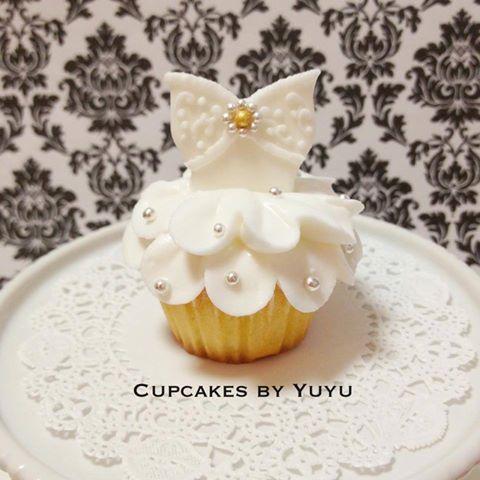 Photo via Bluprint member cupcakesbyyuyu
You can also add dimension to your cupcakes with inventive and clever techniques, such as this adorable approach by Bluprint member cupcakesbyyuyu with this mini dress cupcake. The dress top can be made out of fondant, gum paste or modeling chocolate, while the skirt can either be achieved with the same mediums or with piped buttercream icing. Additional embellishments, such as candy pearls, sprinkles and sanding sugars, can also serve as decorations.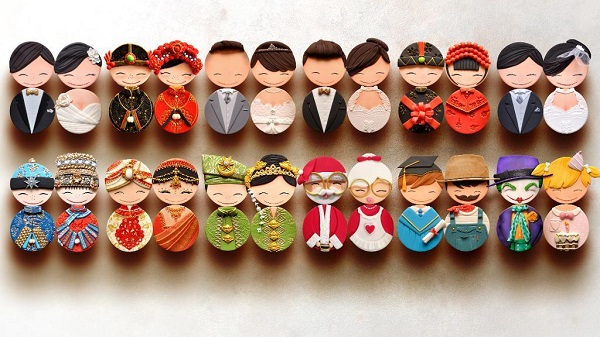 Photo via Bluprint instructor Sheryl Bito
Cupcake toppers are not limited to individual cupcake designs, but can be constructed into creative visual displays, as Bluprint instructor Sheryl Bito demonstrates in her course Global Cupcake Design. These whimsical couples provide an adorable alternative to portraying people with a variety of approaches and ornamentation techniques.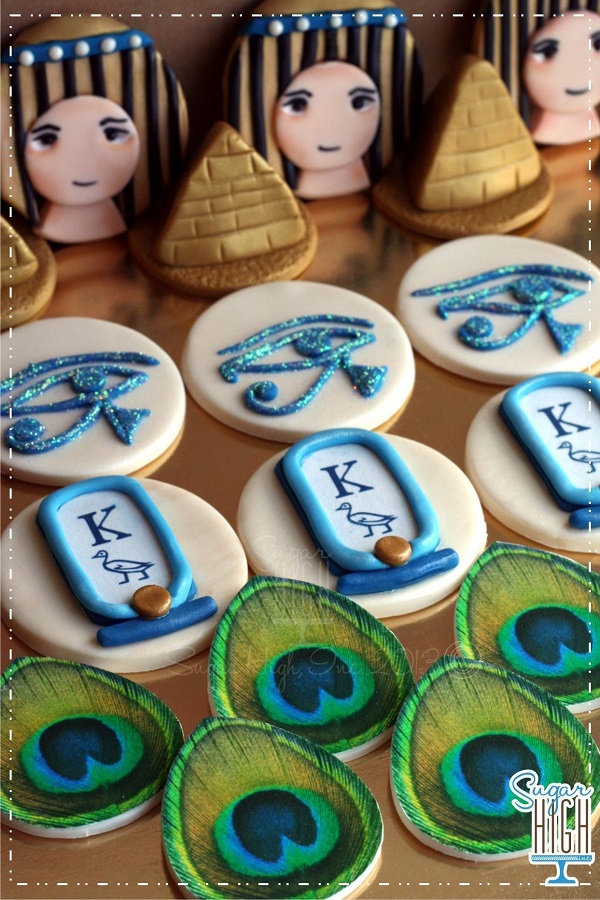 Photo via Sugar High, Inc.
Once you have decided on a theme and designed your cupcake toppers based on your medium of choice, preferred techniques and skill level, you are ready to create your works of art. And once you are ready to combine a plethora of techniques, such as this gorgeous set of Egypt-themed toppers by Sugar High, Inc., the possibilities are endless!
What type of toppers are you most inspired to adorn your next cupcakes?