Wedding cakes can be a challenge for an intermediate decorator: They're tall, tiered and definitely not tiny! Though creating this multi-layer cake can seem daunting, our roundup of super handy tips will help you through the process, so you can discover three-tiered wedding cake success!
Read on for our tips and design ideas for making a three-tiered wedding cake…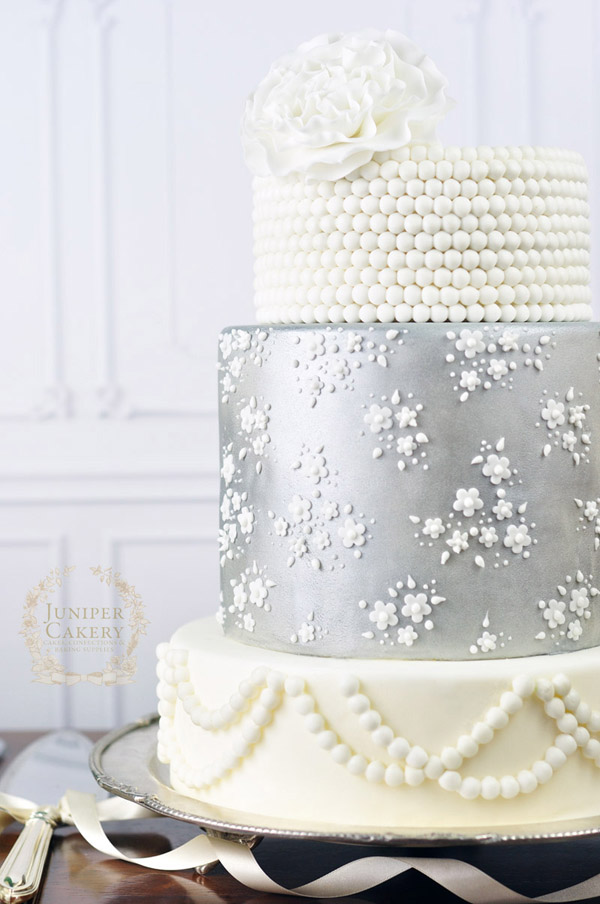 Photo via Juniper Cakery
1. The deep tiered
Dramatically deep tiered cakes that play with proportions are a brilliant trend that we certainly hope is here to stay! Combining normal depth tiers with one deeper tier really helps add interest and dimension to a design.
If you're fairly new to creating cakes like this we'd recommend fondant icing a few deep tiered dummy cakes to practice! Otherwise, icing with buttercream rather than fondant is a great way to try this style! Once you're ready to cover a deep tier with fondant take a deep breath, work fast yet gently and always smooth the icing on the sides of your cake upwards to avoid tears!
To make stunning wedding cakes with step-by-step instruction and advice, enroll in Wendy Kromer's Dream Wedding Cakes class!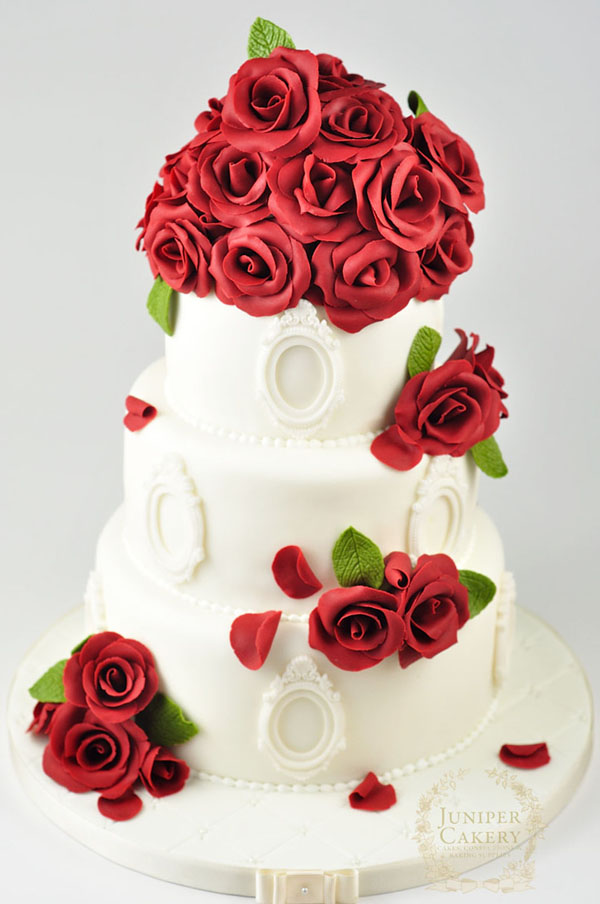 Photo via Juniper Cakery
2. The traditional
Traditional look cakes tend to encompass the following design characteristics: white or ivory, royal icing details, fondant covering and floral sprays (especially roses).
In today's wedding climate, happy couples are getting more and more knowledgeable about cake trends and ideas, so steer clear of dated looking designs! Consider placement, balance and remember the mantra "less is more." Don't overcrowd a white/ivory cake with too much, as this really starts to make a cake look like it belongs in a 1980s bridal magazine. Coco Chanel once quipped that one should look in the mirror before going out and remove one accessory or piece of jewelry — the same applies to traditional cakes in the modern age.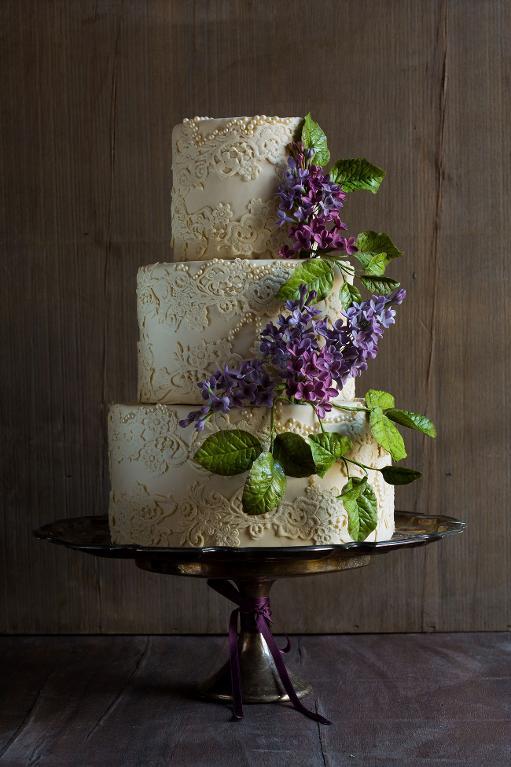 Photo via Bluprint member ModernLovers
3. The vintage
Vintage is a style that never goes out of fashion even when it comes to glamorous wedding cakes! Lots of couples opt for chic styling inspired by yesteryear to add a romantic and delicate touch to their reception. Vintage designed cakes are similar to traditional cakes yet they tend to utilise creams or slight sepia tinted color palettes with more quaint motifs such as lace, jewels (think cameos or pearls), nature (especially birds and butterflies)!
Some great tips for creating elegant vintage or antique inspired cakes is to do your research, but be selective. There are some amazing free resources online for vintage textiles, dress and pattern from the Victoria and Albert Museum online archive to the Metropolitan Museum of Art's Costume Institute web site. You can even find some fabulous print or color ideas from a book cover, old wallpaper or movie. Sketch out all your different ideas before settling on a select few (3-5 design elements depending on how bold or intricate each is). As with traditional cakes less is more; e.g. if you've selected large blooming roses with butterflies and cameo brooches we'd recommend toning down the cameo aspect with just the ornate frames or by replacing the cameo silhouettes with butterflies.
Planning on creating a gorgeous vintage-inspired lace cake? Enroll in Zoe Clark's Elegant Lace Cakes online class!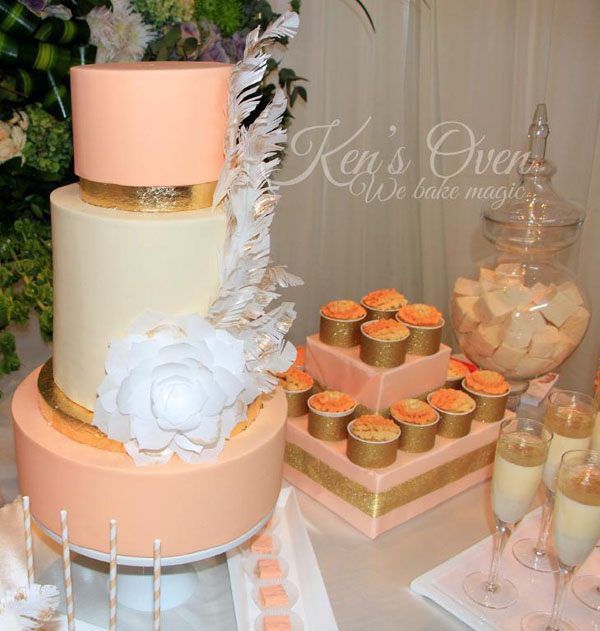 Photo via Bluprint member Kendari Gordon 
4. The chic and modern
Stylish modern cakes are wonderful centerpieces at fashionable weddings. Some key looks for sleek and chic wedding cakes include straight edges, clean lines, striking color palettes, a simple design feature and a hint of luxury! The above cake is the perfect example as it encompasses a bright yet romantic color scheme, a single design element on the front of the cake, and super sleek lines and edges.
Modern styled cakes can be unforgiving due to the precise lines and edges that add that extra wow factor so be sure that you have this technique down to perfection. A fabulous tip we learned when torting, filling, stacking and icing cakes is to have a mirror fixed onto the wall where you work so that you can keep your eye on both the front, back and sides of a cake!
Discover some amazing tips and advice on getting a super sleek look to your cakes with Jessica Harris' Clean & Simple Cake Design class!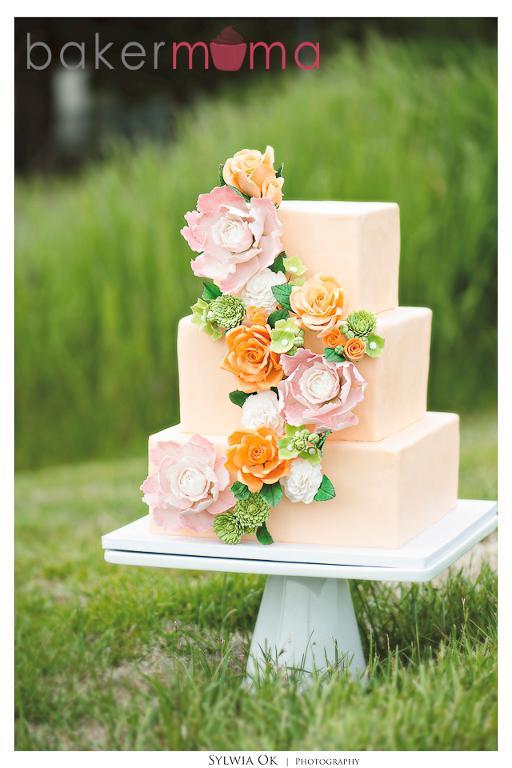 Photo via Bluprint member Thea lrae
5. The floral bouquet
Floral adorned wedding tiers are one of the staple designs that feature at many a wedding reception. Every year when lists of current wedding cake trends are published either online or in print the eternal bouquet embellished cake always features prominently on the list.
Our top tip is that unless you know you can utilize it in an elegant and subtle way stay away from using plunger cut flowers on a wedding cake. Why would someone pay hundreds of dollars for a wedding cake with the same cut out florals that would be used on a kids' birthday cake? The same goes for plunger cutter butterflies too. Instead add some finesse with hand-made sugar flowers and intricate royal icing piped butterflies for a grown-up and elegant look!
We absolutely love learning new sugar flower techniques! If you do too sign up for Nicholas Lodge's Mastering Modern Sugar Flowers class today!
Armed with our tips and design ideas for making a 3-tiered wedding cake you should find your future designs are the perfect marriage between style and practicality!