Making the perfect grilled cheese sandwich is a deceptively simple process. On the one hand, the cooking method is basic: toast a slice of bread with butter in a pan. Add cheese to the unbuttered side. Sandwich with a second slice, flip, and heat until the cheese is melty. Heaven.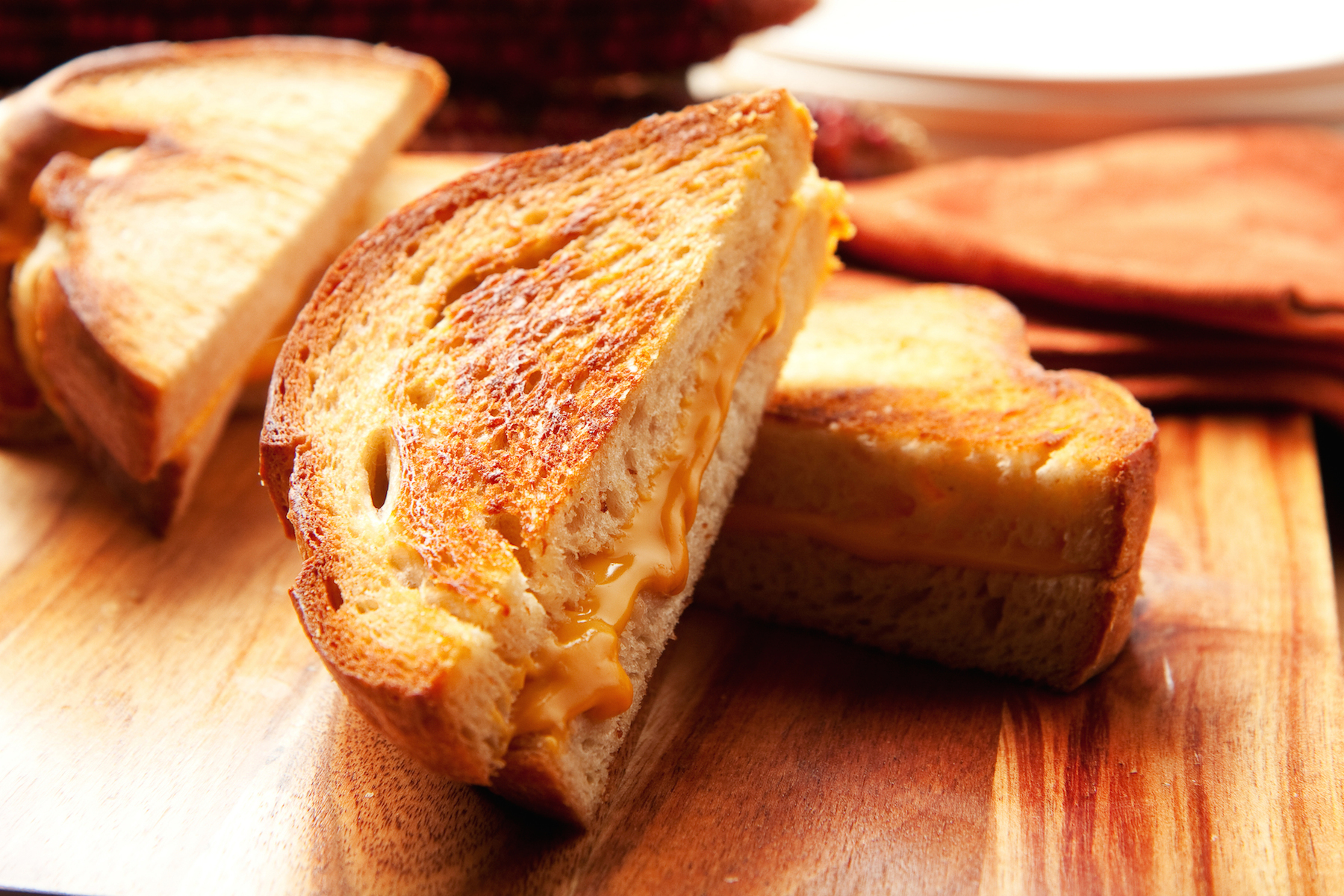 Here are our tips for how to make the perfect grilled cheese sandwich!
Subtle techniques and ingredient choices can make all the difference in making the perfect grilled cheese. How long should you toast? How should you butter the bread, and should it be unsalted or salted butter? What kind of cheese should you use? Exploring the details can make all the difference in your sandwich skills.
Butter is best
When it comes to grilled cheese, butter is of great importance. But what type?
Since salt helps bring out the rich flavor of the cheese and butter, I recommend using salted butter for the best tasting results. Or, you could always add a sprinkle of sea salt on top of unsalted butter. If you'd like, get fancy by using a homemade flavored butter.
To ensure that the butter does its work evenly and well, butter the bread, not the pan. This can be done using softened butter spread evenly along the surface, or melted butter brushed across the surface of the bread.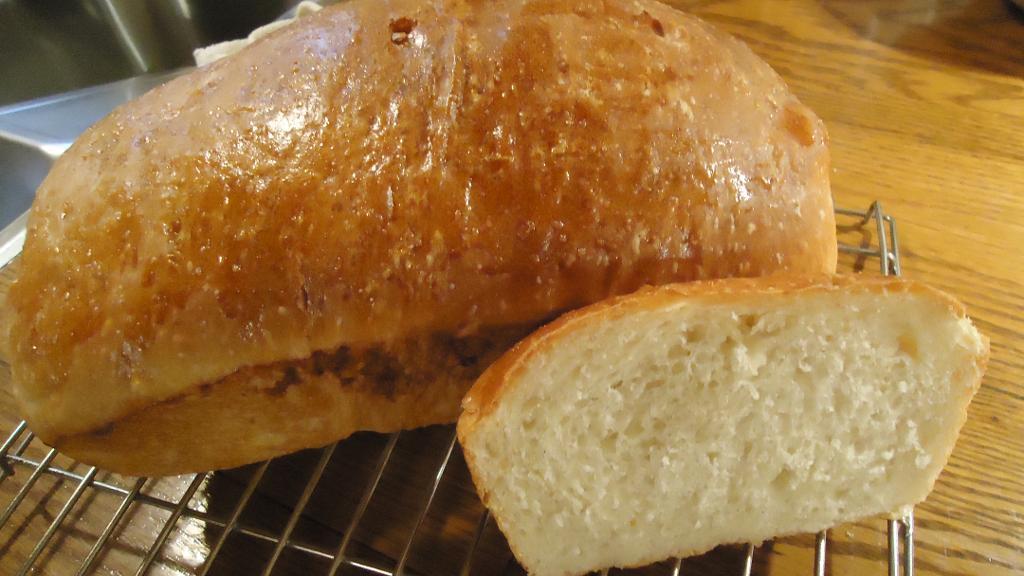 Fresh White Bread via Chantal M
Bread winners
When it comes to bread, the texture and shape are most important. The rounded surface of, say, a baguette does not lend itself well to even crisping; an airy artisan loaf may have too many holes, allowing cheese to drip through. Ideally, the bread is a sandwich-style loaf, sturdy enough to cut into clean slices with a bread knife, yet not sliced so thickly that the heat can't get through to the cheese.
How about making your own fresh, delicious bread as the perfect canvas for your grilled cheese masterpiece? Learn how to make unbelievably tasty fresh, homemade loafs in the Craftsy class Artisan Bread Making.
Cheeses to please
With a delicacy which contains few ingredients, the quality of each one matters. Cheese is the key ingredient in grilled cheese, and it's the quickest way to change or alter its identity.
Any good "melting" cheese such as cheddar, gruyère, provolone, Swiss, jack, or even brie (rind removed, please) will work beautifully.
If you prefer a cheese that doesn't "melt" quite as evenly, such as feta or bleu, or a cheese that melts too much, such as cream cheese, you can still use them — just pair them with one of the more evenly melting cheeses for the best results.
Photo via Flickr Creative Commons member Kelly Bone
Speaking of combinations, sometimes they can make for an even better sandwich. Pairing sharp cheddar with American cheese can soften the edges, making for a creamy and flavorful treat. Combining jack cheese, mild cheddar and queso fresco can create a spicy Mexican-style grilled cheese.
When it comes to grated versus sliced cheese, thin slices of cheese work best, as they are sure to melt evenly. However, you could still use grated cheese, just be sure to use an ample amount and spread it evenly because it will flatten dramatically as it melts and can leave "holes" once melted.
Sandwich the fillings
If you want to dress up your grilled cheese with added flavors or ingredients, follow these basic steps.
For fillings, such as tomato slices, bacon, ham or turkey, use thin slices and sandwich them between cheese, as they will prevent the bread from sticking to the cheese if added first. Once you've added the filling, spread a small amount of cheese on top to help the top slice of bread stick.
Note: Though not a rule, we find it's nice to blot tomato slices or more wet fillings lightly to reduce excess liquid before adding them to the sandwich.
For condiments or spreads, such as mustard, mayonnaise or even jam, spread on the unbuttered side of the bread before adding cheese. These won't keep the cheese from sticking, and are easier to spread before the cheese has been added.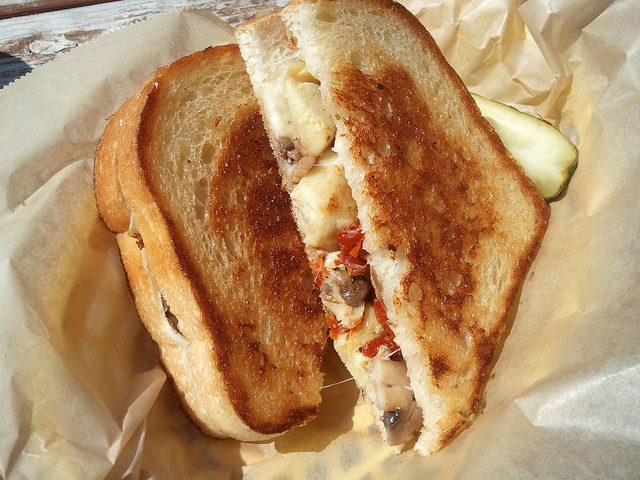 Photo via CakeSpy
Remember to be creative
Classic grilled cheese fillings include tomato slices, turkey, bacon and ham. But by no means are these the only fillings that can make grilled cheese great. Here are just a few ideas to get you going:
Apple slices, caramelized onions, chutney, coleslaw, crumbled chips, cooked hamburger, diced cooked vegetables, fried tofu, guacamole, hummus, kale, olive slices, onion rings, peanut butter, salsa, sautéed mushrooms, sun-dried tomatoes.
Have fun and experiment with different filling combinations!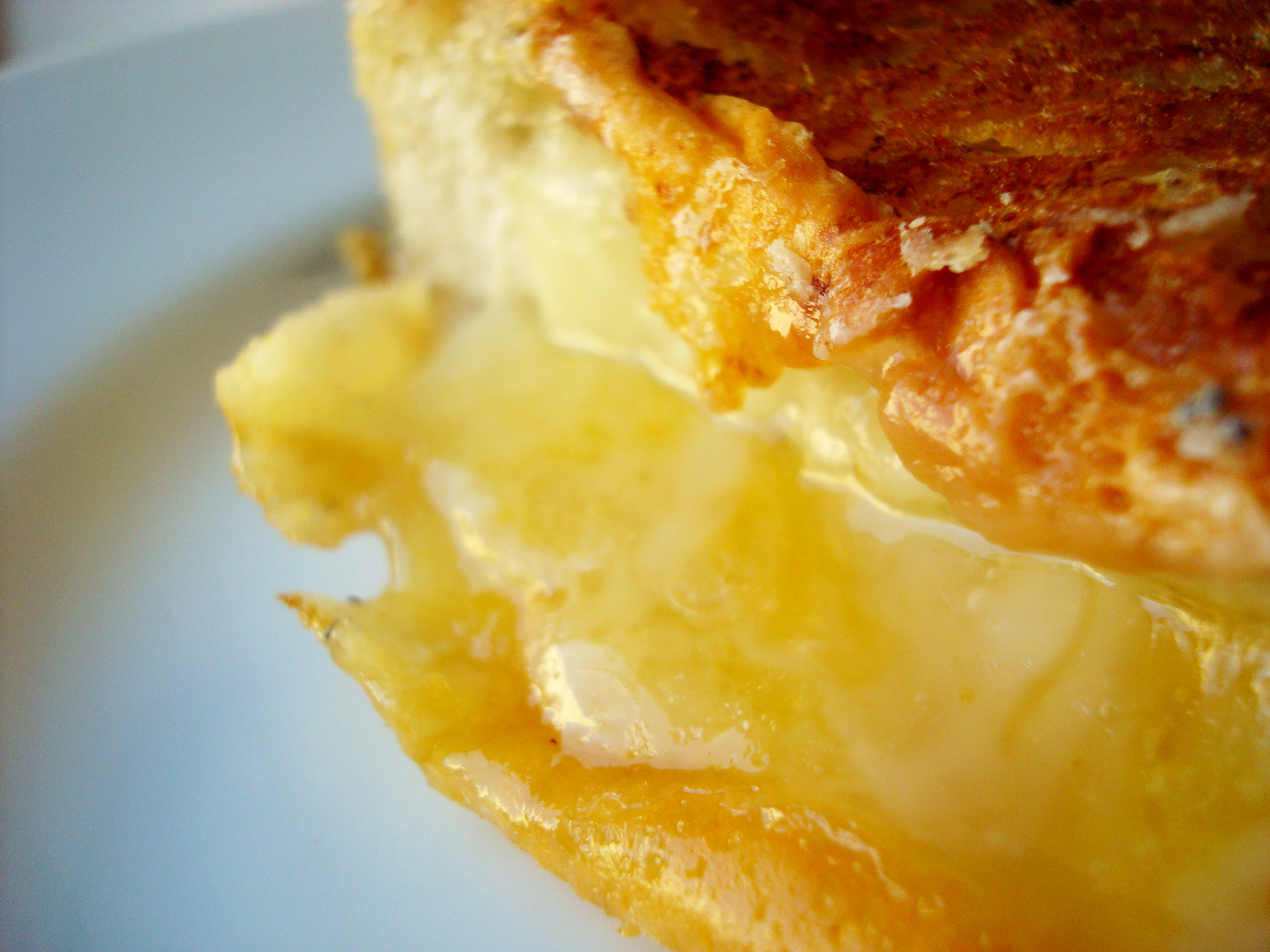 Photo via CakeSpy
When cooking grilled cheese, go low and slow
When you want grilled cheese, you want it now, so the temptation can be to use high heat to hasten the process from pan to mouth. However, this is not the best method. While the exterior will brown beautifully, the inside may reveal the ultimate grilled cheese kill-joy: unmelted, cold cheese. To attain even cooking, you want to use a medium-low heat. There's no hard and fast rule for how long you cook each side. As long as it's not burnt, you can grill it to your liking: Whether it's crispy on the edges and softer in the center, or crisp and browned all over the bottom and top.
My secret to grilled cheese
My mother (and don't mothers always make the best grilled cheese?) used a method of cooking slowly to the point of extreme crispiness and golden browning. Then, she would cover the pan, off-heat, and let the sandwich hang out in the residual heat for 2-3 minutes. This made doubly sure the cheese was all melted, and the steam helped soften the extreme crispiness slightly, making what I consider the best grilled cheese.
A method which I have also enjoyed is to toast both sides of the bread before adding the cheese. So, place both sides of the bread, buttered side up, in the pan. Just heat them for about 30 seconds. Now, flip them to the usual buttered side down, and add the cheese. The ever so slightly toasted surface will start the cheese melting a little quicker, making for melty and perfect results.
What's your secret to making the perfect grilled cheese?