Fragrant and delicious gingerbread cookies and houses always make the perfect addition to a cosy and heart warming Christmas. Who wouldn't love the temping smell of the spices as you bake up batches upon batches of the traditional Christmas cookie!
To help get your home ready and festive in time for some fine holiday fun, here's a fabulous tutorial on how to create your own candy-covered gingerbread house. You can decorate it yourself or perhaps to entertain the kids make a few smaller houses so that each child can cover them with candy and chocolate decorations.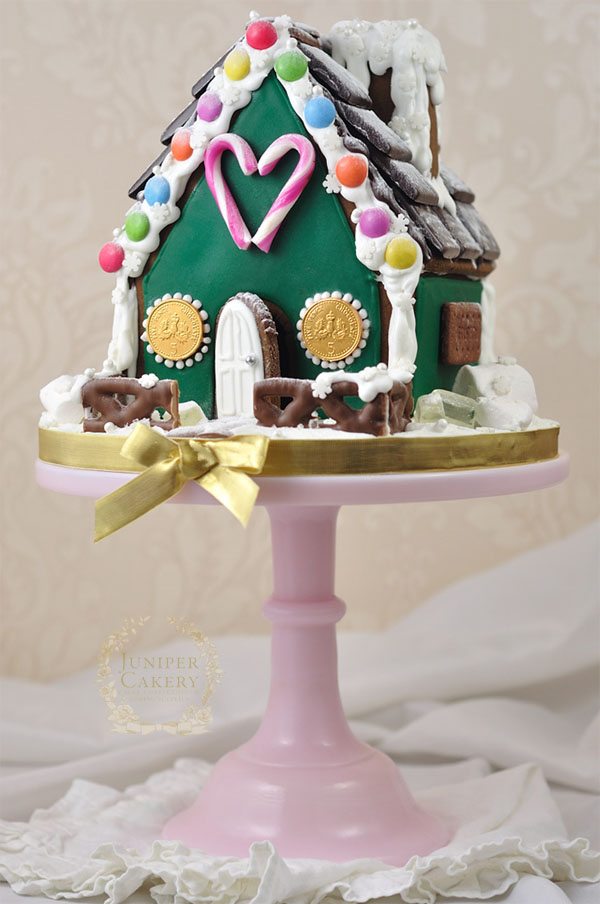 Create the perfect candy home with this step-by-step gingerbread house tutorial!
Materials needed to make a gingerbread house
Your go-to gingerbread recipe
Pastry cutter or small sharp knife
Baking sheets
Silicone mats or parchment paper
Extra parchment paper
Ruler
Marker or pen
Angled palette knife
Royal icing
Rollin pin
Cake board
Scissors
All-purpose flour to dust surface
Candy to decorate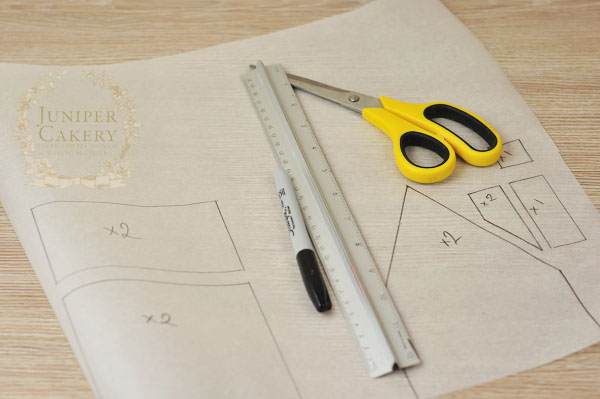 Step 1:
With a ruler, marker and parchment paper plan out your gingerbread house shape and translate this into a cut out template.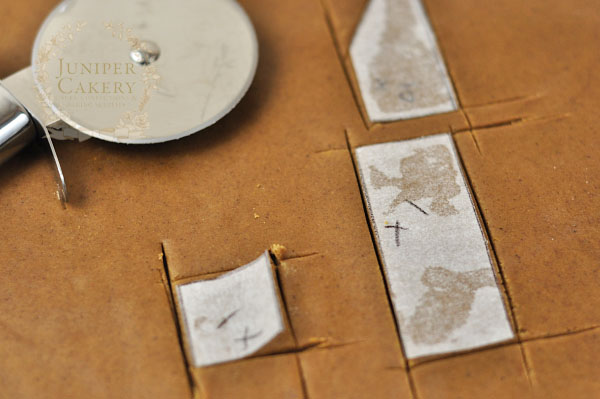 Step 2:
Take your gingerbread dough and roll out to a good thickness. Using your template cut out the appropriate pieces. If you'd like to have some realistic see through windows in your gingerbread house why not check out this handy stained glass candy cookie tutorial!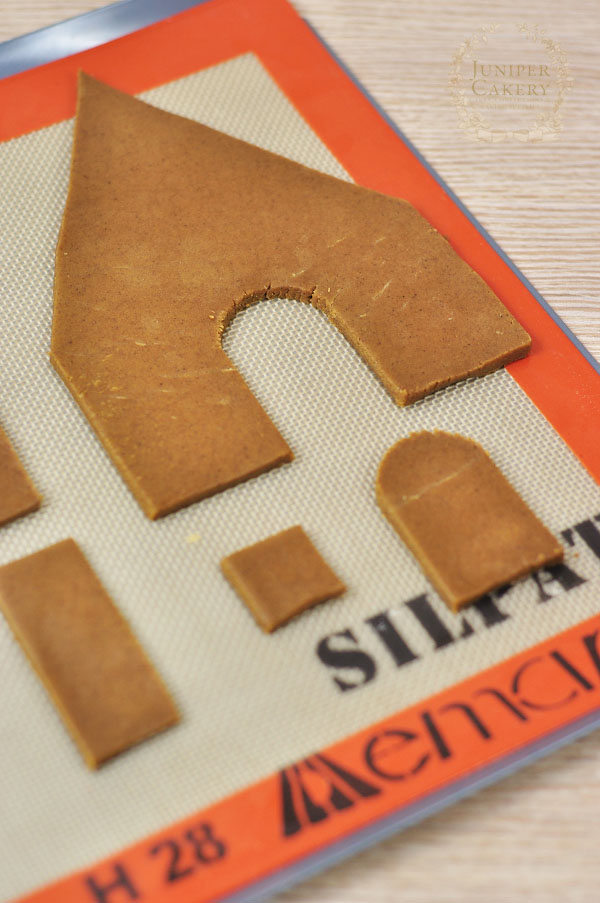 Step 3:
Transfer these onto your lined baking tray and bake according to your recipe! Once baked leave to cool and transfer to a wire rack.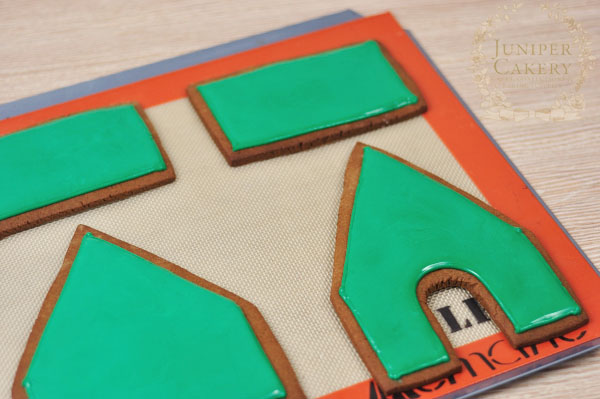 Step 4:
If you'd like to flood ice your pieces like our house we recommend doing so and leaving the panels to fully set and harden for around 24 hours.
Step 5:
Take your ready gingerbread house pieces and assemble them using the royal icing. You may need an extra helper for this step or perhaps some glass jars to help hold the panels upright. Leave to set. Leave attaching your gingerbread roof until your wall panels have firmly set.
Step 6:
Once your house has set together take your cake board and smother generously with royal icing to create a wonderful snow-y ground!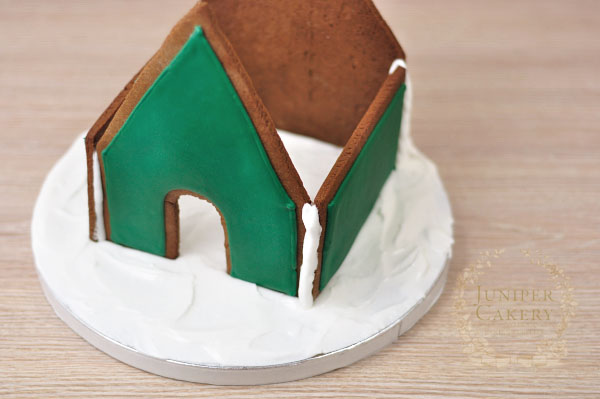 Step 7:
Carefully lift your assembled gingerbread house and gently nestle into the royal icing 'snow' on your cake board. Once transferred now is the time to add your roof sections.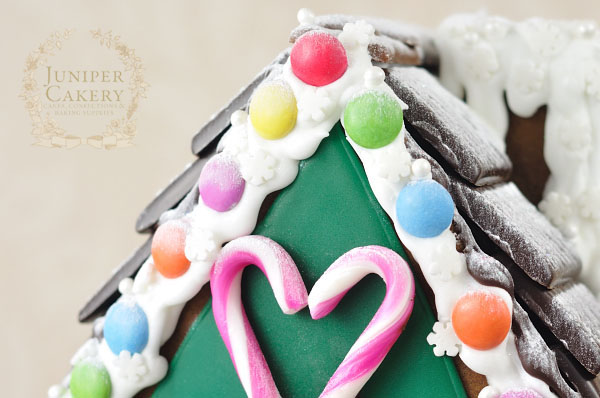 Step 8:
Now you can decorate your adorable festive cookie house with fondant pieces, characters, candy, cupcakes, ribbon, edible glitter etc! What fun! Some great ideas include using marshmallows for fluffy snowballs, adding crushed isomalts to mimic glistening ice, add snowflake sprinkles or edible sugar pearls for a playful look and dust liberally with icing sugar for soft snowdrifts!
You can add cut down chocolate bars, biscuits or strips of melted chocolate to create adorable fences. For stone walls why not utilize rice cereal treats, chocolate chips or even bright jelly beans! Decorating gingerbread houses is by far one of the most fun things to do in preparation for the Christmas festivities!
If you'd like a more grown-up and glamorous gingerbread house why not try truffles, wafer biscuit cigarillos, molded chocolates, macarons, gold and silver luster dust and sprays, spun sugar and caramel drizzles!
Gingerbread houses are fantastic additions to any Christmas dinner table. They're pretty darn impressive and thoughtful gifts for friends and loved ones too! Hopefully, with our tutorial, you'll be baking and decorating delicious architectural masterpieces in no time!
Remember to have lots of fun, get creative with lots of bright candies. And, also keep in mind that royal icing "snow" can hide a multitude of mishaps just in case you need a cover-up or two!
[box type="shadow"]
Want to become a master at cookies? You can with Autumn Carpenter's Decorating Essentials: Designer Cookies class! Discover essential sugar cookie and royal icing recipes, how to pipe, flood ice and decorate!
Sign me up! >>
[/box]
How would you decorate your gingerbread house for the festive season?