Maybe you're a beginner who hesitates to dive into jewelry making, or maybe you're a seasoned jewelry maker who's in a bit of a creative slump. In either case, it's always inspiring to remember that there are so many reasons to make your own jewelry.
It's difficult to think of reasons to make your own jewelry when you're stuck on a difficult project or can't quite figure out one of the steps. But sometimes we have to push through those rough patches and creative droughts. It's so worth it!
Remember these 10 reasons to make your own jewelry!
A how-to for wire wrapping beach glass; Photo via Craftsy member Gayle Bird
1. It's meditative.
We're constantly remind you that the secret to a happy, healthy life is crafting. That applies to jewelry making, too! Creating is meditative, automatically reducing stress. Next time you are feeling overwhelmed, grab your jewelry tools and make something. I bet you'll feel better.
2. It's inexpensive.
Sure, there are $20 pliers and crazy-expensive beads you could buy, but you don't have to buy them in order to make jewelry. Making jewelry can be as inexpensive (or expensive!) as you'd like it to be. And hey, there's no harm in buying the cheap stuff to start out with, then investing in more pricey tools and supplies as you become more advanced.
3. Handmade jewelry = awesome gifts
Who doesn't love receiving handmade gifts? Depending on what you make, you can whip up a gorgeous gift in no time.
4. You're never without special occasion accessories.
I once took a jewelry course from a teacher who said that any time she goes to a wedding, she spends the night before the ceremony in her hotel room making jewelry that goes with her outfit for the wedding. I bet she never wears the same accessory twice.
5. It doesn't require much storage space.
Other crafts like knitting, sewing and crochet can take up lots of space. (Trust me. I have a room dedicated to my yarn and fabric collection.) But jewelry has smaller components that can be organized easily, then put into a smaller space.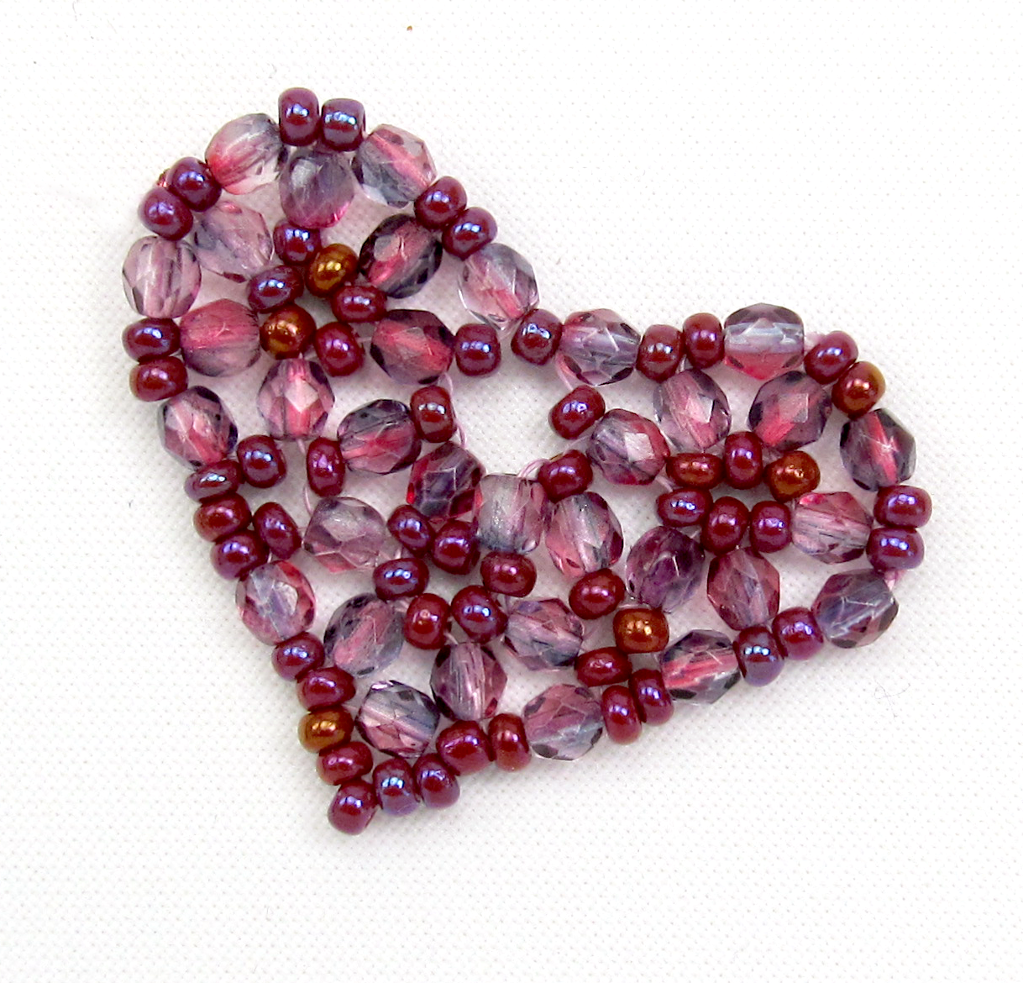 Free beaded heart pattern; Photo via Craftsy member Sandra Halpenny
6. It feels good to say, "Thanks! I made this."
Few things feel better than being complimented on something you made. When you wear handmade jewelry, don't feel shy about letting others know that you created it.
7. It can supplement your income.
Selling jewelry can be a side business to supplement your income, and it can even become your full-time job. Not into selling completed projects? You can sell your jewelry tutorials and patterns right here on Craftsy!
8. It can help you build a community and make connections.
I've moved around quite a bit, and each time I go to a new town, I always find a craft group to help me build a community in my new town. Ever start talking jewelry making with a stranger? You can make instant connections, and maybe even make a new friend or two.
9. No more spending money on store-bought jewelry.
Running into a budget issue when it comes to jewelry? No need to spend half your paycheck on store-bought jewelry. If you make your own jewelry, you can recreate some of your favorite designer pieces to fit your budget. Even if you use the same metals and gems that the designer piece uses, you'll still save a lot of money!
10. You can be unique!
One reason why many of us craft is so that we can create unique projects that stand apart from the crowd. You can imagine your perfect piece of jewelry and recreate that. No one else in the world will own the same piece of jewelry!
Why do you make your own jewelry?