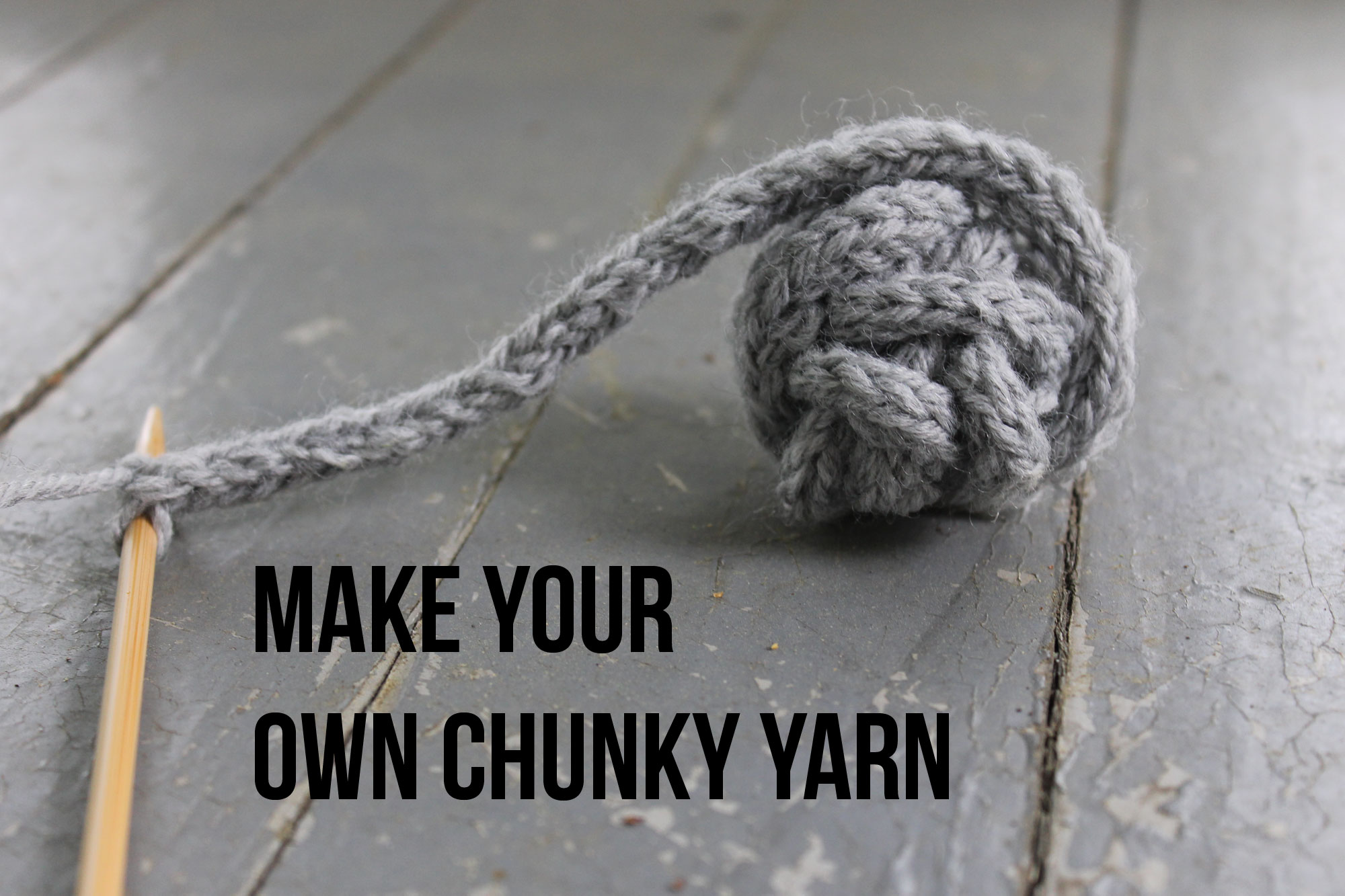 Do you ever look at your stash and think, If only I could somehow combine all these little bits of yarn into one! While you can't meld all your yarns into one perfect skein, there are two ways that you can create a nice chunky yarn out of your lighter weight yarns.
Let's take a look at two different ways to do that: knitting an i-Cord and using multiple strands at once.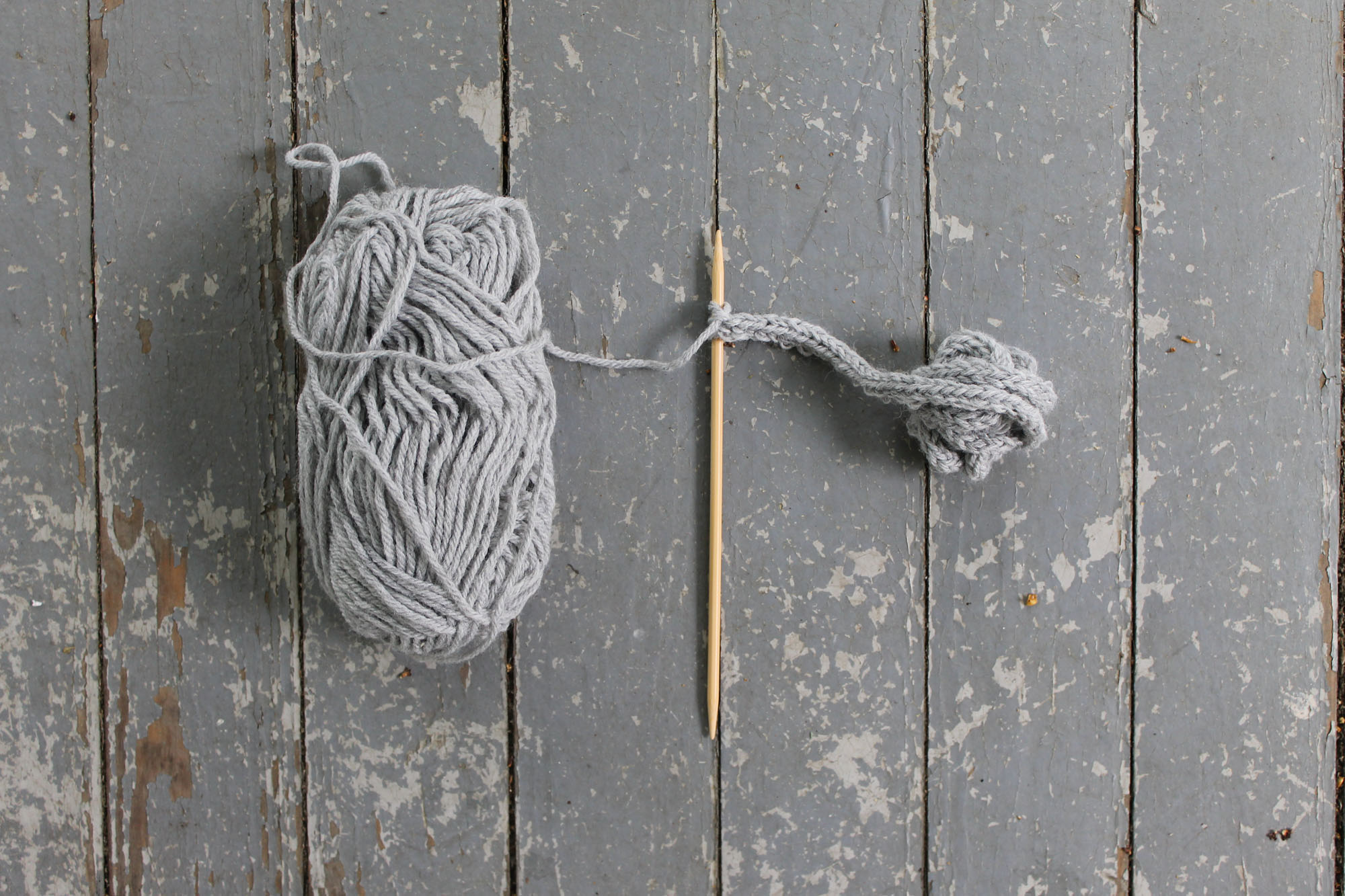 Technique 1: Knitting an I-cord
You probably already know that bulky and super-bulky yarn result in a different gauge than your lighter weight yarns. A bulky yarn, for instance, might get 14 stitches in 4 inches, while a sock yarn could get double that amount of stitches in 4 inches.
If you combined those lighter weight yarns and make them into one strand, the gauge would obviously change. One way to combine those lighter yarns is to knit them into an I-cord.
For the yarn pictured above, I used a worsted-weight wool and stitched a 3-stitch I-cord to create a chunky yarn. You can create an I-cord using any number of stitches. For example, if you have a fingering weight yarn that just isn't chunky enough when you knit it into a 3-stitch i-cord, try making a 5- or 6-stitch one instead.
If you're aiming for a specific gauge, you'll have to swatch your i-Cord before you create the entire skein of new, bulkier yarn. Just test it with larger needles once you've created enough to make a few stitches. I tried a couple of different needle sizes before I settled on one for this particular skein.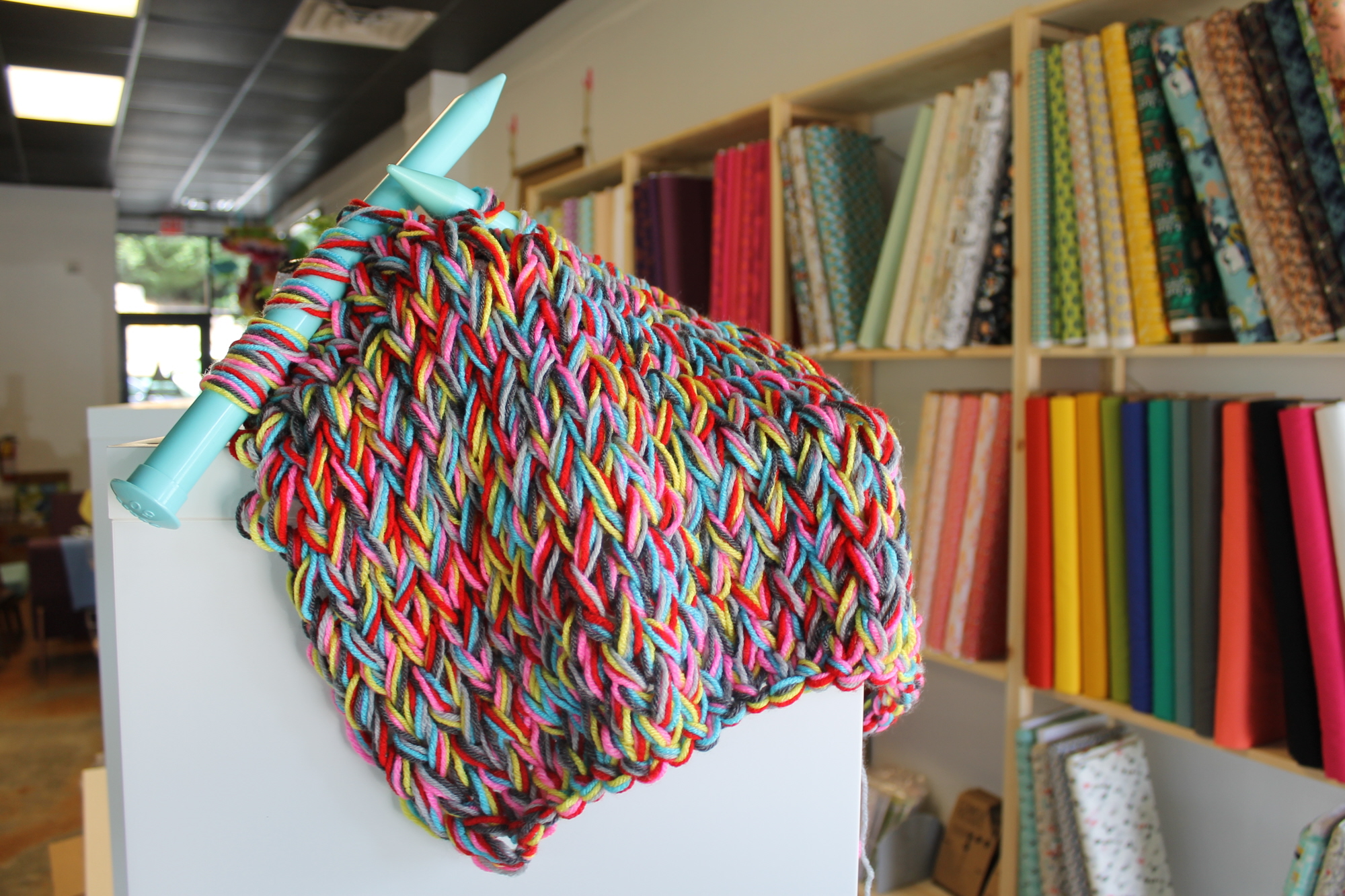 A multi-strand project on display at Blackberg Creative Studios, one of my local craft stores
Technique 2: Using multiple strands at the same time
If working all your yarn into an i-Cord sounds like torture, you can also knit with multiple strand at the same time to get a chunky look. I photographed the in-progress project above at my local craft store. You can't see it, but behind the project is a tote bag full of yarn skeins. The strand from each skein comes together to form one large strand.
This particular look uses multiple colors of yarn for a variegated look, but you could also do one solid color if you choose.
If you have a specific gauge in mind, using multiple strands can be tricky because it's hard to predict how many strands you'll need. Use this loose guide from Lion Brand Yarn to determine how many strands of each weight will create the gauge you need, then do a little swatch to make sure it's on point with your goal.
Fabric
If you don't have enough yarn to make a multi-strand project, you can also use something bulkier like fabric as a yarn. Some yarn manufacturers make t-shirt yarn that's already cut for you (Lion Brand Fettucini is one of my personal favorites), but you can also make your own. Check out some of our tips and project ideas for T-shirt yarn if you need inspiration.
Have you ever made your own chunky yarn? How did you do it?