Gone are the days of wrapping flower stems in tin foil ! We're so excited about Ingenious Edibles Safety Seal, a brand new product that makes anything — yes, anything — safe to stick in a cake. 
If you're selling cakes, everything that touches your cake needs to be food-safe, or you could run into legal trouble. And even if you're just sharing your creation with friends and family, it's a good idea to protect the delicious parts from inedible parts.
That's where Safety Seal comes into play. It can coat anything in a thin layer of food-safe wax, making inedible items fair game for a cake.
How to use Safety Seal step by step
The best part about this material is that it's insanely easy to use. Check it out here:
Step 1:
Remove the lid from your Safety Seal container and microwave it for 3 minutes, checking every 30 seconds or so. Once the wax is viscous, remove it from the microwave.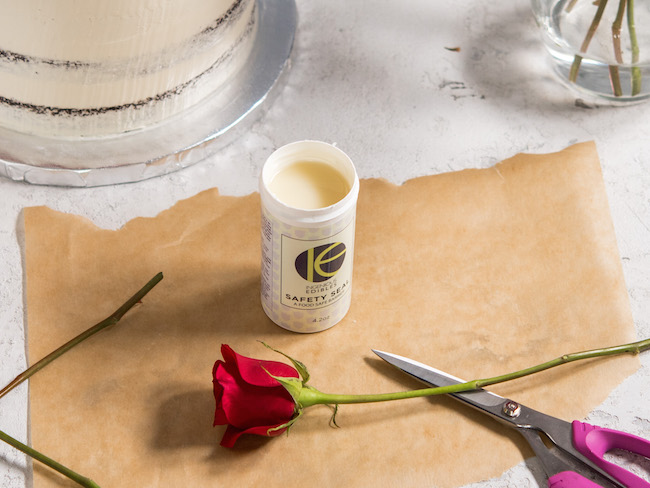 Note: You can re-microwave the material over and over again. Since it uses such a thin layer with each decoration, it'll be a long time before you run out!
Step 2:
Now it's time to dip your item. If the item is tall and thin (like a flower stem), you can dip it right into the container. If you're using a larger, wide item that can't fit, you can pour some of the wax into a wide, shallow dish or bowl.
Dip your item and shake off any excess wax. The wax dries very quickly — you only have to wait a few seconds for it to harden up.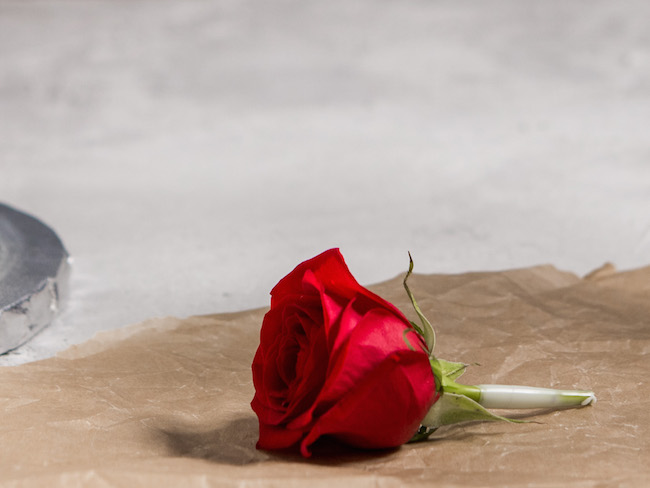 If you plan to do a lot of dipping, the wax may firm up as you work. Not to worry! Just pop it back in the microwave for about 30 seconds.
Step 3:
Insert your item into your cake or another sweet creation. Th wax sticks to item and won't get lost in the cake, so you can just pull the decoration out when it's time to get slicing.
What to use with Safety Seal
The best thing about this material is that you can use it with anything! It's especially handy for decorating with flowers — whether they're fresh flowers, silk flowers or sugar flowers on floral wire. But the options are endless. Consider these fun options:
Dolls or action figures
Fashion accessories (like real jewelry)
Utensils or tools
Feeling inspired? Get your Ingenious Edibles Safety Seal here.
Watch it in action!
In this episode of Man About Cake, watch JJR finish off his Faux "Piped" Royal Icing Border cake with a food-safe flower.