Previously, I showed pin basting on a wall using a top from my recent Craftsy class. I use a few pins and a wall to "set" the sandwich to be followed by secure machine basting. Now I've machine basted and quilted for this column. I'll gift it to the first person in my family who happens to read this column.
Working with water-soluble thread
I keep a spool of Brook's Basting Thread that dates from my dalliance with hand quilting. It's not useful for machine basting. Dissolving thread, however, is a story with a happy ending. That's what I use for machine basting. It's water-soluble thread that may be sewn over. It will dissolve effortlessly in the wash.
I've had fine results with two brands of soluble thread: "Vanish" by Superior Threads and Wash-A-Way from YLI. The thread is fine stranded so there is more on a spool than you might expect. It will take a lot to fill the bobbin. The thread can be temperamental but it's worthwhile.
There are only two things you need to know. The first you'd discover on your own: Before threading the needle, don't lick the end of the thread.
Machine thread basting by machine
Fill a bobbin. Insert a new needle. A used, blunt needle might leave noticeable holes. After all the work you've done, spend the money and change the needle.
Use a walking foot and a basting stitch. A long, wide zigzag stitch is effective in covering a lot of surface area. A serpentine stitch (an elongated S) works too. Let the walking foot work for you. If you're not using a straight stitch, use the appropriate stitch plate.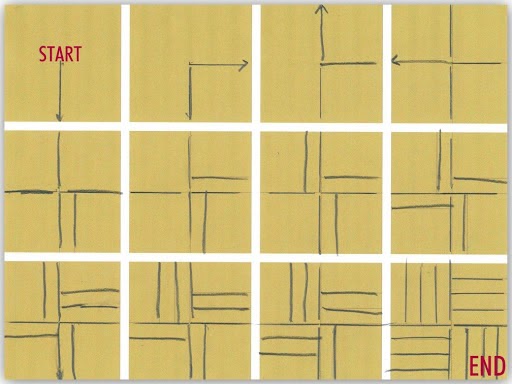 The second thing to know is to stitch in the manner used to roll out a pie crust — from the center out. The process takes me about an hour regardless of the size of the quilt. It's an hour well spent. Sew from the quilt center toward yourself; successively rotate the quilt 90 degrees, four turns in all.
Imagine a clock displaying 12-3-6-9. Begin at the center and baste to 6. Rotate a quarter turn to baste to the 9, now directly in front of you. Rotate to baste to the 12 and then rotate to sew to the 3. You may choose to rotate clockwise.
Then, position the needle about 1½" to the right of the original center position and repeat the process. Stay in your lane or the sandwich will pucker and pleat. The stitching within the quadrants should be in parallel columns. There's no such thing as too much basting. In fact it's an opportunity to practice on the real quilt.
A pucker on the back can be easily fixed. Moisten or cut away any constricting stitches and free motion quilt the area. If there is ever a "hill" in the quilt, flatten it with considerable amount of FMQ. Eventually you'll machine stitch over a flattened area.
To visualize my quilting design, I used a ruler and Triangle Tailor's Chalk from Clover to mark the basted top. Seeing a few chalk lines was enough. I sewed from point to point without marking. By happenstance the thread was at hand, a gift to teachers at the Houston Quilt Festival.
The above image shows the variegated thread quilting and, in assorted stitches, the light color basting.
When the quilt is laundered, the starch, chalk, and basting will all wash out. I had serged the edge to secure the perimeter during the wash and dry.
I intend to bind this during an upcoming flight to teach in Ketchikan, Alaska. Quiltmaker Magazine took me to Ketchikan a couple of years ago. I never dreamed I'd get to return. Next year I get to teach on a cruise to Alaska with fellow Craftsy instructor Debby Lutrell for her Stitchin' Heaven trip. I know enough to store dissolving thread in a waterproof bag. I can't help the glaciers but I can keep my thread from melting.