Machine quilting around appliqué is an art, and something that quilters say comes easier with practice! When you've invested so much time into making any quilt top, you want to make sure you are happy with the quilting pattern you choose.
When it comes to applique, most quilters tend to quilt around the applique and not through it. There are exceptions to the rule, of course, but the vast majority of appliqued quilts will incorporate some type of free-motion quilting design just outside of the appliqué and on the quilt background only.
If you're looking for ideas on how to quilt your next applique project, here are a few ideas to inspire you!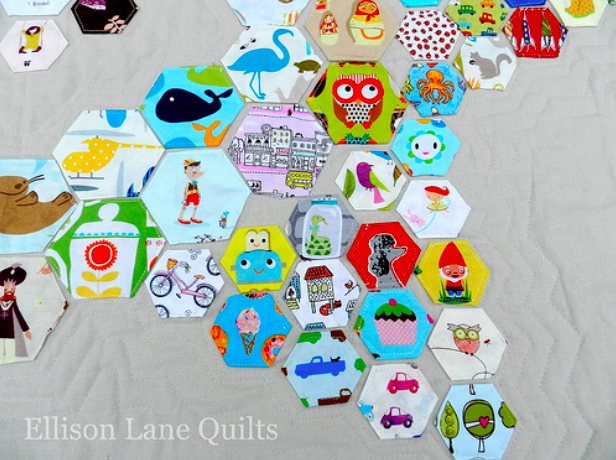 Blogged at Ellison Lane Quilts, Jennifer's Hexie I-Spy Quilt is a large baby quilt with machine-appliquéd hexagons. Jennifer chose to machine quilt an echoing design around the group of hexagons, rather than individual shapes. She finished the border by quilting straight lines, and left a good portion of the background unquilted to play with negative space. When machine quilting a baby quilt, think about how often the project will be used and washed, and consider how densely you'd like to quilt it, for durability.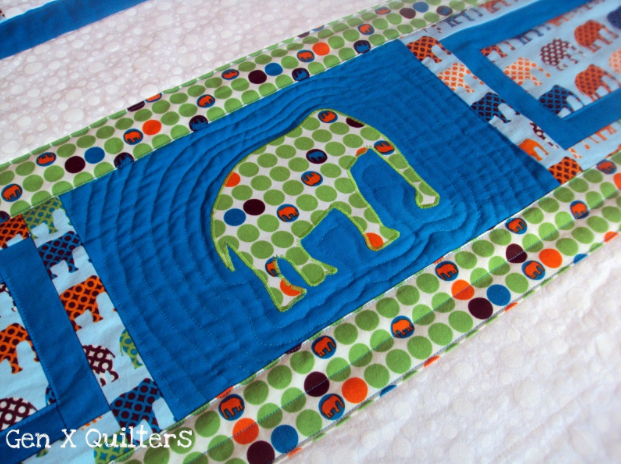 AnneMarie of Gen X Quilters echo quilted around the appliqué elephant of her Elephant Parade Quilt. Echo quilting is a good way to draw attention to your appliqué and make it the star of the show! Her use of straight-line quilting on the rest of the project makes the appliqué stand out even more, and is an idea you can replicate in your own appliqué projects.
Another example of echo quilting around appliqué is this Modern Dresden Pillow by Amy at Stitchery Dickory Dock. The machine quilting around this appliqué gives the appearance that the flower is radiating texture. If you are echo quilting straight lines around your appliqué, it often helps to mark the quilting lines in advance with a quilting marker.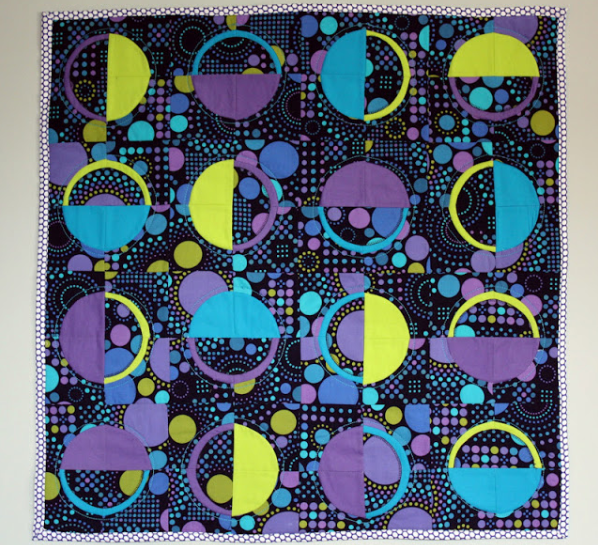 Sara of Sew Sweetness shares her Planetary Mini Quilt tutorial, which is machine quilting with a single ring around each circular block. Each block also has an appliquéd half-circle, which gives the quilt a fun and mixed-up feel. The contrasting Aurifil thread gives a nice pop of color against the black background.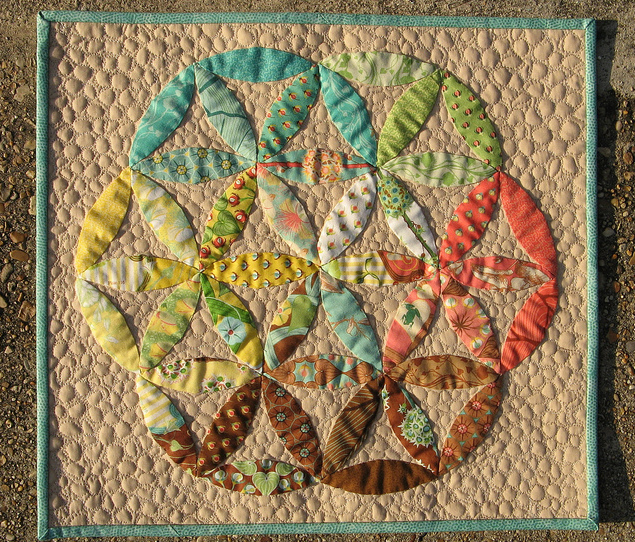 Starfish in the Sand by Angela of Cut to Pieces is an 18" mini quilt with hand-turned appliqué. Instead of echo quilting, Angela chose to leave the appliqué blank and use pebble quilting in the background. The small scale of the pebbles adds a lot of texture around the appliqué. When pebble quilting around appliqué, consider changing up the scale to complement your design.
Who says you have to play by the rules when it comes to machine quilting around appliqué? Diane Stanley shares a quilt with appliqué letters in which she had fun with wordplay on seasons of the year. As you can see, she incorporates free-motion quilted words like "summer" and "winter" seamlessly into the background of her quilt, which is appliquéd with related words and phrases.
What's your best tip or favorite technique for machine quilting around appliqué?
To learn more about free-motion quilting, check out Leah Day's online Bluprint class Free Motion Quilting a Sampler.