Most of the time, machine embroidery is digitized to a standard, like a medium-weight quilting cotton. So, can you still embroider on sheer fabric, thick towels, stretchy knits, or sweaters without problems? With the right tools and stabilizers, you can!
Here are four things to consider when stitching machine embroidery on difficult materials:
1. Stabilizer
Embroidery stabilizers are very important for several reasons: they support embroidery stitches, they keep the fabric from puckering under tension and they help to secure fabrics that are hard or nearly impossible to hoop. The right stabilizer helps tackle even the most difficult embroidery projects.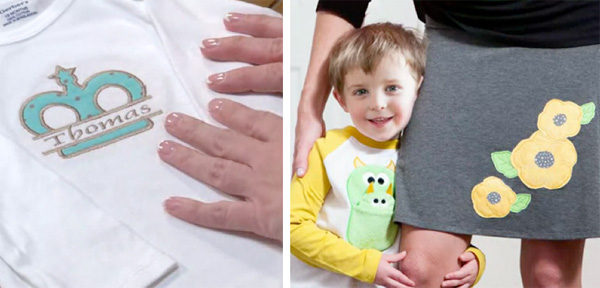 Photos via Bluprint class Appliqué Your Knits with Machine Embroidery with Lisa Archer
Cut-away stabilizers are recommended for use with fabrics that stretch or embroidery designs with high stitch counts or an abundance of satin stitching, such as appliqués.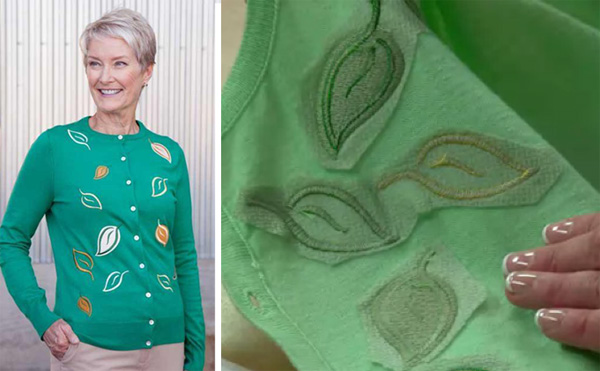 Photos via Bluprint class The Machine Embroidered Sweater with Patti Otto
Cut-away no-show mesh is an ideal stabilizer for embroidering on T-shirts and sweaters. It has the strength of a cutaway, to support stitching without puckering the fabric, yet is soft enough to not appear bulky or lumpy through the shirt or sweater.

Photos via Bluprint class Machine Embroidery with Knits with Deborah Jones
For items that that would be damaged by hooping, like fleece, or are hard to hoop, like socks, adhesive water-soluble mesh stabilizers can help keep the piece secured until stitching is complete. They have a paper side that can be scored and removed after hooping to reveal a tacky surface to which you can finger-press your fabric in place. After stitching, excess stabilizer is trimmed and then washes away. Water-soluble stabilizers also help support sheer fabrics like silk and organza.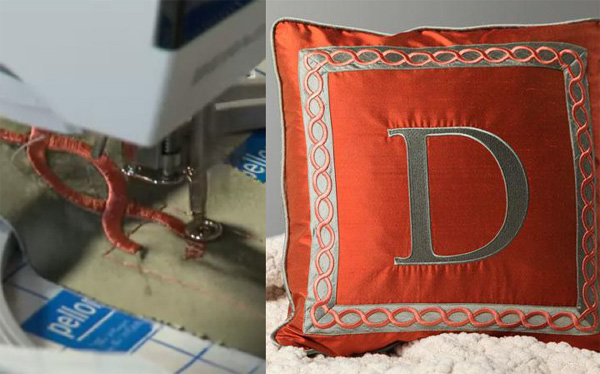 Photos via Bluprint class Embroidering Luxury Fabrics by Machine with Pam Damour
Even delicate ribbon can be embroidered when properly secured to hooped stabilizer.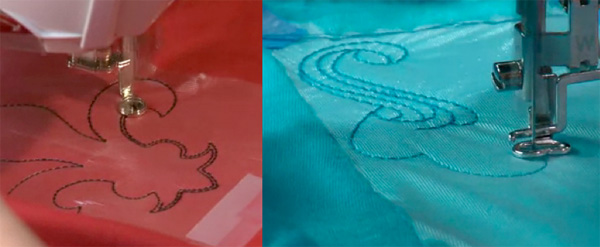 Photos via Bluprint
Topping
Water-soluble toppings are necessary when embroidering on sweaters, sweatshirts, socks, and towels. The clear film can be hooped with the base stabilizer and fabric or taped to the hooped piece. It sits on top of the fabric, keeping stitches from sinking out of sight.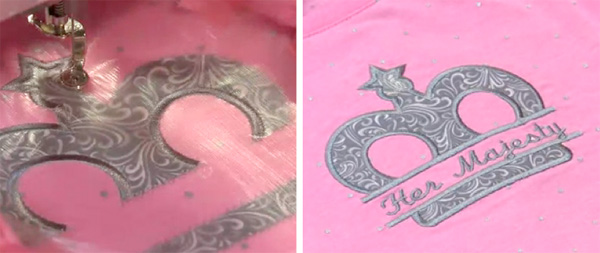 Photos via Bluprint classe Appliqué Your Knits with Machine Embroidery with Lisa Archer
Even light knits benefit from using a wash-away film on top of the design as with this appliqué.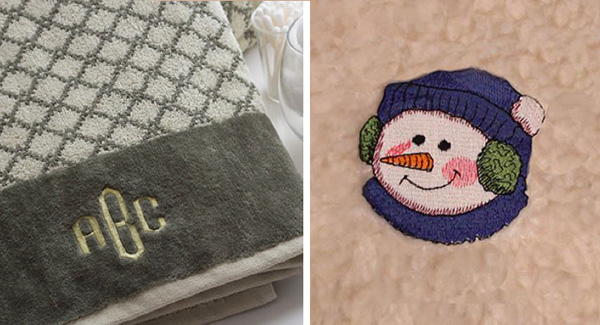 Photos via Bluprint class Machine Embroidery with Terrycloth and More with Deborah Jones
Embroidering items like towels and plush fleece are fruitless without topping. The deeper the nap, the more that stitches will sink or leave gaps where fibers show through. After stitching is complete, water-soluble toppings tear away easily. Whatever is left in the stitches will disappear with a good soaking or run through a wash cycle according to the garment manufacturer's recommendation.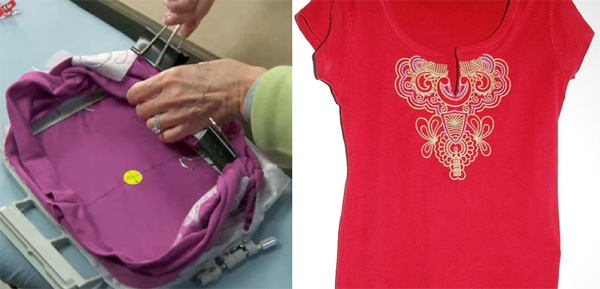 Images via Bluprint and Bluprint member 4vosjes961770
Basting stitches
Most embroidery machines have a basting function, which is particularly helpful when stitching on nontraditional fabrics. Run basting stitches right after hooping, and it lightly bastes fabric, stabilizer, and topping together so it does not shift during stitching.
Not sure if your machine has a basting function built in? Look in your owner's manual or check with your dealer.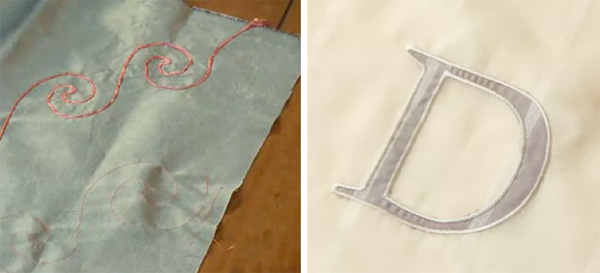 Photos via Bluprint class Embroidering Luxury Fabrics by Machine with Pam Damour
Needle
Be sure to use a needle that is right for your fabric. Knits usually require a ballpoint needle to separate fibers as they are stitched since ordinary needles tend to cut and slice right through them.
When embroidering sheer fabrics like silk or organza, use the smallest needle size possible to prevent stitch holes from showing. Often, it is beneficial to use a brand new needle when stitching on delicate fabrics as even the smallest needle burr can tear things up in a hurry.
Using the right combinations of stabilizers, toppings, basting stitches and embroidery needle help you create beautiful embroidery on even the most contrary of fabrics.
What tips do you have for embroidering on difficult materials?