There are at least three definitions for bunting. One is the name of a type of bird, another is a warm, hooded garment for a baby, and the third is a term for displaying national flags and decorative banners. This post is about banners.
I made a banner for a nursery, but you can use this same concept to create bunting flags for parties or any other kind of celebration.
Think about a beautiful banner with decorative machine embroidery letters for Merry Christmas, Happy Valentine's Day, Happy Thanksgiving, and many other holidays. Birthday buntings are very nice with the letters — Happy Birthday and the letters of the honoree's name stitched on the individual flags.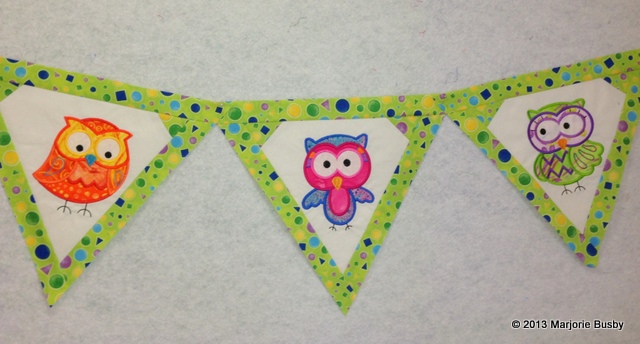 Buntings are very easy to make. Here's how I did it:
Step 1:
Stitch the embroidery designs onto the background fabric. Then, cut the fabric into equilateral triangle shapes.
Step 2:
If you need a little extra fabric on the corners like I did, add 1-1/2″ fabric strips on all sides and to create a border.
Step 3:
Use the front of the bunting to cut a backing. Stitch the front and back with a 1/4″ seam, right sides together, leaving an opening for turning.
Step 4:
Add ribbons to the top corners so that the individual buntings can be tied together to create a banner. Or, a continuous bunting could be made by making the top of the border a single long strip of fabric, and then stitching all the triangles along the top edge.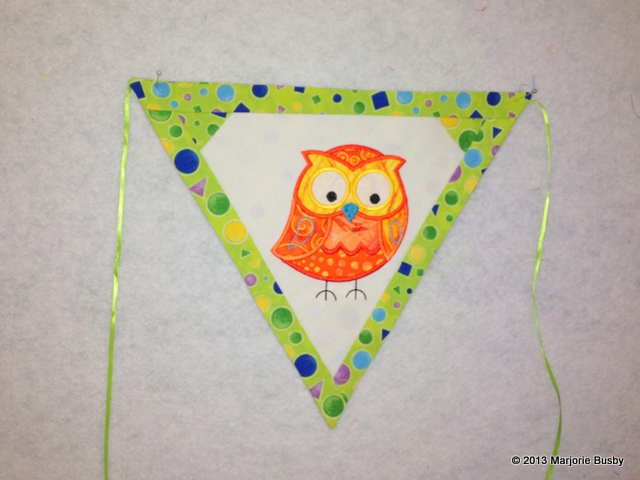 There are a lot of options to create your bunting.
The equilateral triangle shape that I chose is one that is often seen for banners, but any other shape would work as well. It's easy to work with rectangular shapes. And just for fun, you might try octagons or tumbler shapes.
I stitched onto cotton fabric and added a backing. However, felt is often used for bunting and looks great as a background for machine embroidery. Felt can be purchased in multicolor packs at your local fabric or hobby supply stores.
Another quick and easy, but very nice way to finish a bunting is to stitch the embroidery, then add a fusible interfacing to the back and stitch rickrack around the raw edge.
If you have a hot-fix crystal gun, you can add crystal embellishments to your bunting — this would be a lot of fun for teenagers who are decorating their rooms.
And there are many beautiful design and novelty fabrics that can be used as borders to accentuate the machine embroidery that you have done on each flag of the bunting.
How to use bunting:
If I were using these in a baby's room, I would likely hang them up high enough so that baby could not reach them, but could see them quite well, such as over the changing table, over the closet doors, or use it as a window valance.
Note: For baby's safety, make sure the ribbons are not too long and that baby can't get tangled up in the fabric or ribbon.
Making buntings for parties and home decor is one more way that you can use your machine embroidery and your creativity to add that extra handmade touch for the next holiday or birthday party, or as a gift for the next baby shower. You can even add bunting flags to your sewing machine cover. Just think of how nice that would look with a monogram added.
What occasion will you make bunting for?