Layers of lace and everything nice! Lace spells romance, drama and tradition, so it's no wonder it has become a favorite element for both cake designers and brides-to-be. From intricately piped royal icing designs, to buttercream lace, to lace-look stencils, there are many ways to apply lace in cake decoration.
If you haven't had a chance to work with a lace design, this showcase of lovely lace cakes will inspire you to try.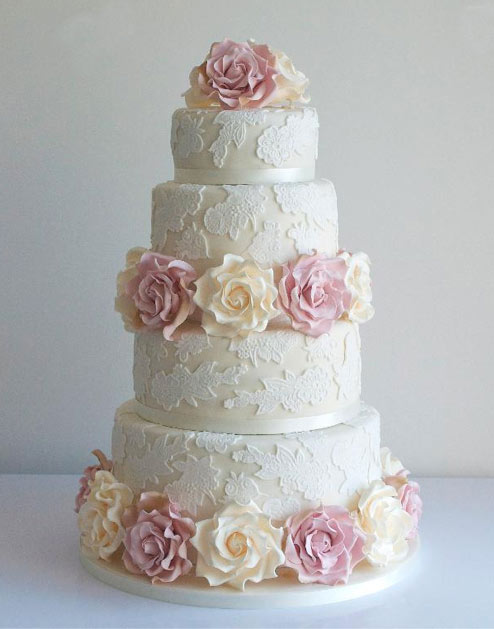 Photo via Bluprint member Charlotte 22 
Romantic lace and large sugar roses cake:
Nothing screams romance  more than a gorgeous ivory tiered cake covered in lace fondant mold appliqué and a collection of lovely pink and yellow sugar roses in full bloom.
This beautiful cake makes perfect use of the the classic sugar flower. Learn how to make sugar roses with one of the nation's top  sugarcraft artists, Nicholas Lodge.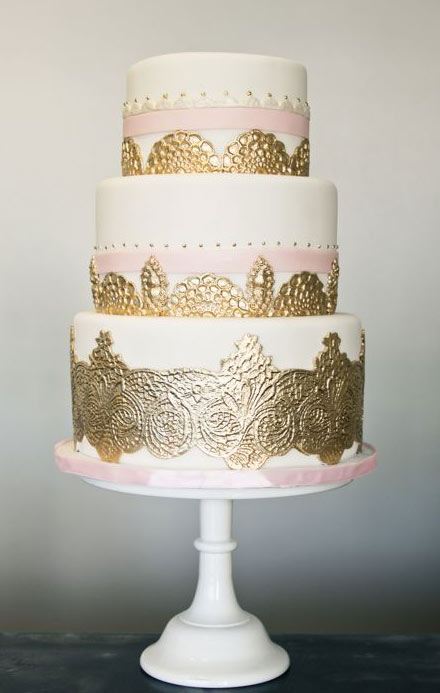 Photo via Sweet & Saucy Shop
Glittering gold lace appliqué fondant cake:
The lace look gets kicked up another level with this bright and shiny gold coloring. Sweet & Saucy Shop's gold lace cake would make a beautiful centrepiece for a gold, pink and white dessert table spread.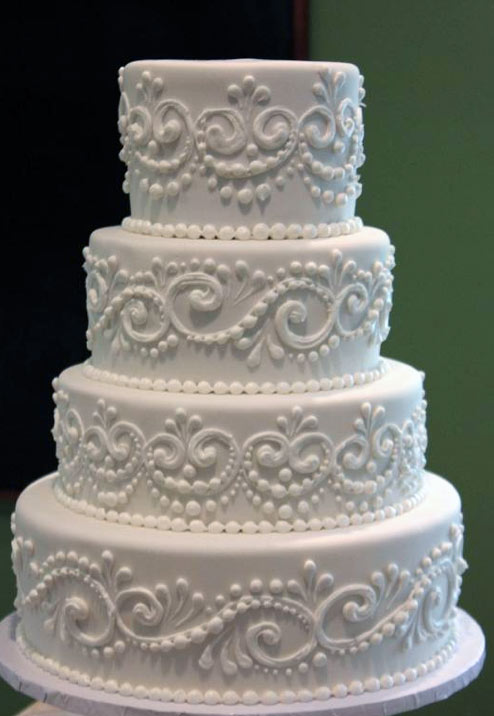 Photo via Bluprint instructor Joshua John Russell 
Beautiful lace piped traditional cake:
Sometimes you just want something white, formal, a little more on the traditional side and lovely to look at! Bluprint instructor Joshua John Russell created this white-on-white wedding cake using some of the methods taught in his online Bluprint class Modern Piping.
Photo via Bluprint member Sweet Steph
Lace and pearls cake with sugar bloom:
I love this pretty fondant covered single tiered cake with gold lace mold appliqué and candied sugar pearls! It's so sparkly and shiny, topped with a spectacular white sugar Ranunculus featuring a gold center. This cake was inspired by an Elie Saab Couture Gown!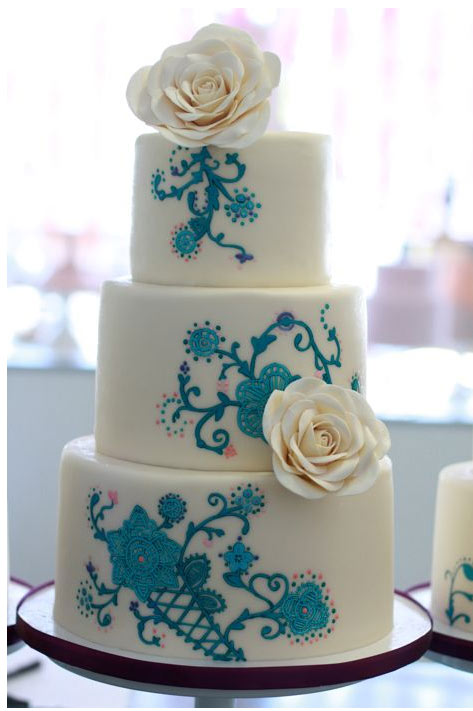 Photo via Sweet & Saucy Shop
Turquoise blue piped lace tiered cake:
Why not try a beautiful pop of color when creating your lace inspired cake? This tiered beauty from Sweet & Saucy shop features modern piping and colors for a lovely update on the lace cake. And, two sugar roses add extra femininity.
Photo via Bluprint member Annie Moo 
Dogwood sugar flower adorned lace cake:
Bluprint member Annie Moo combined two popular cake trends into one: a branch of a Dogwood flower peeking out of a shimmery fondant lace appliqué cake. I like the artful drama the dogwood branch provides– it gives it a modern feel, as opposed to topping it with the classic sugar rose.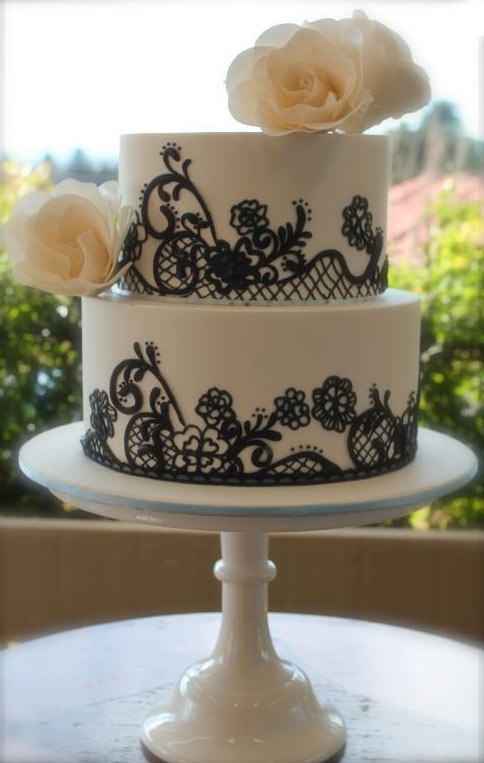 Photo via Bluprint member Aemelia George
Modern black lace piped cake:
Bluprint member Aemelia George shows off her cake piping skills with this beautifully created modern black lace wedding cake! Aemelia was a student of Bluprint's online class Modern Piping.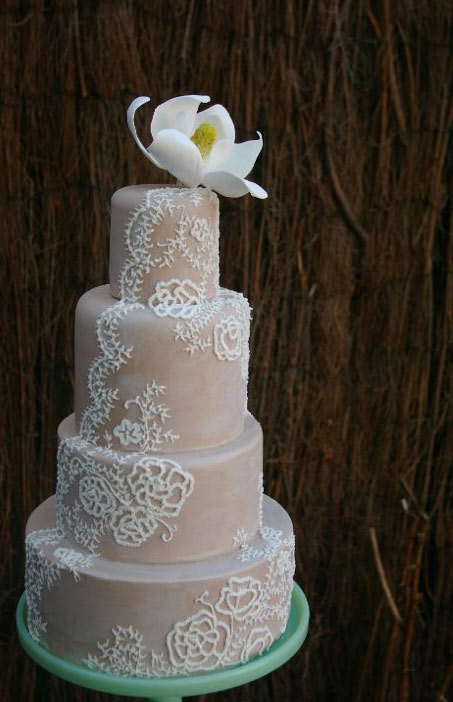 Photo via Bluprint member Nadya TK
Vintage look royal icing piped lace cake:
Bluprint member Nadya did a tremendous piping job on this vintage wedding cake, piped entirely in royal icing. The Dogwood flower was created as part of Maggie Austin's online Bluprint course Southern Sugar Flowers.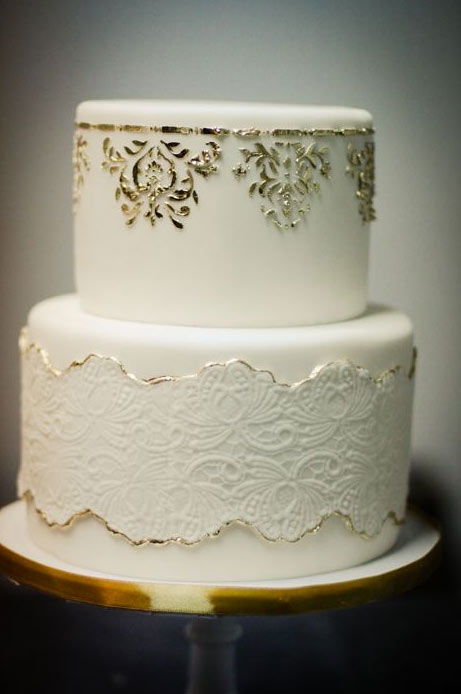 Photo via Sweet & Saucy Shop 
Lace appliqué with gold trim cake:
This beauty of a cake features lace mold appliqué work tinged with edible gold leaf. This cake would be perfect amongst a trio of lace and gold cakes. I'm a big fan of the trio of wedding cakes these days as opposed to one huge central cake- do you agree?
Days and days of lace in so many beautiful ways! I love the lace look on cakes and I don't think the trend will be dying any time soon.
Feeling inspired to create your own lace cake? Learn how in Zoe Clark's online class Elegant Lace Cakes! You may also enjoy this week's installment of Project Cupcake, where Rachael Teufe demonstrates how to make a beautiful "Bridal Blossom Cupcake".
Are you wild about the lace trend too?