No dessert is as "tweet" as these decorated blue bird cookies. Make a batch of these lovebird cookies in just five steps!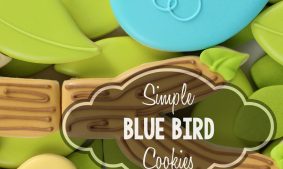 Whether you're a beginner or have been decorating cookies for awhile, this simple, straight-forward design is always a crowd pleaser.
Begin by mixing up a batch of your favorite cut-out cookies (you can find my recipe here) and bake as directed. I used this cutter because that's what I had on hand, but you can pick up an inexpensive blue bird cutter here.
To decorate these cookies, you will need:
Tools:
Disposable pastry bags
Couplers
Bag ties or clips
#1.5, #2 and #3 piping tips
Small offset spatula
Needle tool or turkey lacer
Clean cotton swab or small paintbrush
Royal icing and embellishments:
Light blue piping and flood-consistency icing
A small amount of black piping icing
A small amount of light orange stiff-consistency icing
Pink petal dust
How to make bluebird cookies
Step 1:
Begin by outlining the cookie with blue icing and a #2 tip. Give the outline a few minutes to set, then immediately flood. Use the offset spatula to gently draw the icing up over the piped border to create an "invisible" outline and also to remove air bubbles. If any bubbles appear after flooding, use the needle tool to remove them.
At this point, allow the cookie to dry. This can take anywhere from 4 – 24 hours, depending on where you live. An oscillating fan is a great way to expedite the process while preventing bleeding and giving the icing a nice, shiny finish.
Step 2:
Once the base is dry, it's time to add the details. Start by using a #3 tip to pipe dot of orange icing about halfway down the wide curve of the paisley shape. Squeeze and pull simultaneously while drawing the icing to a point and then release to create a pointed beak. It's important that the icing is stiff enough to hold its shape.
Step 3:
Next, use a #1.5 tip to pipe an eye. Immediately after piping, drag a needle to draw the icing to a point to create "lashes."
Step 4:
Use a #1.5 tip to add a wing. I went with a simple swirl, but you can go with a more traditional wing shape if you like. Don't be afraid to take a little creative liberty!
Step 5:
Finish up by using a cotton swab and some pink dust to add a little blush to the birdie's cheeks.
These cookies look perfectly "tweet" on their own, but they also make a great addition to mixed cookie platters. Mix with other brightly colored cookies to create an eye-catching display!
>Suggestions and tips:
Place the cookies in cellophane bags with pretty paper toppers to make adorable Valentine's Day treats
Dollar stores often carry cute, inexpensive containers perfect for gifting and transport.
To save time, bake in advance. Undecorated cookies can be stored for up to a week in an airtight container or frozen for longer periods of time if necessary.
Store decorated cookies in an airtight container between layers of waxed paper. Keep them fresh and soft by placing a piece of bread or terracotta sugar saver/softener in the container with the cookies. Be sure to place the bread or softener on a plastic bag or lid to keep it from coming into contact with the icing.