Interested in longarm quilting, but feel a little intimidated by free-motion techniques? You're not alone! If you're looking for other less intimidating options to finish your quilts, longarm quilting templates are a fantastic way to achieve a professional look.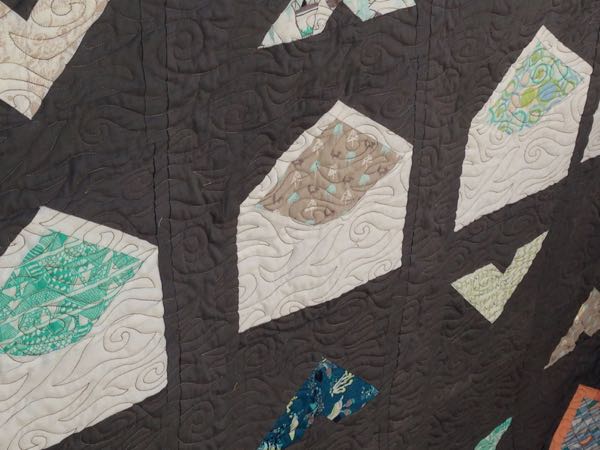 Photo via Right Sides Together
Check out our guide to incorporating longarm quilting templates into your quilt designs!
Traditional vs. digital templates
Traditionally, longarm quilters have used pantographs to stitch quilt designs onto the fabric. Pantographs are long rolls of paper that feature a quilting motif. The paper is laid out on the longarm frame's table and then the quilter "traces" over it with a laser pointer connected to the machine as she stitches.
Pantos, as they're called, are very popular for quilters who still want to take the quilting process into their own hands (as free-motion quilters do) but like having the pattern laid out for them.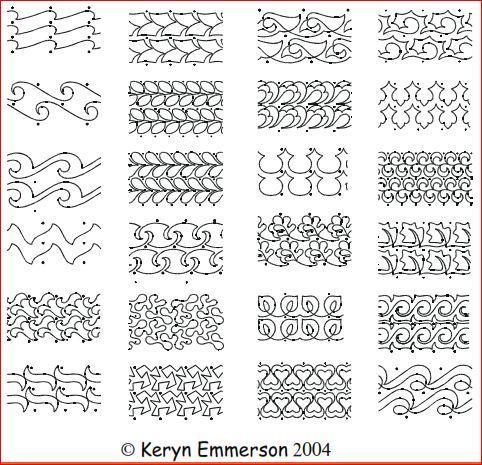 Illustration by Craftsy member Keryn Emmerson Designs

However, depending on the capability of the longarm machine you plan to use, you may have the option to choose digital quilting designs. Longarm quilting machines with computer screens allow quilters to lay out the quilt design ahead of time by drawing the quilting lines on the screen or by importing digital designs from other artists.
Types of templates
Both digital and paper longarm quilting templates offer lots of options for quilters.
Edge-to-edge
The most straightforward types of templates are called edge-to-edge, or E2E. As its name implies, an E2E design covers the quilt in rows of repeating patterns from one vertical edge to the other. These patterns are excellent for beginners and those who want to take a simple approach to the quilting process.
Pantographs are famous for edge-to-edge quilting: They come on long rolls of up to 12 feet, which can be stretched from one edge of a king-size quilt to the other.
Block & border templates
For quilters who want to go beyond simple E2E designs, there are also block and border templates.
Block templates are usually square or hexagon shaped and designed to be repeated within each quilt block. Border templates are long and narrow, designed for borders and sashing between blocks. Often quilters can create amazing secondary patterns by combining block and border templates, resulting in a quilt with a truly custom look. In the photo below, note the block quilting templates used in the white diamonds, compared to the swirls in the chevrons.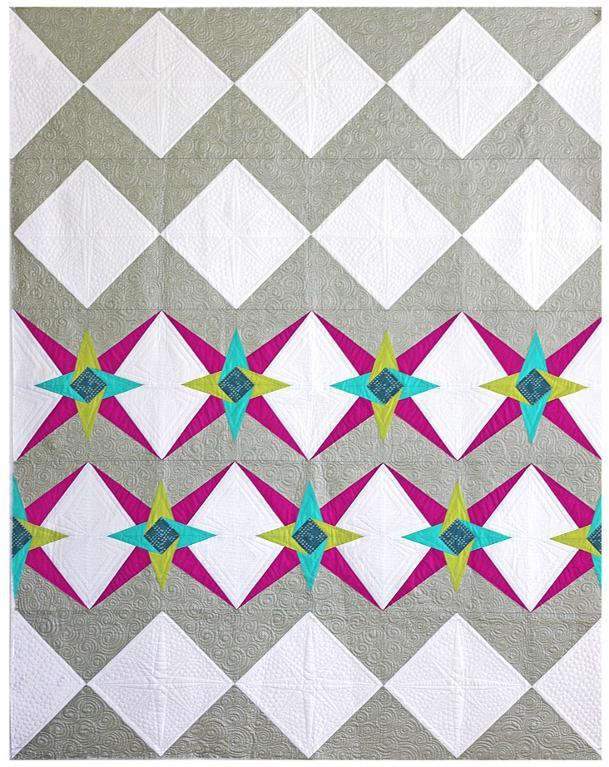 Chevron Star pattern via Craftsy member Freshly Pieced
Make your own longarm quilting template
If you've used several pantos or digital templates and want to play around with designing your own, it's fun to do! In Design It, Quilt It: Free-Form Techniques, Craftsy instructor Cindy Needham explains how to use stencils and rulers to plan your quilting design. Use these techniques to trace out a pattern, then draw it on paper to make your own panto or import it into your favorite graphic design program for use on your digital longarm.
The good news is that any way you'd like to quilt, there's a wealth of resources and tools to help you create beautiful designs. From premade designs on paper or in digital form to quilting tools to tons of tutorials, you can easily use longarm templates to take your quilts to the next level.