Log cabin quilts became popular in the United States during the 1860's. According to quilt historian Barbara Brackman, log cabin quilts are mentioned in Ohio State Fair records as early as 1863 and are mentioned again in 1868. Brackman states, "The pattern was so popular in the 1870-1900 period that fairs opened categories specifically for log cabin quilts."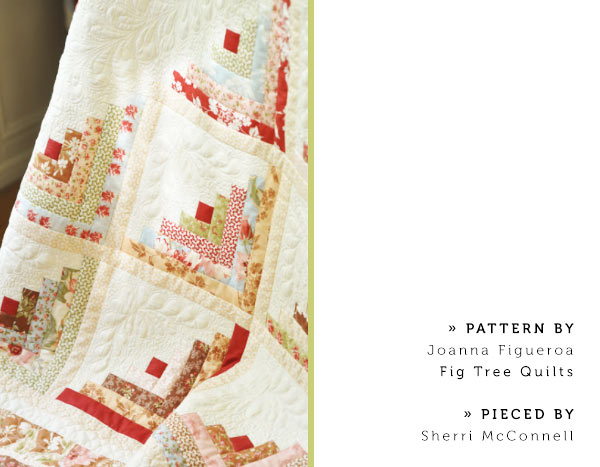 Log cabin quilts have been a staple in American quilters' repertoire since first being made in the mid-nineteenth century. While nineteenth century quilters often used dark fabrics and wools for their log cabin quilts, quilters today use a variety of fabrics in creating their cabin quilts. Today's cabin quilts might be straight or wonky, traditional or modern; however, they all have their roots in the early cabin quilt designs.
Early log cabin quilts were usually created from scraps and were often pieced on a foundation piece of muslin in order to keep the cabin blocks square. While most quilters use the traditional method of constructing log cabin blocks, many quilters now use paper piecing techniques, especially when creating smaller blocks in order to keep the blocks completely square. This method is reminiscent of the early quilters creating their blocks on the foundation muslin.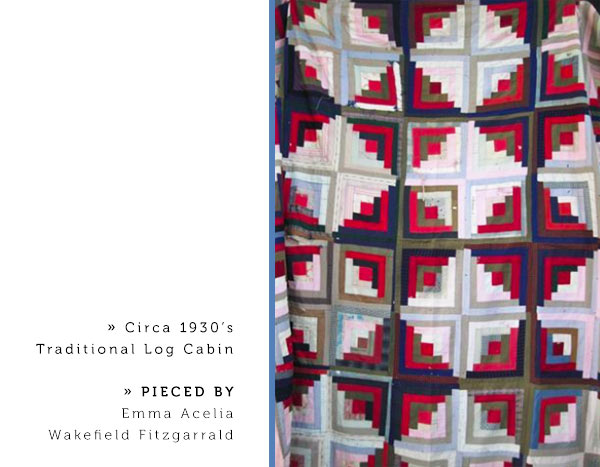 Traditional log cabin quilts began with a single red square in the center of the block. The block is built by alternately sewing two dark strips and two light strips around the block in a clockwise direction so that the dark strips are opposite from the light strips. Many different quilt designs are formed depending on the setting of the log cabin blocks. Although there are limitless possibilities for setting cabin blocks, some of the most popular settings for cabin quilts have been named including Barn Raising, Sunshine and Shadow, and Straight Furrow.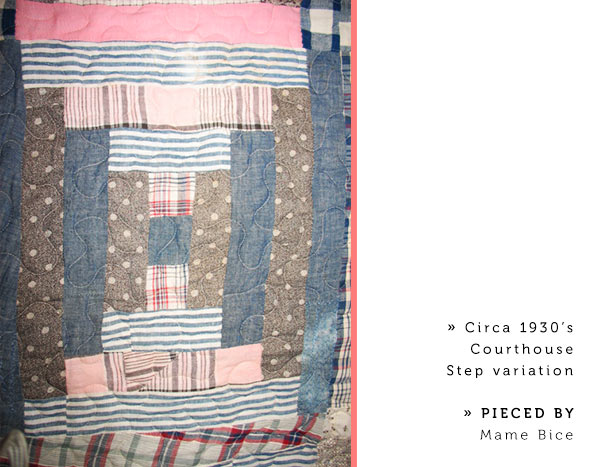 Several variations of log cabin blocks may also be found. The Courthouse Steps variation is one in which logs are added to opposite sides instead of being added in a clockwise manner. The quarter-log cabin block is similar to the traditional block except that strips are only added to two sides of the beginning square which ends up in the lower right hand corner of the block. Finally, the Pineapple Block is considered to be a variation of the log cabin quilt. The Pineapple is constructed using rectangles sewn to the edges of a center square; however the block is trimmed before each additional layer is added, creating a "square in a square" effect.
Modern quilter and fabric designer Denyse Schmidt has created a stunning modern courthouse steps variation quilt in her recent book, Modern Quilts, Traditional Inspiration. Also Modern Log Cabin Quilting: 25 Simple Quilts and Patchwork Projects gives quilters lots of options for creating log cabin quilts.
To explore traditional blocks even further, you might enjoy the Craftsy online class Traditional Blocks Made Simple with Anita Grossman Solomon. What type of cabin quilt is your favorite?