What could be more festive for the holidays than embroidery with lights? Here are 10 machine embroidery projects that include LED lights or flameless tea lights. There is also a quick tutorial on stitching designs. With a little bit of ingenuity, you could even adapt this concept to hand embroidery.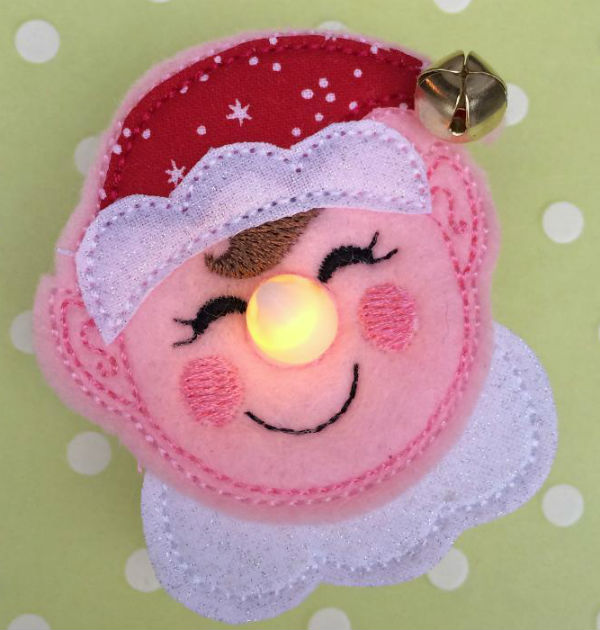 Photo via Craftsy member EmbGarden
Candles on Christmas trees date back to the mid-1700s. A century later, electric lighting adorned trees and, today, the tradition is more popular than ever. So it is only natural that we would eventually incorporate lights into our embroidery projects.
Let's light up some embroidery designs!
Fairy string lights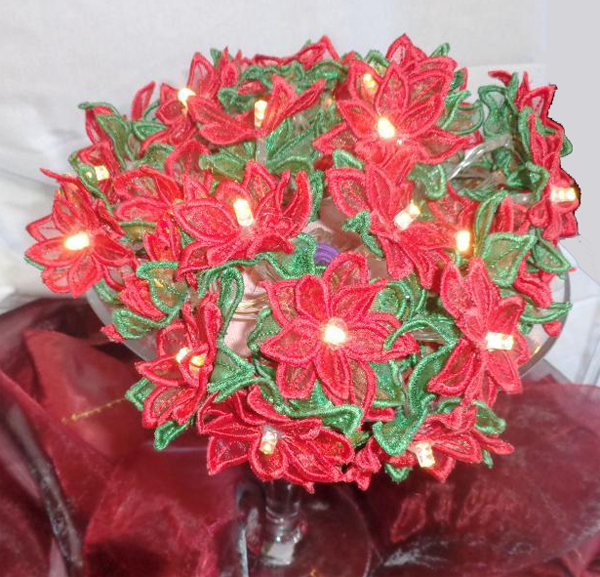 Photos via Craftsy member Embroidershoppe
Craftsy member Embroidershoppe has created several different versions of embroidered organza flowers and butterflies that fit on fairy string lights. Bunched in a bouquet, like these poinsettias, they make for a beautiful holiday centerpiece. They are equally lovely strung on a tree or wreath.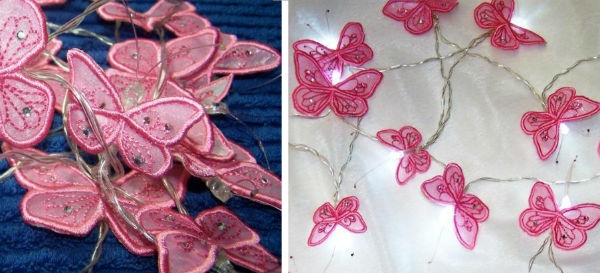 Drape or hang the lights in a string for gorgeous accents. They add soft illumination to any room in the house or accent lighting for a special occasion.
Flameless tea lights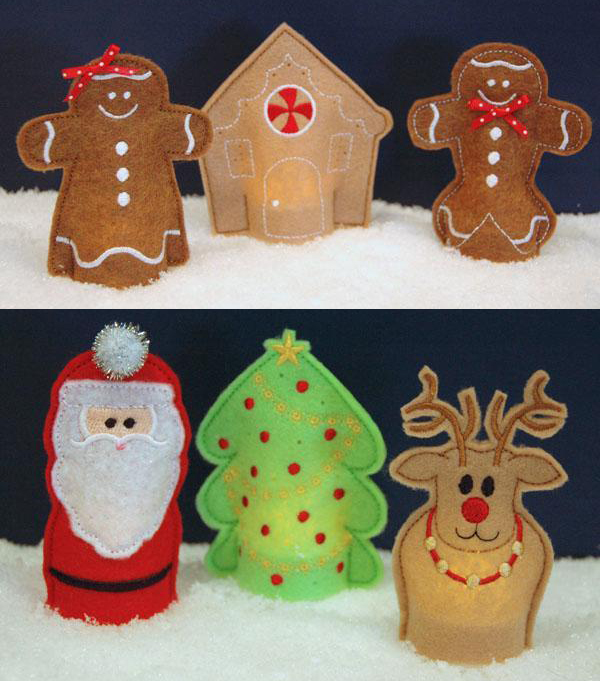 Photos via Craftsy member EmbGarden
This is one of those, "Why didn't I think of that?" projects. Flameless tea lights are used to make adorable pins and decorations. Tea light covers are embroidered in the hoop. One set features Santa, a tree, reindeer, gingerbread family, and a penguin.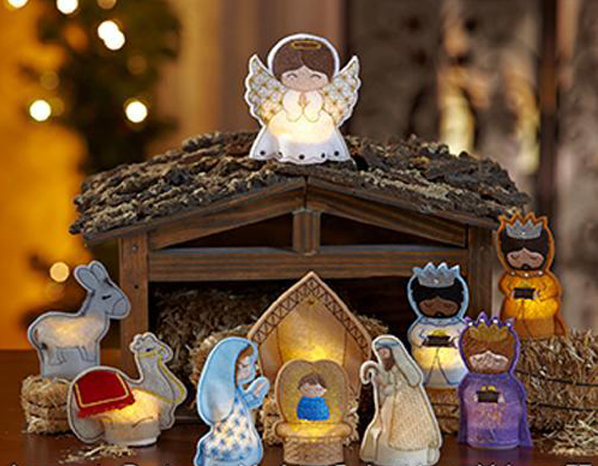 Another set is a complete nativity that was featured in Designs in Machine Embroidery.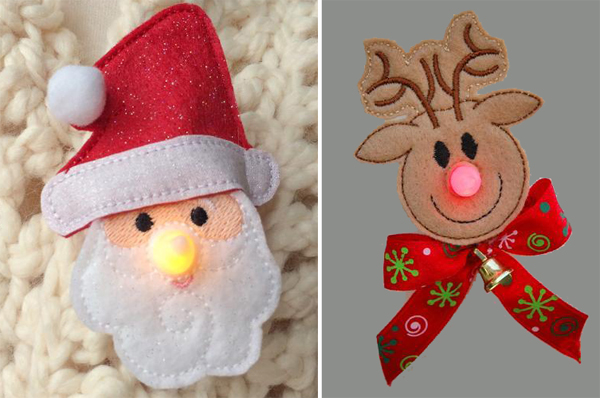 How cute are these pins? The tea light flame becomes a nose!
Now, let's make our own light embroidery designs!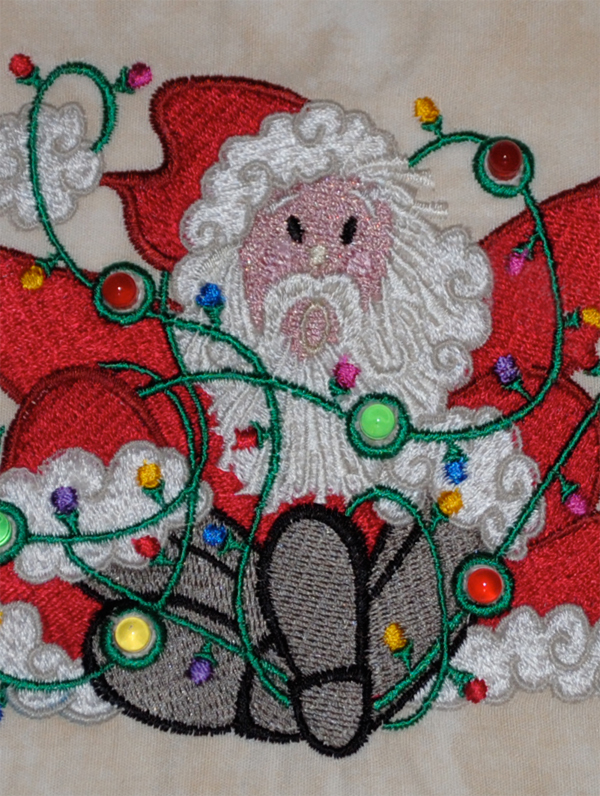 Photos by Debbie Henry
This tutorial uses a design from the Merry and Bright collection by Amazing Designs. The design is digitized with 10 eyelets that, when cut out, hold battery-operated LED lights.
1. Start by embroidering the design on a cotton fabric hooped with medium or heavy weight cutaway stabilizer.
Get the Merry and Bright Santa Claus design here.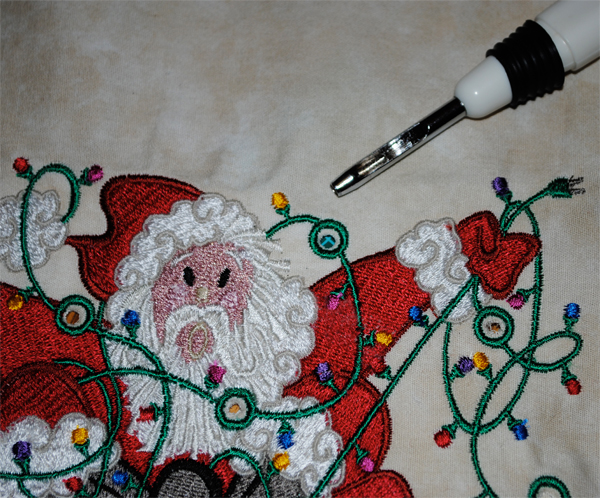 2. Remove the embroidery from the hoop. Use a keyhole cutter and a cutting mat to cut holes in the center of every of the design's 10 eyelets.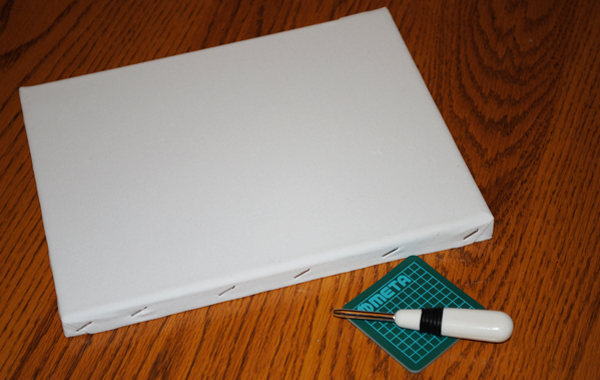 3. Center the design over a stretched art canvas and mark the location of every eyelet hole with a pencil.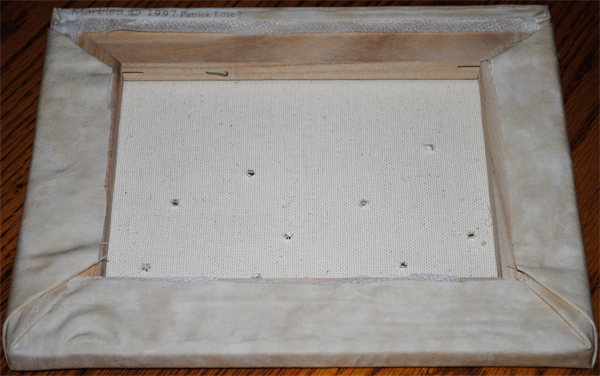 4. Place a block of wood or an old phone book inside the framework under the canvas to keep it from stretching. Cut each marked area of the canvas with the keyhole cutter. Adjust the embroidery on the front, lining up eyelets with cut keyholes. Wrap the fabric around the back of the canvas and glue or staple it to the framework.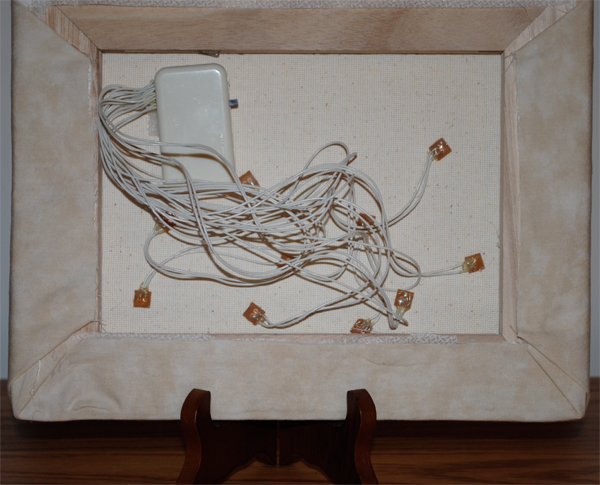 5. Press each light carefully through the keyholes from the back of the canvas. Velcro attaches the battery pack to the canvas.
Get the light kit here.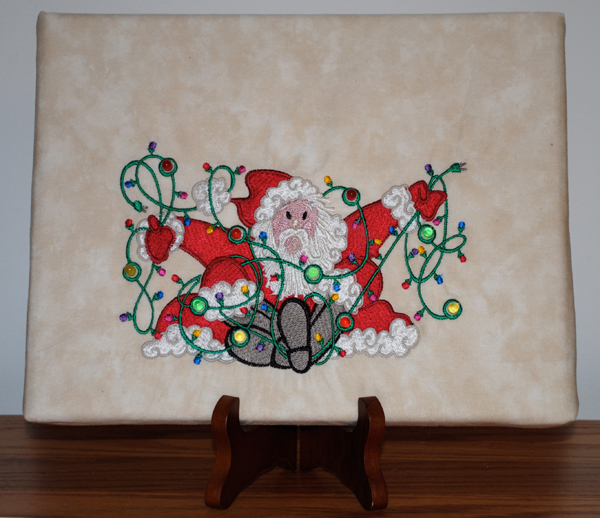 6. Place the canvas in an easel, turn the switch on the light pack, and enjoy!

Create inspired machine embroidery with surprising special effects! Experiment with foam, fringe, fur and more in Craftsy's Dimensional Machine Embroidery class.
Sign me up!
Have you ever used lights with embroidery designs?