I love baking in early spring. It welcomes the new season. It brings a sort of freshness to my recipe creating. I start using ingredients like lemons, berries, and rhubarb instead of pumpkin, cinnamon, and molasses. I'm over those flavors by the time spring comes and ready for something bright.
That's where these easy vegan lemon poppy seed cookies come in to play.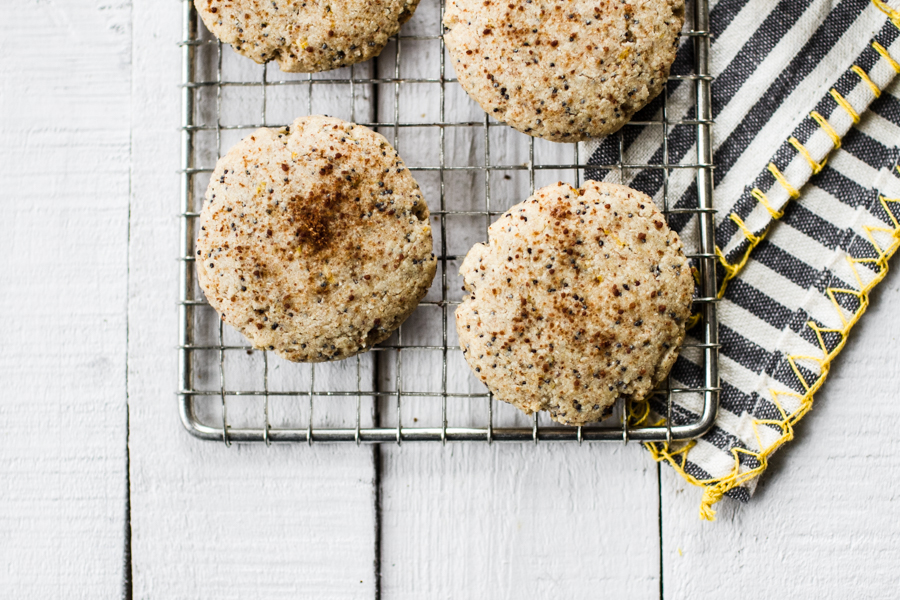 Photos via Edible Perspective
Loving this recipe? Download this easy, printable PDF, and enjoy it anytime, anywhere, forever!
The cookie dough comes together in minutes, using just 1 bowl, and if you can believe it they're gluten-free and vegan. Sounds like a recipe for disaster, but I assure you these cookies are going to be your new spring favorite.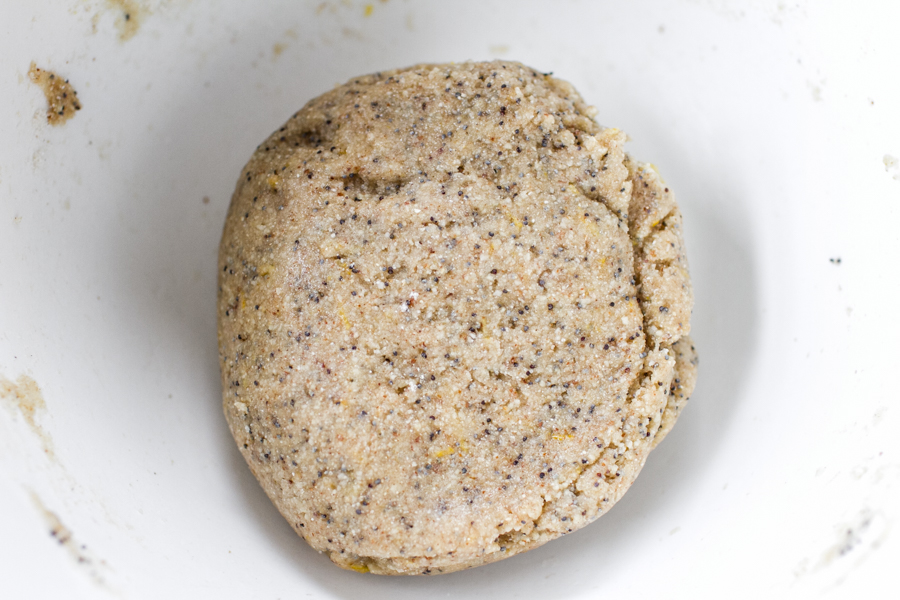 The flour combination might have you wondering, what is the texture like? I've used almond flour and corn flour to create a tender but thick cookie. It ends up like a soft-batch shortbread cookie, if you can imagine. They hold together perfectly, have a nice soft chew, and finish with a burst of lemon. The poppy seeds are studded throughout and provide a slight crunch with each bite.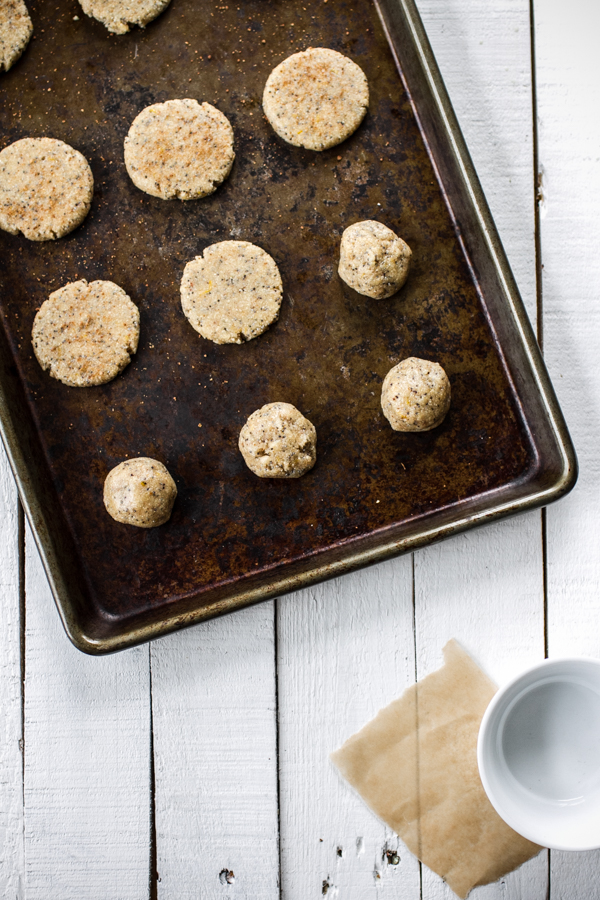 While I still love all things chocolate, lemon desserts are an all-time favorite of mine. In the past few years lemons have become one of my most used kitchen ingredients. I can remember a time when I rarely bought lemons at the grocery store. Now, if I don't have a half dozen lemons in my fridge something is majorly wrong.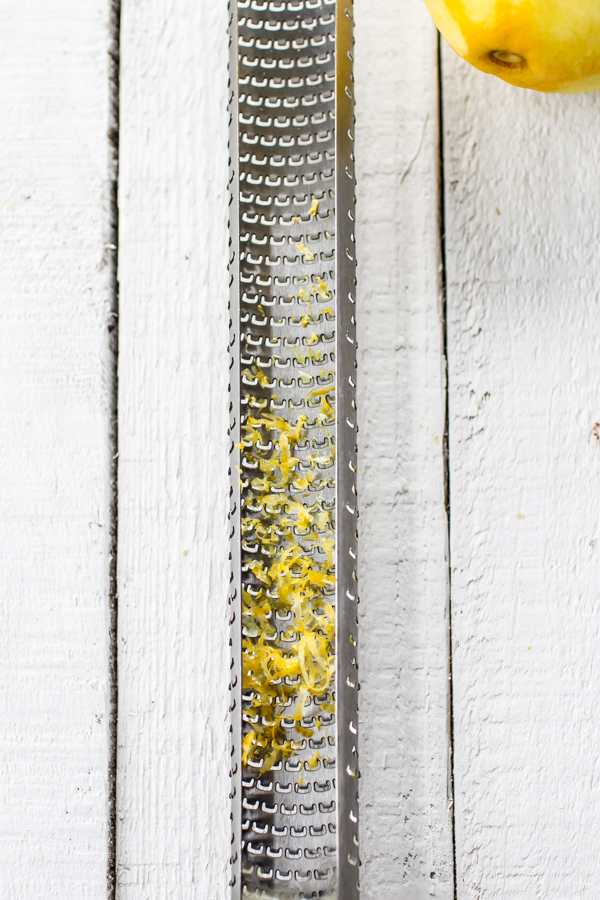 Moral of the story. Use lemons in baking.
And definitely start with these picnic-snack time-I forgot to make dessert-anytime, cookies.
Enjoy!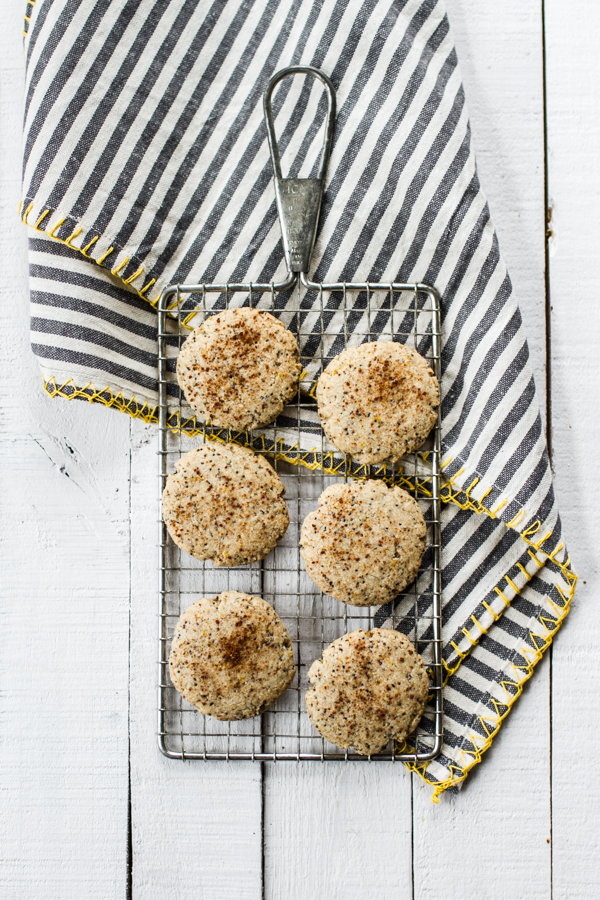 Vegan Lemon Poppy Seed Cookies
Yields: approx. 18 cookies (vegan & gluten-free)
Ingredients:
1 tablespoon ground flax meal
2 tablespoons warm water
1/4 cup natural plain almond butter, stirred well if oily
3 tablespoons softened unrefined coconut oil (not melted)
3 1/2 tablespoons agave syrup (or honey if not vegan)
1 teaspoon pure vanilla extract
1 tablespoons + 1 teaspoon lemon zest, loosely packed
2/3 cup corn flour
2/3 cup blanched almond flour
1 tablespoon poppy seeds
1/2 teaspoon baking powder
1/8 teaspoon salt
coconut sugar for dusting, or other sugar
Preheat oven to 350° F.
Whisk flax and water together in a large mixing bowl. Let set for 5 minutes until gelatinous.
Whisk in the almond butter, coconut oil, agave, vanilla, and lemon zest until fully combined and smooth. Use a spoon if it gets too thick.
Add the flours, poppy seeds, baking powder and salt on top of the wet ingredients.
Stir well until a large ball of dough starts to form.
Knead about 10 times until smooth and fully held together. The dough will be a bit oily but if rolled into small dough balls it should hold it's shape. If the dough is too wet add a bit more almond flour and corn flour (start with 1 tablespoon of each). Or, wrap and refrigerate the dough for 30 minutes to stiffen a bit.
Roll the dough into about 1-inch balls and place with 2 inches of space in between each on a large baking sheet.
Tear a small square of parchment or wax paper (about 3×3 in size) and place on top of one dough ball. Gently flatten to 1/4-inch thickness with a flat-bottomed glass or bowl.
Bake for 8-12 minutes. The bottom edges should be golden brown. Remove and allow to cool for at least 15 minutes.
Transfer to a cooling rack and allow to fully cool for the best texture. Cookies should hold together very well.
Once fully cooled, store in a sealed container for 4-5 days.