For those of us in the North, autumn comes in two parts. There's the first part, the part when the trees are overloaded with beautifully colored leaves that most people think of when they think of fall. Sadly, this part is the shortest. Then there's the second part, late fall or the part we in the Northeast refer to as stick season.
Never heard of stick season?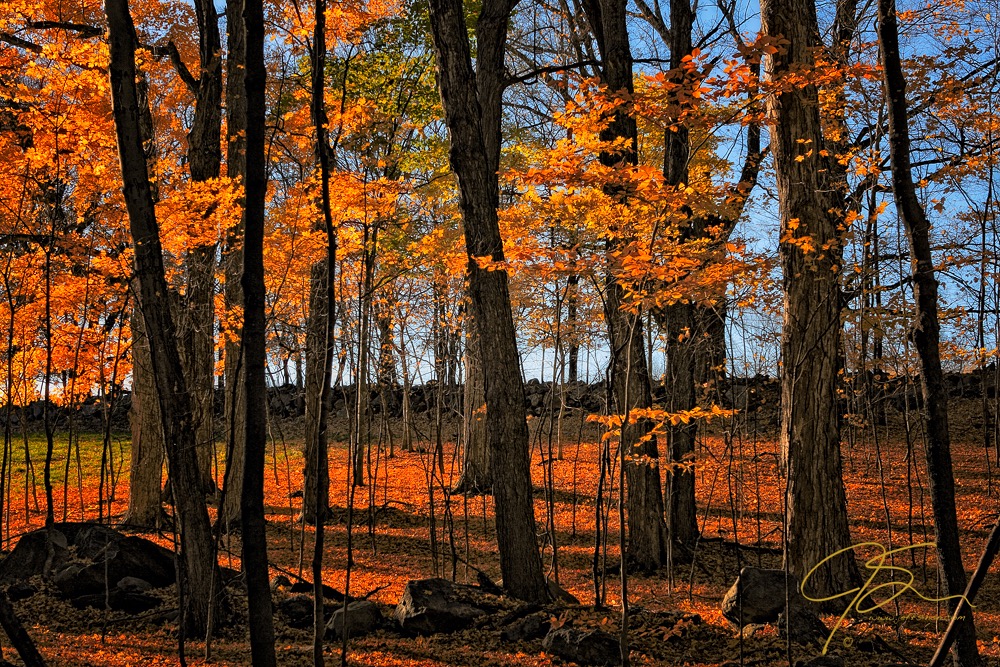 It's the part of fall that comes after all the leaves have fallen from the trees, leaving the trees bare and less than photogenic, but before we get our first blanket of snow. Photography during stick season can be a bit of a challenge because most of the landscape is pretty bleak at this time of year.
However, there are still plenty of opportunities for beautiful late fall photos if you just open your eyes and allow yourself to see it.
Here are a few of my go-to tips and trick for getting me through the bleak and blah of stick season while I'm eagerly awaiting the snows of winter.
1. Photograph them while they're down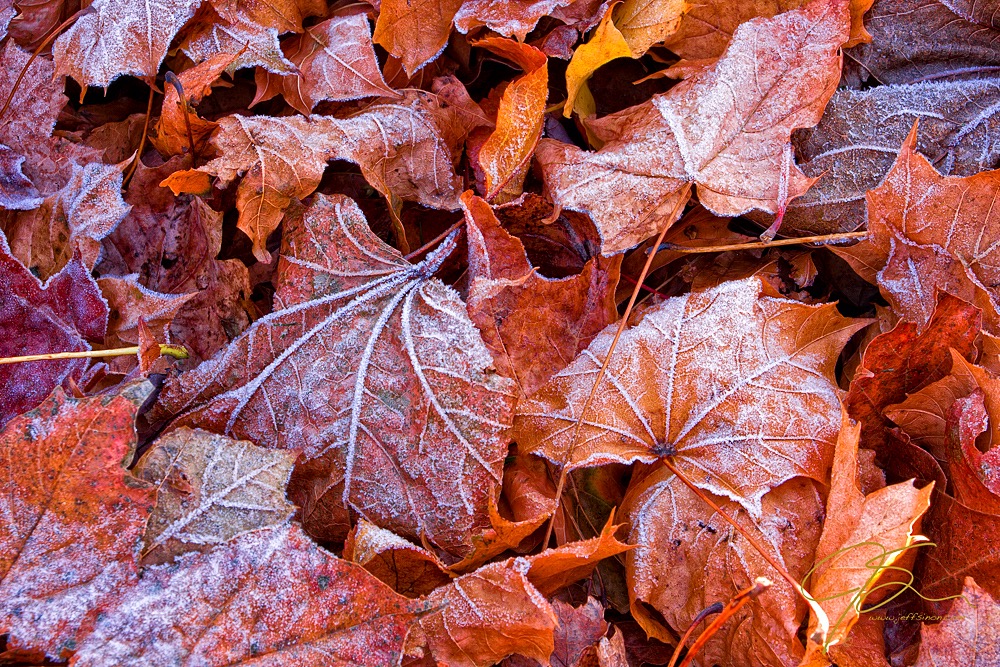 Though the leaves may be down from the trees, they still make a great subject to photograph while on the ground. A nice selection of frosted maple leaves perhaps, or a lone leaf of a fern still green and backlit from the setting sun. Details that are easily overlooked when fall foliage is at its best.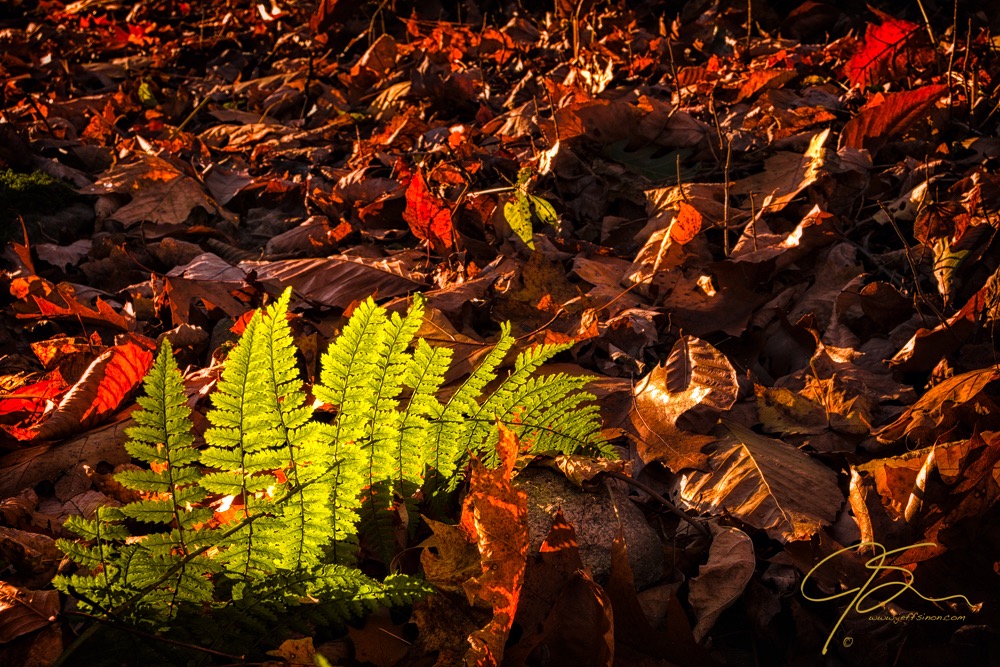 2. Look for the holdouts
Some trees simply refuse to give up. Beech, oak, and if you look close you'll even find a few maples, that will often hold onto their leaves when all of the surrounding trees are bare. Some, like the beech and oak may even still have leaves long after the first snow.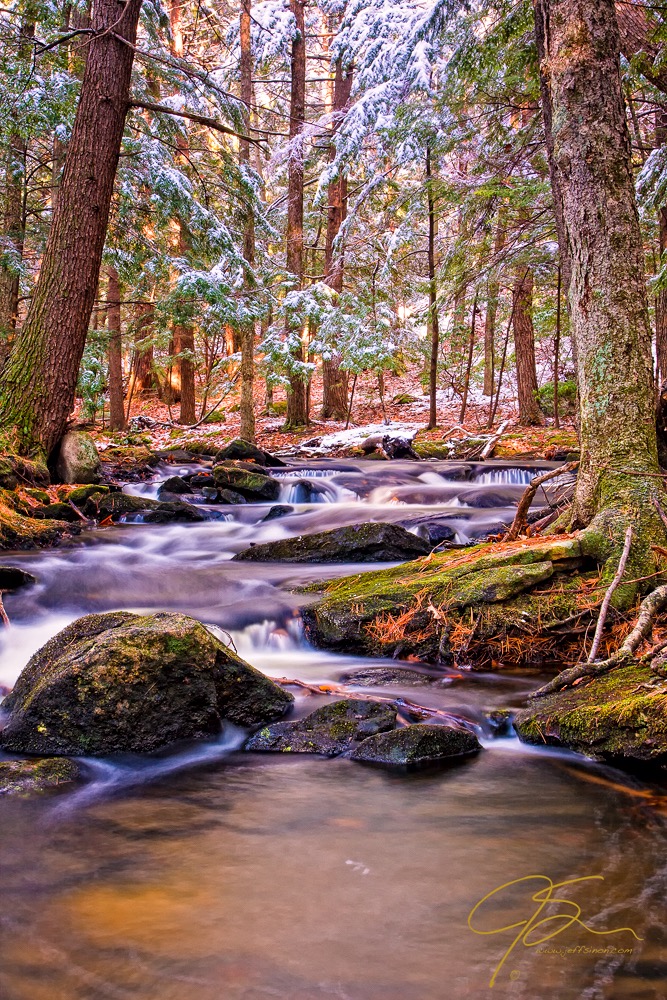 When the late daylight casts a golden glow on these holdouts, there are still foliage photos to be found, even though the peak color has long since passed.
You can also look for  forest areas that are predominantly populated with evergreens. An evergreen scene can often be photographed at any time of year. They're particularly inviting after all of the leaves are off the deciduous trees, and if you're lucky you may even get to photograph it right after an early dusting of snow.
3. Move to town
When the forest and mountains are at their bleakest, that is when I'll start wandering my favorite local towns. Here in New Hampshire, there is a lot of great historic architecture just waiting to be photographed.
Both day, and night.
I think the near perfect reflection of the mill building on the river above  the waterfall more than makes up for the leafless trees in the photo.
4. Take timeless photos at the beach
Or should I say seasonless?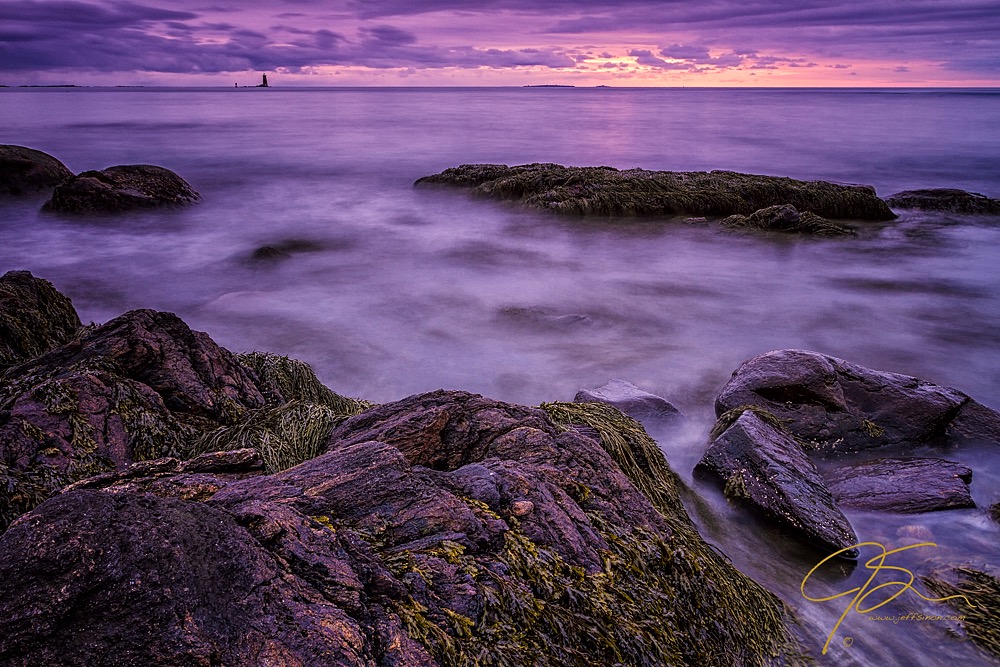 My favorite place to photograph during stick season is the seacoast. One of the reasons is that the seacoast looks the same no matter what time of year it is. Unless you happen to be an expert on where the sun will be rising at a given time of year in relation to Whaleback Light, off the New Hampshire coast, as seen on the horizon in the photo above, a viewer would be hard-pressed to tell if this photograph was made on a warm August morning, or as in this case a cold February one.
With the exception of extreme weather conditions brought on by severe cold, such as ice or snow on shore line rocks or sea smoke drifting out over the water, seascapes look pretty much the same no matter what time of year you photograph them.
5. Look through your archives
My last tip doesn't involve making any new photos at all.
Down times like stick season is when I like to do what I refer to as dumpster diving. I go digging through old folders of images to see what forgotten gems catch my eye.
If you're like me when you go out taking photos, there will be a select few that immediately rise to the top as favorites, and those are the ones you process and share right away. Also, if you're like me, you then move on to the next shoot. I bet you'd be quite surprised at how many great photos you have hiding on your computer that you've completely forgotten about. Take a look and you'll find some "new" old photos to share.