[box type="shadow"]This post is brought to you by Debby Luttrell, instructor of the brand new Bluprint class Fun With Fusible Appliqué. Below she take a look at using pre-fused and laser cut appliqué  in your quilting.[/box]
When you think about "laser cut" you might conjure up images of Obi-Wan Kenobi, Han Solo and Luke Skywalker defending The Empire against the evil forces of Darth Vader and The Dark Side. But wait! This is appliqué we are talking about, isn't it? Never fear — I am here train you, my Quilting Jedi, on a new way to approach appliqué. With it you will defend Your Sewing Studio against time and labor intensive projects that hold you back on your quest to do more, faster.
Are YOU ready?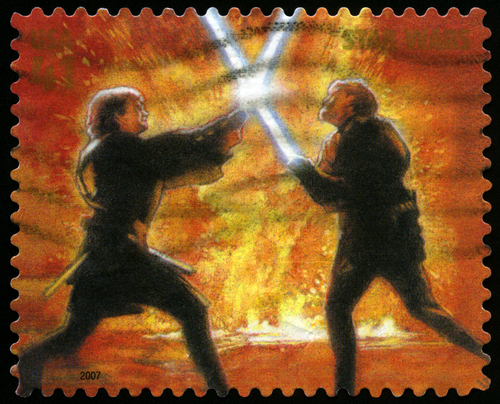 Photo via Shutterstock/chrisdorney
What IS a pre-fused and laser cut appliqué kit?
Quite simply stated it is a kit where the pieces have been precisely cut out with a laser machine after the fusible has been applied on the back. In other words: no work — all fun!
Now here is where most people get a really big smile on their face and say something like "wow!" or "really?" or "ahhh." This is because they are remembering the past appliqué projects they did when it took weeks and weeks, and yes, even months and months. Often the same projects can be done in a weekend!
With a pre-fused and laser cut appliqué kit, the work truly IS done for you. You start your project way ahead of the game. The pieces come out of the package ready to apply to the background fabric with an iron, and then you get to go straight to the fun part and sew!
Three Steps and Then You are Sewing
Step 1: Remove the paper.
The appliqué shapes have paper backed fusible attached to the back side of the fabric. To release the paper backing, scratch the paper in the center with a long straight pin to get an opening. Then carefully pull away the paper from each shape.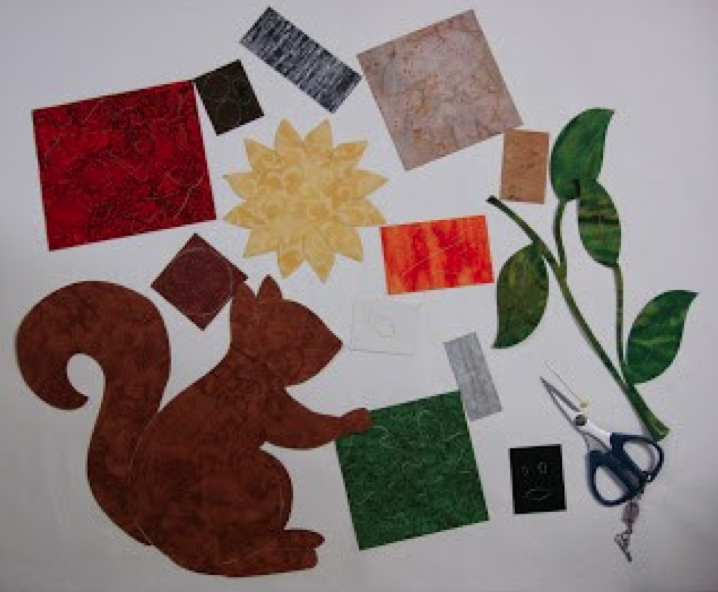 Step 2: Snip around the shapes.
Some of the smaller pieces will be still on a sheet of fabric. There are a few little tabs that will need to be cut — this prevents pieces from getting lost. A few little snips with small sharp scissors releases them from the larger fabric piece.Try to pull the paper backing off BEFORE snipping the pieces out!

Step 3: Iron the pieces onto the background fabric.
Place your background fabric on top of your pattern. Use a small dab from a water-soluble glue stick to hold each appliqué shape in place using your pattern as a guide for placement. If the pattern design does not show through you can use a light box for easier placement. In most cases the pieces just touch or slightly overlap. The stems should slightly tuck under at each end.
When you are happy with your placements, fuse the shapes in place according to the directions on your fusible product.
Not all products will work properly with a hot iron so if you are unsure, use a scrap piece to test until you are satisfied with the results. Use a lift and lower so that the pieces do not shift before they are fully fused.
Note: If there are places that do not want to stick, simply use a touch of glue to hold them in place until they are stitched.
"Help me Obi-Wan Kenobi. You're my only hope."
But wait! You are not fully prepared my Quilting Jedi! There is much much more to learn about the world of fusible machine appliqué. This is why I have teamed up with Bluprint to bring you an in-depth study of this fun, fabulous and fast way to get more done in less time. My course is called Fun with Fusible Appliqué. I would LOVE to have you join me on the Bluprint platform where I will teach you even more tips and tricks so that you will love this technique as much as I do.
What experience have you had with different kinds of appliqué?
[box type="shadow"]
About Deb Luttrell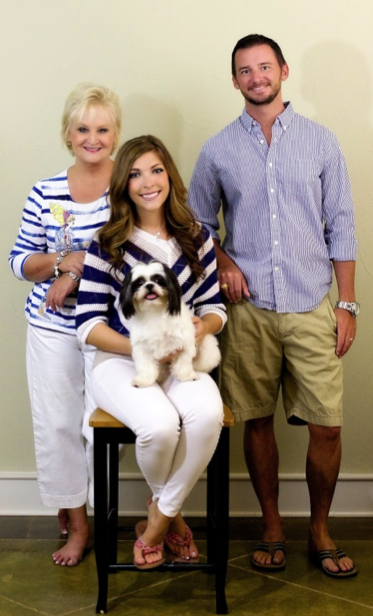 Hi! I'm Deb, and I'm the owner of Stitchin' Heaven in the small town of Mineola, TX (population 4515). Stitchin' Heaven opened in 1996 and it has grown from a 1000 square foot Quilt Shop to an 8400 square foot Creative Sewing Center. A staff of about 20 full-time employees work together to make Stitchin' Heaven truly a Quilter's Paradise. We not only offer the very best in quilt related fabrics, supplies, and classes but we also offer quilting cruises and motorcoach trips as well as retreats featuring well-known designers. I have a son, Clay who happens to also be my business partner and recently married Rachel, who is the best daughter-in-law ever. I own a precious Shih Tzu, Jack, and I reconnected with Henry, my high-school sweetheart, a few years back. I would love for you to visit us on our Web site Stichin' Heaven or join our Facebook community.[/box]