Landscape art quilts are one of the most popular ways to create an art quilt. They can be as abstract or realistic as you like, and you can easily capture a memory from a favorite place in fabric. But where do you start? Art quilting differs from traditional quilting because art quilts are usually created in an improvisational fashion rather than using a pattern.
Here are a few tips to get you started creating gallery-worthy landscape art quilts!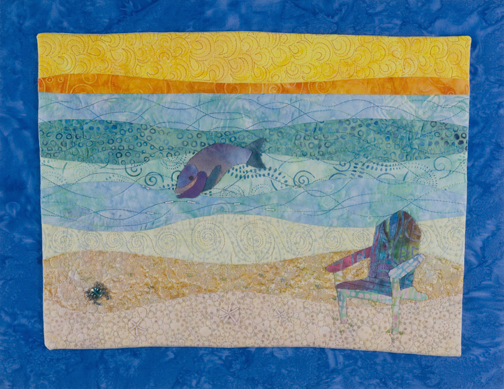 Try curved strips for an abstract landscape
If you're just beginning to explore landscape art quilting, one of the best ways is to try curved strips to create an abstracted landscape. Choose your fabrics to approximate the scene you're trying to create.
I spent many happy days as a child at the beach. To remind me of those days, in the beach scene above, I used beige fabrics for the sand and surf, blue-greens for the water, orange for the sun on the horizon and yellow for the sky. It's a good idea to decide ahead of time how large you want your piece to be, perhaps by marking the final size with tape or fabric strips on your design wall. Lay the strips out in the order you want them for the final landscape.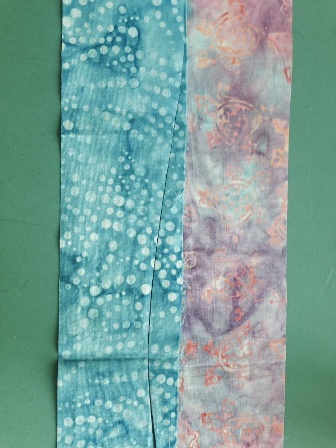 Cut your strips about an inch wider than you want the finished strip to be, and an inch or two longer than your desired finished size. Lay the bottom two strips from your rough design out on your cutting surface with both right sides up and overlapping by about an inch. Use your rotary cutter to cut a gentle curve on one long side through both layers. It's important that the curve isn't too steep, otherwise it will be difficult to sew them together. Remove the excess fabric and note that the curved edges fit together perfectly.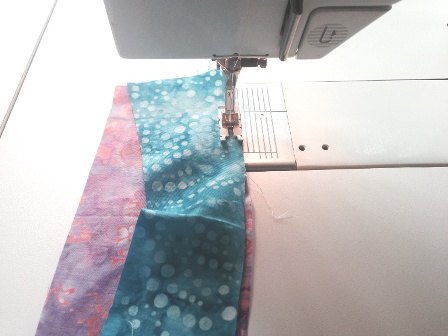 Don't worry if the pieces don't look like they fit!
When you put the two pieces right sides together, it looks like they don't fit — but don't panic! — you just need to be careful when sewing the seam. I like to aim for a quarter inch seam allowance. However, don't worry if it's a little narrower in places. I don't pin the seam together but just ease it together gently as I sew. Don't worry if the ends don't line up either. You cut them longer than they needed to be and they will be squared up at the end.
When the strips are sewn together, press them carefully with the seam to one side. These types of landscape art quilts are built one layer at a time. Use the unit you've just created and add the next strip in the series, in the same manner, continuing until you have the design you planned.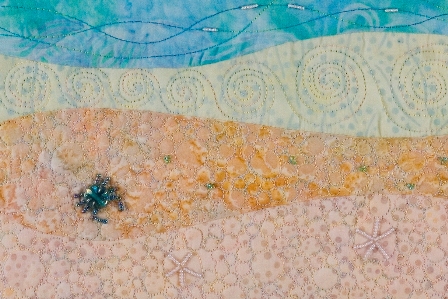 Add beads and stitching for texture
Use your imagination to add appliqué, beads and textured stitching to give life to your landscape.
Dancing in the Moonlight quilt pattern from landscapelady
 Try a pattern to learn different techniques
Another way to create a more realistic landscape art quilt is to work from a photograph or pattern to design lines and shapes on freezer paper or light interfacing. Then you use those templates to cut your fabrics and make it easier to sew them together. There are many landscape art quilt patterns to choose from on Craftsy. Maybe you'd like to try Dancing in the Moonlight pattern from Craftsy member landscapelady, pictured above.
Take a class
For more intricate landscape art quilts, try a class! Gloria Loughman's online class Linear Landscape Quilts will give you the tools and confidence to choose a landscape design and appropriate fabrics, create templates, and build your landscape from the ground up.
Landscape art quilting is a satisfying way to capture a memory from a vacation or a special place you've visited. Or you can create a landscape entirely from your imagination! Try one of these art techniques to bring your landscape to life.
Have you made a landscape art quilt? What's your favorite technique?