The step from knitting a scarf to knitting a sweater is a big one, but it's necessary if you want to avoid knitting rectangles for the rest of your life. Knitting your first sweater can be frustrating, but it can also be a lot of fun. If you're looking for a winter project, why not knit a sweater? Here are a few things to keep in mind before you even start knitting that sweater.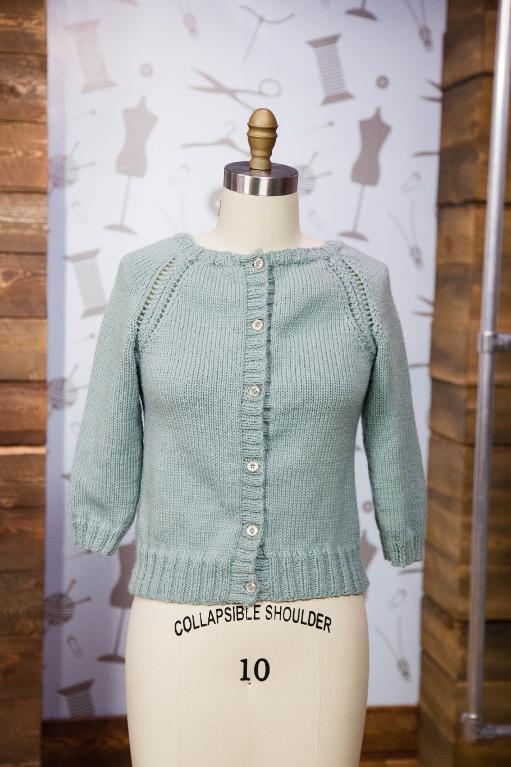 Photos via Bluprint instructor Amy Ross
1. Know the basics
No need to have a PhD in knitting (if only!) to knit a sweater. If you can knit and purl, you can knit a sweater. The cardigan above is one of the sweater patterns from Bluprint's My First Sweater class with Amy Ross. Enroll in the class and Amy will walk  you through everything you need to know about knitting your first sweater, from body measurements to sleeves and seaming. You can even ask Amy questions if you get stuck!
2. Choose your size wisely
If you've never made a sweater before, it's possible you've never before taken your measurements. You wouldn't want to devote hours to knitting a sweater that doesn't fit, right? Read our post on taking body measurements for knits and make sure you take the first step toward perfect-fitting knits.
3. Swatch
Swatching is another key to getting your first sweater to fit. If you don't achieve the right gauge, those body measurements will go right out the window. It's a common newbie mistake to skip the swatching completely to make the knitting go faster, but skipping that important step can result in a sweater that's either way too large or way too small. Take those few extra minutes to swatch and you won't regret it.

4. Relax
Don't aim for perfection. Remember that this is your first sweater. Trying to knit a perfect one — even if you're a seasoned knitter — is going to make the entire experience miserable. A lot of knitters freak out over perfection, but there's no need. Check out A Perfectionist's Guide to Knitting for more reasons why perfection can ruin all your knitting fun.
5. Take it slow
Sweater knitting comes together one piece at a time. Don't try to rush the process by skipping around in the pattern. Rushing can result in dropped stitches and other mistakes, too, so it's best to take your time and do it right the first time.

6. Know your seams
Is this the first time you've ever seamed knitted pieces together? Seaming is one of the most important steps in knitting a sweater. Check your pattern to see if there are specific instructions for the type of seams you need to sew for each piece and practice the seams before you construct the actual sweater.
7. Get plenty of support
Surround yourself by positive vibes when you're knitting your first sweater. Naturally, we at Bluprint are here to help with our knitting classes and right here on the blog. You can also join a local knitting group or knit with friends. More experienced knitters will be happy to help you when you're stuck. Social knitting can be really helpful when you're a beginner, but beware: talking while knitting can distract you and lead to some crazy stitches!
Are you thinking about knitting your first sweater? What pattern did you choose?