Sometimes it's fun to knit with something other than the usual wools and cottons. There are many non-traditional materials that can be used to knit. Most yarn stores have a special section of novelty yarns. So why not ribbon? Turns out, ribbon yarns can create a fun, festive project, with a little shine and often with a metallic touch too.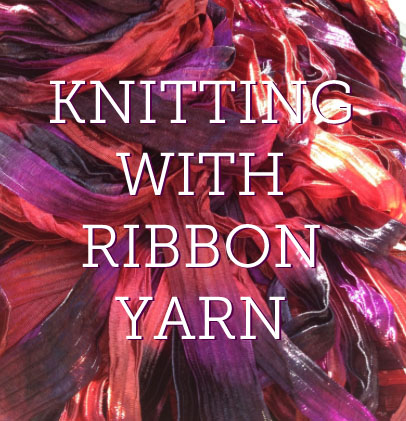 Because it's not like a traditional yarn, though, here are some tips for knitting with ribbon yarn that you will want to consider as you begin your project.
Ribbon yarn can be pretty slippery so choose your needles accordingly. Metal needles and a yarn that's too slippery might make you crazy.
The first time I bought ribbon yarn, the cashier at my yarn store told me any ball I tried to make would lose structural integrity quickly. Instead, she recommended I just put the yarn, as is, in a bag and work from there. So I skipped the ball-winder and rolled the ribbon yarn into a simple ball, which I then kept in a plastic bag. If the ball does come unwound, the slipperiness and width of the ribbon yarn will make it hard to tangle too much.
When I actually started knitting with ribbon yarn for the first time, I was thrown off a bit by the width. Sure, as you knit, it's natural for the yarn to fold up on itself. Still, I was finding myself occasionally poking the needle through the ribbon as I went in for knit stitches. The good news is that unlike some traditional yarns, my ribbon yarn didn't split when that happened.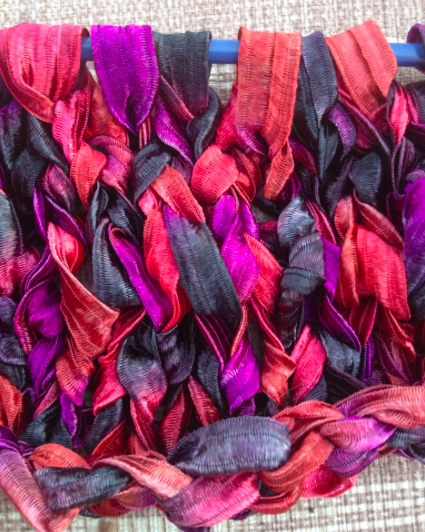 Some ribbon yarns can be pretty wide: up to half an inch or so. The real visual appeal of the yarn may not show up in a regular stockinette or garter stitch. Think about using a pattern with a dropped stitch, like this drop stitch shawl. Yes, on this kind of pattern you really, intentionally drop stitches strategically throughout the pattern to create these sections where the yarn is visible in just a straight line. Or a wrap stitch pattern creates the same kind of visual effect. For a wrap stitch (which is what I'm using in the pictured project), when you knit into the stitch, instead of wrapping the yarn around the right-hand needle only once, you wrap the yarn an additional time or two. Then on the next row, you knit into one of those wraps and let the others fall off the needle. It creates an elongated stitch that looks similar to a dropped stitch section. Either of these kinds of pattern will allow a ribbon yarn to shine.
Ribbon yarn isn't something you'll ever make a sweater with, but it can be used to make a great accessory or as a small section of a larger project. Have you ever tried knitting with ribbon yarn?
Do you know what a knitting board is? Come back to the Craftsy blog tomorrow to find out!