Knitted toys and animals are my go-to baby gift: washable, huggable and so adorable even adults love them. Through years of of knitting and gifting toys and stuffed animals, I've picked up a few tricks that makes knitting delightful critters much easier.
If you are interested in knitting toys, or like the idea but find them fiddly, try some of these tips.
First off, let's look at some adorable examples.
Top Row: Pug with Anorak, by Barbara Prime. Second Row: Sheldon, by by Ruth Homrighaus. Third Row: Squirrel, by Barbara Prime. All knitted examples and photos by Julie Crawford. 
In the above examples, each of the animals was knitted in separate pieces, stuffed and seamed together. And they all have a little article of clothing (let's count Sheldon's removable shell as clothing, shall we?).
If you haven't knitted a sweater before, knitting a teeny-tiny one for a little knitted squirrel or pug is a great introduction to the basics of sweater construction, or even trying new techniques, like colorwork. The great part of knitting something small is that the pieces can be knitted up quickly, and assembled in an evening. But let's face it, it can be a little daunting to look at this: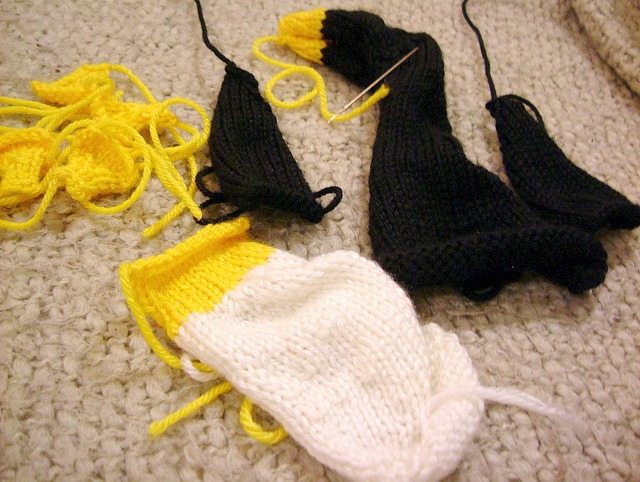 And keep going until you get to this: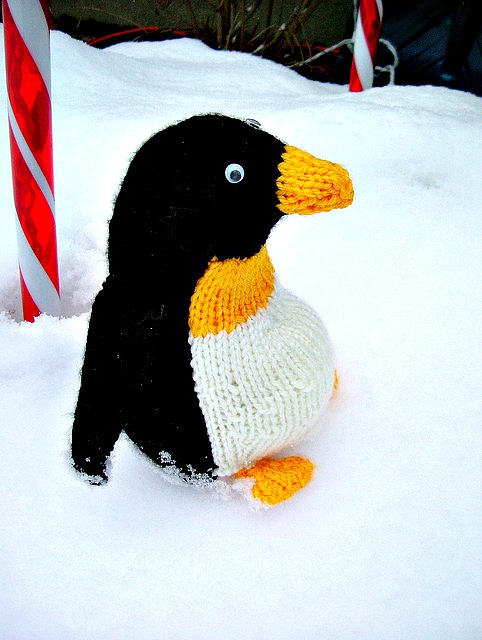 A few things to keep in mind for knitting toys:
1. It's much easier than it looks.
Toy patterns are often several pages long because there are instructions for different pieces (head, body, legs, arms, tail, clothing, etc.), but each piece is usually super easy.
2. Get everything you need in advance, put it in your project/Ziploc bag.
Most knitted toys require some assembly, as limbs are often knit separate. Keep all the bits of your toy together in a Ziploc bag prevents a leg or the tail from going missing. This includes little scissors, needle for weaving in ends, safety eyes (if using), yarn colors for embroidering faces, etc.
3 Non-knitters LOVE knitted toys.
Especially those that aren't that excited by the idea of a handmade sweater or pair of socks. It's always the people that seem the least interested in my knitting that are the most enthusiastic about a little finished toy knit.
4. Washability is key.
If your giving a knit toy to a baby/child, the washability factor is really important. This is why superwash or acrylic craft yarn is better for these sorts of projects — so they can be tossed into the washing machine at a moment's notice.
5. Small toys and animals are great stash-busting projects.
Having only only 50  yards or less of a yarn works great when knitting little wardrobe items for your delightful stuffed toys.
6. Don't forget the eyes!
Safety eyes or embroidered on eyes are the safest option if you are giving a knitted toy or animal to a baby or small child (the penguin above was a gift for an adult, so I didn't have to worry about safety eyes). Safety eyes are available in every color and size you can possibly imagine, and are often available on eBay or Etsy if you can't find them in your local craft store.
7. Consider taking a class on knitting toys.
Sometimes these are offered at your local yarn store. You can also always learn how to make knitted toys right here on Craftsy! In The (Not So) Itty-Bitty Giraffe, Susan B. Anderson shows you how to bring a handmade huggable giraffe to life. She'll walk you through how to select the perfect yarn, stitch the sweetest face, knit in the round on double-pointed needles, and more.
If the idea of knitting a toy in all those separate pieces is a bit too daunting, try Susan's other Craftsy class Wee Ones: Seamless Knit Toys, where you'll learn the wrap and turn technique, how to create afterthought features, and finish with the Kitchener stitch, all great skills for your plush friends or future projects!
Ready to give knitting toys a go?
Browse Craftsy's selection of toy knitting patterns. You can even filter results by skill level, so you're sure to find a pattern that's perfect for you!
You might also enjoy our post on knitted baby shower gifts.
 Tell us about the knitted toys you've made!