When it comes to knitting and shaping a neckline, you have so many choices — scoop, V-neck, square, crew — that it's difficult to choose. In fact, choosing a neckline style is almost as difficult as actually knitting and shaping a neckline! But learn knitting and shaping necklines and you can customize any sweater no matter how the pattern is written.
Knitting and shaping a neckline is also helpful if you're planning to design your own sweater. Here are a few things to keep in mind when you're designing, picking up stitches, and knitting your favorite necklines.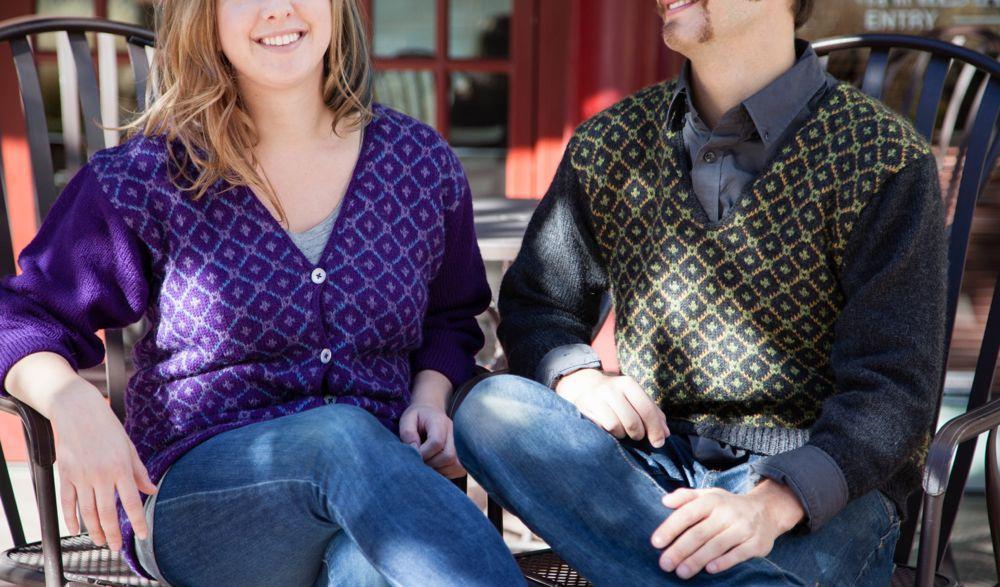 Photo via Craftsy instructor Amy Detjen
Tips for designing and planning a neckline
Plan ahead
Don't begin knitting a sweater and mutter to yourself that you'll worry about the neckline later. Designs work best when you plan ahead, and that involves choosing a neckline, noting any changes to an existing pattern if you're using it, and maybe even sketching. You can also use knitting graph paper to help plan and sketch. If your design requires picking up stitches, be sure to plan that ahead of time too. Winging it could cost you lots of time — and stress!
Consider yarn weight and sweater design
When choosing a neckline, take the yarn weight into consideration. If your yarn is bulky and heavy, you might want to skip a funnel neck and opt for something simpler like a V neck.
Likewise, if you're knitting a sweater that has a complex design, you might want a simple neckline so that all the attention is on the design. Check out the fearless cardigan and pullover sweaters pictured above for an example. Craftsy instructor Amy Detjen knitted these sweaters using Fair Isle, so she kept the necklines super simple. Want more expertise from Amy? Be sure to enroll in Simple Sweaters: Stranded and Steeked to learn about these necklines, plus how to knit neat Fair Isle and turn your sweater into a cardigan.
Break out the crochet hook
A neckline shape I don't use often enough is a simple crochet neckline. When you're finished knitting the sweater body, just attach yarn to the neckline and crochet a simple single-crochet border around the neckline. This is especially nice for simple necklines like boatnecks and V necks.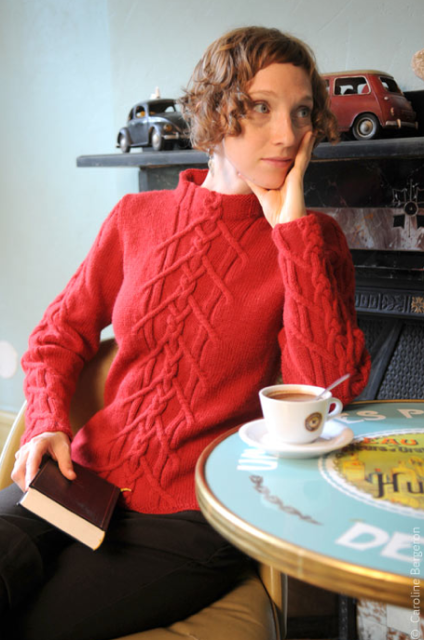 Photo via Craftsy instructor Fiona Ellis/ Photo by Caroline Bergeron
Mimic the sweater's design
If you're not sure how to shape the neckline, try mimicking the sweater's design like Craftsy instructor Fiona Ellis did with this cabled neckline pictured above. The design on the sweater front extends right up to the neckline, creating a look that almost appears seamless. Want to find out Fiona's tricks for creating such beautiful necklines? Enroll in the FREE Craftsy mini-class Creative Cabled Necklines and watch Fiona demonstrate how to design or even modify patterns you already own to add cables on the neckline.
Knitting and finishing a neckline
Change needles when picking up stitches
When I knitted my very first ribbed neckline, I learned an important lesson. If you want your neckline to be a little tighter and more elastic, pick up the neckline stitches with a needle one size smaller than the needle you used to knit the rest of the garment.
Take advantage of stitch markers
A pattern will always tell you how many stitches to pick up around the neckline. Instead of winging it, plan your picked-up stitches before you begin. If your neckline asks you to pick up 100 stitches, for example, then place 10 stitch markers evenly around the neckline and make sure you pick up 10 sts between each marker.
Beware of too-tight bind offs
As a beginner knitter, I once made a funnel-neck sweater and finished with a bind off so tight that the funnel no longer looked like a funnel. Worse yet, I could squeeze it over my huge head! Be aware of your bind off, because a too-tight bind off can ruin the design, and maybe not even fit over your head.
What's your favorite type of knitted neckline? Have you ever tried to incorporate it into a sweater you were knitting?