I have a soft spot in my heart for knitting patterns for dolls. The first knitting projects I ever made were dresses for my Barbies!
Today, I still appreciate handmade doll clothing — not only for the uniqueness of each piece, but also for the price. If you've browsed clothing for dolls, you probably know that even the tiniest clothing can be expensive. Why spend all that money when you can stitch totally unique apparel for dolls? For most of these patterns, you can even use yarn you already have in your stash, saving you even more.
Stitch up these knitting patterns for dolls to create ensembles you won't find in the store.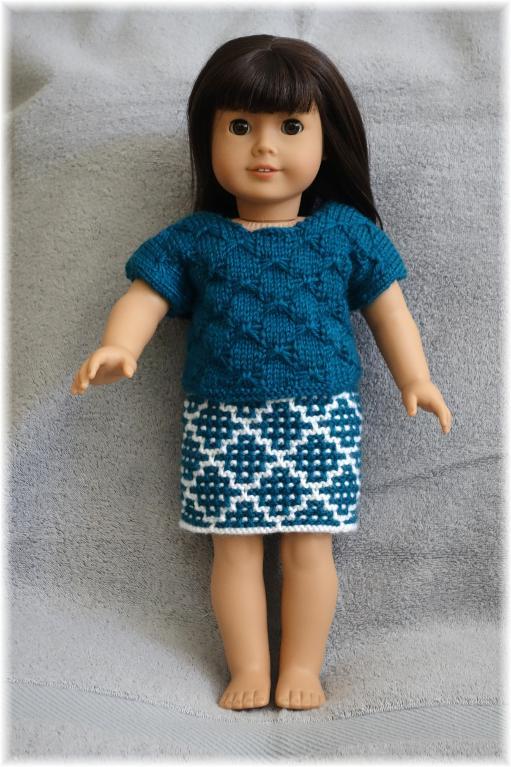 Photo via Bluprint member Wicky2568
1. American Girl Bowknot Top and Skirt
This pattern features a cute top and a skirt with slip-stitch colorwork. Not familiar with slip-stitch colorwork? Bluprint's Slip-Stitch Colorwork: Mosaic & Beyond class with Faina Goberstein covers all the bases of the different charts and patterns you'll use to create deceptively simple color.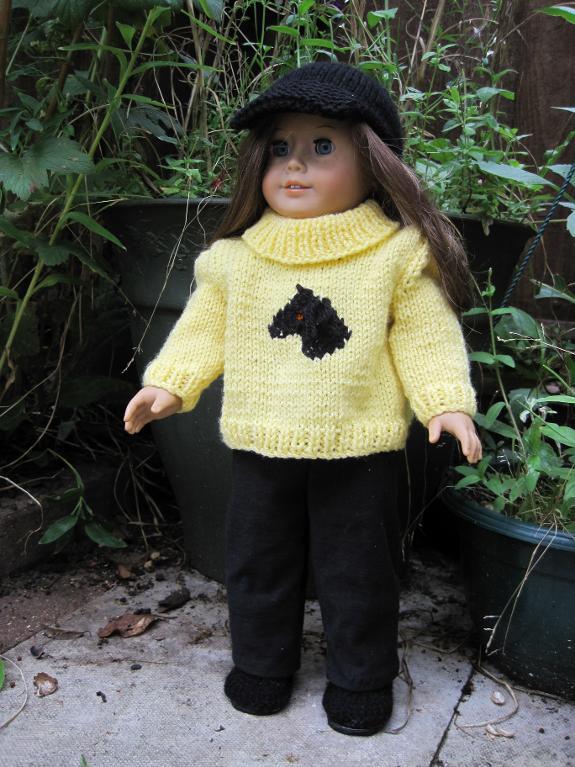 Photo via Bluprint member dorothy2663926
2. Tally Ho!
This three-piece outfit includes instructions for the sweater, hat and boots. Though the model here is an American Girl, the outfit can be made to fit practically any 18-inch doll. This is a great way for beginners to practice working with a chart, since the horse's head is small and manageable.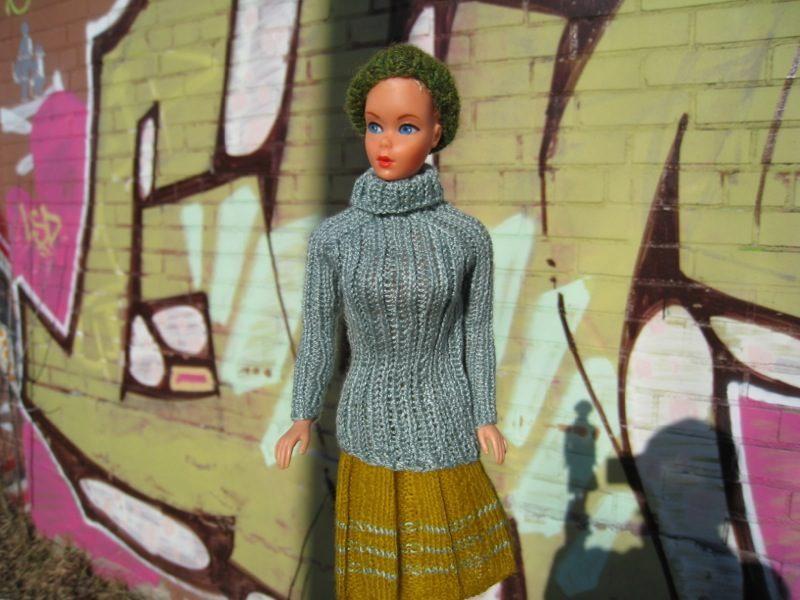 Photo via Bluprint member KellyMullanDesigns
3. Barbie Turtleneck Sweater
The beauty of knitting for Barbie is that you can knit an entire outfit using even the smallest scraps of yarn from your stash. You'll need to use a lace-weight yarn to get that teeny-tiny rib pattern that gives the sweater so much texture. Designer KellyMullanDesigns recommends keeping a crochet hook handy to pick up any dropped stitches.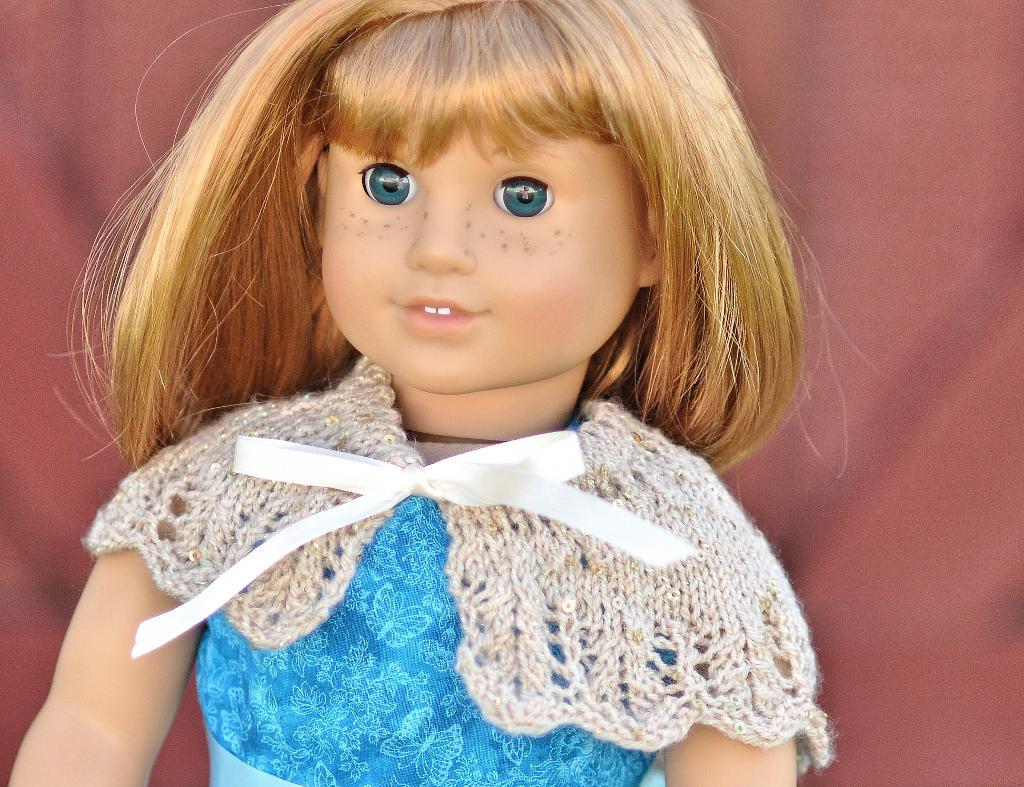 Photo via Bluprint member Woohoopepper
4. Glamour & Glitz Doll Shawl
If your 18-inch doll already has an extensive wardrobe, perhaps she just needs a simple shawl to wear over a couple of her dresses. The designer says you can knit the shawl in less than a day, making it an ideal last-minute gift — or just a surprise addition to today's play date.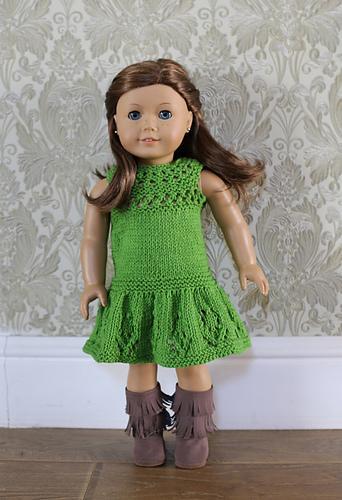 Photo via Bluprint member Taiga Hilliard
5. 18″ Doll Rose Dress
Dolls can wear this dress alone or slipped over one of their long-sleeved shirts. We love the way designer Taiga Hilliard paired these with funky fringe boots, but you could also knit up some matching shoes using yarn left over from the dress.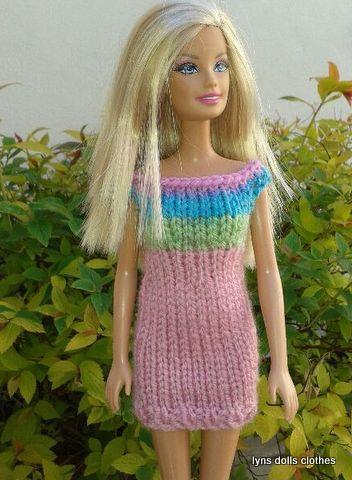 Photo via Bluprint member linmary123
6. Barbie's Knitted Dresses
Use this free basic pattern as a foundation for a knitted dress and see how many ways you can customize it. Add a simple striped yoke like the one seen here, lengthen the dress for a more elegant look, or experiment with other colorwork techniques. This dress is easy to accessorize, too!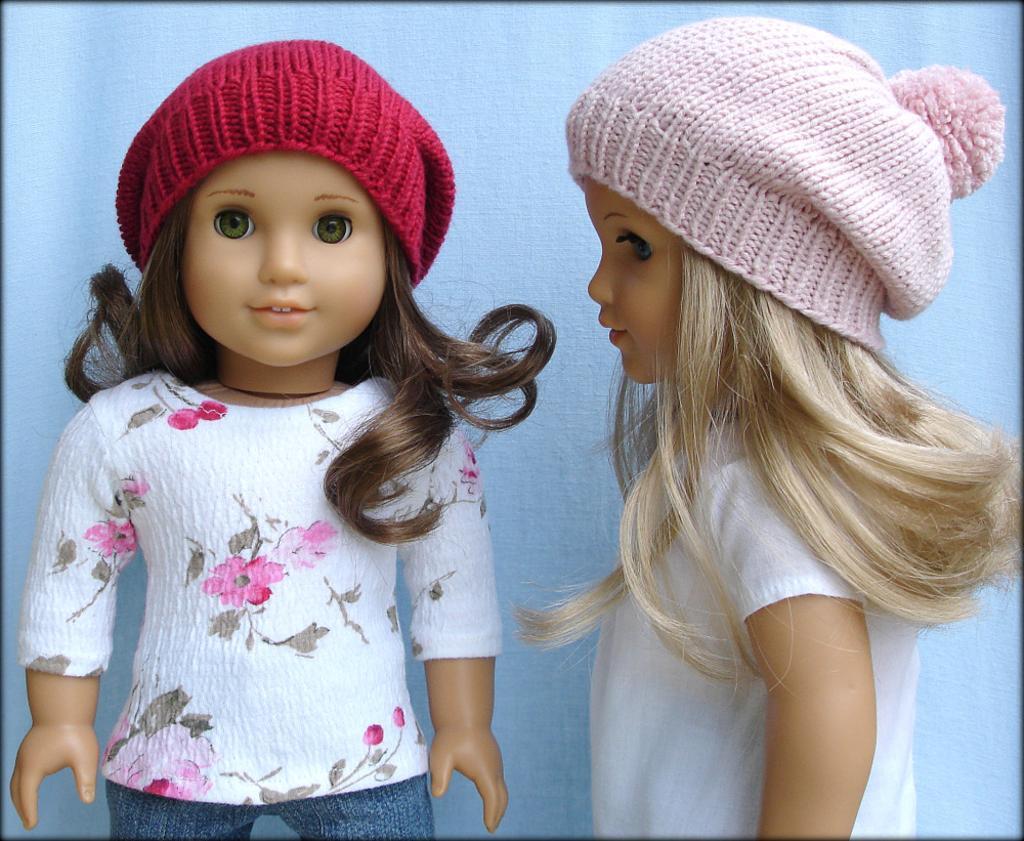 Photo via Bluprint member Steph Wylie
7. Lucy Hat
Sometimes all you need to spice up an outfit is a simple accessory. These slouchy hats are totally trendy and fit the heads of most 18-inch dolls. The hat looks just as great paired with jeans as it does with the doll's winter coat!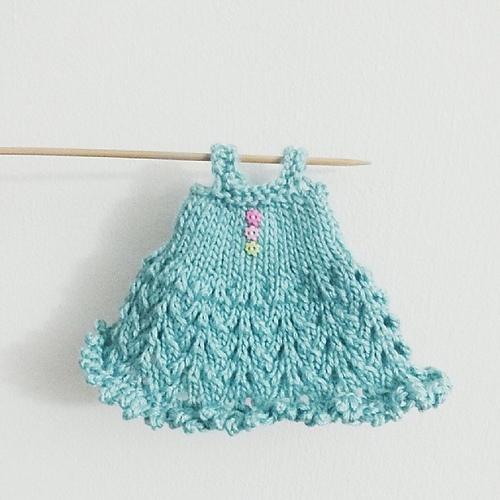 Photo via Bluprint member Adorably Kawaii
8. Blythe Knitted Lace Dress
This little dress just screams summer. You'll need experience working on double-pointed needles to complete this pattern, and you'll quickly memorize the lace repeats of the skirt. The buttons are optional, but they're a great way to add a little bit of whimsy and color to the dress.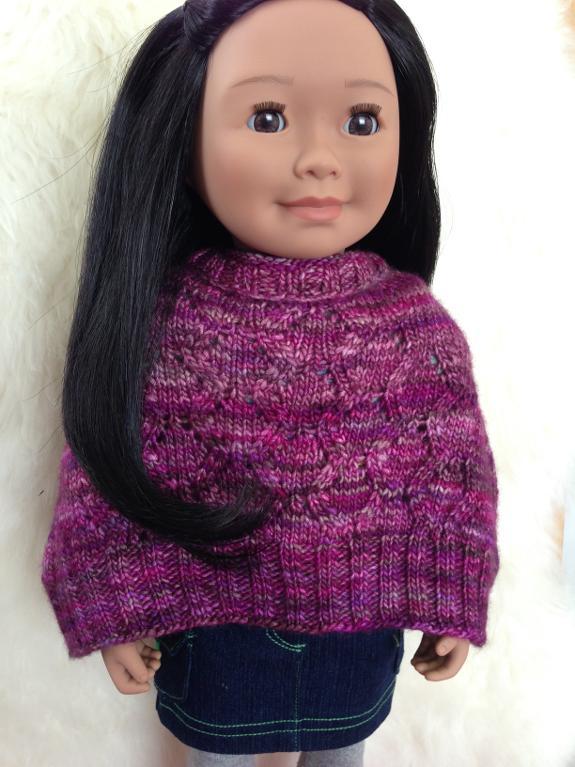 Photo via Bluprint member lepoisson1321080
9. American Girl Doll Knit Cape
Lace knitters will breeze right through this tiny cape pattern. If you're new to working with small double-pointed needles, this fingering-weight project is a great introduction. In fact, the skills you practice here can easily be translated into knitting socks.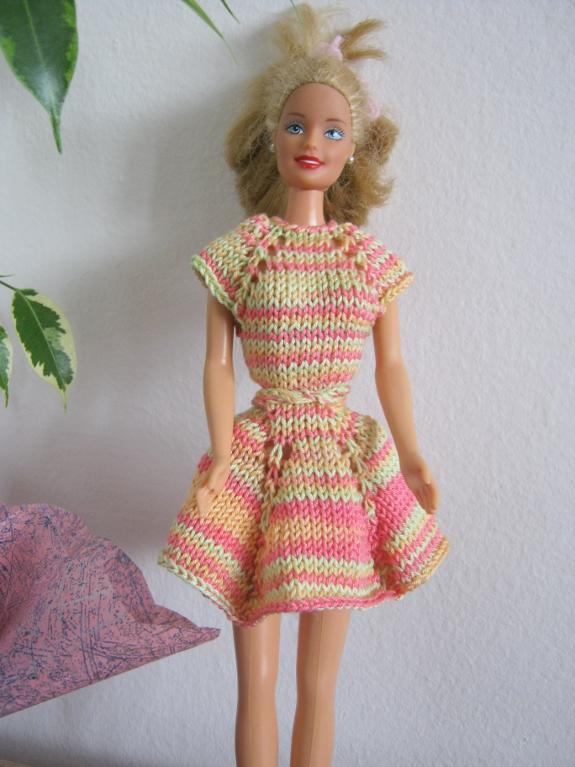 Photo via Bluprint member SweetNanasKnits
10. Cotton Candy Barbie Dress
This belted dress gives Barbie a silhouette perfect for twirling. Any color of yarn, including the variegated yarn seen here, can be used for this dress so consult your stash for options. Check out the designer's other photos to see how changing the color of the yarn can take the dress from fun to fancy. 
Have you ever knitted anything for a doll? Tell us about it in the comments!
Get Yarn You'll Love, Fast!
Find the yarn you need for your next project, at the right price.Shop yarn now »